I am in the process of doing Jamie Eason's Post Pregnancy Fitness Trainer program. No, I didn't just have a baby, but I thought it would be a good training program to get me back on track with my training since recovering from my myomectomy surgery back in June. The surgery went great! And I had a great doctor and nursing staff to care for me while I was recovering in the hospital for 3 days. And my husband Craig and his mom were by my side taking care of me at home during the 6 weeks of recovery. I am very blessed to have people that care for me so much, it made the recovery process easier to get through I think. Now I am ready to get back to my normal routine, and that means getting back to training and eating right. I am a little more conscious of what I am eating these days since after reading up on fibroids there are some foods that may help keep them away. I have been switching to all organic meats and produce, and trying to incorporate more wild fish and greens into my diet. As well as ditching the coffee, but I couldn't quit cold turkey. Right now I am doing half-caff in hopes of switching to decaffeinated soon.
One of the recipes I found for Jamie Eason's Post Pregnancy Workout is these protein pancakes! They make a lot so you can easily save them and reheat them in the toaster for an easy breakfast throughout the week. But being the foodie that I am I had to put my take on it. I used the strawberry filling from my Strawberry Shortcake recipe for the topping on these and just switched out the granulated sugar with coconut sugar. It really takes these pancakes to the next level.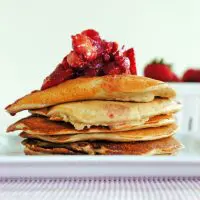 Jamie Eason's Pumped Up Protein Pancakes
Ingredients
STRAWBERRY TOPPING
2 1/2 pounds organic strawberries, hulled
6 tablespoons coconut sugar
PANCAKES
3 cups oat flour
3 scoops vanilla protein powder
2 tablespoons coconut sugar
2 teaspoons baking powder
3/4 teaspoons baking soda
1/2 teaspoons table salt
2 1/2 cups unsweetened almond milk
6 ounces plain Greek yogurt
1/4 cup unsweetened apple sauce
1/2 teaspoon vanilla extract
4 egg whites
Instructions
STRAWBERRY TOPPING
In a large bowl, crush 3 cups strawberries in large bowl with potato masher. Slice remaining strawberries. Stir sliced strawberries and coconut sugar into crushed berries. Set aside until sugar has dissolved and berries are juicy, at least 30 minutes or up to 2 hours.
PANCAKES
In large bowl mix together oat flour, protein powder, coconut sugar, baking powder, baking soda and salt. In a medium bowl, mix almond milk, yogurt, applesauce, vanilla extract and eggs. Add wet ingredients to dry ingredients and mix until just combined. Use 1/3 cup measure and scoop out batter and pour onto preheated skillet. Cook about 2 minutes on each side.
Nutrition Information:
Serving Size:

1
Amount Per Serving:
Calories:

229
Total Fat:

3g
Sodium:

190mg
Carbohydrates:

37g
Fiber:

6g
Sugar:

10g
Protein:

13g