After tasting this I think I have a new favorite dessert! I have never had strawberry shortcake on a biscuit. I have only had it on cake. Maybe it's where I am from, but a few years ago I saw some come on biscuits which I thought was weird, but not anymore! The strawberry filling is sweet and the whipped cream on top is just heavenly but I never would have thought the biscuit could be just as good. This biscuit is more than just a vessel to serve the tasty strawberries. It is just as much a part of the dessert as the strawberries and whipped cream. I could eat the biscuit on its' own. So if you were like me, only having strawberry shortcake on cake, I encourage you to give this recipe a try. You will not regret it!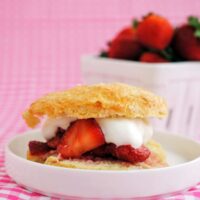 Strawberry Shortcakes
Ingredients
FRUIT
2 1/2 pounds strawberries, hulled
6 tablespoons granulated sugar
BISCUITS
2 cups all-purpose flour
4 tablespoons granulated sugar, divided
1 tablespoon baking powder
1/2 teaspoon table salt
8 tablespoons unsalted butter, cut into 1/2-inch pieces and chilled
1/2 cup plus 1 tablespoon half-and-half
1 large egg, lightly beaten
1 large egg white, lightly beaten
WHIPPED CREAM
1 cup heavy cream, chilled
1 tablespoon granulated sugar
1 teaspoon vanilla extract
Instructions
FRUIT
Crush about 3 cups strawberries with potato masher in large bowl. Slice remaining strawberries and fold into mashed strawberries. Add sugar and fold until combined. Set aside until sugar has dissolved and strawberries have released their juices, about 30 minutes or up to 2 hours.
BISCUITS
Adjust oven rack to lower-middle position and heat oven to 425 degrees. Line baking sheet with parchment paper. Pulse flour, 3 tablespoons sugar, baking powder and salt in food processor until combined. Scatter chilled butter pieces over top and pulse until mixture resembles coarse meal, about 15 pulses. Transfer mixture to large bowl and set aside.
Whisk half-and-half and whole egg together in medium bowl, then stir into flour mixture until large clumps form. Turn dough out onto lightly floured counter top and knead lightly until dough comes together, being careful not to overwork the dough.
Pat dough into 9 x 6-inch rectangle, about 3/4-inch thick. Using floured 3-inch biscuit cutter, cut out 6 dough rounds. Arrange biscuits on prepared baking sheet, spaced about 1 1/2-inches apart. Brush tops with egg white and sprinkle remaining 1 tablespoon sugar on top.
Bake until biscuits are golden brown, about 12 to 14 minutes, rotating half way through baking. Transfer baking sheet to wire rack to cool, about 10 minutes.
WHIPPED CREAM
Using stand mixer fitted with whisk attachment, whip heavy cream, sugar, and vanilla on medium-low speed until foamy, about 1 minute. Increase speed to high and whip until soft peaks form, 1 to 3 minutes.
ASSEMBLE
Split each biscuit in half and place bottoms on individual plates. Spoon portion of strawberries over each bottom half, dollop with whipped cream and place other half of biscuit on top. Serve immediately.
Notes
Unbaked biscuits can be refrigerated, covered with plastic wrap for up to 2 hours.Cooled biscuits can be stored at room temperature for up to 1 day. Before assembling, reheat in 350 degree oven for 3 to 5 minutes.
Adapted from Cook's Illustrated Cookbook