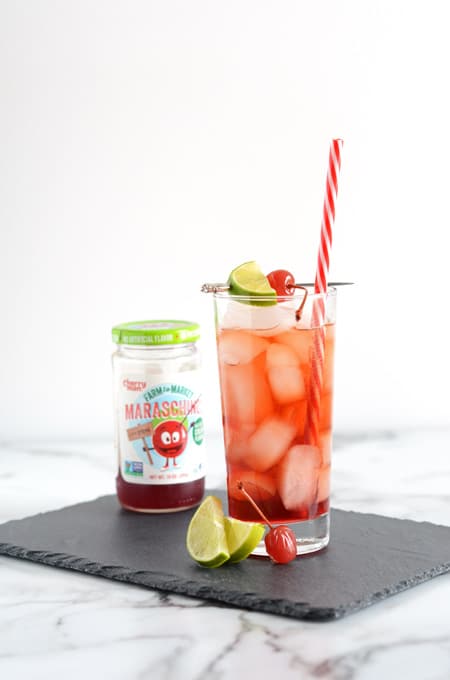 Don't toss out that empty jar of Maraschino cherries just yet. Save that juice! It goes great with cocktails, such as this Spiked Shirley Temple. A traditional Shirley Temple is made with ginger ale, a splash of grenadine and garnished with a Maraschino cherry.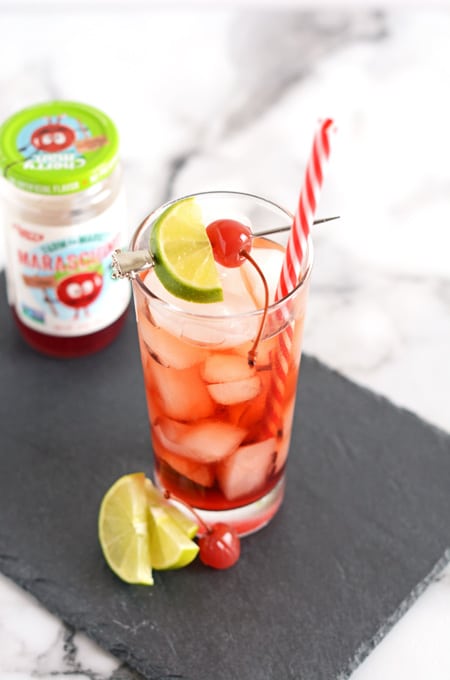 My adult version uses lemon-lime soda, with gin, cherry liqueur and Maraschino juice. Yum! I still remember when I had my first Shirley Temple. I was maybe 10 years old and I was at a steak restaurant waiting at the bar with some family for our table to be ready and my step-father's dad said to the bartender "Get these girls a couple of Shirley Temple's" I thought to myself, "What is that?" Then when the bartender brought me and my sister our drinks I was like WOW it looked so grown up! And it tasted so good from that point on, for almost the next 10 years I always ordered Shirley Temples when I was out at a restaurant.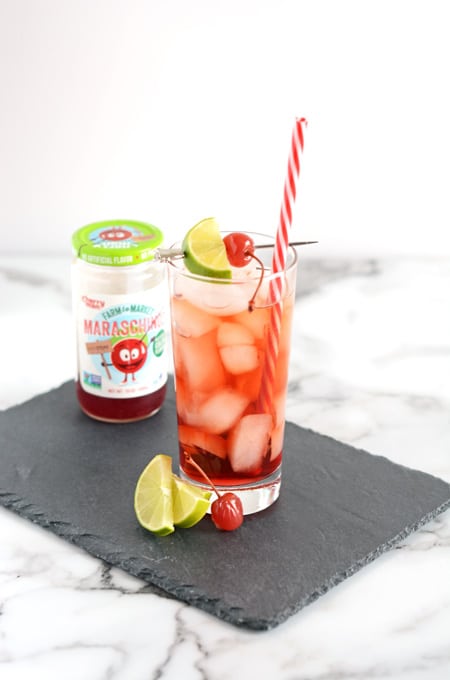 Now that I am older, I have cut back on the sodas. But every now and then I like a good cocktail after a long days work and I love that this Spiked Shirley Temple satisfies my craving and takes me back to that time when I was around 10 years old and had my first Shirley Temple. This one really hits the spot.
You may also like these drinks: Blue Lagoon Cocktail, Coca Cola and Kahlua Float, and Mudslide. And don't forget to follow me on social media: Facebook, Instagram, Twitter, Pinterest and Yummly. If you'd like to see what is coming up next on The Cake Chica, be sure to subscribe to The Weekly Recap and I'll send the latest recipe link to your inbox along with a sneak peak at what's coming up next week. Talk with you next week!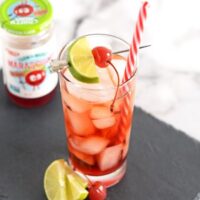 Spiked Shirley Temple
Ingredients
Ice
¾ ounce gin
¾ ounce cherry liqueur
4 ounces lemon-lime soda
1 ounce Maraschino cherry juice
Instructions
Fill a tall glass with ice. Pour ¾ ounce of gin and ¾ ounce of cherry liqueur over ice. Add 4 ounces of lemon lime soda and 1 ounce of Maraschino cherry juice. Stir and enjoy.