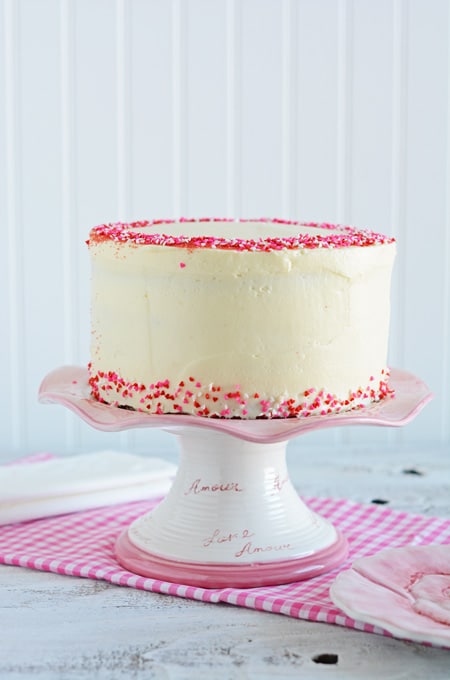 Disclosure: We are a participant in the Amazon Services LLC Associates Program, and affiliate advertising program designed to provide a means for us to earn fees by linking to Amazon.com and affiliated sites. Please note that some of the links in this post are affiliate links and I will earn a commission if you purchase through those links.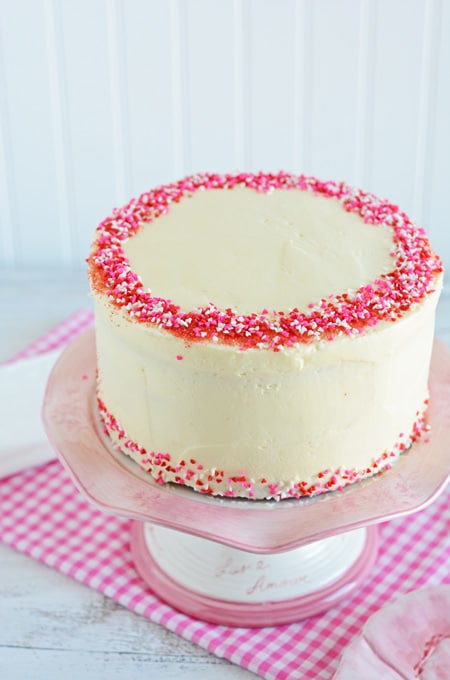 Can you believe this is my first time making a Red Velvet Cake? Well it is! I've always been a little confused by it I guess. Most I've had tastes like chocolate cake, while delicious; I just never understood why not just make a chocolate cake? Well this one is different and has a flavor all it's own. You won't mistake this for a chocolate cake that's for sure! And with Valentine's Day right around the corner I think this Valentine's Red Velvet Cake would be the perfect center piece on your Valentine's Day table!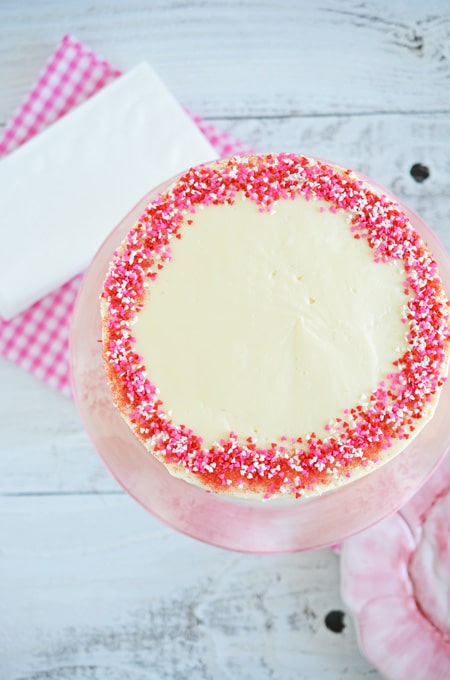 This cake is made with cake flour so this Valentine's Day Red Velvet Cake is light and airy. I also used something called Red Velvet Emulsion
 which I bought off Amazon. It gives this cake a little something extra, plus it gives this cake it's beautiful red color without having to use red food coloring.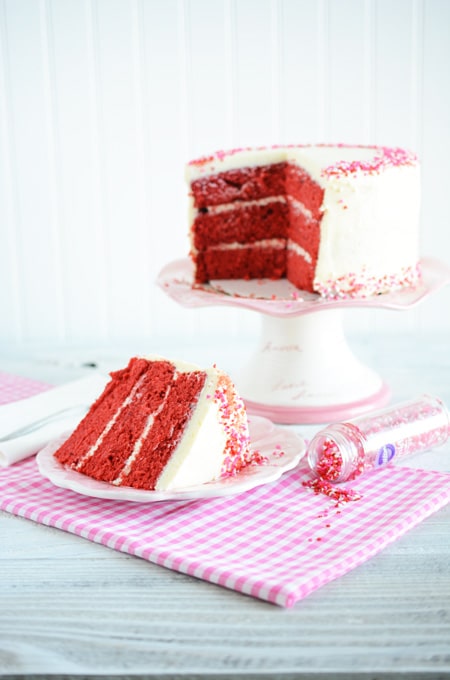 Sure this cake is perfect for Valentine's Day
 but you can easily switch things up for a holiday such as Christmas with some Christmas Sprinkles
. Of course you can make this cake any time of the year, no holiday required. I didn't think I was a Red Velvet Cake lover really, until I had this version.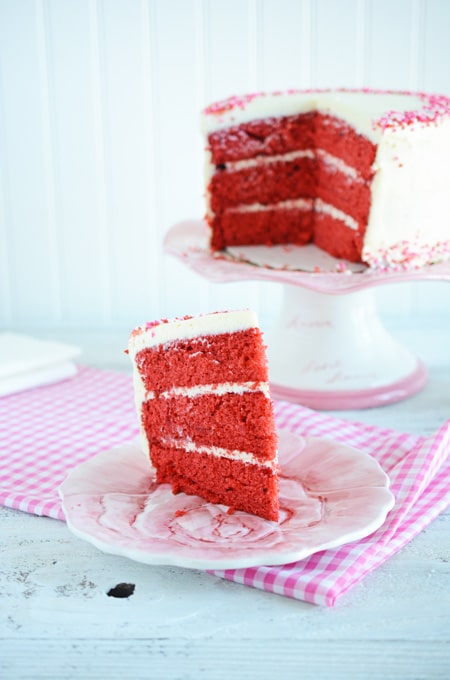 One thing I noticed about this cake….I kept going back for more! Luckily I was able to give the left overs to my Life Group this past week, which got rave reviews.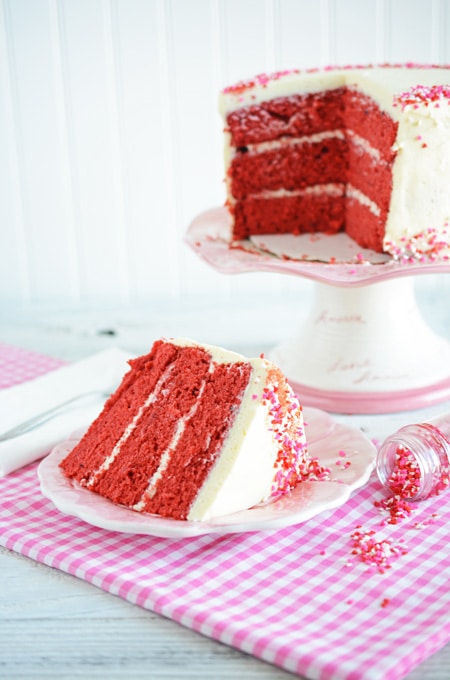 Don't forget to follow me on social media: Facebook, Instagram, Twitter, Pinterest and Yummly. You can also subscribe to The Weekly Recap. I'll send you 1 email a week with things you may have missed on The Cake Chica and recipes coming up, plus other things like what I am loving at the moment and sometimes some behind the scenes stuff. Talk to you next week!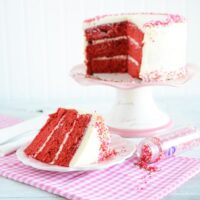 Valentine's Day Red Velvet Cake
Ingredients
3 cups cake flour, sifted
1 teaspoon baking powder
1 teaspoon Dutch-process cocoa powder
¾ teaspoon salt
½ cup unsalted butter, at room temperature
2 cups superfine sugar
½ cup vegetable oil
2 tablespoons Red Velvet Bakery Emulsion or 1 tablespoon vanilla extract with 3 tablespoons red liquid food coloring
3 large eggs, at room temperature
1 ½ cups buttermilk, at room temperature
1 teaspoon baking soda
2 teaspoons distilled white vinegar
1 cup unsalted butter, at room temperature
3 cups powdered sugar, sifted
2 teaspoons vanilla extract
½ teaspoons fresh lemon juice
Pinch of salt
16 ounces cream cheese, cut into cubes and softened
Instructions
CAKE
Heat oven to 350 degrees. Spray 3 8-inch round cake pans with non-stick baking spray and set aside.
In a large bowl, whisk together the flour, baking powder, cocoa, and salt. Set aside.

In the bowl of an electric mixer fitted with the paddle attachment, beat the butter, sugar, oil and emulsion on medium speed until light and fluffy, about 5 to 7 minutes. Add the eggs one at a time. Mix for about 20 seconds in between each addition and scrap down the sides of the bowl as needed. Reduce the speed to low and add 1/3 of the flour mixture until just combined. Add half the buttermilk and mix until just combined. Repeat until all of the flour and buttermilk have been added.

In a small bowl, whisk the baking soda and vinegar together, and quickly whisk into the batter. Divide the batter evenly among the 3 prepared cake pans.

Bake cakes on the center rack of the oven for 20 to 25 minutes or until a tooth pick inserted in the center comes out with a few moist crumbs attached. Let the cake layers cool in the pans on a wire rack for 10 minutes. Loosen the sides of the cake with a knife and invert them on to the wire rack to cool completely.
FROSTING
In the bowl of an electric mixer fitted with the paddle attachment, beat the butter on medium speed for 5 minutes. Add the powdered sugar, vanilla extract, lemon juice and salt. Reduce the speed to low and beat for 1 minute.
Increase the speed to medium and beat until fluffy, about 4 minutes. Reduce the speed to medium-low and add the cream cheese and beat until smooth, about 1 minute. Do not over beat at this stage or the cream cheese will cause the frosting to thin.
ASSEMBLE
Trim off any cake domes that may have formed during baking. Place one cake layer on a serving platter or cake pedestal and fill with about ¾ cup cream cheese frosting. Place second layer on top and fill with about ¾ cup cream cheese frosting. Place last cake layer on top, bottom side up and frost with the remaining frosting. Decorate with Valentine's Day sprinkles or sprinkles of your choice. Enjoy.
Notes
The cake layers will keep for 2 days wrapped tightly in plastic wrap at room temperature.
The frosting will keep covered at room temperature for up to 6 hours, and then refrigerated in an air tight container for 3 days. Bring chilled frosting to room temperature and beat on low speed to soften.
Store frosted cake in the refrigerator. Bring to room temperature before serving.
Adapted from The Sweetapolita Bakebook