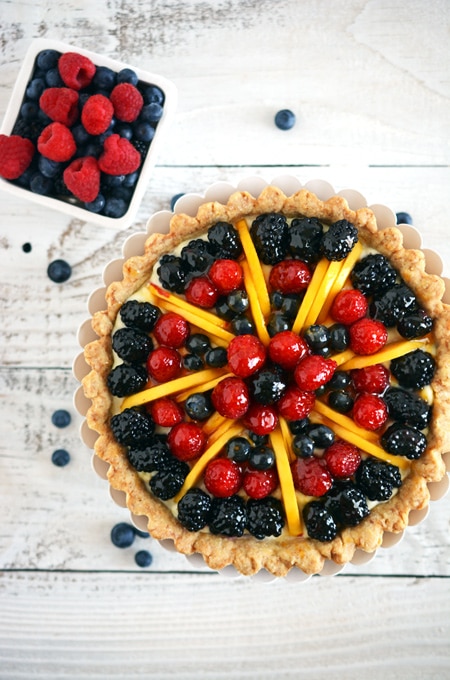 Disclosure: Please note that some of the links in this post are affiliate links and I will earn a commission if you purchase through those links. I have used all the products and recommend them because they are helpful and are companies I trust, not because of the commissions that I may earn from you using those products. Thank you for supporting The Cake Chica website. 
This was a  fun recipe to make, and I learned a few things too! When I was little fruit tarts were my favorite dessert. I remember getting excited when my mom said we were going to La Madeline's to eat because I knew I wanted to get a fruit tart from the bakery case.  Then I would eat the fruit and filling and leave the crust. To me it was more of a dish that the yummy filling and topping came in, not meant to eat because it just didn't taste all that great. But this Fruit Tart is different! The crust is like a dessert all its own. Made by browning the butter to give a warm nutty flavor and baking it until just browned. It could be it's own cookie all by itself.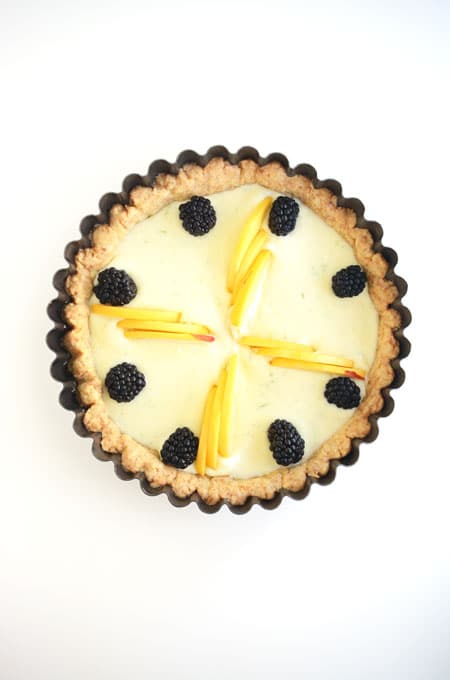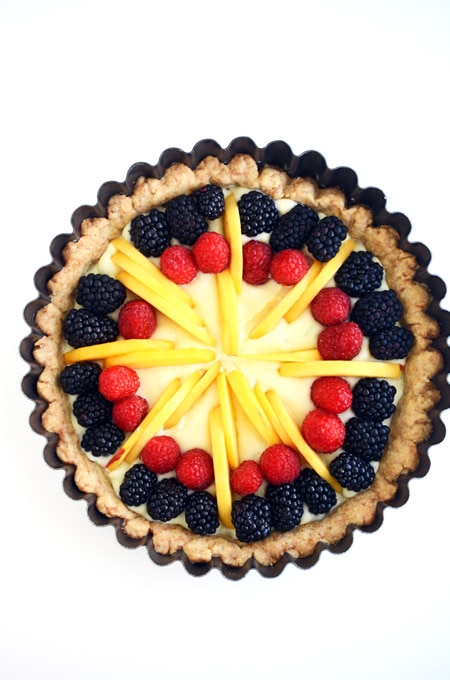 The pictures above show a clever way of decorating your fruit tart, by using the peaches as a slicing guide. A big thank you to the awesome people at Cook's Illustrated for this neat and useful idea. Here are a few tips and tricks I learned while making this Fruit Tart:
First things first, the crust. The first one was not up to my standards so I scrapped it and made another one. (It's so easy it wasn't a big issue having to remake it.) This time I used one of my 8-inch round cake pans with a piece of parchment paper on the bottom and gently pressed the dough into the tart pan. I found this helped spread the dough out evenly and made for a picture perfect crust!
This one is VERY IMPORTANT. Use white chocolate baking chips for the filling, not white chocolate chips. To be sure you have white baking chips, look at the list of ingredients. If it lists cocoa butter on the ingredients list this is not what you want. If you use real white chocolate your filling will not set up properly and will be loose.
Depending on the size of your peaches you may just need 2 or 3 slices for decoration.
Use a light hand when dabbing on the glaze. If your glaze starts to harden, reheat in the microwave for 5 to 10 seconds to loosen it up.
You want to be sure you have all your fruit topping prepped and ready to go once you pour the filling in the crust. Once the filling cools it will be too firm to hold the fruit topping properly so you want to be sure you decorate your tart while the filling is still warm.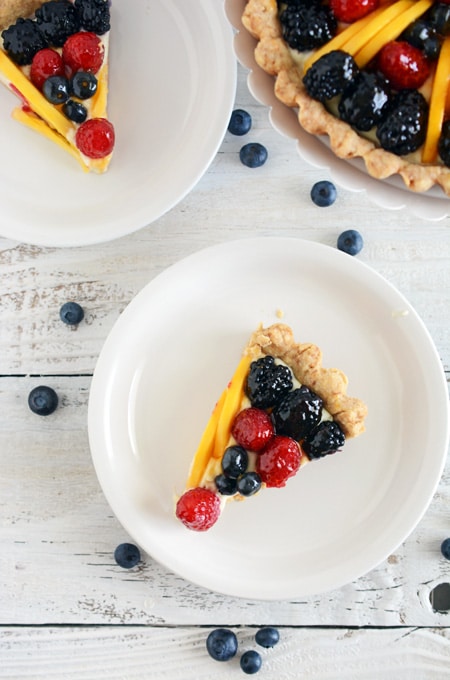 Don't let this Fruit Tart's good looks fool you, this is incredibly easy to make. It only looks like you slaved all day in the kitchen for it. 🙂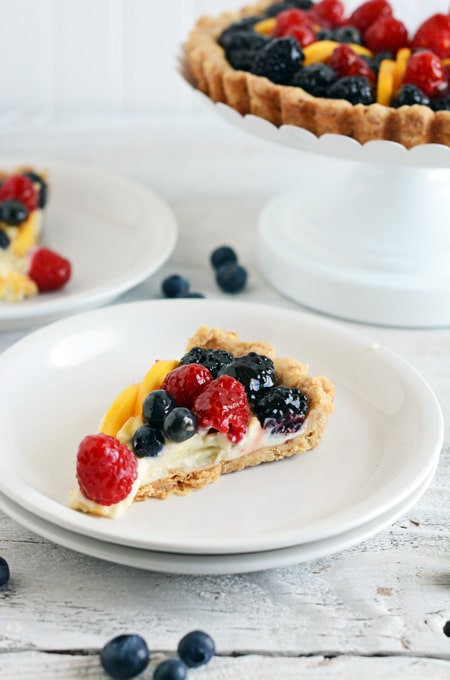 If you try this one let me know in the comments below. You may also like: Peach Strawberry Shortcakes, Strawberry Shortcakes and Strawberry Shortcake. Follow me on social media: Facebook, Instagram, Twitter, Pinterest and Yummly. I also just released my new ebook The Cake Chica's Top 10 Recipes of 2015 with Step-by-Step Photos, FREE when you sign up for The Cake Chica's Weekly Recap Newsletter. Sign up form is below this post! Talk with you next week!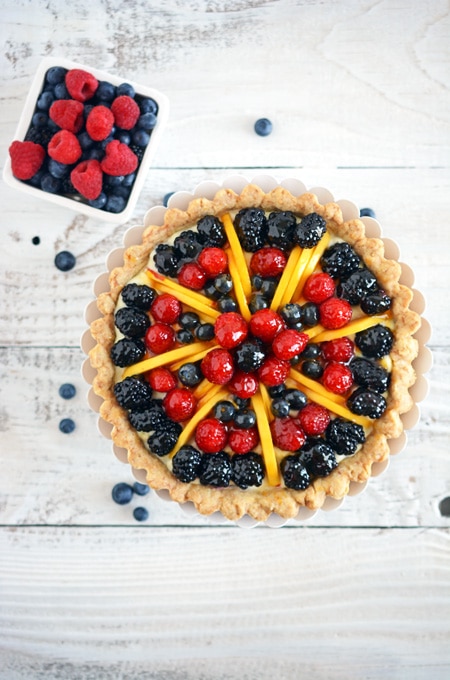 Adapted from Cook's Illustrated
…