This Chocolate Raspberry Layer Cake with Whipped Ganache Frosting is a personal favorite of mine. It's one that I tried when I first started my baking journey and still remains one of my favorite cake recipes. It's a simple chocolate sour cream cake filled with raspberry filling and frosted with a decadent but light whipped ganache frosting. And as if that wasn't enough, I added a rich chocolate drip to finish things off!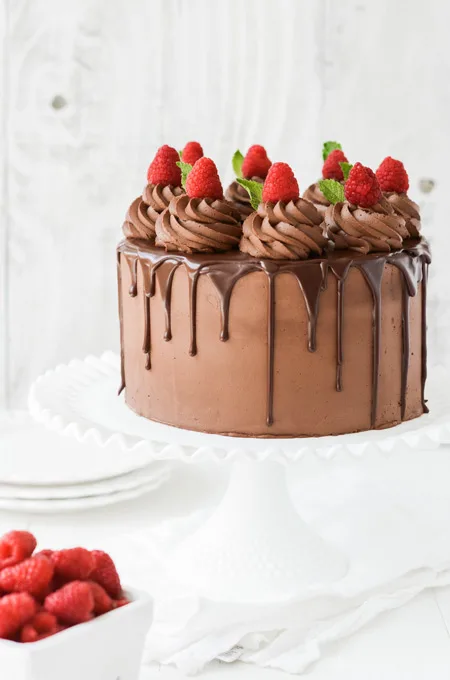 Chocolate Sour Cream Cake
You'll love this chocolate cake because it's super moist and has a tender crumb. It's an excellent base for your favorite filling. Such as raspberry!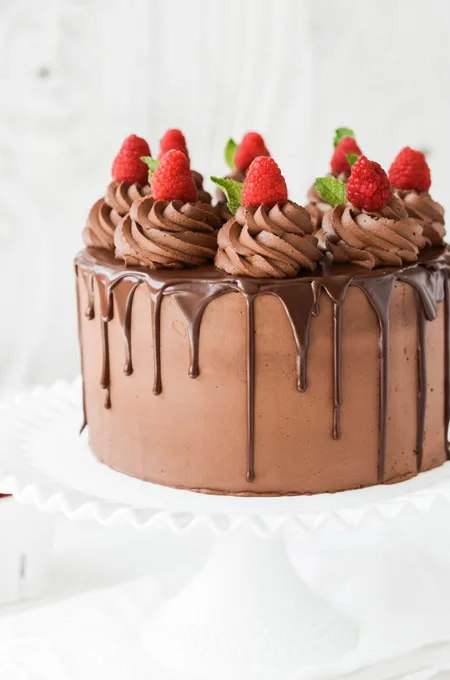 Raspberry Filling Substitutions
This cake recipe uses my favorite raspberry filling recipe. Raspberry is my favorite flavor but you can easily substitute your favorite frozen fruit for the raspberry. Here are some of my favorite substitutions:
Strawberry
Blueberry
Mixed berry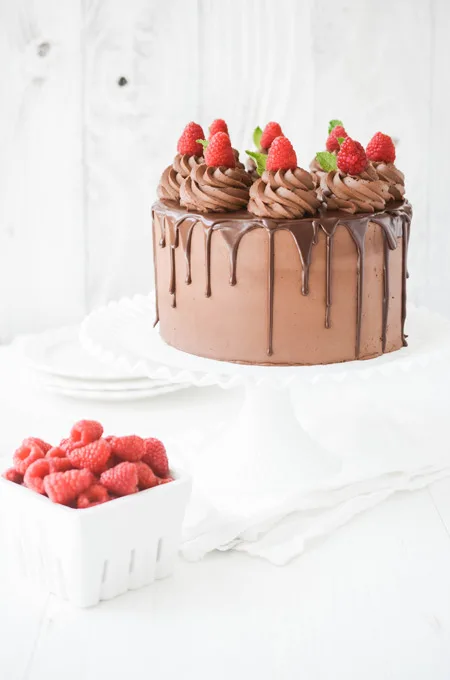 Whipped Ganache
If your looking for a chocolate frosting that has a rich chocolate flavor, but is light as a cloud, then Whipped Ganache Frosting is for you! IMPORTANT NOTE: The ganache has to set up for at least 6 hours and preferably overnight, so plan accordingly.

Chocolate Drip Tips
It's taken me some time to perfect the chocolate drip but I think I have a good hang of it now. Here are a few tips I've learned along the way:
Make sure your cake is chilled before adding chocolate drips. The cold cake will help control the chocolate drips when they're applied.
Be sure your chocolate drip is at the correct temperature before using. It should be fluid but not hot or warm. Let your melted chocolate sit for about 20 minutes before using.
If your chocolate drip slides off the cake it's too warm, if it clumps it's too cold.
For a more controlled drip, use a spoon or a squeeze bottle to strategically apply the drips.
Chocolate Raspberry Cake with Whipped Ganache Frosting has two layers of chocolate drip applied. You'll probably need to reheat your chocolate before applying the second layer. As soon as I chill the first layer of chocolate drip, I microwave the remaining chocolate drip for 30 seconds and let sit until the first layer of chocolate has set on the cake. At that point the remaining chocolate drip is the perfect dripping consistency.

Assembly Tips
Having a

cake turntable

or lazy Susan is extremely helpful when trying to achieve a smooth finish of frosting on your cake. I highly recommend having one not just for this cake but for all others as well.
Piping a dam of frosting around the edge of the cake helps ensure that no filling leaks out. A small

offset cake spatula

is also very helpful when spreading the filling out in an even layer.
Don't skip the crumb coating process! A crumb coat helps lock in any loose crumbs from getting into your final layer of frosting. Plus it helps when applying your second and final layer of frosting to be super smooth, even, and cake crumb free.
I use a

bench scraper

to help smooth out the edges of my cake.
Place remaining frosting in a piping bag attached with my favorite piping tip

Ateco #827

and pipe swirls around the top edge of the cake after the final layer of chocolate drip has set.
If you plan on serving the cake with fresh mint as shown on the pictures here I recommend placing the mint leaves on the cake right before serving. The mint leaves will start to wilt over time.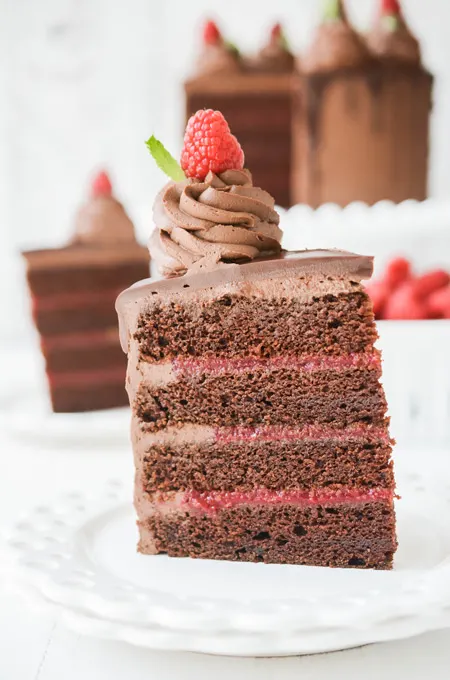 Plan It Out
Day 1: Prepare the filling.
Day 2: Bake the cake layers and prepare the ganache. (Ganache must chill at least 6 hours before whipping.)
Day 3: Whip the ganache. Assemble the cake and serve.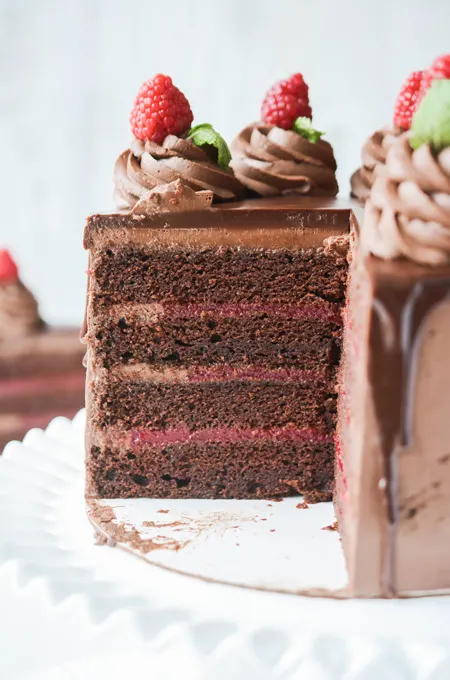 Let's Connect
The Cake Chica is on Facebook sharing sneak peeks of recipes to come, Instagram for your food porn desires and Pinterest for your board pinning needs!

You May Also Like: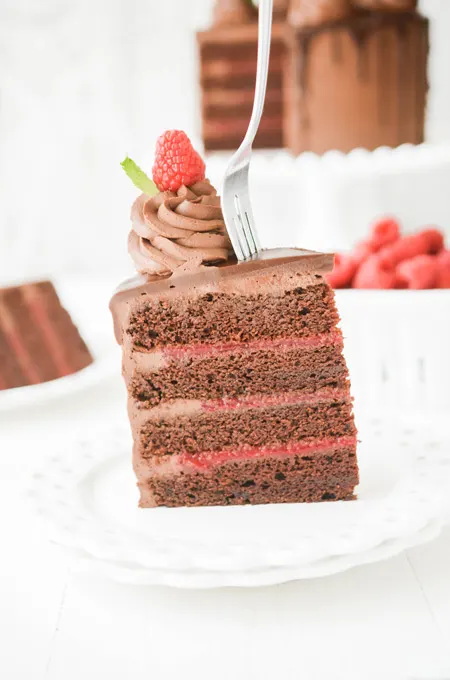 Chocolate Raspberry Cake with Whipped Ganache Frosting
Prep Time:
1 hour
45 minutes
Additional Time:
54 minutes
Total Time:
3 hours
39 minutes
Four layers of sour cream chocolate cake, filled with fresh raspberry filling, frosted with a whipped chocolate ganache, then topped with a dark chocolate glaze.
Ingredients
SPECIAL TOOLS
Nonstick baking spray
2 8-inch round cake pans
Food processor or blender
Stand mixer
Sieve
8-inch round cake board
Offset cake spatula
Cake turntable
Piping bags
Ateco piping tip #827
CAKE
2 2/3 cups (13 ounces) all-purpose flour
2 ½ cups (17.5 ounces) granulated sugar
½ cup (1.5 ounces) unsweetened cocoa powder
1 ½ teaspoons baking soda
½ teaspoon table salt
3 large eggs, at room temperature
2/3 cup sour cream, at room temperature
1 tablespoon vanilla extract
10 tablespoons (1 ¼ sticks) unsalted butter, melted and cooled
2/3 cup safflower, corn, canola or grapeseed oil
1 ¼ cups ice-cold water
FILLING
1 12-ounce bag of frozen raspberries, thawed
¼ cup (1.75 ounces)granulated sugar
3 tablespoons cornstarch, mixed with 3 tablespoons cold water until dissolved
Fresh lemon juice for flavor
2 tablespoons Chambord
WHIPPED GANACHE
14 ounces bittersweet chocolate, finely chopped
4 cups (32 ounces) heavy cream
2 tablespoons raspberry Chambord
CHOCOLATE DRIP
6 ounces semi sweet chocolate, chopped
3/4 cup (6 ounces) heavy cream
1/4 cup unsalted butter
1 tablespoon Chambord
Instructions
CAKE
Adjust an oven rack to the center position and preheat oven to 350 degrees. Spray 2 8-inch cake rounds with nonstick baking spray and set aside.
In a large bowl, whisk together the flour, sugar, cocoa powder, baking soda, and salt. Set aside.
In a medium bowl, whisk together the eggs until blended. Add sour cream and vanilla extract to the eggs and whisk together until combined and set aside.
In the bowl of a stand mixer, with the paddle attachment attached, mix the melted butter, and oil together on low speed. Add the cold water and continue to mix on low speed. Add all of the flour mixture and continue to mix on medium-low speed for 1 minute. Add the egg mixture and mix for another minute until blended. Scrape down the sides of the bowl as necessary. Divide batter into the prepared cake pans evenly.
Bake cakes for 35 to 40 minutes or until a toothpick inserted into the center comes out with a few moist crumbs attached. Cool the cakes in their pans on wire racks for about 15 minutes.
Invert cakes onto wire racks and let cool completely.
FILLING
Puree thawed berries in a blender or food processor until smooth. Over a bowl, pour raspberry puree over a sieve to remove the seeds. The puree will be thick. Use a spoon to stir and press the puree through the sieve. Place raspberry puree in a saucepan over medium-low heat. Add sugar and cornstarch mixture and bring to a simmer stirring constantly to keep lumps from forming. Once the puree thickens, remove from the heat. Cool for 5 minutes and then add fresh lemon juice and Chambord. Chill for a 2-3 hours in the refrigerator until ready to use.
WHIPPED GANACHE
Place chocolate in the bowl of a stand mixer.
In a medium saucepan, bring the heavy cream to a gentle boil over medium-high heat. Pour hot cream over the chocolate and let sit for 1 minute, then whisk until the chocolate is melted and smooth. Whisk in the Chambord. Cover the surface of the ganache with plastic wrap and refrigerate until firm enough to whip, at least 6 hours
With the whisk attachment attached to a stand mixer, beat the ganache on medium-high speed, until medium peaks form and is firm enough to spread, about 1 minute.

ASSEMBLE
Cut each layer of cake horizontally creating 4 thin layers of cake. Place one layer on a cake pedestal or serving platter. Fit a piping bag with a plain round tip or coupler and fill with about 1 1/2 cups Whipped Ganache Frosting and pipe a frosting dam around the edge of the cake. With an offset cake spatula, spread about 1/2 cup raspberry filling on top, spreading out in an even layer until it meets the frosting dam. Place another cake layer on top and repeat with the second and third cake layers.
Top with the last cake layer and spread light coating of Whipped Chocolate Ganache Frosting over the top and sides of the cake, creating a crumb coat. Once the crumb coat is applied, chill in the refrigerator for 30 minutes.
Apply a final coat of frosting over the chilled crumb coated cake. Place remaining frosting in a piping bag fitted with Ateco piping tip #827. Chill the cake in the refrigerator while you prepare the Chocolate Drip.

CHOCOLATE DRIP
Place chocolate in a medium heat proof bowl.
In a small saucepan, bring cream and butter to a simmer over medium heat. Pour hot cream mixture over the chocolate and stir until melted. Let cool for 20 minutes before using.
With a spoon or squeeze bottle, strategically place the first layer of Chocolate Drips on the side of the cake. Pour some of the Chocolate Drip in the center of the cake and spread out until it meets the chocolate drips. Chill the cake in the refrigerator for 15 minutes before adding a second layer of Chocolate Drip. (Microwave the remaining Chocolate Drip for 30 seconds now, and it should be the right consistency after the 15 minutes of chill time for the first layer of Chocolate Drip.)
Apple the second layer of Chocolate Drip over the sides of the cake. Pour more Chocolate Drip in the center of the cake and spread out in an even layer until it meets the edge of the cake. Chill the cake in the refrigerator for 15 minutes so the Chocolate Drip can set before adding additional decoration to the top of the cake.
With the remaining frosting in the piping bag, pipe 8 swirls on the top edge of the cake. Top each swirl with a fresh raspberry and a mint leaf and serve.

Notes
Cake layers can be made up to 3 days in advance wrapped in plastic wrap and stored in an airtight container in the refrigerator.
Filling can be made up to 5 days in advance, stored in an airtight container in the refrigerator.
Assembled cake can be stored at room temperature up to 1 day in an airtight container or stored in the refrigerator up to 3 days. Bring to room temperature before serving.
Nutrition Information:
Yield:

12
Serving Size:

1 slice
Amount Per Serving:
Calories:

768
Total Fat:

50g
Saturated Fat:

27g
Trans Fat:

0g
Unsaturated Fat:

20g
Cholesterol:

125mg
Sodium:

360mg
Carbohydrates:

69g
Fiber:

10g
Sugar:

27g
Protein:

12g
*Nutrition information is an estimate and will vary.*