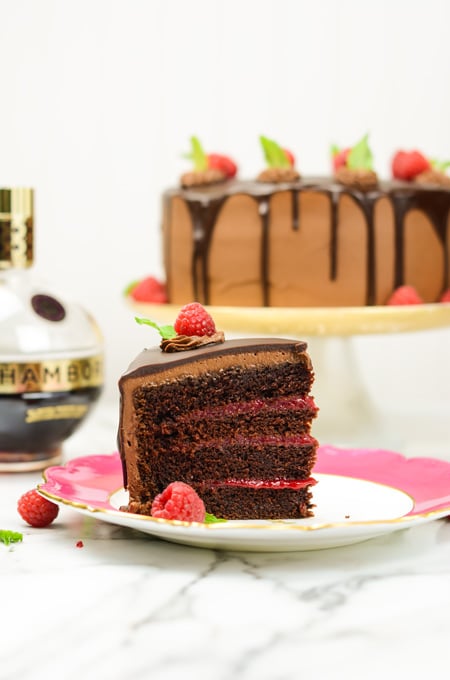 Okay, this is MY favorite cake! This Chocolate Raspberry with Whipped Ganache Frosting includes my favorite Sour Cream Chocolate Cake from The Cake Book by Tish Boyle. This book holds a special place in my heart because it was one of my first cookbooks I used when I started baking cakes many years ago. In addition to the cake, I've also used the Whipped Ganache recipe included in this book as well.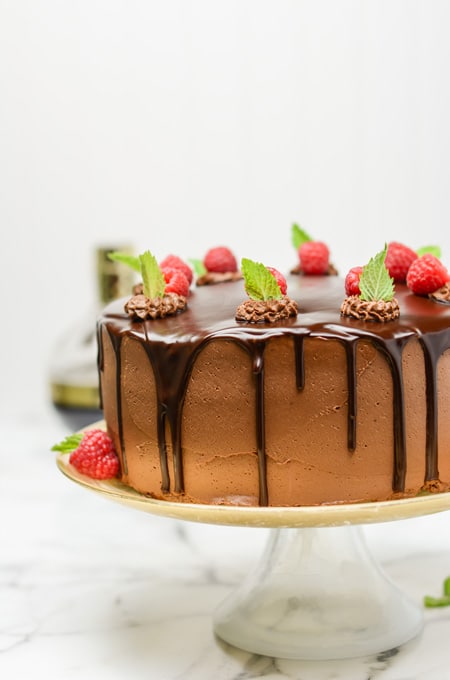 Since my favorite combination is chocolate and raspberry, I wanted to add a raspberry filling. I stuck with a tried and true recipe I had been using back in the day when I was making custom cakes. The flavor is amazing and it was thick, so no problems oozing out of the sides of the cake with this one. What's great about this filling is you can use any kind of frozen fruit you'd like to make your favorite flavor of filling.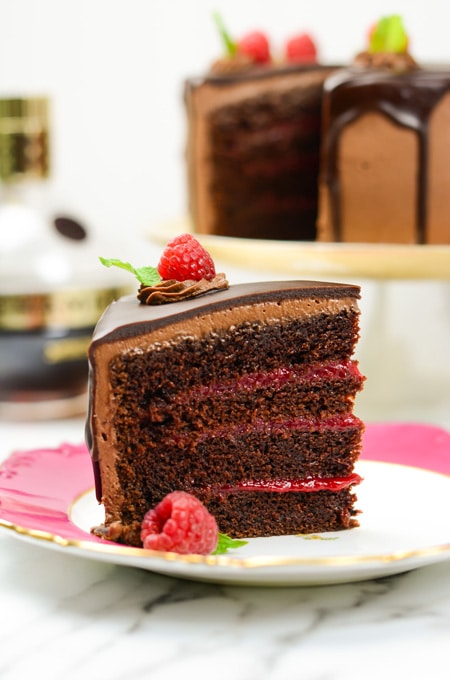 On a whim, I decided to add a dark chocolate raspberry glaze on top to really take this cake to the next level! And I'm so glad I did!!! It definitely was the finishing touch! So we already know this is my favorite cake, but if you are a lover of the chocolate and raspberry combination, then I think this recipe just might be your favorite too!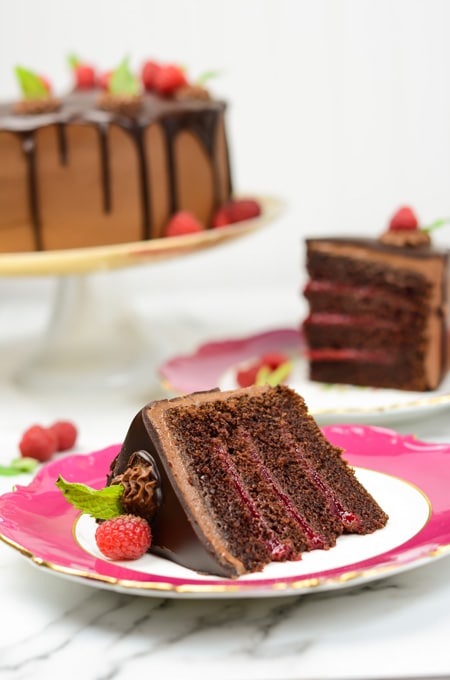 Tips for Chocolate Raspberry Cake with Whipped Ganache Frosting:
PLAN, PLAN, PLAN! The whipped ganache and raspberry filling need time to set up. The ganache needs to chill for about 6 hours and the filling for 2 hours.

The whipped ganache is light, but the chocolate cake is lighter. The best way to frost the cake is to fill a piping bag fitted with a coupler or a medium round cake tip and pipe the frosting all around and on top of the cake. Using a heated large offset cake spatula, smooth the cake on the top and sides. See recipe for more details.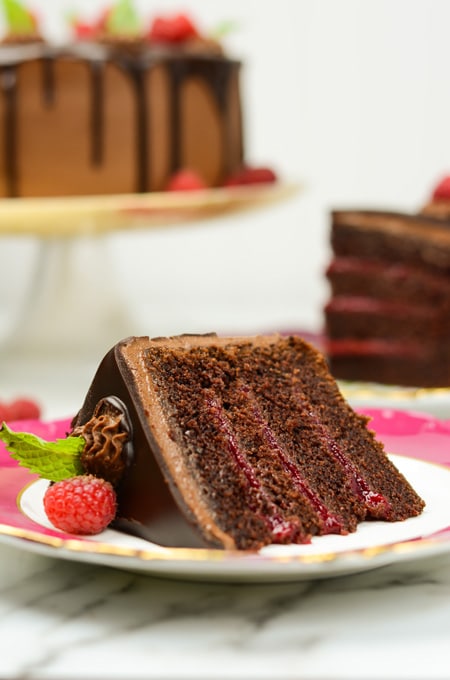 Follow The Cake Chica on social media: Facebook, Instagram, Twitter and Pinterest!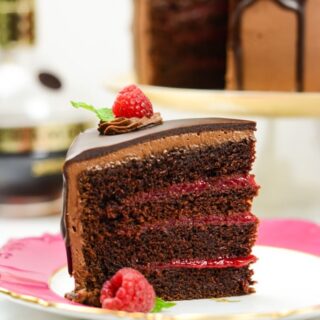 Chocolate Raspberry Cake with Whipped Ganache Frosting
Prep Time:
1 hour
45 minutes
Additional Time:
54 minutes
Total Time:
3 hours
39 minutes
Four layers of sour cream chocolate cake, filled with fresh raspberry filling, frosted with a whipped chocolate ganache, then topped with a dark chocolate glaze.
Ingredients
SPECIAL TOOLS
2 8-inch round cake pans
Food processor
Stand mixer or hand mixer
Sieve
Offset cake spatula
CAKE
Nonstick baking spray
2 2/3 cups all-purpose flour
2 ½ cups granulated sugar
½ cup unsweetened cocoa powder
1 ½ teaspoons baking soda
½ teaspoon table salt
3 large eggs, at room temperature
2/3 cup sour cream, at room temperature
1 tablespoon vanilla extract
10 tablespoons (1 ¼ sticks) unsalted butter, melted and cooled
2/3 cup safflower, corn, canola or grapeseed oil
1 ¼ cups ice-cold water
FILLING
1 12 ounce bag of frozen raspberries, thawed
¼ cup granulated sugar
3 tablespoons cornstarch, mixed with 3 tablespoons cold water until dissolved
Fresh lemon juice for flavor
3 tablespoons raspberry Chambord
GANACHE
14 ounces bittersweet chocolate, finely chopped
4 cups organic heavy cream
2 tablespoons raspberry Chambord
GLAZE
5 ounces bittersweet chocolate
¾ cup unsalted butter
1 tablespoon light corn syrup
Pinch of table salt
1 tablespoon Chambord
Instructions
CAKE
Adjust an oven rack to the center position and preheat oven to 350 degrees. Spray 2 8-inch cake rounds with nonstick baking spray and set aside.
In a large bowl, whisk together the flour, sugar, cocoa powder, baking soda, and salt. Set aside.
In a medium bowl, whisk together the eggs until blended. Add sour cream and vanilla extract to the eggs and whisk together until combined and set aside.
In the bowl of a stand mixer, with the paddle attachment attached, mix the melted butter, and oil together on low speed. Add the cold water and continue to mix on low speed. Add all of the flour mixture and continue to mix on medium-low speed for 1 minute. Add the egg mixture and mix for another minute until blended. Scrape down the sides of the bowl as necessary. Divide batter into the prepared cake pans evenly.
Bake cakes for 35 to 40 minutes or until a toothpick inserted into the center comes out with a few moist crumbs attached. Cool the cakes in their pans on wire racks for about 15 minutes.
Invert cakes onto wire racks and let cool completely.
FILLING
Puree thawed berries in a blender or food processor until smooth. Over a bowl, pour raspberry puree over a sieve to remove the seeds. The puree will be thick. Use a spoon to stir and press the puree through the sieve. Place raspberry puree in a saucepan over medium-low heat. Add sugar and cornstarch mixture and bring to a simmer stirring constantly to keep lumps from forming. Once the puree thickens, remove from the heat. Cool for 5 minutes and then add fresh lemon juice and Chambord. Chill for a 2-3 hours in the refrigerator until ready to use.
WHIPPED GANACHE
Place chocolate in the bowl of a stand mixer.
In a medium saucepan, bring the heavy cream to a gentle boil over medium-high heat. Pour hot cream over the chocolate and let sit for 1 minute, then whisk until the chocolate is melted and smooth. Whisk in the Chambord. Cover the surface of the ganache with plastic wrap and refrigerate until firm enough to whip, at least 6 hours
With the whisk attachment attached to a stand mixer, beat the ganache on medium-high speed, until medium peaks form and is firm enough to spread, about 1 minute.
GLAZE
In a double broiler, melt chocolate, butter, corn syrup, salt and Chambord stirring until smooth. Remove the bowl from the heat and let cool slightly.
ASSEMBLE
Remove any cake domes that may have formed with a knife. Cut each layer of cake horizontally creating 4 thin layers of cake. Place one layer on a cake pedestal or serving platter. With an offset cake spatula, spread about 1/3 cup raspberry filling on top, stopping about ½-inch from the edge. Place another cake layer on top and repeat with the second and third cake layers.
Top with the last cake layer and spread whipped chocolate ganache over the top and sides of the cake. The ganache frosting is thick. An easy way to evenly spread the frosting over the cake without pulling the cake is to fill a large piping bag fitted with just a coupler or medium round piping tip with frosting. Pipe frosting from the top to the bottom, moving all around the cake. Next, pipe frosting on the top. (No need to do anything fancy here, this is just to get the frosting on the cake. With a large offset cake spatula, heated under hot water and dried, smooth out the sides of the cake. The spatula will help smooth out the frosting without melting it. Continue with this method all around and on top of the cake, heating the spatula as necessary. Once the cake is completely frosted, chill in the refrigerator for 10 minutes.
With the slightly cooled glaze, pour just enough to cover the top of the cake, pushing it over the edge with a small offset cake spatula. Refrigerate for about 10 minutes. Pour and spread more glaze over the top of the cake again and chill for another 10 minutes. Continue to decorate with remaining frosting as desired. Top with fresh raspberries and mint leaves.
Notes
MAKE AHEAD: Cake can be made up to 5 days in advance, wrapped in plastic wrap and stored in an air tight container at room temperature.
STORE: Decorated cake can be stored in an air tight cake container in the refrigerator for up to 3 days. Bring to room temperature before serving.
*Nutrition information is an estimate and will vary*
Nutrition Information:
Yield:

12
Serving Size:

1 slice
Amount Per Serving:
Calories:

1002
Total Fat:

86g
Saturated Fat:

46g
Cholesterol:

198mg
Sodium:

311mg
Carbohydrates:

46g
Fiber:

8g
Sugar:

8g
Protein:

14g
You May Also Like: