Pound cakes have never been exciting to me. I typically just think of them as a vessel to carry fluffy whipped cream or a sweet fruit compote. But now my opinion has changed! And I have this Blackberry Lavender Pound Cake to thank for it!
It's as beautiful as a layer cake and has the best of both worlds, fruit and whipped cream.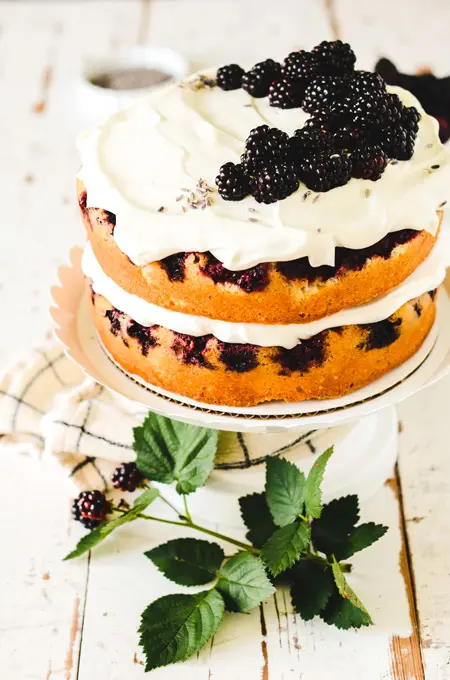 Lining Your Cake Pans
Initially I used my usual method of lining cake pans with non stick baking spray, however it didn't work out perfectly. This is definitely a time to use the classic method of greasing your cake pans with shortening or melted butter, lining the bottom of the pan with parchment paper and spreading another layer of shortening or butter on top of that, then lightly flouring the pan.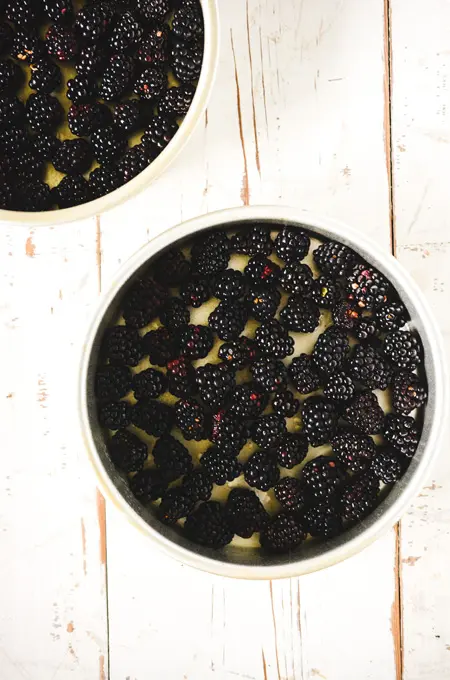 Cake
This pound cake is moist and its perfect for feeding your guests at your summer time gatherings. Plus, it's easy to assemble and beautiful to look at.
If you can't find culinary lavender you can also use lavender extract as a substitute. Just be sure to add 1 drop at a time and taste as you go.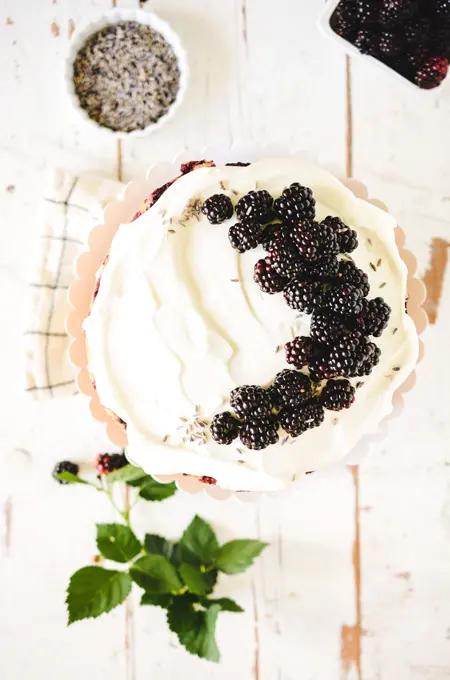 Whipped Cream
Whipped cream is the easiest topping you can make. And it only takes about 3 minutes for the cream to whip up just right. Be sure not to over whip. Your whipped cream should be light and billowy. Over mixed whipped cream will start to form lumps and have a granular texture.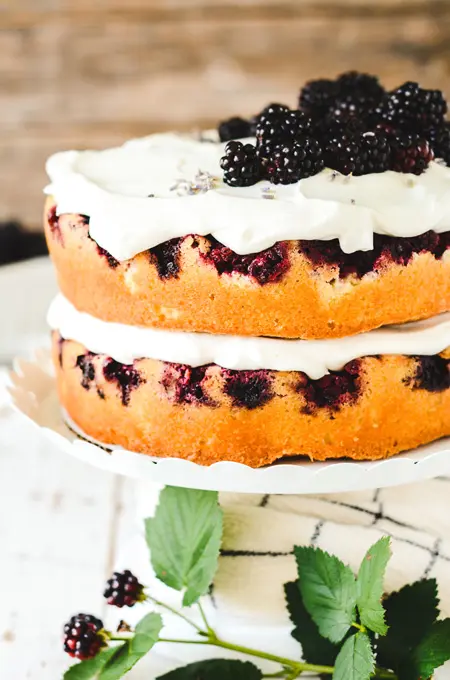 Cake Assembly
Pick out your favorite cake pedestal and place one cake layer, blackberry side up on a cake round. Spread about half of the whipped cream on top, spreading whipped cream to the edges of the cake. Try not to cover the sides of the cake with whipped cream so the black berries show. Next, place the second cake layer on top, blackberry side up and top with remaining whipped cream, being careful not to cover the sides of the cake so that the blackberries are on display. Decorate the top of the cake with remaining blackberries and a few bits of dried lavender.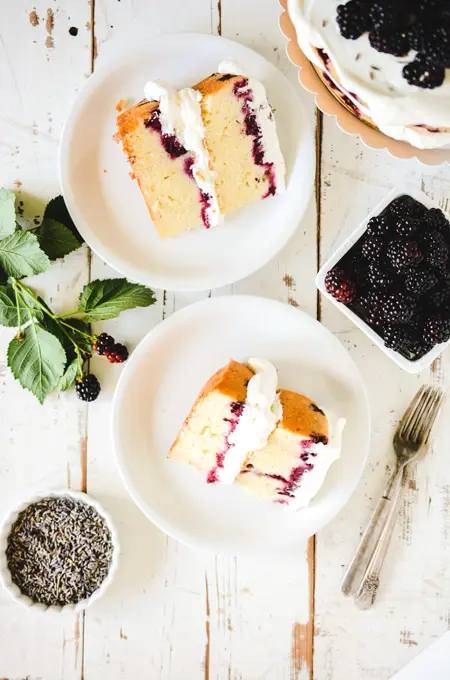 Storage
The cake layers can be stored up to 3 days in the refrigerator in an air tight container. Once the whipped cream is made and the cake is assembled, it's best served the same day. Leftovers can be stored in an air tight cake container for up to 1 day.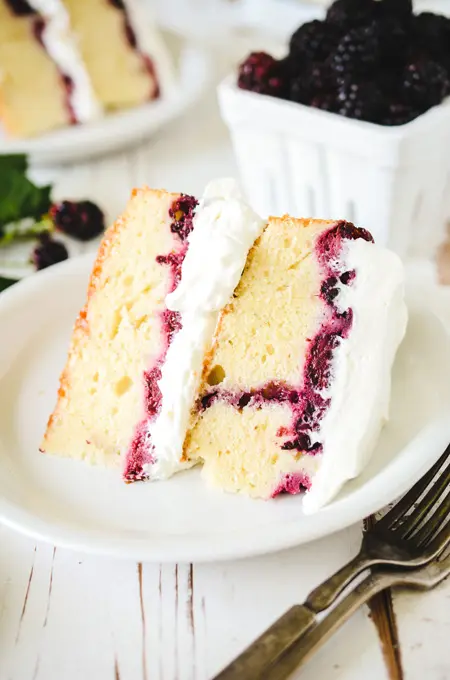 Plan It Out
Even though this cake is a simple one to make, I always have a plan in place. Here is what my schedule looked like.
Day 1: Bake cake layers.
Day 2: Make whipped cream, assemble and serve.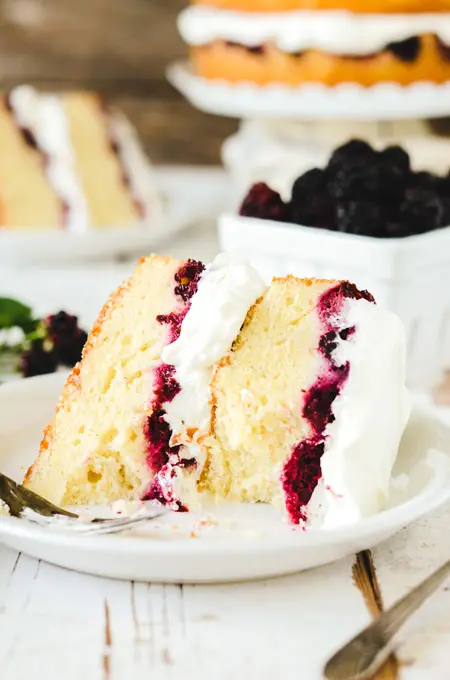 Lets Connect
The Cake Chica is on Facebook sharing peeks of recipes to come, Instagram for your food porn desires and Pinterest for your board pinning needs!
You May Also Like
---
Adapted from Favorite Cakes by Williams Sonoma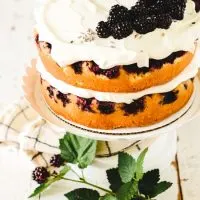 Blackberry Lavender Pound Cake
Total Time:
1 hour
20 minutes
Homemade pound cake baked with fresh blackberries and lavender and topped with whipped cream.
Ingredients
SPECIAL TOOLS
2 9-inch cake rounds
Food processor
Stand mixer
POUND CAKE
1 ½ cups (24 tablespoons/12 ounces/375 grams) unsalted butter, at room temperature, about 72 degrees
3 cups (15 ounces/470 grams) all purpose flour
1 ½ teaspoons baking powder
¾ teaspoon kosher salt
2 ¼ cups (18 ounces/560 grams) granulated sugar
1 teaspoon dried culinary lavender, finely minced
4 large eggs, plus 1 large egg white, at room temperature
3 teaspoons vanilla extract
1 cup whole milk, at room temperature
5 pints (2.5 pounds/1.25kg) blackberries
WHIPPED CREAM
2 cups (16 ounces/454 grams) heavy whipping cream
2 tablespoons granulated sugar
1 teaspoon vanilla extract
Instructions
POUND CAKE
Adjust an oven rack to the center position and heat oven to 350 degrees. Grease cake pans with shortening and line the bottoms with parchment paper. Grease the top of the parchment paper and lightly coat the pans with flour.
In a large bowl whisk together the flour, baking powder, and salt until combined. In the bowl of a food processor, combine the butter, sugar, and lavender and pulse until combined, about 45 seconds. Transfer the butter mixture to the bowl of a stand mixer. Attach the paddle attachment to the mixer and add in the eggs and egg white, one at a time, mixing on low speed until combined. Mixture will look curdled. Add in the vanilla extract. With the mixer on low speed, add the flour mixture in 3 additions, alternating with the milk in 2 additions, starting and ending with the flour mixture. Beat until combined.
Arrange a layer of blackberries on the bottom of the prepared cake pans so they cover the entire surface. Save the remaining blackberries for decorating. Divide the batter evenly between the cake pans and gently tap on the counter to submerge the blackberries in the cake batter. Bake for about 50 to 60 minutes, or until a toothpick inserted in the center comes out with a few moist crumbs attached. Transfer cake pans to wire racks to cool for 10 minutes, then invert the cakes on to the racks to cool completely.
WHIPPED CREAM
In a stand mixer fitted with the whisk attachment attached, whisk the cream on medium speed until it starts to thicken. Add the sugar and vanilla extract and whisk on high speed until medium stiff peaks form.
ASSEMBLE
Place one cake layer, blackberry side up, on a serving platter and spread about half of the cream on top. Next, top with the second layer, blackberry side up and spread the remaining cream on top. Decorate with remaining blackberries and a sprinkle of lavender.
Notes
Store cake layers wrapped in plastic wrap in an air tight container in the refrigerator for up to 3 days. This cake is best served the day it's assembled. Leftovers can be stored in an air tight cake container for up to 1 day. Bring to room temperature before serving.
Nutrition Information:
Yield:

12
Serving Size:

1
Amount Per Serving:
Calories:

245
Total Fat:

8g
Saturated Fat:

3g
Trans Fat:

0g
Unsaturated Fat:

4g
Cholesterol:

97mg
Sodium:

275mg
Carbohydrates:

35g
Fiber:

1g
Sugar:

9g
Protein:

7g
*Nutrition information is an estimate and will vary.*