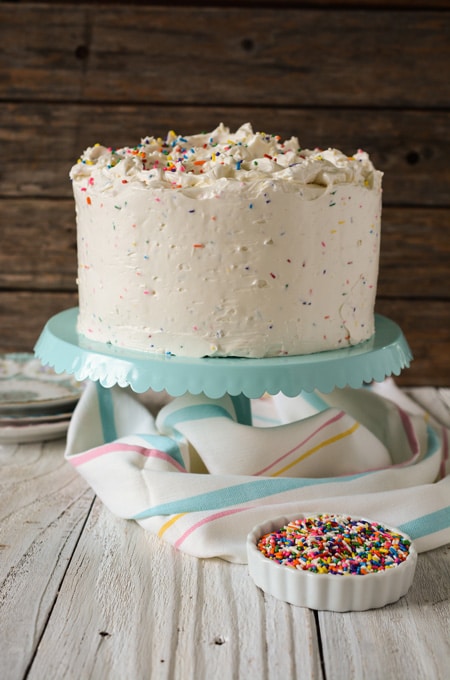 Everyone needs a confetti cake recipe in your recipe repertoire, and this Confetti Cake with Buttercream is mine! Maybe it will be yours too!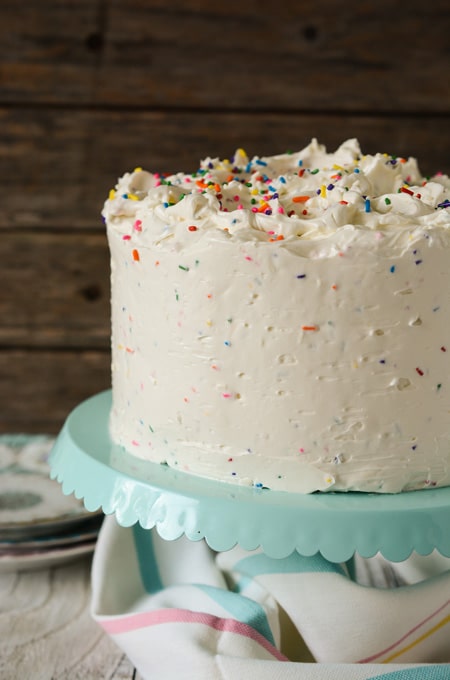 It's three layers of confetti cake. Each layer is soaked with a cake flavored soaking syrup and filled and frosted with a confetti swiss meringue buttercream. Cake heaven, am-I-right?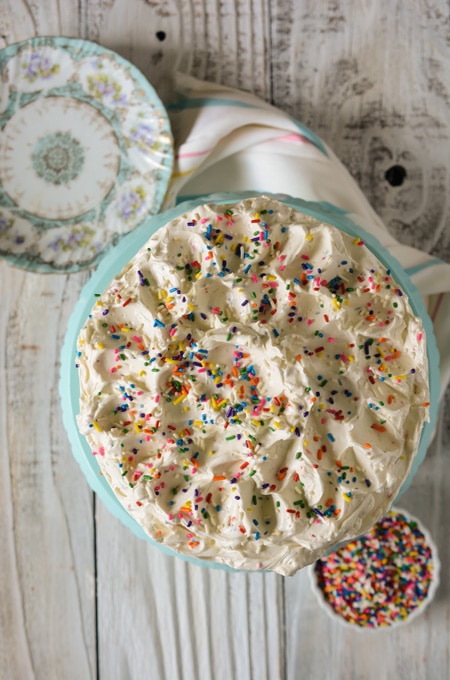 The buttercream is so light and fluffy, I could eat the frosting by the spoonful! All of the elements in this cake (cake, soaking syrup, buttercream) are perfect staples to have. You can always switch up the flavor of your soaking syrup with different extracts and liqueur if using. And leave out the rainbow sprinkles in the buttercream, and you've got a great frosting for just about any cake!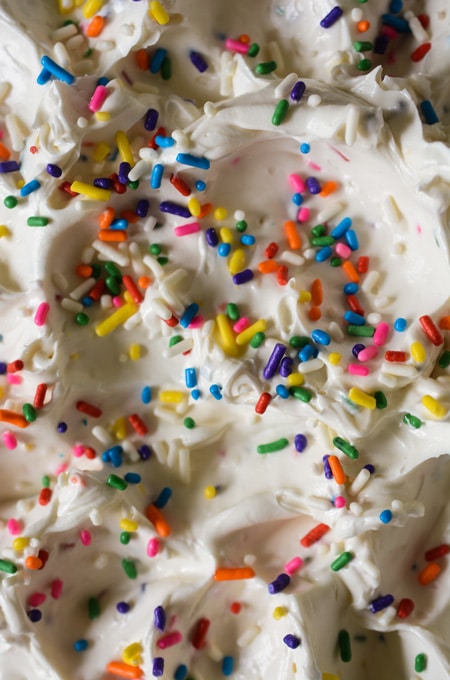 Cakes like this one can be a little time consuming and overwhelming. But not to worry, I've got some tips and tricks to help you conquer this cake and other layer cakes in your future. So keep scrolling!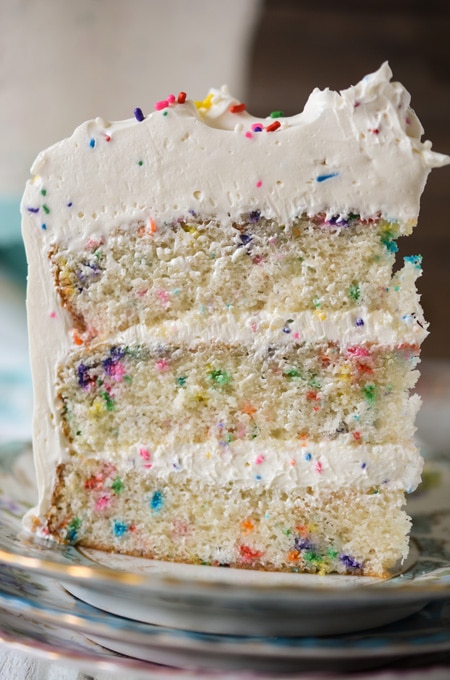 Confetti Cake with Buttercream Tips
I used to line my cakes using the fat, flour and parchment paper method, but I now like to use non-stick baking spray. It's a quick and easy way to prepare your cake pans. I've never had a cake stick using non-stick baking spray. If you don't have baking spray, feel free to use the old-school classic of greasing, lining and flouring.

I like to make my layer cakes in steps/days. I make the cake layers one day and buttercream another day. This helps to keep me sane and organized and focused on the task at hand without being exhausted from baking and cleaning, and making frosting and cleaning, and then assembling and cleaning again! Trust me it helps. And you can make the cake layers about a month in advance and freeze them until needed.

If you do freeze your cakes, wrap them tightly in plastic wrap, then tightly in foil. To thaw, take the cakes out the night before you plan on using them to let them thaw overnight.

Another thing I like to leave out overnight is my butter. The night before I know I am going to bake a cake or make buttercream I leave the required amount of butter out overnight tightly covered in plastic wrap. The next day it will be the perfect softness for making your cake and buttercream.

Speaking of buttercream, this buttercream can be a bit finicky. So definitely leave your butter out overnight for the best butter temperature and consistency for this recipe. Too cold or too hot butter can break this buttercream. Trust me on this one I've done it! And don't leave your butter out on the counter above your dishwasher with the dishwasher running. Your butter will get too hot! (Lesson learned for me.)

Buy a thermometer. This is not the recipe to guestimate the temperature.

Always make sure your mixer bowl is clean and egg whites are free of yolks.

Combine the egg whites and sugar to be sure the egg whites don't start cooking on their own. (Another lesson learned for me.)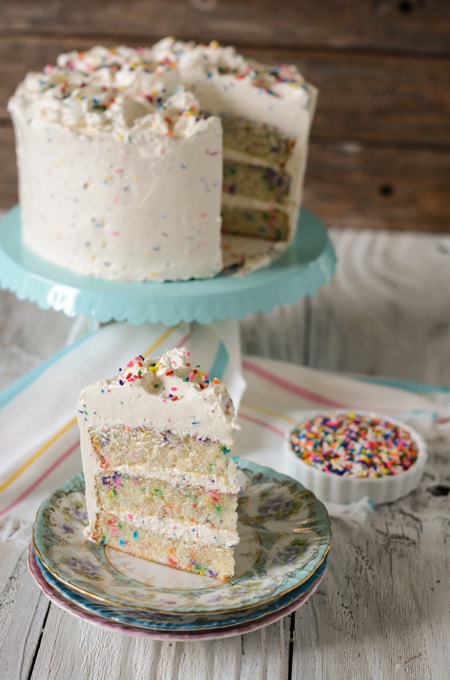 Hopefully these tips will help you in your cake baking process. Feel free to follow The Cake Chica on social media: Facebook, Instagram and Pinterest.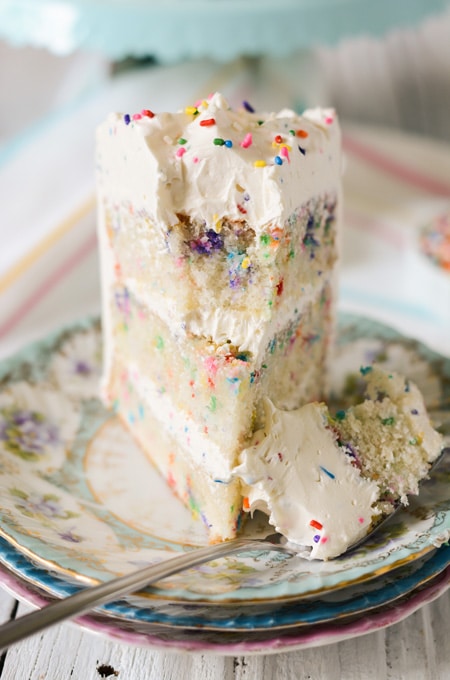 This recipe was adapted from America's Test Kitchen The Perfect Cake and Layered by Tessa Huff
You May Also Like: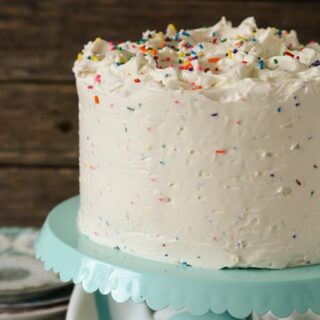 Confetti Cake with Buttercream Frosting
Additional Time:
2 hours
10 minutes
Total Time:
3 hours
45 minutes
Three layers of confetti cake, soaked in cake flavored soaking syrup, then filled and frosted with a confetti Swiss meringe buttercream.
Ingredients
SPECIAL TOOLS
CAKE
1 cup whole milk, at room temperature
6 large egg whites, at room temperature
1 teaspoon vanilla extract
2 ¼ cups (9 ounces) cake flour
1 ¾ cups (12 ¼ ounces) granulated sugar
4 teaspoons baking powder
1 teaspoon salt
12 tablespoons unsalted butter, cut into 12 pieces, at room temperature
SOAKING SYRUP
½ cup water
½ cup granulated sugar
1 teaspoon vanilla extract
2 tablespoon cake flavored vodka (optional)
BUTTERCREAM
1 cup egg whites
2 cups granulated sugar
3 cups (6 sticks) unsalted butter, cut into tablespoon sized pieces, at room temperature
1 tablespoon vanilla extract
1 tablespoon cake flavored vodka
Instructions
CAKE
Adjust a rack to the center position in the oven and heat to 350 degrees. Spray 3 8-inch round cake pans with non-stick baking spray and set aside. In a food processor, process the rainbow sprinkles until coarsely ground, about 8 to 10 pulses. Set aside until needed.
In a medium sized bowl, whisk together the milk, egg whites and vanilla.
Attach the paddle attachment to a stand mixer. On low speed combine flour, sugar, baking powder and salt. Add butter one piece at a time. Continue to combine until the butter is the size of peas, about 1 minute. Reserve ½ cup of the milk mixture, and pour remaining into the dry ingredients. Increase speed to medium-high and beat until light and fluffy, about 1 minute. Reduce the mixer speed to medium-low and add the reserved milk mixture to the batter and beat until combined, about 30 seconds (the batter may look curdled at this point). Give the batter a final stir by hand and stir in ground rainbow sprinkles.
Divide the batter evenly among the prepared cake pans and smooth the tops with an offset cake spatula or rubber spatula. Bake for about 20 to 25 minutes, or until a toothpick inserted in the center comes out with a few moist crumbs attached, rotating pans halfway through baking. Let cakes cool in their pans for 10 minutes on wire racks. Invert cakes onto the wire racks to cool completely, about 2 hours.
SOAKING SYRUP
Add water and sugar in a small saucepan and cook over medium heat, stirring occasionally until sugar has dissolved. Turn off the heat and stir in extract and flavored vodka if using.
BUTTERCREAM
Pour egg whites and sugar in the bowl of a stand mixer, and whisk them together by hand to combine. Create a double boiler by filling a saucepan with a few inches of water and placing the bowl on top. The bottom of the bowl should not touch the water. Heat saucepan over medium heat.
Attach a candy thermometer to the bowl and heat the egg white mixture to 160 degrees, whisking often. Once the mixture reaches 160 degrees, about 10 to 12 minutes. Carefully transfer the bowl to the stand mixer.
With the whisk attachment attached, beat the egg white mixture on high speed for about 8 to 10 minutes until egg whites hold medium-stiff peaks. The mixer bowl should be room temperature with no residual heat coming from the top of the bowl.
Remove the whisk attachment from the mixer and replace it with the paddle attachment. With the mixer on low speed, add the butter a tablespoon at a time, then add the vanilla extract and vodka if using. Once the butter is combined increase the mixer speed to medium-high and beat until the buttercream is smooth and silky, about 5 minutes. Add in rainbow sprinkles and gently stir in by hand.
ASSEMBLE
Trim off cake domes that may have formed during baking on each cake layer, creating a flat and even surface. Poke a few holes on the top of the cake layer with a wooden skewer. With a pastry brush, brush on soaking syrup (about 3 tablespoons for each cake layer). With an offset cake spatula, spread about ¾ cup buttercream on top of the first cake layer, leaving about ½-inch from the edge free of buttercream. Repeat this process with the remaining cake layers. Top the last cake layer with a generous amount of frosting, smoothing to the edges and down the sides, removing excess frosting as you go. Enjoy!
Notes
Cake storage: Cake can be stored in an air tight cake container at room temperature for up to 3 days.
Nutrition Information:
Yield:

12
Serving Size:

1
Amount Per Serving:
Calories:

995
Total Fat:

67g
Saturated Fat:

37g
Trans Fat:

0g
Unsaturated Fat:

26g
Cholesterol:

170mg
Sodium:

473mg
Carbohydrates:

88g
Fiber:

1g
Sugar:

62g
Protein:

8g
*Nutrition information is an estimate and will vary.*