Everyone should have this quintessential party cake in their recipe repertoire. Confetti Cake with Buttercream Frosting uses my basic White Cake recipe, just with sprinkles added! I filled and frosted this cake with my favorite buttercream, Swiss meringue with sprinkles added. It's party time!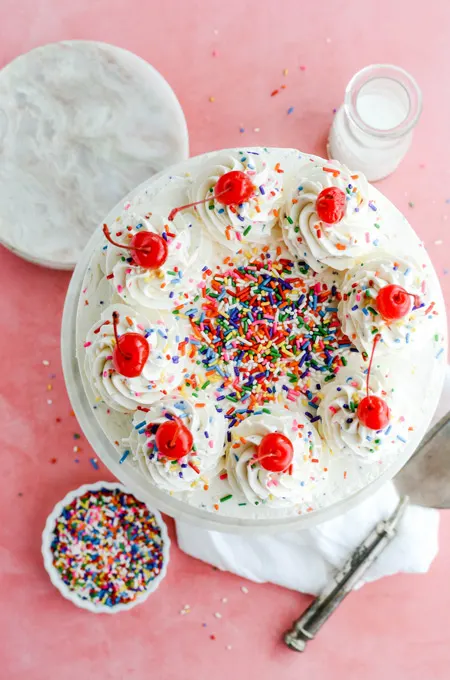 Confetti Cake Ingredients
Carnival Sprinkles: I love to use multi-colored jimmies for my sprinkles.
Whole Milk: the fat in whole milk tenderizes the cake crumb which weakens the gluten just enough for the cake to have structure.
Egg Whites: helps leaven the cake.
Vanilla Extract: flavor enhancer.
Cake Flour: lower in gluten and is bleached. The bleaching process helps cakes retain a pure white color which is ideal for white cakes and angel food cakes. It also produces a fine-crumbed cake.
Granulated Sugar: it's evenly ground and loose texture incorporates well in cake batter.
Baking Powder: is a mixture of baking soda, and cornstarch. Baking powder works when it first comes into contact liquid, and again when it hits the heat of the oven. 📌 Baking powder loses its effectiveness after six months. 📌
Salt: enhances the flavor of the ingredients.
Unsalted Butter: helps with flavor and texture. This recipe uses the reverse creaming method where the butter coats the dry ingredients instead of creaming together with the sugar.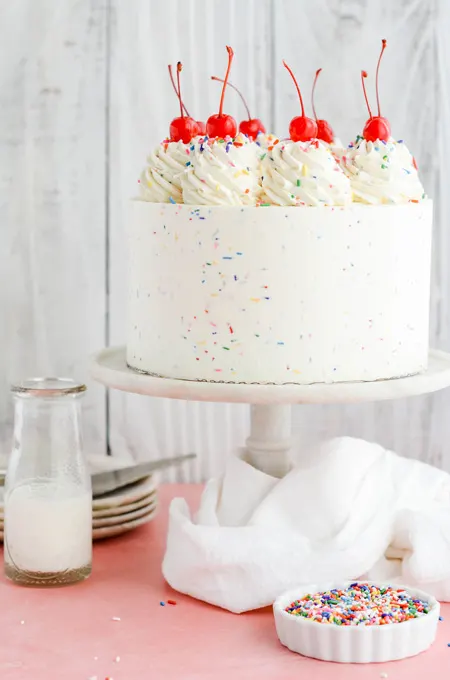 What Is Reverse Creaming
If you're looking for a cake with a tender but sturdy crumb, reverse creaming is the way to go. The process starts by combining all the dry ingredients, then adding softened butter to the dry ingredients, followed by any liquid ingredients. Since the butter isn't beaten with the sugar, less air is incorporated, which means a cake with less rise and sturdier cake.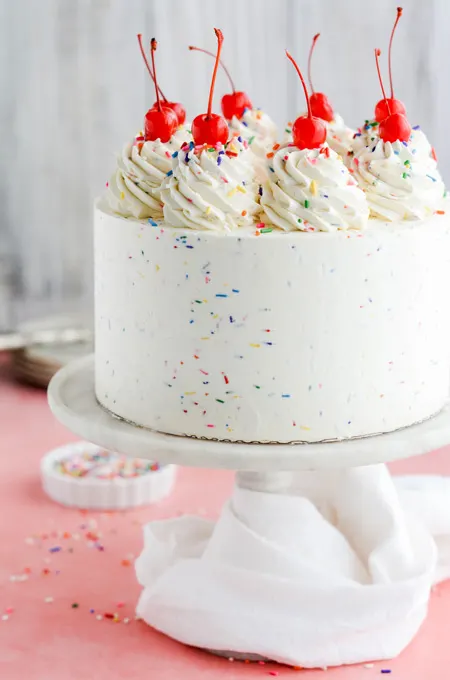 Why Process The Sprinkles
Whole sprinkles created large pockets of color that were a bit too large for this delicate cake. Processing the sprinkles to just the right size helps the sprinkles spread out evenly throughout the batter.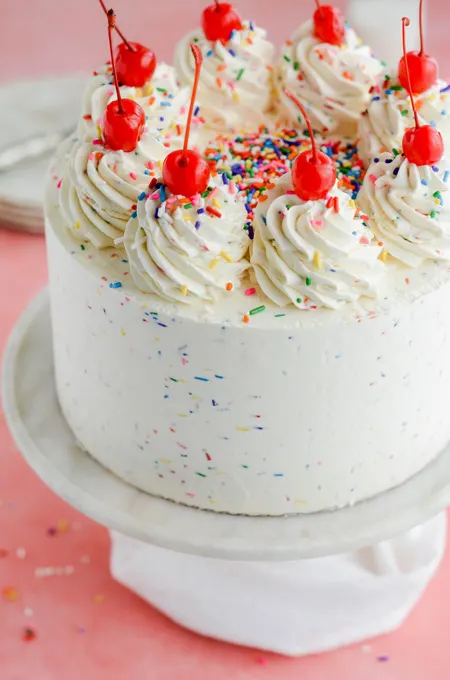 Soaking Syrup
A soaking syrup helps give a cake extra moisture. Plus it adds a touch of extra sweetness and it's easy to add a last shot of extra flavor that compliments your cake.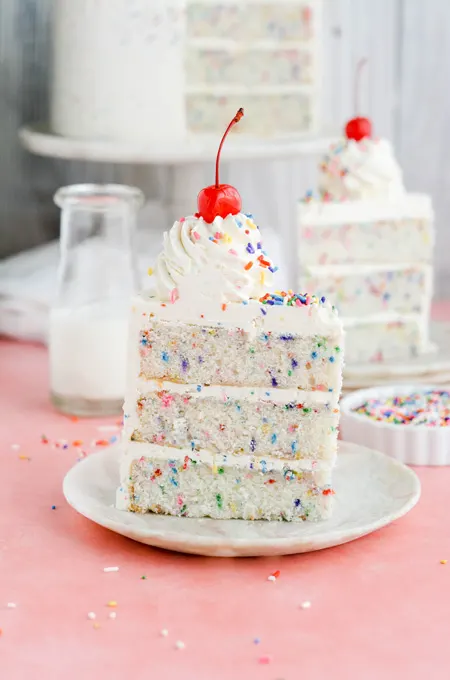 Swiss Meringue Buttercream Tips
Make sure your mixer bowl is clean. Any trace of oil or grease and the egg whites won't whip up properly.
Be sure to whisk together the egg whites and sugar well or your egg whites may start cooking on their own.
Keep the water in your double boiler at a simmer.
Make sure your egg whites are at room temperature before incorporating your room temperature butter.
Be sure your butter is at room temperature.
Once your buttercream has come together, reduce the mixer speed to the lowest setting for about 1 minute to remove as many air bubbles as you can.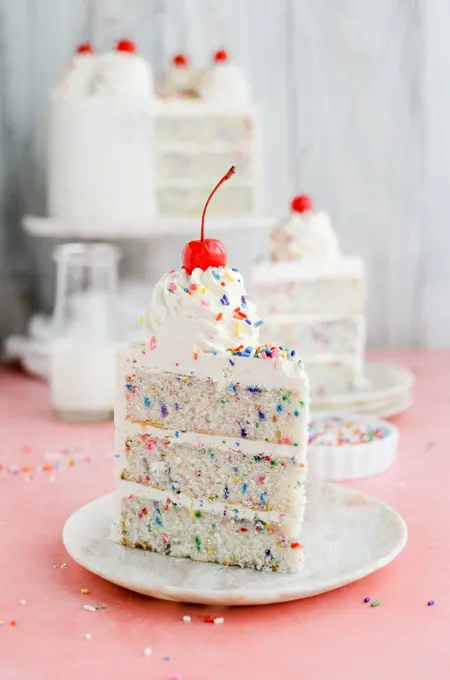 Crumb Coating Tips
When crumb coating a cake, be sure you do not return any frosting that contains crumbs to the original bowl of clean buttercream.
Always clean off the spatula and/or icing smoother between buttercream applications.
Use a turntable.
Chill the cake for 30 minutes before adding the final layer of buttercream.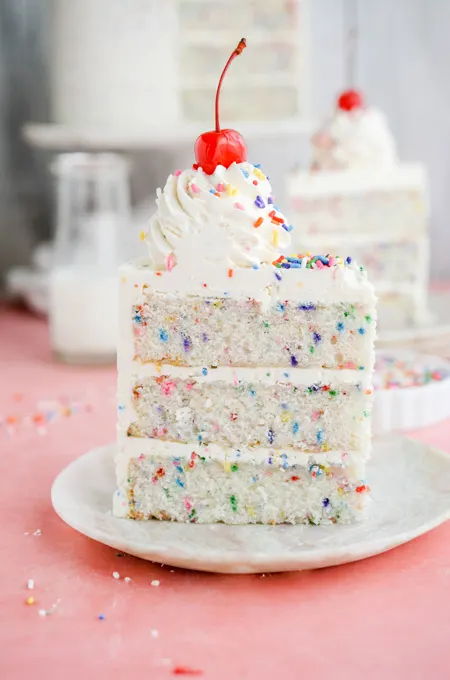 Confetti Cake with Confetti Buttercream Decorating Tips
Start with a chilled crumb coated cake.
Apply a final layer of buttercream over the crumb coated cake.
Tools that help me achieve a smooth finish to my cakes:

Icing scraper
8-inch round acrylic disc
Cake turntable

I used a piping bag fitted with Ateco piping tip #828 for the buttercream swirls. Keep a tooth pick on hand incase you have any sprinkles that get jammed in the piping tip.
Wash, drain and dry maraschino cherries before adding them on to the buttercream swirls.
Add more sprinkles to the top of the cake and serve.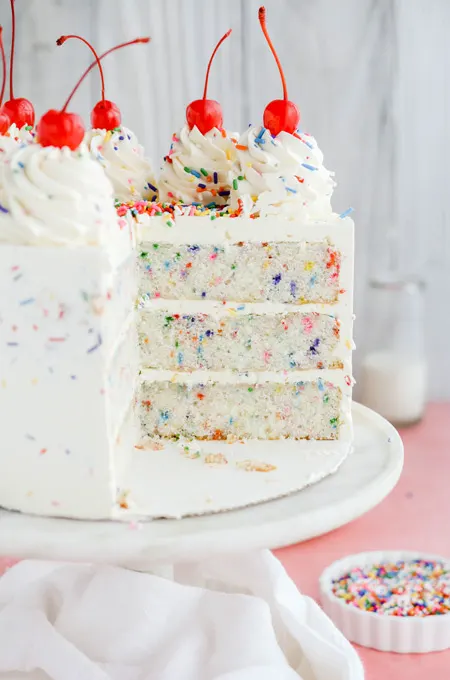 Confetti Cake with Confetti Buttercream Baking Schedule
Day 1: Make soaking syrup and bake cake layers.
Day 2: Prepare buttercream, assemble cake and serve.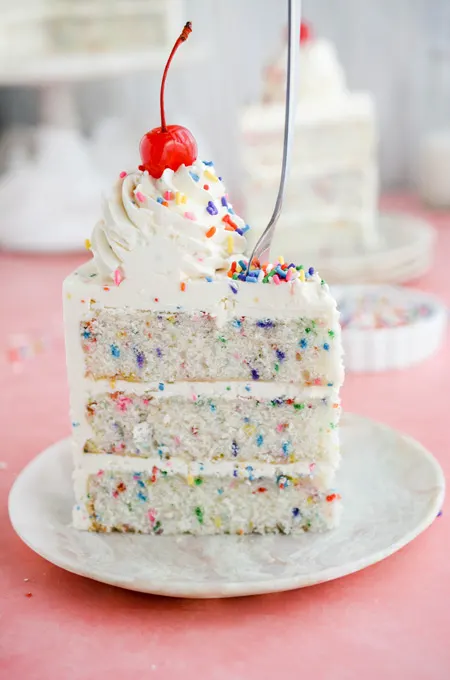 Let's Connect
The Cake Chica is on Facebook sharing sneak peeks of recipes to come, Instagram for your food porn desires and Pinterest for your board pinning needs.
You May Also Like
This recipe was adapted from America's Test Kitchen The Perfect Cake and Layered by Tessa Huff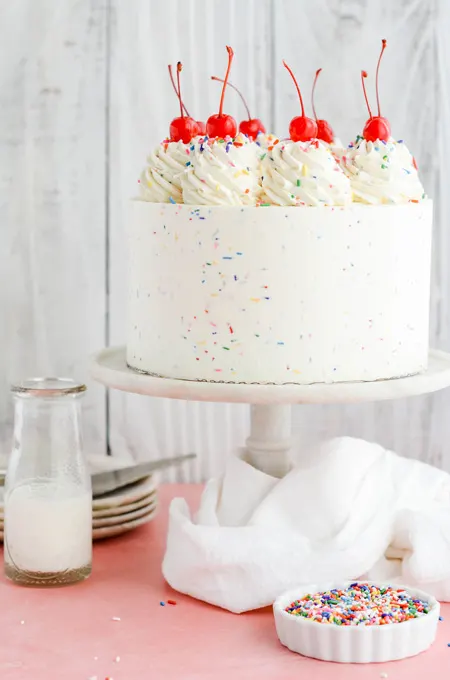 Confetti Cake with Buttercream Frosting
Additional Time:
2 hours
10 minutes
Total Time:
3 hours
45 minutes
Three layers of confetti cake, soaked in cake flavored soaking syrup, then filled and frosted with a confetti Swiss meringe buttercream.
Ingredients
SPECIAL TOOLS
3 8-inch round cake pans
Food processor
Stand mixer
Candy thermometer
1 8-inch round cake board
Pastry brush
Icing scraper
8-inch round acrylic disc
Cake turntable
Piping bag
Ateco piping tip #828
Maraschino cherries for garnish
Additional sprinkles for garnish
CAKE
Non-stick baking spray
½ cup rainbow sprinkles
1 cup whole milk, at room temperature
6 large egg whites, at room temperature
1 teaspoon vanilla extract
2 ¼ cups (9 ounces) cake flour
1 ¾ cups (12 ¼ ounces) granulated sugar
4 teaspoons baking powder
1 teaspoon salt
12 tablespoons unsalted butter, cut into 12 pieces, at room temperature
SOAKING SYRUP
½ cup water
½ cup granulated sugar
1 teaspoon vanilla extract
2 tablespoon cake flavored vodka (optional)
BUTTERCREAM
1 cup egg whites
2 cups granulated sugar
3 cups (6 sticks) unsalted butter, cut into tablespoon sized pieces, at room temperature
1 tablespoon vanilla extract
1 tablespoon cake flavored vodka
3/4 cup rainbow sprinkles
Instructions
CAKE
Adjust a rack to the center position in the oven and heat to 350 degrees. Spray 3 8-inch round cake pans with non-stick baking spray and set aside. In a food processor, process the rainbow sprinkles until coarsely ground, about 8 to 10 pulses. Set aside until needed.
In a medium sized bowl, whisk together the milk, egg whites and vanilla.
Attach the paddle attachment to a stand mixer. On low speed combine flour, sugar, baking powder and salt. Add butter one piece at a time. Continue to combine until the butter is the size of peas, about 1 minute. Reserve ½ cup of the milk mixture, and pour remaining into the dry ingredients. Increase speed to medium-high and beat until light and fluffy, about 1 minute. Reduce the mixer speed to medium-low and add the reserved milk mixture to the batter and beat until combined, about 30 seconds (the batter may look curdled at this point). Give the batter a final stir by hand and stir in ground rainbow sprinkles.
Divide the batter evenly among the prepared cake pans and smooth the tops with an offset cake spatula or rubber spatula. Bake for about 20 to 25 minutes, or until a toothpick inserted in the center comes out with a few moist crumbs attached, rotating pans halfway through baking. Let cakes cool in their pans for 10 minutes on wire racks. Invert cakes onto the wire racks to cool completely, about 2 hours.

SOAKING SYRUP
Add water and sugar in a small saucepan and cook over medium heat, stirring occasionally until sugar has dissolved. Turn off the heat and stir in extract and flavored vodka if using.
BUTTERCREAM
Pour egg whites and sugar in the bowl of a stand mixer, and whisk them together by hand to combine. Create a double boiler by filling a saucepan with a few inches of water and placing the bowl on top. The bottom of the bowl should not touch the water. Heat saucepan over medium heat.
Attach a candy thermometer to the bowl and heat the egg white mixture to 160 degrees, whisking often. Once the mixture reaches 160 degrees, about 10 to 12 minutes. Carefully transfer the bowl to the stand mixer.
With the whisk attachment attached, beat the egg white mixture on high speed for about 8 to 10 minutes until egg whites hold medium-stiff peaks. The mixer bowl should be room temperature with no residual heat coming from the top of the bowl.
Remove the whisk attachment from the mixer and replace it with the paddle attachment. With the mixer on low speed, add the butter a tablespoon at a time, then add the vanilla extract and vodka if using. Once the butter is combined increase the mixer speed to medium-high and beat until the buttercream is smooth and silky, about 5 minutes. Add in rainbow sprinkles and gently stir in by hand.

ASSEMBLE

Place one cake layer on an 8-inch round cake board and place on a cake turntable. Brush some of the soaking syrup on top of the cake. Spread about 1/2 cup buttercream on top in an even layer all the way to the edge of the cake. Place the second cake layer on top and brush with more soaking syrup. Spread 1/2 cup buttercream over the top in an even layer all the way to the edge of the cake. Place the last cake layer on top (bottom side up) and brush with more soaking syrup.

CRUMB COAT
Top the cake with about 2 cups buttercream and spread a thin coating of buttercream over the top and sides of the cake. This will help keep any crumbs from getting in to your final layer of buttercream as well as seals the cake. Chill the cake in the refrigerator for 30 minutes.

DECORATING
Apply the final layer of buttercream over the chilled cake in an even layer. Alternatively, you can use an 8-inch round acrylic disc lined with parchment paper, placed on top of the cake. With one hand on the top of the disc, apply the buttercream to the sides of the cake with your other hand. Coat the entire side of the cake with buttercream. Gently press an icing scraper against the acrylic disc and the bottom cake board, and using the turntable, smooth the sides of the cake with each rotation. Fill in any gaps with more buttercream and rotate again until you get a smooth finish. Chill the cake in the refrigerator for 30 minutes before removing the acrylic disc on top.
Using a small offset cake spatula or knife, gently remove the acrylic disc and peel off the parchment paper. Apply additional frosting on the top of the cake and gently smooth out.
Place the remaining buttercream in a piping bag fitted with Ateco piping tip #828. Pipe swirls around the top edge of the cake. Top each swirl with a cherry. Add additional sprinkles and serve.

Notes
Cake storage: Cake can be stored in an airtight cake container at room temperature for up to 1 day or up to 3 days stored in the refrigerator. Bring to room temperature before serving.
Nutrition Information:
Yield:

12
Serving Size:

1
Amount Per Serving:
Calories:

995
Total Fat:

67g
Saturated Fat:

37g
Trans Fat:

0g
Unsaturated Fat:

26g
Cholesterol:

170mg
Sodium:

473mg
Carbohydrates:

88g
Fiber:

1g
Sugar:

62g
Protein:

8g
*Nutrition information is an estimate and will vary.*