Here's a slightly different and fun way to have your sweet tea. How does a lemon butter cupcake, topped with a tea flavored Swiss meringue buttercream sound to you? Yup, I thought so! And for the finishing touch, a candied lemon slice adorns these Sweet Tea Lemon Cupcakes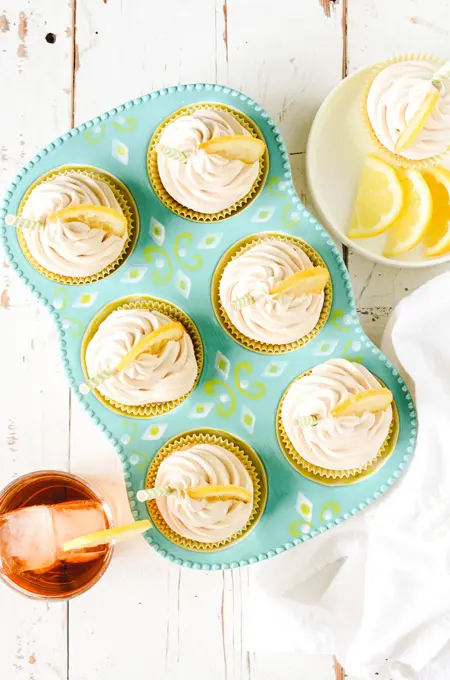 Candied Lemon Slices
This step is optional but they certainly take these cupcakes up a notch! Plus, they're simple to make so why not.
3 lemons
2 cups sugar
1 1/2 cups water
1/2 cup sugar for dipping
Combine the first 3 ingredients in a skillet and cook for about 15 minutes. Next, let the lemon slices cool and then dredge them in sugar. The candied lemon slices can be made up to 2-3 weeks in advance and stored on top of parchment or wax paper in the refrigerator.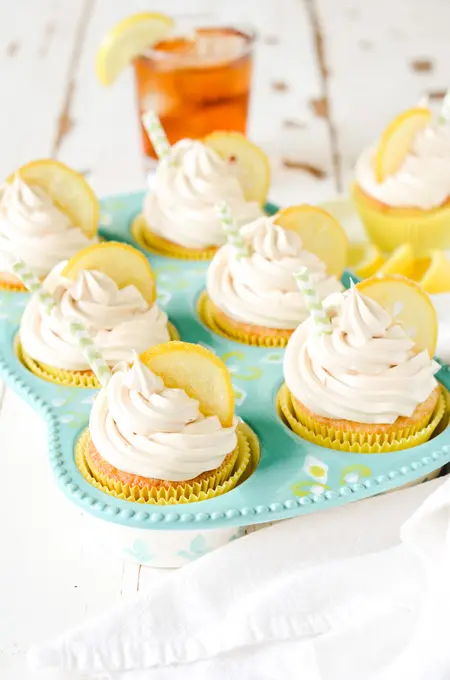 Lemon Butter Cupcakes
The texture of these cupcakes is light and airy with a subtle hint of lemon flavor created by the lemon zest that's baked inside! Lemon butter cupcakes can be made up to 3 days in advance and stored in an air tight cake container at room temperature.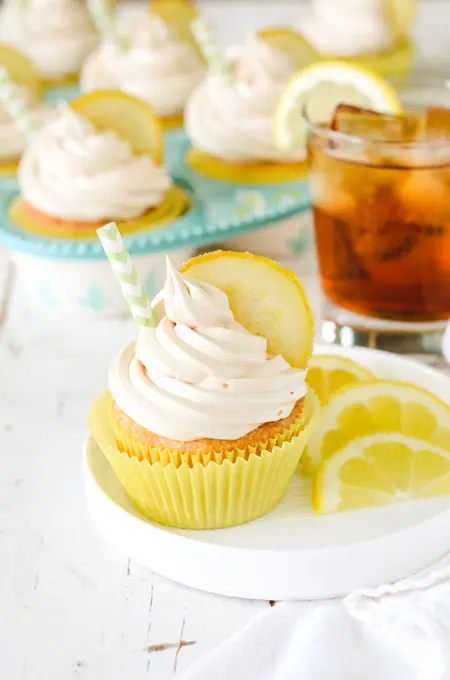 Swiss Meringue Buttercream Tips
I used to think Swiss meringue buttercream was tricky to make, but after I learned a few helpful tips, it's been a breeze to make ever since! Here are a few tips that have helped me.
Make sure your mixer bowl is dry and clean before use.
Your egg whites should be free of egg yolks. I crack one egg over a separate bowl to catch the egg white and discard the yolk. I then place the egg white in a 1 cup measure. Doing this ensures I don't have to start all over if egg yolk accidently gets in my egg whites.
Mix the sugar and egg whites together well. If you don't you could end up with breakfast instead of Swiss meringue buttercream. 🙂
Be sure your butter is at room temperature. I leave my butter out on the counter the night before I plan to make the buttercream and it comes out perfect every time!
Once the buttercream is mixed to silky smooth, slowly add the tea syrup on low speed. Running the mixer on low speed for the last couple of minutes helps get the air bubbles out of the buttercream.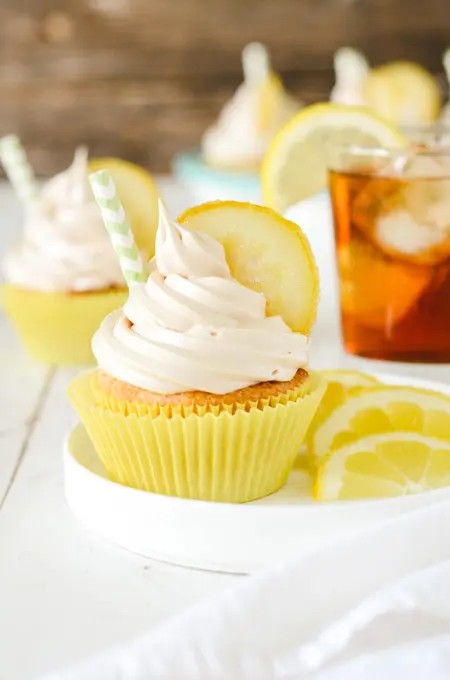 Plan It Out
These Sweet Tea Lemon Cupcakes have a few components to them so I always like to plan it out. Here is what my schedule looked like.
Day 1: Make candied lemon slices.
Day 2: Bake cupcakes.
Day 3: Prepare the sweet tea syrup and Swiss meringue buttercream, decorate cupcakes and serve.
Prepared cupcakes will keep stored in an air tight container for 1 day at room temperature or in the refrigerator for 2 days. Bring cupcakes to room temperature before serving.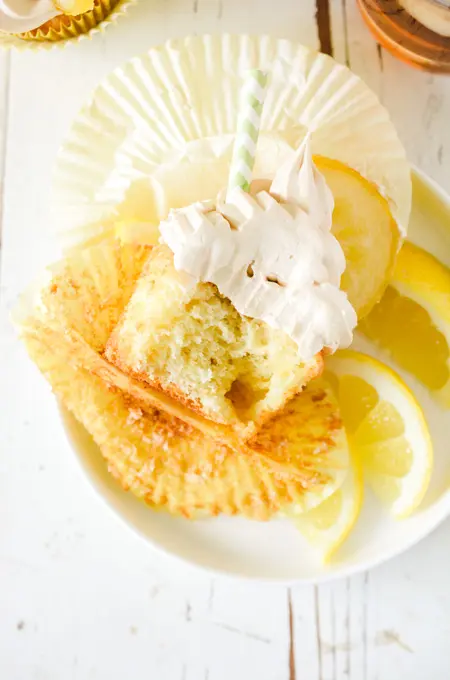 Lets Connect
The Cake Chica is on Facebook sharing behind the scenes photos of recipes to come, on Instagram for your food porn desires and on Pinterest for your board pinning needs.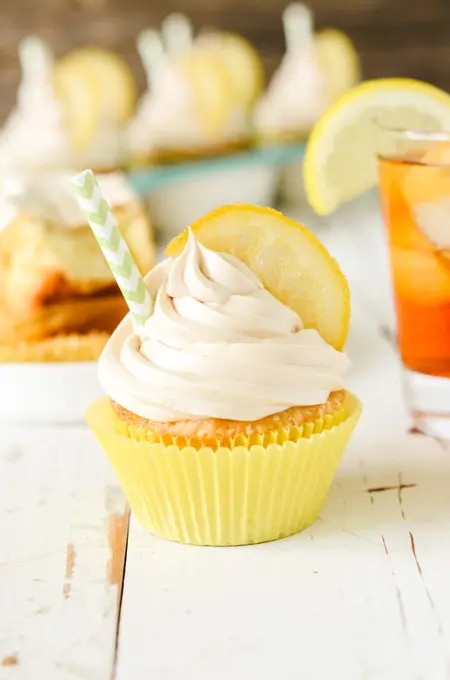 You May Also Like
---
Adapted from Layered by Tessa Huff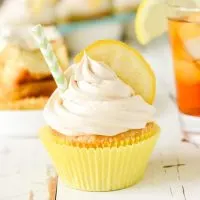 Sweet Tea Lemon Cupcakes
Prep Time:
1 hour
10 minutes
Total Time:
1 hour
45 minutes
Homemade lemon butter cupcakes, topped with Swiss meringue buttercream that's flavored with a hint of sweet tea and garnished with a candied lemon slice.
Ingredients
SPECIAL TOOLS
CANDIED LEMON SLICES
3 lemons, sliced about 1/8-inch thick and seeded
2 cups (14 ounces/396 grams) granulated sugar
1 ½ cups (12 ounces/354 grams) water
½ cup (3.5 ounces/99 grams) granulated sugar for dipping
LEMON BUTTER CUPCAKES
2 ¼ cups (9 ounces/254 grams)cake flour
2 ½ teaspoons baking powder
½ teaspoon baking soda
½ teaspoon table salt
1 ½ cups (10.5 ounces/297 grams) granulated sugar
2 tablespoons finely grated lemon zest
¾ cup (12 tablespoons) unsalted butter, softened to room temperature, about 72 degrees
1 teaspoon vanilla extract
4 large egg yolks
1 cup (8.5 ounces/240 grams) buttermilk
SWEET TEA SYRUP
1 cup (8 ounces/237 grams) water
½ cup (3.5 ounces/99 grams) granulated sugar
5 black tea bags
SWEET TEA BUTTERCREAM
1 cup egg whites, about 8 large eggs
2 cups (14 ounces/396 grams) granulated sugar
3 cups (6 sticks) unsalted butter, cut into tablespoons sized pieces, at room temperature, about 70 degrees
2 teaspoons vanilla extract
Instructions
CANDIED LEMON SLICES
In a large skillet, whisk together the sugar and water and bring to a simmer until the sugar is dissolved. Lay the lemon slices in a single layer in the sugar syrup and simmer for 15 minutes until the rinds have softened, flipping halfway through cooking. Carefully place lemon slices on a sheet of parchment paper and let dry to room temperature. Lemon slices will still be sticky. Place sugar for dipping on a plate and coat each lemon slice with sugar and set aside.
LEMON BUTTER CUPCAKES
Adjust and oven rack to the center position and heat oven to 350 degrees. Line cupcake pans with cupcake liners and set aside.
In a large bowl, whisk together the flour, baking powder, baking soda, and salt and set aside.
In a small bowl, combine the sugar and lemon zest.
In the bowl of a stand mixer with the paddle attachment attached, beat the butter on medium speed until smooth, about 2 minutes. Add the sugar-lemon mixture and increase the mixer speed to medium-high and beat until light and fluffy, about 5 minutes, scraping down the sides of the mixer bowl as necessary.
Reduce the mixer speed to medium-low and add the vanilla extract and egg yolks one at a time. With the mixer on low speed add the dry ingredients in 3 additions, alternating it with the buttermilk with 2 additions. Starting and ending with the dry ingredients. Mix the batter by hand with a rubber spatula to blend in any bits of flour that remain.
With a 3 tablespoon sized ice cream scoop, fill each cupcake cup with cake batter. Bake for about 22 minutes, or until a toothpick inserted in the centers come out with a few moist crumbs attached. Let cupcakes cool in their pans on wire racks about 10 minutes, and then invert them on the wire racks to cool completely.

SWEET TEA SYRUP
In a small saucepan, combine the water and sugar and bring to a boil over medium-high heat, stirring occasionally. Reduce the heat to a simmer and add the tea bags. Simmer for about 8 minutes. Remove the tea bags and continue to cook until the mixture has reduced to about ¼ cup, about 15 minutes. Remove from the heat and let cool to room temperature.
SWEET TEA BUTTERCREAM
Place egg whites in the bowl of a stand mixer. Whisk them together by hand to combine. In a medium saucepan filled with a couple of inches of water, place mixer bowl on top, making sure the bottom of the mixer bowl doesn't touch the bottom of the bowl.
Heat over medium-high heat until a candy thermometer reaches 160 degrees,
whisking intermittently. Once the egg white mixture reaches 160 degrees, carefully move to the mixer stand, with the whisk attachment attached, beat the egg white mixture on high speed for 10 minutes, until medium stiff peaks form. The mixer bowl should be about room temperature at this point. Switch out the whisk attachment for the paddle attachment and with the mixer on low speed, add the butter, one tablespoon at a time. Add the vanilla extract and combine. Once combined, turn up the mixer speed to medium-high and beat until the buttercream is silky and smooth, about 5 minutes. Reduce the mixer speed to low and slowly add the cooled Sweet Tea Syrup. Mix until combined.
Nutrition Information:
Yield:

24
Serving Size:

1
Amount Per Serving:
Calories:

152
Total Fat:

7g
Saturated Fat:

2g
Trans Fat:

0g
Unsaturated Fat:

3g
Cholesterol:

107mg
Sodium:

221mg
Carbohydrates:

17g
Fiber:

1g
Sugar:

4g
Protein:

6g
*Nutrition information is an estimate and will vary.*