Here is a fun take on chocolate cupcakes. These Chocolate Cola Cupcakes are light and moist and made with your favorite cola! Next, I lightly brushed on a cola simple syrup and frosted the tops with a Swiss meringue cola buttercream! And let's just get this out of the way now, I am from Texas where all soda is called "Coke" (unless you're Dr. Pepper, but that is another blog post) and yes Coca Cola is my favorite!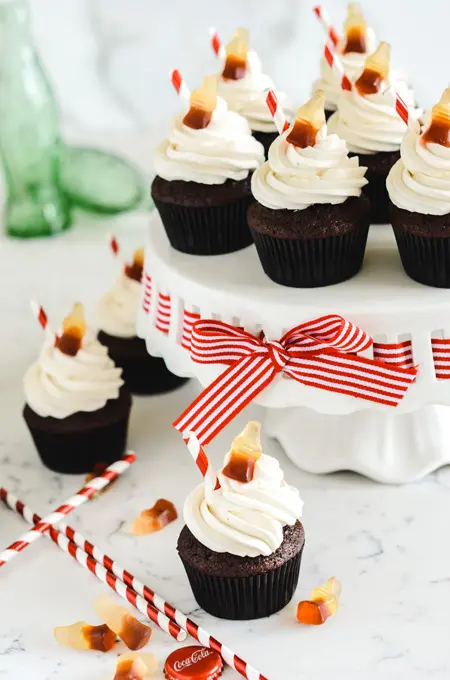 Do They Really Taste Like Soda?
Not entirely. There is a little bit of what I like to call "something extra" in the flavor of the cupcakes. Just like in my Chocolate Fudge Sheet Cake, while it doesn't taste exactly like soda, they have a very similar vibe that I only get when I bake with my favorite soda!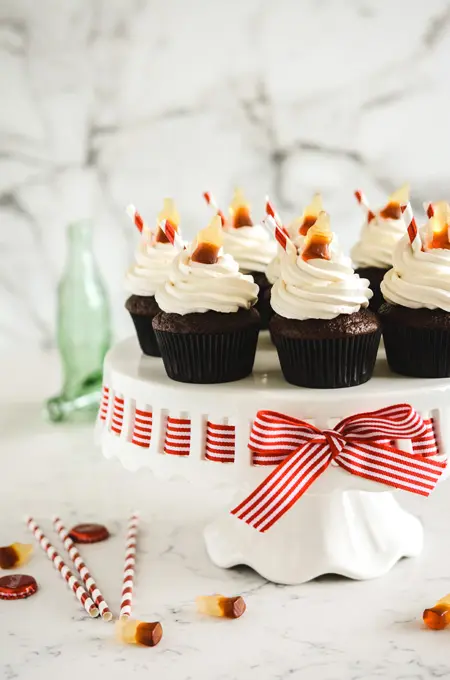 Why Use A Soaking Syrup?
I sometimes like to use a soaking syrup to impart an extra bit of flavor in my cakes. But soaking syrups are also helpful to keep your cakes moist. Soaking syrups consist of one part water, to one part sugar. For this one I replaced the water for soda. Once I set the cupcakes aside to cool on wire racks, I poked a few holes on top of each cupcake and lightly brushed each cupcake with the soaking syrup while the cupcakes cool completely.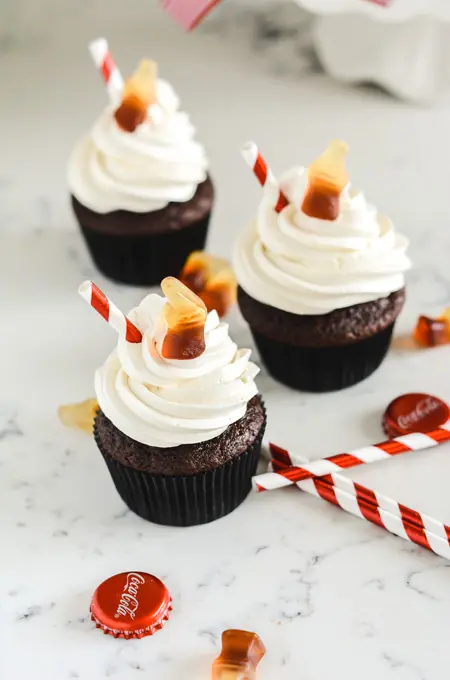 Butter or Oil?
Most cake recipes you can use the butter and oil interchangeably. But keep in mind butter has more flavor than oil. That is usually why I always use butter, however, oil isn't bad. Oil tends to make cakes nice and moist and is sort of what I like to call an insurance policy. I did use oil in this recipe simply because I was low on butter. I know it's shocking! I normally have multiple pounds of butter in my fridge at once. But, the holiday season has drained my supply.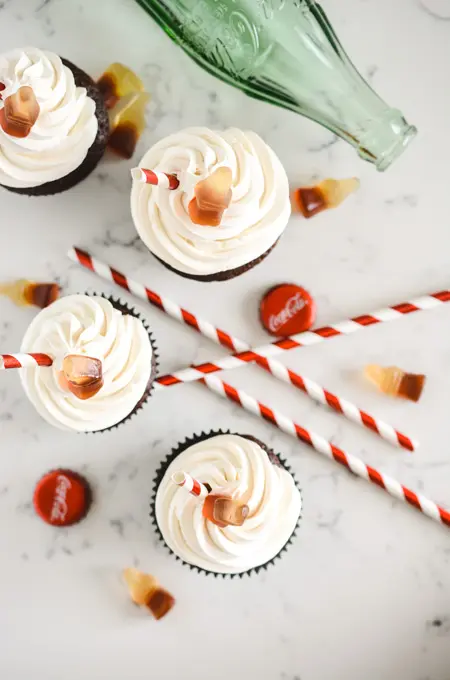 Cola Swiss Meringue Buttercream
This was my first time making Swiss meringue buttercream with cola, but let me tell you I think it's my favorite version! It really brings the cola flavor together for these Chocolate Cola Cupcakes.
I slowly added the cola in at the end of the mixing process. My buttercream sloshed around the bowl for a couple of minutes but it will come together, just keep mixing.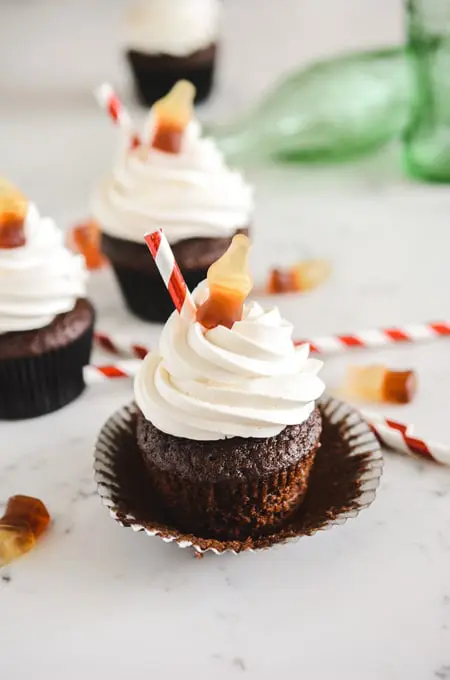 Swiss Meringue Buttercream Tips
Here are some of my favorite tips for making this type of buttercream:
Make sure all equipment is super clean. Wipe down beater, whisk and bowl with a paper towel dampened with lemon juice.
Egg whites must be free of egg yolk. I crack each egg into a small bowl before adding it to a liquid measuring cup to be sure I don't accidently get a bit of egg yolk in my whites and ruin the whole cup of egg whites.
Your butter must be room temperature. I cut my butter up the night before I plan to make Swiss meringue buttercream and cover it with plastic wrap. If your butter is too warm or too cold your buttercream will fail.
During the last minute of mixing I reduce my mixer speed to low to get out as many air bubbles as possible to achieve a smooth buttercream.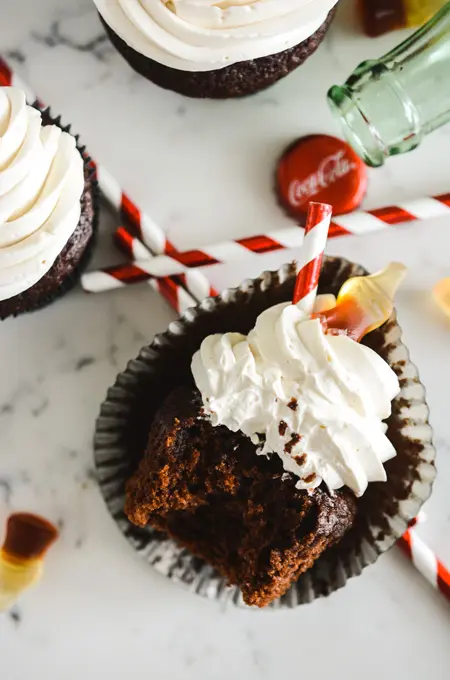 Sifting Cocoa Powder
This recipe asks for 1/2 cup sifted cocoa powder. I found the best way to do this is to place a sheet of parchment paper or waxed paper on your counter top and take a little less than the desired amount of cocoa powder called for in the recipe (1/2 cup) and sift the cocoa over the paper. Then, take the paper and fold it to create a U shape and pour the sifted cocoa into your 1/2 cup measuring cup and level it off t get rid of the excess.
If you just measured out 1/2 cup cocoa powder and sift it and poured that in your mix it would be the wrong measurement so take note!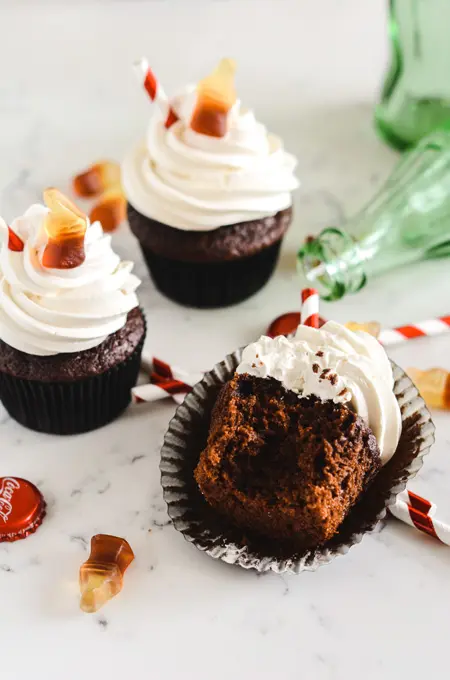 Plan It Out
If you've followed me for awhile you know I like to plan things out. Here is what my schedule looked like for these cupcakes.
Day 1: Bake cupcakes and make cola syrup. Brush cola syrup on the top of the cupcakes while they cool. Prepare butter for buttercream to be made the next day.
Day 2: Make cola Swiss meringue buttercream and decorate.
Follow The Cake Chica
Come check me out on Facebook where I share sneak peeks of recipes coming up. Or on Instagram for some beautiful food photos. I'm also on Pinterest if that's more your thing too!
You May Also Like:
Adapted from Cake Magic by Caroline Wright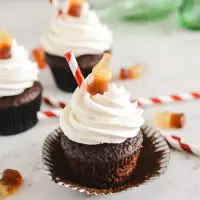 Chocolate Cola Cupcakes
Total Time:
1 hour
15 minutes
Homemade chocolate cupcakes made with cola, topped with a cola Swiss meringue buttercream.
Ingredients
SPECIAL TOOLS
CAKE
½ cup sifted, unsweetened cocoa powder
2 ½ cups all-purpose flour
1 ½ cups granulated sugar
1 teaspoon baking soda
¾ teaspoon baking powder
1 teaspoon table salt
4 ounces semisweet chocolate, melted and cooled
¾ cup sour cream
1 cup vegetable oil
1 cup cola
4 large eggs, at room temperature
COLA SYRUP
½ cup granulated sugar
½ cup cola (not diet)
Pinch of freshly ground nutmeg
Pinch of table salt
COLA SWISS MERINGUE BUTTERCREAM
1 cup large egg whites
2 cups granulated sugar
3 cups (6 sticks) unsalted butter at room temperature
1 tablespoon vanilla extract
¾ cup cola
GARNISH
Instructions
CAKE
Line 2 12-cup cupcake pans with cupcake liners and set aside. Adjust an oven rack to the center position and heat oven to 350 degrees.
In a large bowl, whisk together the cocoa powder, flour, sugar, baking soda, baking powder and salt. In a separate medium sized bowl combine the melted chocolate, sour cream, oil, cola and eggs. Once the wet ingredients are combined, add them to the dry ingredients and mix to combine, being care not to over mix. Divide the batter between cupcake pans and bake until a skewer inserted in the center of the cupcakes comes out with a few moist crumbs attached, about 15 to 20 minutes, rotating the pans halfway through baking. (While the cupcakes are baking prepare the cola syrup.) Let cupcakes cool in their pans for 5 minutes, and then invert them onto cooling racks to cool completely and poke a few holes on top of each cupcake and brush cupcakes with Cola Syrup while they cool.
COLA SYRUP
In a small saucepan, combine the sugar, cola, nutmeg and salt and bring to a boil over medium-high heat and set aside.
COLA SWISS MERINGUE BUTTERCREAM
In the bowl of a stand mixer fitted with the whisk attachment, pour in the egg whites and sugar and whisk by hand until combined. Fill a medium saucepan with about 2 inches of water and bring to a simmer. Place mixer bowl on top, being sure the bottom of the bowl does not touch the water and attach a candy thermometer.
Whisking occasionally, heat the egg mixture until the temperature reaches 160 degrees. Once the mixture reaches 160 degrees, transfer to a stand mixer and beat the mixture on high speed for 10 minutes or until medium-stiff peaks form. At this point the outside of the mixer bowl should be room temperature. Switch out the whisk attachment with the paddle attachment and with the mixer on low speed, add the butter one tablespoon at a time, and then add the vanilla extract and cola. Once combined, turn up the mixer speed to medium-high and beat until the buttercream is smooth about 5 minutes.
ASSEMBLE
Fit a piping bag with Ateco tip #827 and fill with buttercream. Pipe buttercream swirls on top of each cupcake and garnish with a cola gummy and a paper straw.
Notes
Storage:
Unassembled cupcakes can be stored in an air tight container at room temperature. Assembled cupcakes can be stored in an air tight container at room temperature for up to one day or in the refrigerator for up to 3 days.
Nutrition Information:
Yield:

24
Serving Size:

1
Amount Per Serving:
Calories:

1260
Total Fat:

61g
Saturated Fat:

17g
Trans Fat:

3g
Unsaturated Fat:

38g
Cholesterol:

90mg
Sodium:

1018mg
Carbohydrates:

176g
Fiber:

6g
Sugar:

134g
Protein:

12g
*Nutrition information is an estimate and will vary.*