Here is another take on the chocolate chip recipe Best Big, Fat, Chewy Chocolate Chip Cookie with M&M's. I doubled the recipe of the original, because I rarely make just a single batch of these cookies.  Happy Baking!!!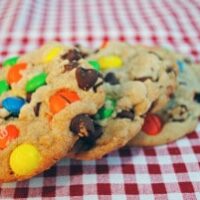 Best Big, Fat, Chewy M&M Chocolate Chip Cookie
Ingredients
4 Cups - all purpose flour
1 tsp - baking soda
1 tsp - salt
24 Tbsp - unsalted butter, melted
2 Cups - light brown sugar
1 Cup - granulated sugar
2 Tbsp - vanilla extract
2 large - eggs
2 large - egg yolks
2 Cups - semi-sweet chocolate chips (I use Ghirardelli)
2 Cups - plain M&M's
Instructions
Preheat the oven to 325 degrees F. Grease cookie sheet or line with parchment paper.
Sift together the flour, baking soda, and salt; set aside.
In a medium bowl, cream together the melted butter, brown sugar and white sugar until just blended. Stir
in the chocolate chips and M&M's by hand using a wooden spoon. Drop cookie dough 1/4 cup at a time onto the prepared cookie sheet. Cookies should be about 3 inches apart.
Bake for 15 to 17 minutes in the preheated oven, or until the edges are lightly toasted. Cool on baking sheet for 2 to 3 minutes before transferring to wire racks to cool completely.