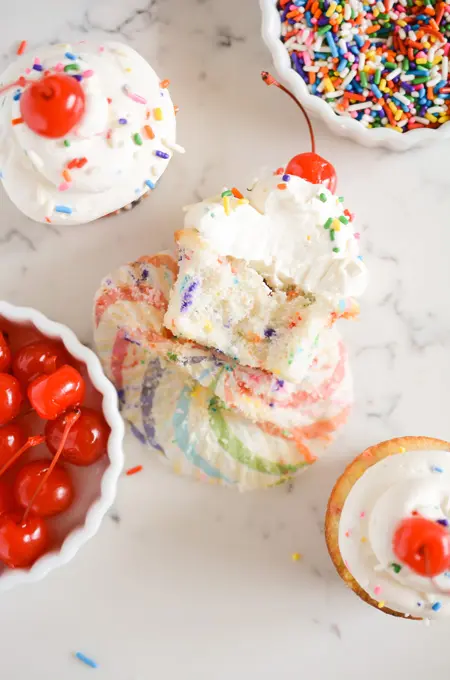 Aren't these cupcakes just adorable? They're sweet and fluffy and the light buttercream on top compliments this cupcake well. Finished off with more rainbow sprinkles and a bright red cherry, these Confetti Cupcakes with Confetti Buttercream are just too cute!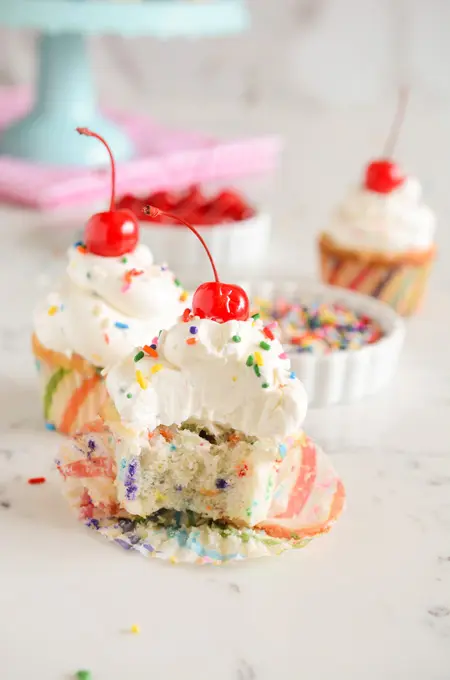 I recently volunteered with my church this summer to help out with their music camp. Similar to Vacation Bible School, our church opted to do a Music Camp instead. It was inspiring to see young kids learn music theory, and instruments such as recorder, piano and guitar as well as sing!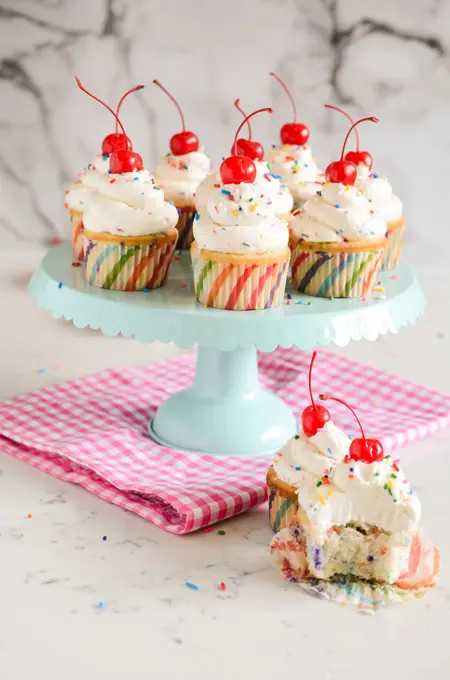 My talent isn't in music but in the kitchen! So when they asked me to bake something for the big show at the end of the session I was excited to do it! These kids worked hard in just 2 weeks and learned a lot! I wanted to bake something they would like. And in my experience, almost every kids loves SPRINKLES!!!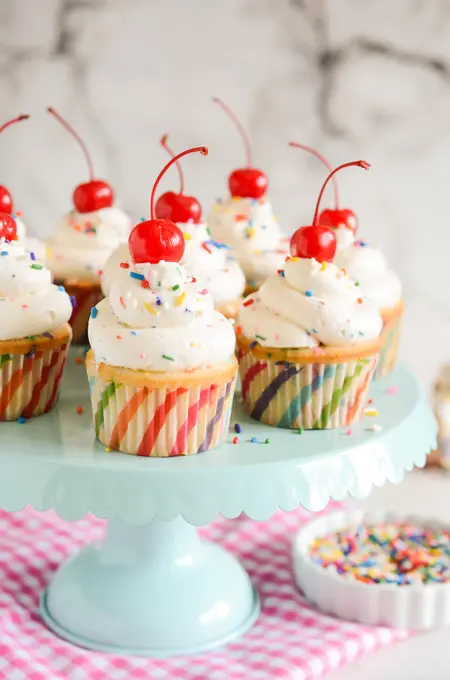 Confetti Buttercream Tips:
This buttercream can be a bit finicky. Leave your butter out overnight for the best butter temperature and consistency for this recipe. Too cold or too hot butter can break the buttercream.

If you don't have a candy thermometer, now is a good time to get one. Do not guestimate the temperature for this buttercream.

Always make sure your mixer bowl is clean and egg whites are free of egg yolks.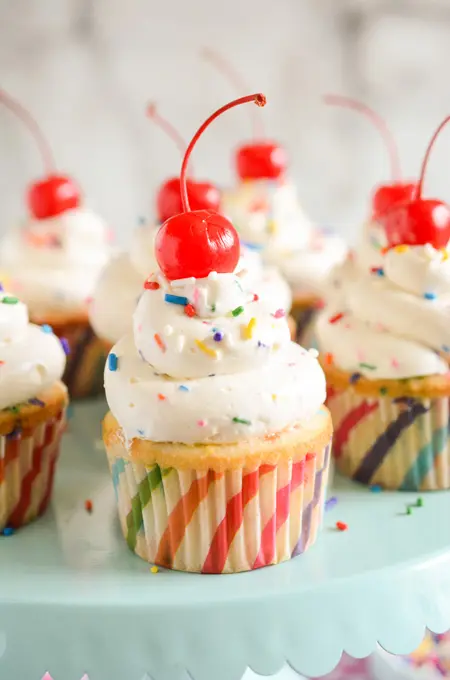 Check out The Cake Chica on Facebook, Instagram and Pinterest to hear when new recipes come out!
You May Also Like:
Adapted from The Perfect Cake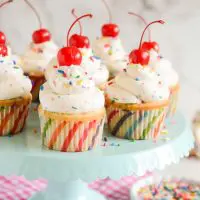 Confetti Cupcakes with Confetti Buttercream
Additional Time:
2 hours
15 minutes
Total Time:
2 hours
55 minutes
Homemade fluffy confetti cake topped with homemade buttercream and garnished with rainbow sprinkles and a marachino cherry.
Ingredients
SPECIAL TOOLS
CUPCAKES
1 cup whole milk
6 large egg whites, at room temperature
1 teaspoon pure vanilla extract
2 ¼ cup cake flour
1 3/4 cups granulated sugar
4 teaspoons baking powder
1 teaspoon salt
12 tablespoons unsalted butter, cut into 12 pieces, at room temperature
BUTTERCREAM
1 cup egg whites (about 8 large eggs)
2 cups granulated sugar
3 cups (6 sticks) unsalted butter, cut into tablespoon sized pieces, at room temperature
1 tablespoon vanilla extract
1 tablespoon cake flavored vodka (optional)
30 maraschino cherries with stems
Instructions
CUPCAKE


Adjust and oven racks to the upper third and lower third of the oven and heat the oven to 350 degrees. Line cupcake pans with cupcake liners and set aside. In a food processor, pulse sprinkles until coarsely ground, about 8 pulses and set aside.

In a 4 cup liquid measuring cup, whisk together the milk, egg whites and vanilla.
With a stand mixer fitted with the paddle attachment, mix flour, sugar, baking powder and salt on low speed until combined. Add butter one piece at a time and mix until the mixture forms pea sized pieces, about 1 minute. Reserve ½ cup of the milk mixture. Pour remaining milk mixture into the batter and increase the speed to
medium-high and beat until light and fluffy, about 1 minute. Reduce the speed to medium-low and add reserved ½ cup milk mixture and beat until combined, about 30 seconds. Give the batter a final stir by hand and stir in ground sprinkles.
Divide batter among prepared cupcake pans filling each cup about two-thirds full. Bake until a cake tester inserted on the top comes out with a few moist crumbs attached, about 15 to 20 minutes, switching and rotating pans twice during baking. Let cupcakes cool in their pan on a wire rack for 10 minutes then invert on a wire rack to cool completely, about 2 hours.
BUTTERCREAM
Pour egg whites and sugar in the bowl of a stand mixer, and whisk them together by hand to combine. Create a double boiler by filling a saucepan with a few inches of water and placing the bowl on top. The bottom of the bowl should not touch the water. Heat saucepan over medium heat.
Attach a candy thermometer to the bowl and heat the egg white mixture to 160 degrees, whisking often. Once the mixture reaches 160 degrees, about 10 to 12 minutes. Carefully transfer the bowl to the stand mixer.
With the whisk attachment attached, beat the egg white mixture on high speed for about 8 to 10 minutes until egg whites hold medium-stiff peaks. The mixer bowl should be room temperature with no residual heat coming from the top of the bowl.
Remove the whisk attachment from the mixer and replace it with the paddle attachment. With the mixer on low speed, add the butter a tablespoon at a time, then add the vanilla extract and vodka if using.
Once the butter is combined increase the mixer speed to medium-high and beat until the buttercream is smooth and silky, about 5 minutes. Add in rainbow sprinkles and gently stir in by hand.
ASSEMBLE
Using an Ateco 808 piping tip, pipe frosting on top of each cupcake and garnish with a maraschino cherry.
Notes
STORAGE: Frosted cupcakes can be stored in an air tight cake container in the refrigerator for up to 3 days. Bring to room temperature before consuming
Nutrition Information:
Yield:

30
Serving Size:

1
Amount Per Serving:
Calories:

1144
Total Fat:

54g
Saturated Fat:

17g
Trans Fat:

3g
Unsaturated Fat:

31g
Cholesterol:

67mg
Sodium:

973mg
Carbohydrates:

163g
Fiber:

5g
Sugar:

123g
Protein:

11g
*Nutrition information is an estimate and will vary.*