My husband and I made these sweet potatoes last year for Thanksgiving and they were a hit! Even I liked them and I am still learning to like sweet potatoes. I think the most important thing for me with sweet potatoes is flavor or course, but even more so is texture! I have to have some texture in each bite or it's just too creamy for me. Maybe I am a little weird but ever since I was a kid, things with a super creamy texture (or lack thereof) I have a hard time eating. Using the rice cereal in place of marshmallows is just genius! They are sweet and crunchy and are just perfect for these super creamy sweet potatoes.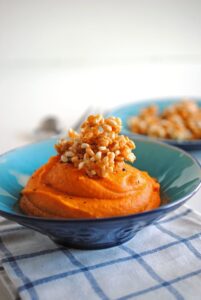 Print
Sweet Potatoes with Crispy Rice Topping
Yield 8
Ingredients
5 pounds sweet potatoes
3 cups brown rice crispy cereal or Rice Krispies
1/4 teaspoon baking soda
1/4 teaspoon kosher salt
1/8 teaspoon cayenne pepper, plus more for seasoning
1/2 cup granulated sugar, plus 2 tablespoons
6 1/2 teaspoons unsalted butter, plus more for serving
1/4 cup water
1/4 cup heavy cream
1/2 teaspoon finely grated orange zest
Freshly ground black pepper and kosher salt to taste
Instructions
Heat your oven to 350 degrees and line a large rimmed baking sheet with foil. Prick the potatoes with a fork and transfer to the prepared baking sheet. Bake potatoes for 30 minutes, then turn over and bake for 30 more minutes, or until tender. Let cool slightly.
Meanwhile, line a large rimmed baking sheet with foil. Lightly coat the baking sheet and 2 large spoons with nonstick cooking spray. Lightly coat a large heatproof bowl with nonstick cooking spray and put brown rice cereal in the bowl. In a small bowl combine baking soda, salt, and 1/8 teaspoon cayenne pepper. In a medium saucepan, combine the sugar, 1/2 tablespoon butter and 1/4 cup water and bring to a boil, stirring until sugar dissolves. Boil over moderately high heat, swirling the pan as needed until a golden caramel forms, about 7 minutes. Remove from the heat and stir in the baking soda mixture. The caramel will foam. Immediately drizzle all of the hot caramel over the cereal and using the 2 greased spoons, quickly toss to coat. Spread the topping on the prepared baking sheet in an even layer and let cool completely, then break into small pieces.
Scoop cooled sweet potato flesh into a food processor. Add the remaining 6 tablespoons butter, cream, orange zest and a generous pinch of cayenne and puree until smooth. Season with salt and pepper and transfer the sweet potatoes to a serving bowl. Serve, passing the crispy rice topping at the table.
Notes
MAKE AHEAD: The pureed sweet potatoes can be refrigerated for 2 days; reheat gently before serving. The crispy rice topping can be stored in an air tight container for 1 week.
Cuisine American
Nutrition Facts
Serving Size 1
Amount Per Serving

Calories 577

% Daily Value

Total Fat 11 g

17%

Saturated Fat 7 g

35%

Cholesterol 30 mg

10%

Sodium 253 mg

11%

Total Carbohydrates 119 g

40%

Dietary Fiber 12 g

48%

Sugars 37 g

Protein 6 g

12%
* Percent Daily Values are based on a 2,000 calorie diet. Your daily values may be higher or lower depending on your calorie needs.
Adapted from Food & Wine Magazine November 2014