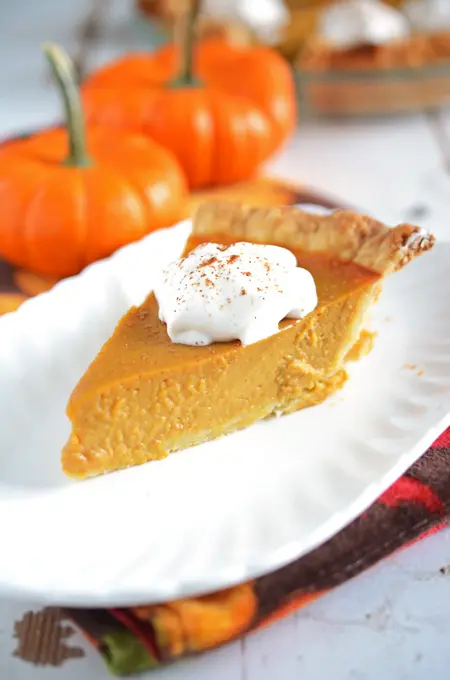 Are you tired of pumpkin pie recipes that have a soggy crust and grainy custard? If so, then look no further.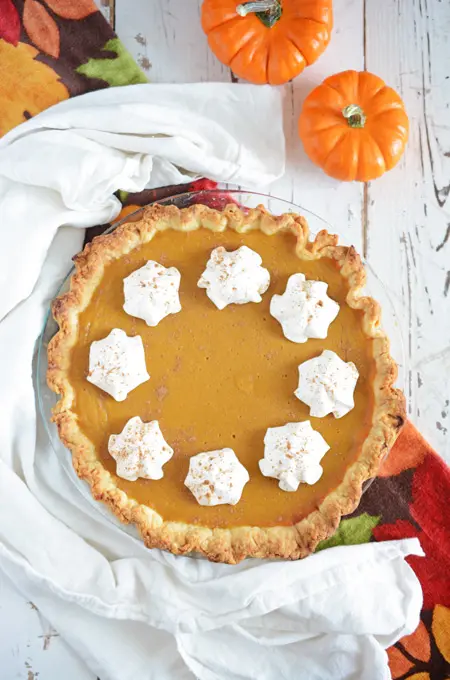 This recipe will teach you how to create a pumpkin pie with a smooth and flavorful filling, with a crispy crust. You may never make pies the same way again!
***It's important to have all your ingredients measured and ready. Your filling must be hot and pie crust must be warm when the filling is added. Timing is everything here.***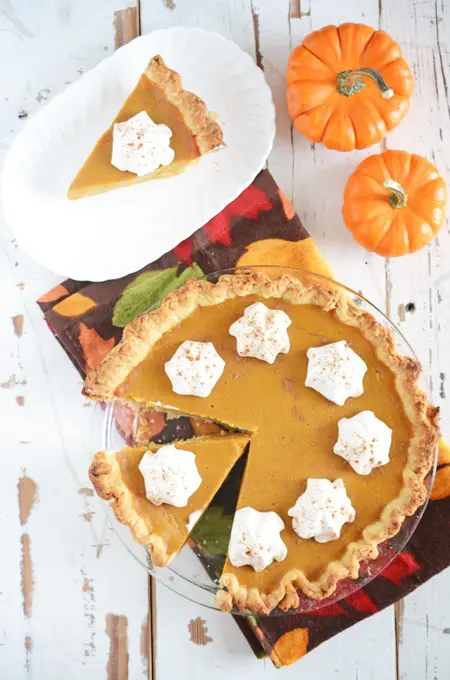 Pumpkin Pie Tips
To get a perfectly creamy filling and crispy crust follow these tips:
Prebaking your crust will help keep the crust nice and crisp. If you pour the filling into a raw pie crust you will end up with a soggy pie crust.

Adding the hot filling in the warm pie crust also helps the filling set up quicker. Keep that crust warm! ***I started making the pumpkin filling while the pie crust was baking to be sure my crust was still warm and my filling was hot!***

The direct heat from cooking the pumpkin and candied yams on the stove top with the spices intensifies their taste and helps bloom the flavors.

The addition of candied yams just makes this Pumpkin Pie out of this world. The pumpkin puree and candied yams compliment each other well here. You can also use canned yams if you can't find canned candied yams.

Most pumpkin pie recipes call for baking the pie at high temperatures. When you cook a custard pie to 185 degrees it curdles, which makes the filling grainy and not smooth. But you don't want to cook a pie for 2 hours either so when you combine both methods, cooking on high heat for 10 minutes then reducing the heat for the remaining baking time lessens the cooking time and creates an evenly baked, beautifully smooth Pumpkin Pie.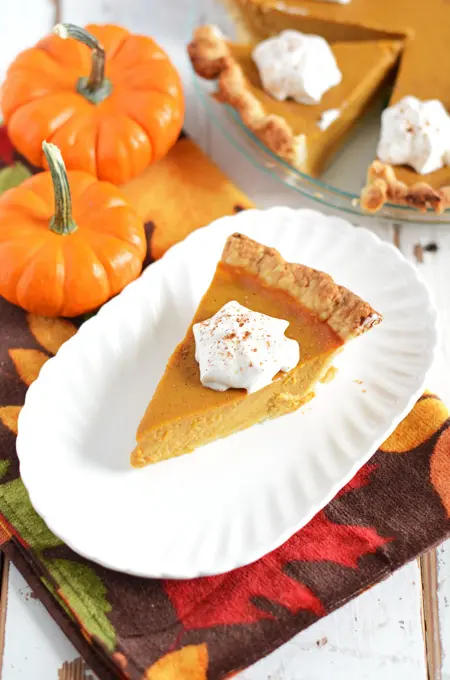 Now that you have the run down on making an incredible Pumpkin Pie, take this bad boy to your Thanksgiving gathering this year. And I'll bet you'll be the hit at the dessert table!
Follow The Cake Chica on social media: Facebook, Instagram, and Pinterest.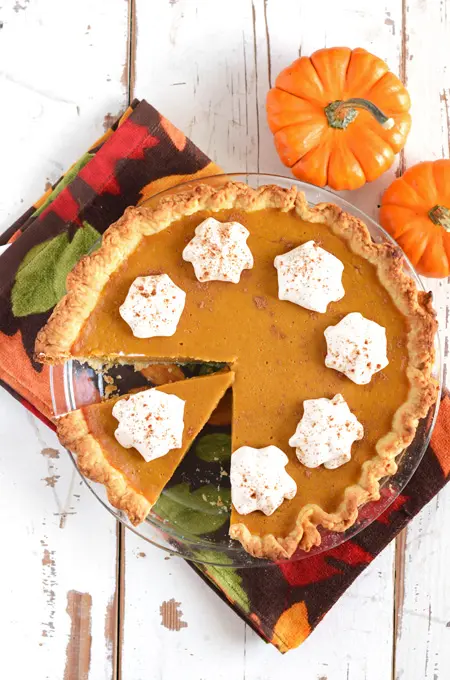 You May Also Like:
Adapted from Cook's Illustrated The Science of Good Cooking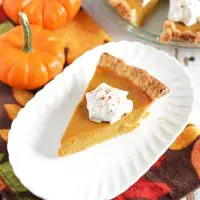 The Quintessential Pumpkin Pie
Total Time:
7 hours
55 minutes
Pumpkin pie filling made with a mix of canned pumpkin puree and candied yams. Baked on a flavorful and crisp crust. Topped with homemade whipped cream and a sprinkle of pumpkin pie spice.
Ingredients
SPECIAL TOOLS
PIE DOUGH
1 1/4 cups all-purpose flour, plus more for rolling, about 1/4 cup
1 tablespoon sugar
1/2 teaspoon table salt
6 tablespoons unsalted butter, cut into 1/4-inch pieces and chilled
4 tablespoons vegetable shortening, cut into 2 pieces and chilled
2 tablespoons vodka, chilled
2 tablespoons ice water
PUMPKIN PIE FILLING
1 cup heavy cream
1 cup whole milk
3 large eggs plus 2 large egg yolks
1 teaspoon vanilla extract
1 15-ounce can unsweetened pumpkin puree
1 cup candied yams, drained
¾ cup granulated sugar
¼ cup maple syrup
2 teaspoons grated fresh ginger
1 teaspoon table salt
½ teaspoon ground cinnamon
¼ teaspoon nutmeg
GARNISH
Pumpkin pie spice (optional)
Instructions
PIE DOUGH
In a food processor, process ¾ cup flour, sugar and salt until combined, about 5 seconds. Add the butter and shortening on top and continue to process until combined and mixture starts to clump, with no bits of flour remaining, about 10 seconds.
Scrape down the bowl to evenly distribute the dough. Add remaining ½ cup flour to the dough and pulse until the dough had broken up and is evenly distributed around the bowl, about 4 to 6 pulses.
Transfer dough to a large bowl and sprinkle vodka and ice water on top. Stir with a rubber spatula, pressing the dough together until it comes together.
Invert the dough onto a piece of plastic wrap and flatten and tightly wrap into a 4-inch disk. Refrigerate for 1 hour. Let dough sit on counter for 10 minutes before rolling out. The dough can be refrigerated for up to 2 days, and stored in the freezer for up to 1 month. If frozen, let thaw completely on the counter before rolling out.
Adjust your oven rack to the middle position and preheat your oven to 425 degrees. Roll the dough into a 12-inch circle on a floured counter. After rolling the dough out, loosely roll it around your rolling pin and gently unroll it onto your 9 inch pie plate. Gently ease the dough into the lower creases of the pan and press lightly to adhere it to the sides and bottom of the pan. Leave the excess dough hanging over the sides of the pan in place. Wrap the dough-lined pie plate loosely in plastic wrap and refrigerate until the dough it firm, about 30 minutes.
Trim the dough edges leaving a ½-inch overhang and tuck overhang underneath itself. Crimp the dough around the edge in a decorative fashion. Wrap dough lined pie plate loosely with plastic wrap and refrigerate for 15 minutes before using.
Line the chilled pie shell with a double layer of aluminum foil, covering the edges to prevent burning and fill with pie weights or dry beans.
Bake your pie shell until the pie dough looks dry and is pale in color about 15 minutes. Remove the pie weights and foil and continue to bake until the shell is golden brown, about 4 to 7 minutes. Transfer the pie crust to a wire rack and set aside. Immediately start on the pumpkin pie filling. (You can also start cooking the filling while your crust is baking.) Your pie crust must still be warm when the pumpkin filling is added.
PIE FILLING
Adjust an oven rack to the lowest position and place a rimmed baking sheet on top of the rack. Bring oven temperature down to 400 degrees. In a large bowl, whisk together the cream, milk, eggs, egg yolks, and vanilla. In a large saucepan, bring pumpkin, yams, sugar, maple syrup, ginger, salt, cinnamon and nutmeg to a simmer over medium heat; constantly stirring and mashing the yams until thick and shiny, about 15 to 20 minutes.
Turn off the heat and whisk in the cream mixture until combined. Strain mixture through a fine mesh strainer. Use the back of a spoon or small rubber spatula to help push solids through the strainer. Give the mixture a whisk by hand and pour into the warm prebaked pie crust.
Place pie on the heated baking sheet and bake for 10 minutes. Then, reduce the oven temperature to 300 degrees and continue to bake until the edges of the pie are set and the center registers 175 degrees, about 20 to 35 minutes. Set pie on a wire rack and let cool to room temperature, about 4 hours before serving. Serve with homemade whipped cream and a sprinkle of pumpkin pie spice.
Notes
MAKE AHEAD: Pie dough can be made up to 1 month in advanced, wrapped tightly and frozen. Thaw completely on the counter before using. Or refrigerator for up to 2 days, wrapped tightly in plastic wrap.
STORE: Pie can be stored in an airtight container in the refrigerator for 3 days.
*Nutrition information is an estimate and will vary. (Nutritional info does not include whipped cream.)
Nutrition Information:
Yield:

8
Serving Size:

1 slice
Amount Per Serving:
Calories:

629
Total Fat:

36g
Saturated Fat:

19g
Trans Fat:

0g
Unsaturated Fat:

15g
Cholesterol:

208mg
Sodium:

597mg
Carbohydrates:

67g
Fiber:

3g
Sugar:

41g
Protein:

10g
*Nutrition information is an estimate and will vary.*