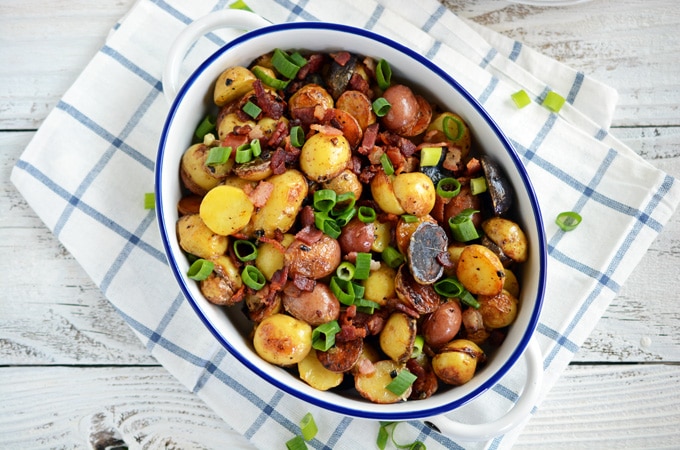 This easy side dish recipe has quickly become a new favorite in my house, and is on regular rotation. Every time Craig sees me getting the bags of little potatoes, he knows I am about to make Cheesy Roasted Potatoes with Bacon. It's like eating a baked potato just roasted on the stove top.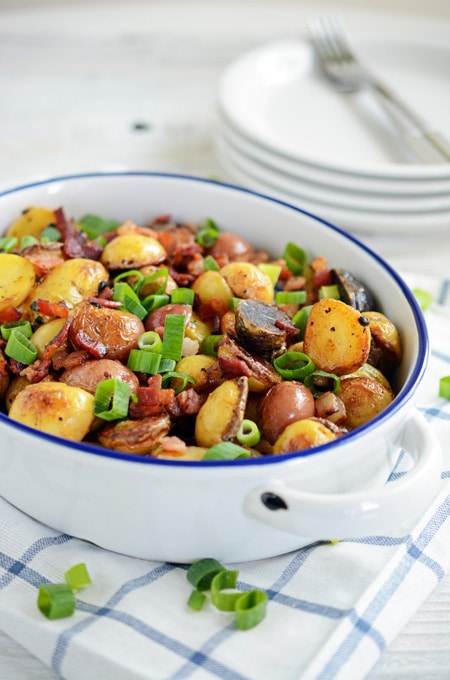 The original recipe is from Bee at Rasa Malaysia: Easy Delicious Recipes. I've kept it pretty much the same; however I did double up a few of the ingredients. Craig and I are a tall couple (me 5 ft. 9in. him 6ft. 3in.) and we need our carbs, so we like larger portions than most. With me lifting weights 6 days a week and being a hard gainer, I have to make sure I eat enough food. Great excuse to do what I love…..EAT!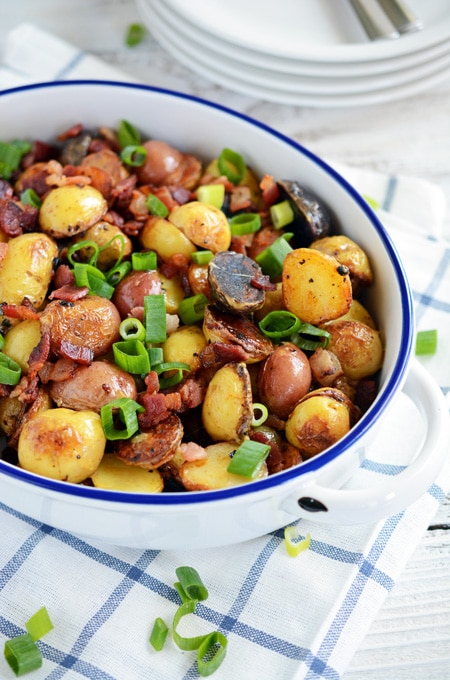 Try these Cheesy Roasted Potatoes with Bacon for your nest weeknight side dish. They will not disappoint. Enjoy.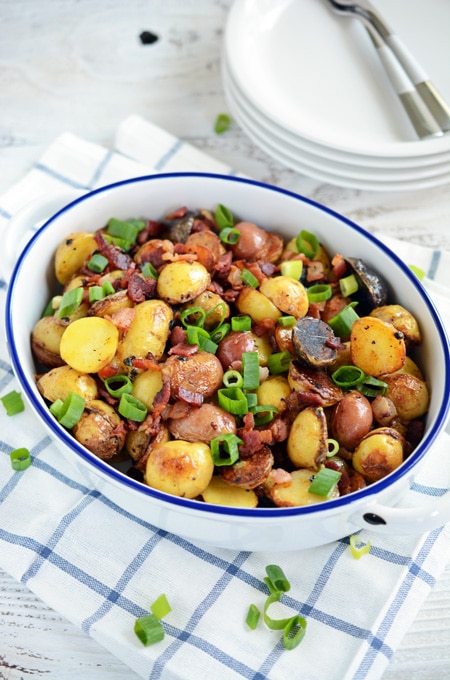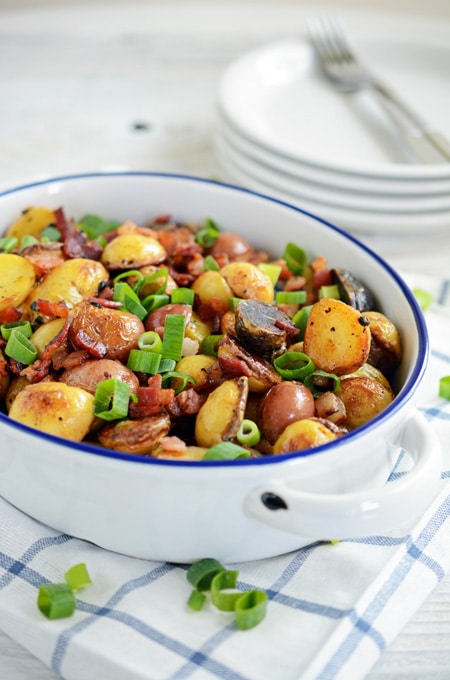 Print
Cheesy Roasted Potatoes with Bacon
Yield 8
Ingredients
6 slices organic bacon, diced
2 24-ounce bags mini potatoes, sliced in half
½ teaspoon kosher salt
¼ teaspoon black pepper
3 garlic cloves, chopped
4 green onions, sliced
1 ½ cups sharp cheddar cheese, shredded
Instructions
Heat a large non-stick skillet over medium heat and cook bacon, stirring occasionally to cook all sides. Remove bacon from the pan with a slotted spoon and set on a paper towel-lined plate to drain. Pour off all but 1 tablespoon bacon fat from the pan.
Return the pan back to the heat and add the potatoes and garlic. Season with salt and pepper and stir to combine. Cover the skillet with a lid and cook for about 20 minutes, or until the potatoes are golden brown and tender, stirring occasionally.
Place cooked potatoes in a serving dish and mix with bacon, green onions and shredded cheese. Enjoy!
Nutrition Facts
Serving Size 1
Amount Per Serving

Calories 203

% Daily Value

Total Fat 9 g

14%

Saturated Fat 5 g

25%

Cholesterol 5 mg

2%

Sodium 384 mg

16%

Total Carbohydrates 24 g

8%

Dietary Fiber 3 g

12%

Sugars 4 g

Protein 9 g

18%
* Percent Daily Values are based on a 2,000 calorie diet. Your daily values may be higher or lower depending on your calorie needs.