Perfect for the Christmas season are these bright and beautiful Red Velvet Christmas Wreath Cupcakes! They're fluffy and topped with a bakery style buttercream with a hint of cream cheese flavor. Making these a sweet treat for your holiday party!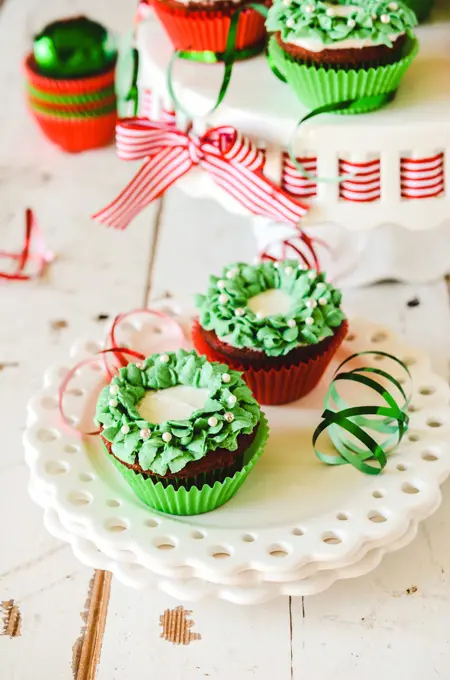 Red Velvet Cake
I used my favorite red velvet cake batter from the Sweetapolita Bakebook by Rosie Alyea in cupcake form. This cake has buttermilk in it which gives it a bit of a tang and uses Red Velvet Bakery Emulsion by LorAnn Oils. This gives the cake it's beautiful and festive red hue and also lends a unique flavor to the cake.
How To Make Your Own Superfine Sugar
You might have noticed there is superfine sugar needed for this cake recipe. Superfine sugar is also called caster sugar. In case you can't find it at your local grocery store, all you need to make it at home is granulated sugar and a food processor.
Add the amount of sugar needed for the recipe, plus a little more (some of the sugar will turn into dust), and process until the sugar is fine. Measure out the amount before adding to your recipe to be sure you have the correct amount and continue with your recipe.
If you feel like taking the easy route, like I did. I ordered my superfine sugar online.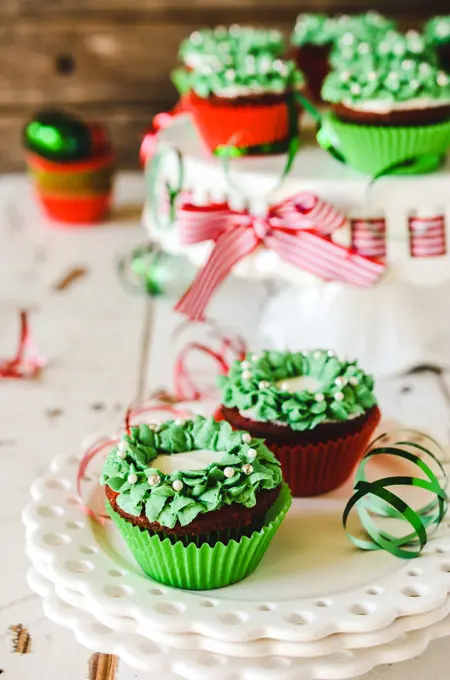 What Is Bakery Style Buttercream?
For these Red Velvet Christmas Wreath Cupcakes I used a bakery style buttercream. So what is a "bakery style" buttercream? It's a frosting that is fluffy and sweet and perfect for decorating cakes and cupcakes.
Bakery style buttercream usually has shortening and sometimes butter mixed with a lot of powdered sugar. The version I used for these cupcakes has a mix of shortening and butter.
You can add whatever flavoring you'd like. I added a cream cheese flavoring because well…they're red velvet cupcakes.
Buttercream Tips
This style of buttercream crusts over as it sits. That mean it gets stiff so you'll want to use it right away. If you have to step away for a bit, cover the surface of the buttercream with plastic wrap to keep it from drying out right away.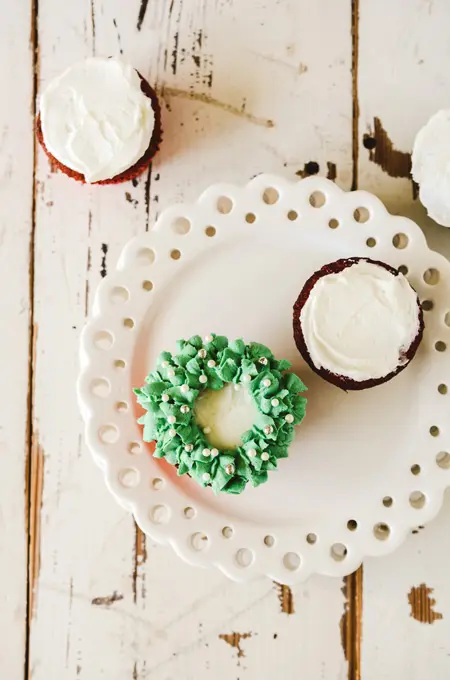 Cupcake Decorating Tips
Use a 1 tablespoon sized spring loaded

ice cream scoop

to divide white buttercream on top of each cupcake. This helps keep the buttercream evenly distributed on each cupcake.
A

small offset cake spatula

is very helpful when smoothing out the buttercream on the cupcakes.
Have paper towels handy before starting the cupcake decorating process. You'll need to clean your piping tip as you go.
Be sure to have a few toothpicks on hand as well. Sometimes if you're buttercream isn't super smooth you could get clumps stuck in the piping tip. Use a toothpick to clean out the jam and continue decorating.
For best results stop applying pressure to the piping bag before you move the piping tip away from your buttercream leaves.
I used a mix of Americolor's

Leaf Green

and

Forest Green

for my greenery.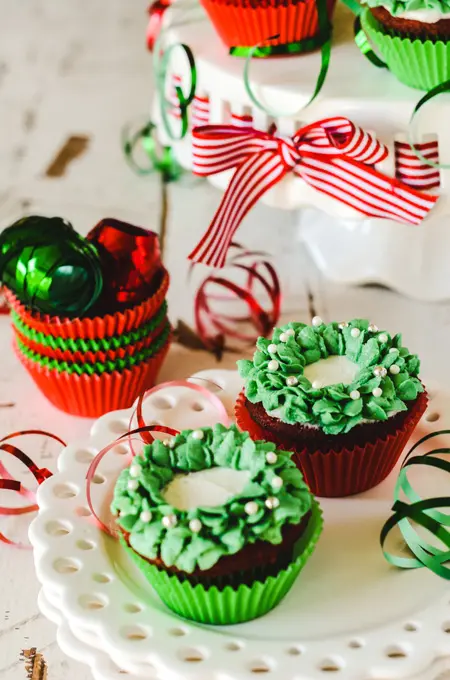 Check Your Dragees
Some dragees are not edible and are just for decoration. Be sure to check the bottle before using. Just because the bottle might say non toxic does not mean they are edible.
Plan It Out
Day 1:

Bake the cupcakes.

Day 2:

Prepare buttercream, decorate and serve.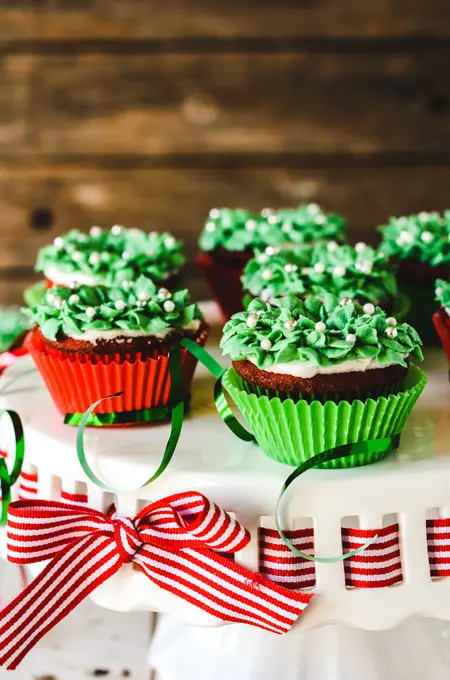 Let's Connect
The Cake Chica is on Facebook sharing sneak peeks of recipes to come, Instagram for your food porn desires and Pinterest for your board pinning needs!
You May Also Like
---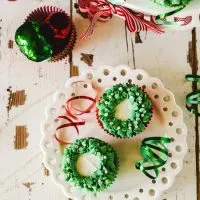 Red Velvet Christmas Wreath Cupcakes
Homemade red velvet cupcakes topped with a cream cheese flavored bakery style buttercream.
Ingredients
SPECIAL TOOLS
2 12-cup cupcake pans, plus 1 6-cup cupcake pan
Red and green cupcake liners
Stand mixer
3 tablespoon sized ice cream scoop (optional)
Green gel food coloring
Piping bags
Wilton piping tip #69
Small offset cake spatula
Dragees or sprinkles
CUPCAKES
3 cups (12 ounces) cake flour, sifted
1 teaspoon baking powder
1 teaspoon Dutch processed cocoa powder
¾ teaspoon salt
½ cup (8 tablespoons/1 stick) unsalted butter, at room temperature
2 cups (16 ounces) superfine sugar
½ cup vegetable oil
2 tablespoons Red Velvet Bakery Emulsion
3 large eggs, at room temperature
1 ½ cups (12 fluid ounces) buttermilk
1 teaspoon baking soda
2 teaspoons white distilled vinegar
CREAM CHEESE BUTTERCREAM
1 cup (16 tablespoons/2 sticks) unsalted butter, at room temperature
1 cup (16 tablespoons) shortening
8 cups (32 ounces) powdered sugar
1 teaspoon cream cheese flavoring
½ cup water or milk (more or less for desired consistency)
Instructions
CUPCAKES
Adjust and oven rack to the center position and heat oven to 350 degrees. Line cupcake pans with cupcake liners and set aside.
In a large bowl whisk together the flour, baking powder, cocoa powder, and salt and set aside.
In the bowl of a stand mixer, with the paddle attachment attached, combine the butter, sugar, oil and emulsion on medium speed until light and fluffy about 7 minutes. Incorporate the eggs one at a time mixing well after each addition. Scrape down the sides of the mixer bowl as needed. Reduce the mixer speed to low and add the dry ingredients in three additions, alternating with the buttermilk in 2 additions.
In a small bowl combine the baking soda and vinegar and immediately whisk into the batter. With a 3 tablespoon sized spring loaded ice cream scoop divide the cake batter into the prepared cupcake pans.
Bake cupcakes for 15 to 20 minutes, rotating pans halfway through baking. Cool cupcakes in their pan on wire racks for 5 minutes. Invert cupcakes onto cooking racks to cool completely.
CREAM CHEESE BUTTERCREAM
In the bowl of a stand mixer, combine the butter and shortening together on medium-high speed until smooth, about 7 minutes. Slowly add half of the powdered sugar in. Next, add in the water and cream cheese flavoring. Once combined, slowly add in the remaining powdered sugar. You can add more water or powdered sugar to the buttercream at this point if needed.
CHRISTMAS WREATH DECORATION

Spread about 1 tablespoon white buttercream on top of each cupcake with a small offset cake spatula. Color the remaining buttercream in the mixer bowl with green gel food coloring. (I used a mix of Americolors Leaf Green and Forest Green.) Fit a piping bag with Wilton tip #69 and fill with green buttercream.
Starting at the outside edge of each cupcake, pipe slightly over lapping leaves in a circle, then pipe another layer of leaves overlapping the first layer. Repeat this process with a few more layers of leaves. Sprinkle festive sprinkles or dragees over the wreath for ornaments.
Notes
Storage: Assembled cupcakes can be stored at room temperature in an airtight cake container for up to 2 days.
Nutrition Information:
Yield:

30
Serving Size:

1
Amount Per Serving:
Calories:

1003
Total Fat:

52g
Saturated Fat:

15g
Trans Fat:

3g
Unsaturated Fat:

32g
Cholesterol:

73mg
Sodium:

933mg
Carbohydrates:

134g
Fiber:

5g
Sugar:

94g
Protein:

10g
*Nutrition information is an estimate and will vary.*