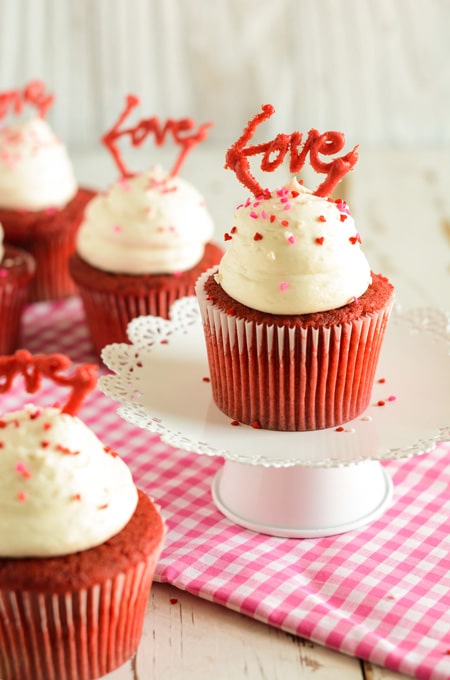 Please note that some of the links in this post are affiliate links and I will earn a commission if you purchase through those links.
Valentine's Day is just around the corner! This year make your Valentine a homemade treat perfect for the occasion. Or even better, make a date out of it and bake these Red Velvet Cakelets together! It'll be fun I promise!!!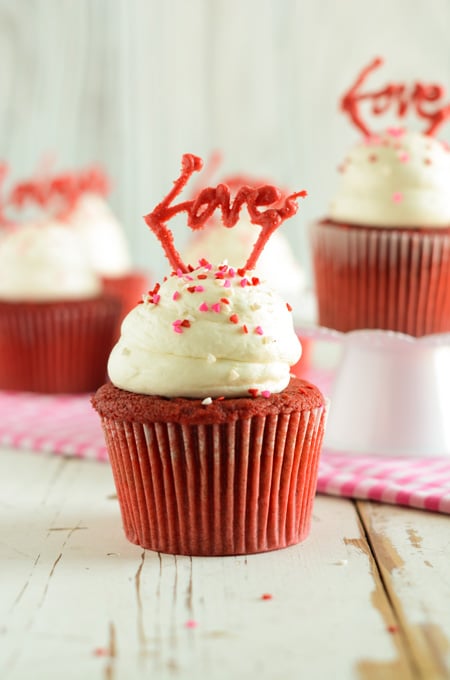 These Red Velvet Cakelets are big enough to share, but I won't tell if you eat one all by yourself. It will be hard not too. They're super soft and light and have a slight zing from the buttermilk that adds a whole other flavor dimension. A cream cheese frosting tops these cakelets perfectly, made with a mix of butter and cream cheese you can't go wrong with this one!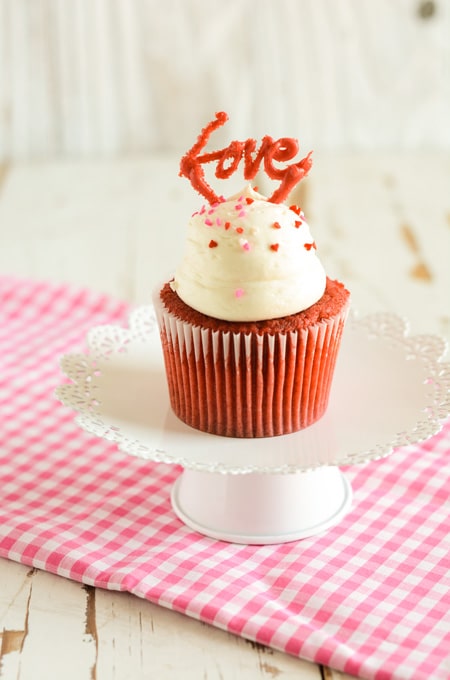 Red Velvet Cakelet Tips:
Keep your wet ingredients at room temperature, (butter, eggs, and buttermilk) this makes it easier to mix together; which helps to keep you from over mixing.

For the frosting, be sure not to over mix when you add the cream cheese. Over mixing will cause the frosting to thin.

Easy decorating tip: Use candy melts in red or pink and melt according to package directions. Pour melted candy melts in a piping bag and snip a tiny hole at the bottom of the piping bag  (no piping tip needed) and on parchment paper or wax paper, pipe "Love" or hearts or anything you like to top your cakelets. Wait for them to dry and stick them on top for a fun and festive garnish.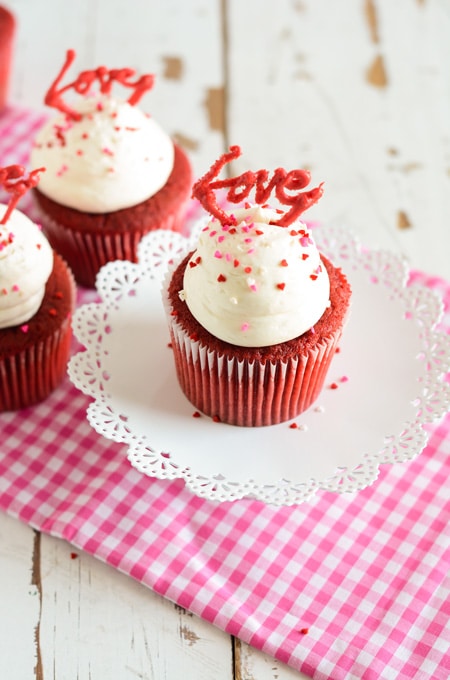 If you liked this recipe, I know your going to love Valentine's Day Red Velvet Cake, Confetti Cookie Cake, and Strawberry Shortcake. For more from The Cake Chica be sure to follow on social media: Facebook, Instagram, Twitter, Pinterest and Yummly. You can also sign up for The Cake Chica's Monthly Recap where you'll receive one email a month with all the latest recipe links delivered to your inbox, so you'll never miss a recipe! And as a thank you for signing up you'll receive my ebook The Cake Chica's Top 10 Recipes with Step-by-Step Photos for FREE! Sign up in the form below!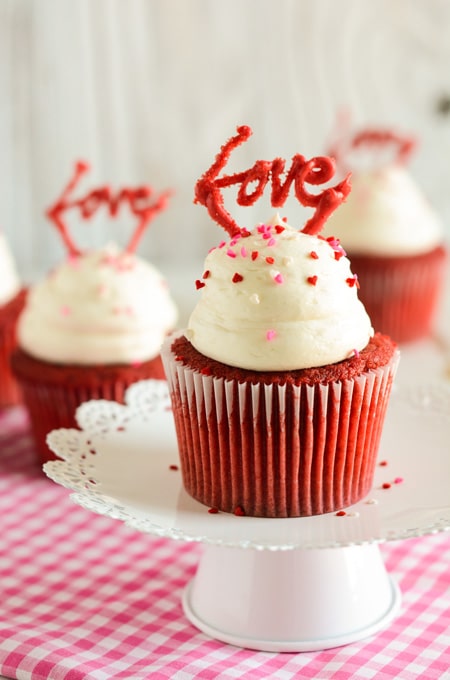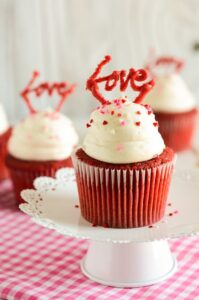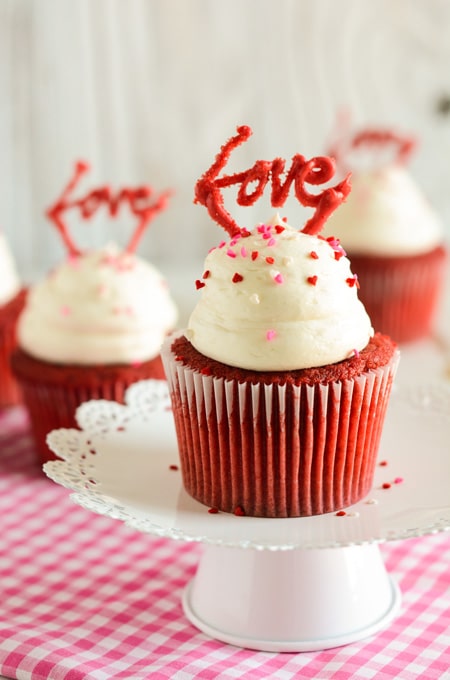 Print
Red Velvet Cakelets
Yield 12 cakelets
Ingredients
SPECIAL TOOLS
2 6-cup jumbo muffin pans
Jumbo cupcake liners
Heart sprinkles
Piping bag
Piping tip
CAKE
3 cups cake flour, sifted
1 teaspoon baking powder
1 teaspoon Dutch-process cocoa powder
¾ teaspoon salt
½ cup unsalted organic butter, at room temperature
2 cups superfine sugar
½ cup vegetable oil
2 tablespoons Red Velvet Bakery Emulsion or 1 tablespoon vanilla extract with 3 tablespoons red liquid food coloring
3 large organic eggs, at room temperature
1 ½ cups buttermilk, at room temperature
1 teaspoon baking soda
2 teaspoons distilled white vinegar
FROSTING
1 cup unsalted organic butter, at room temperature
3 cups powdered sugar, sifted
2 teaspoons vanilla extract
½ teaspoons fresh lemon juice
Pinch of salt
16 ounces cream cheese, cut into cubes and softened
Instructions
CAKE
Heat oven to 350 degrees. Prepare jumbo muffin pans with jumbo cupcake liners.
In a large bowl, whisk together the flour, baking powder, cocoa, and salt. Set aside.
In the bowl of an electric mixer fitted with the paddle attachment, beat the butter, sugar, oil and emulsion on medium speed until light and fluffy, about 5 to 7 minutes. Add the eggs one at a time. Mix for about 20 seconds in between each addition and scrap down the sides of the bowl as needed. Reduce the speed to low and add 1/3 of the flour mixture until just combined. Add half the buttermilk and mix until just combined. Repeat until all of the flour and buttermilk have been added.
In a small bowl, whisk the baking soda and vinegar together, and quickly whisk into the batter. Pour about 2/3 cup batter in each cupcake liner.
Bake cakes on the center rack of the oven for 20 to 25 minutes or until a tooth pick inserted in the center comes out with a few moist crumbs attached. Let the cakelets cool in the pans on a wire rack for 10 minutes. Invert cakelets on to the wire rack to cool completely.
FROSTING
In the bowl of an electric mixer fitted with the paddle attachment, beat the butter on medium speed for 5 minutes. Add the powdered sugar, vanilla extract, lemon juice and salt. Reduce the speed to low and beat for 1 minute.
Increase the speed to medium and beat until fluffy, about 4 minutes. Reduce the speed to medium-low and add the cream cheese and beat until smooth, about 1 minute. Do not over beat at this stage or the cream cheese will cause the frosting to thin.
ASSEMBLE
Prepare a piping bag with a piping tip and fill bag with frosting. Pipe frosting on top of each cakelet. Garnish with sprinkles and a decorative cake topper of your choice.
Courses Dessert
Cuisine American