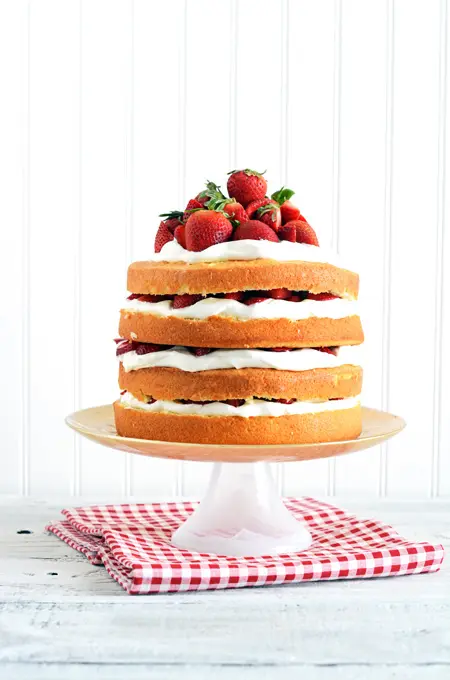 This one took a few tries to get it just right, but I'm happy to report it's finally perfected.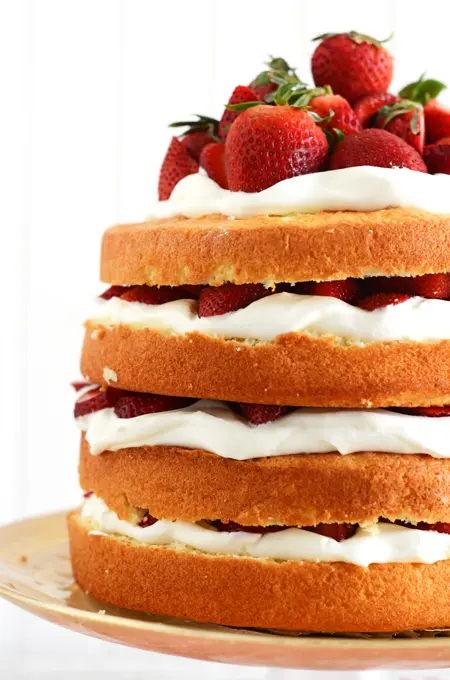 Well at least in my opinion. Why don't you give it a try and tell me what you think?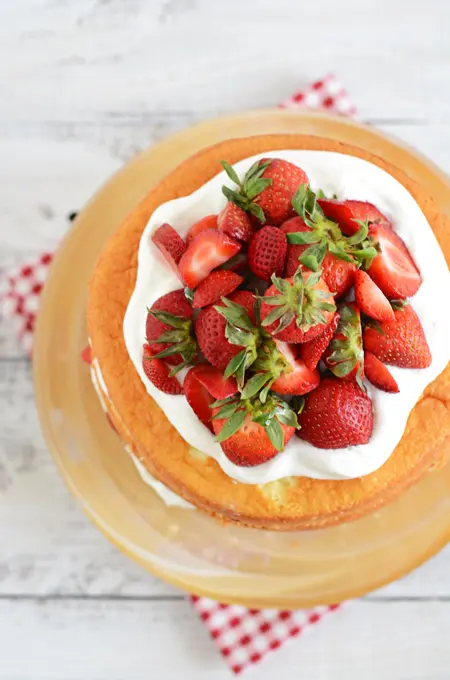 Strawberry Shortcake is perfect during the Summer months when strawberries are in season. This cake bakes up a wonderful sponge cake, that's soaked in a sugar syrup to give the cake a little extra moistness. Then top those moist cake layers with homemade whipped cream! Next, you'll top the whipped cream with fresh sliced strawberries. Yum! I think your gonna love this light and fluffy Strawberry Shortcake.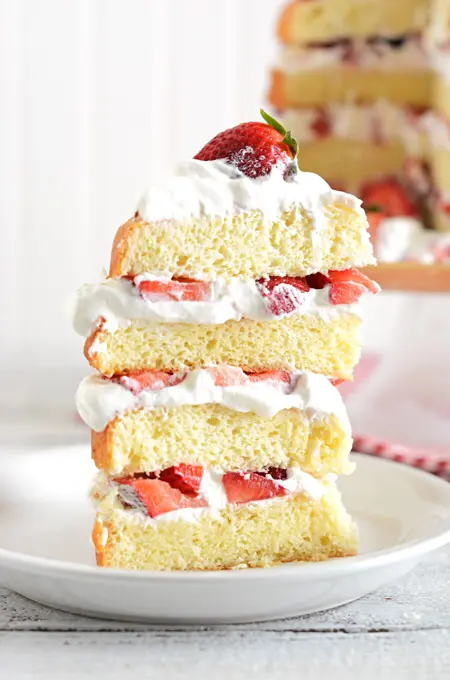 And because this cake is so fluffy and light, if you're planning on taking it somewhere, I strongly recommend setting up this cake when you get to the event location. I brought this cake to a family gathering at my mom's house just a few weeks ago. I sliced the cake layers and wrapped them up in plastic wrap and stuck them in my cake storage container. Next I packed a wooden skewer, strawberries, a container of soaking syrup and another container of whipped cream. Once I got to my mom's house I assembled the cake there. Don't forget to pack a pastry brush for your soaking syrup and an offset cake spatula to spread on your whipped cream.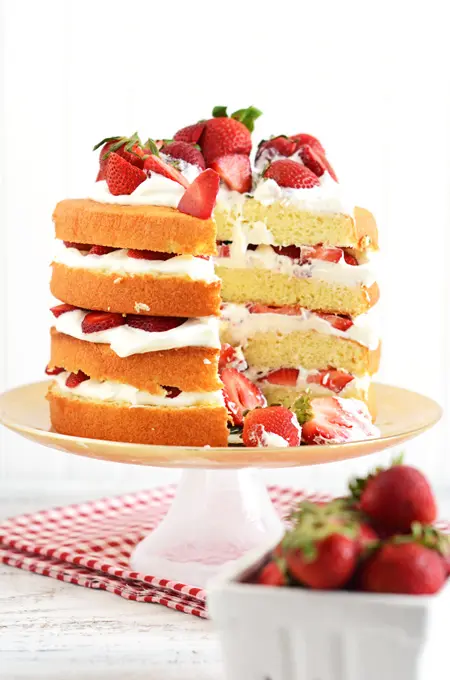 I'd love to hear from you on social media. You can find me on Facebook, Instagram, and Pinterest.
I hope you enjoy this Strawberry Shortcake as much as I did. I'll talk with you guys next week!!!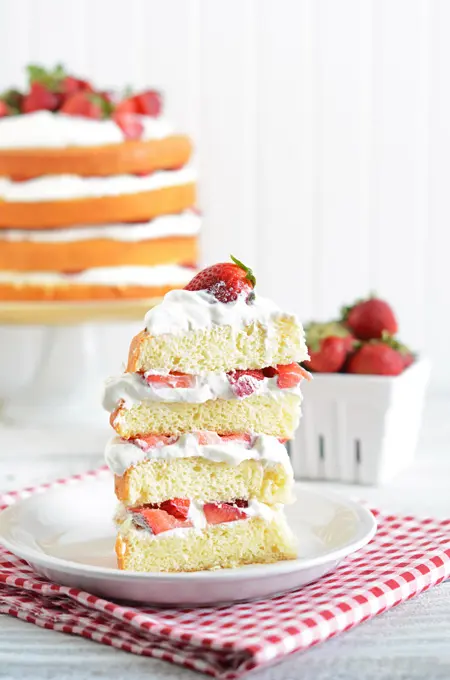 Adapted from Layered: Baking, Building, and Styling Spectacular Cakes by Tessa Huff.
You May Also Like: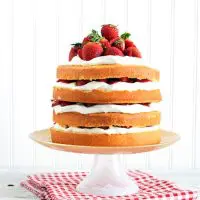 Strawberry Shortcake
Additional Time:
15 seconds
Total Time:
55 minutes
15 seconds
Four layers of homemade sponge cake filled with homemade whipped cream and fresh strawberries.
Ingredients
SPECIAL TOOLS
Stand Mixer
Hand Mixer
Pastry Brush
Skewers
CAKE
2 cups cake flour
2 teaspoons baking powder
½ teaspoon table salt
½ cup grapeseed oil
1 ¼ cups plus 2 tablespoons granulated sugar, divided
2 teaspoons vanilla extract
6 large egg yolks, at room temperature (reserve egg whites for later use in the recipe)
½ cup whole milk, at room temperature
8 large egg whites, at room temperature (use reserved egg whites)
¾ teaspoon cream of tartar
SOAKING SYRUP
½ cup granulated sugar
½ cup water
½ teaspoon pure vanilla extract
WHIPPED CREAM
2 cups heavy cream
2 tablespoons granulated sugar
½ teaspoon vanilla extract
ASSEMBLY
3 pounds fresh strawberries
Instructions
CAKE
Preheat an oven to 350 degrees. Spray two 8-inch cake pans with non-stick baking spray and set aside.
Sift together the flour, baking powder and salt and set aside.
In the bowl of a stand mixer fitted with the paddle attachment, beat the oil and 1 ¼ cups sugar together on medium speed for 1 minute. Scrape down the sides of the bowl. Reduce the speed to medium-low and add the vanilla and egg yolks, one at a time and mix for about 3 minutes or until the mixture has increased in volume and has turned pale in color. Scrape down the sides of the mixer bowl as necessary.
Reduce the speed to low and add the flour mixture in three batches, alternating with the milk in 2 batches, starting with the flour mixture and ending with the flour mixture. Turn the mixer speed up to medium and beat for 30 seconds until the dry ingredients are combined.
In a large bowl with a hand mixer fitted with the whisk attachment, whisk the egg whites on medium-low speed until foamy. Add the remaining 2 tablespoons of sugar and cream of tartar and whisk on high speed until stiff peaks form.
Carefully fold in the egg whites into the batter and divide batter evenly among the prepared cake pans. Bake for 25 to 28 minutes or until a toothpick inserted in the center of the cakes comes out clean or with a few moist crumbs. Let the cakes cool on a wire rack in their pans for about 10 to 15 minutes. Then invert on the cooling racks to cool completely.
SOAKING SYRUP
Combine the sugar and water together in a small saucepan and bring to a boil over medium-high heat. Stir to dissolve the sugar, then add the vanilla extract and stir combine. Remove from the heat and set aside until needed.
WHIPPED CREAM
In the bowl of a stand mixer fitted with the whisk attachment, whisk the cream on medium speed until soft peaks form. Add the sugar and vanilla and whisk on high until medium peaks form.
ASSEMBLE
Reserve a few of your best looking strawberries for garnish. Hull and slice remaining strawberries into ¼-inch thick slices until you have about 4 cups.
Once the cakes have cooled, carefully halve them horizontally, creating 4 even layers of cake. Place one of the cake layers on a cake pedestal. Using a wooden skewer, poke holes in the first layer of cake with a wooden skewer; then brush on some of the Soaking Syrup with a pastry brush. Spread about 1 cup of the Whipped Cream on top. Spread about 1 cup of sliced strawberries on top. Repeat this process with the remaining cake layers. Garnish the last layer of cake with remaining Whipped Cream and reserved strawberries.
Notes
Cake layers can be stored in an airtight container on the counter at room temperature for up to 3 days.
Soaking Syrup can be stored in an air tight container in the refrigerator for up to 1 week. Reheat in a small saucepan over low heat before using.
Whipped cream can be stored in the refrigerator for up to 8 hours.
Assembled cake can be stored in the refrigerator for up to 2 days.
Nutrition Information:
Yield:

8
Serving Size:

1
Amount Per Serving:
Calories:

706
Total Fat:

43g
Saturated Fat:

18g
Trans Fat:

1g
Unsaturated Fat:

22g
Cholesterol:

237mg
Sodium:

432mg
Carbohydrates:

66g
Fiber:

4g
Sugar:

32g
Protein:

16g
*Nutrition information is an estimate and will vary.*