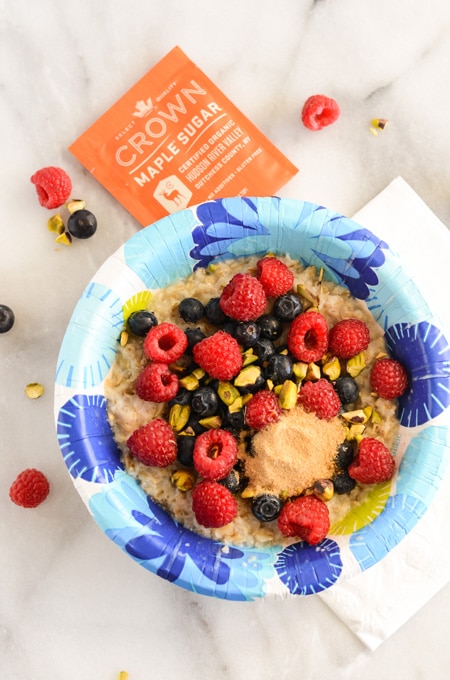 This post was written in partnership with Degustbox USA. All stories and opinions are 100% my own. Please note some of the links in this post are affiliate links and I will earn a commission if you purchase through those links.
I call this Real Microwave Oatmeal because when most people think of microwave oatmeal, they think about those prepackaged, overly processed and overly sweetened little packets. I'm happy to say you don't have to resort to those little packets anymore!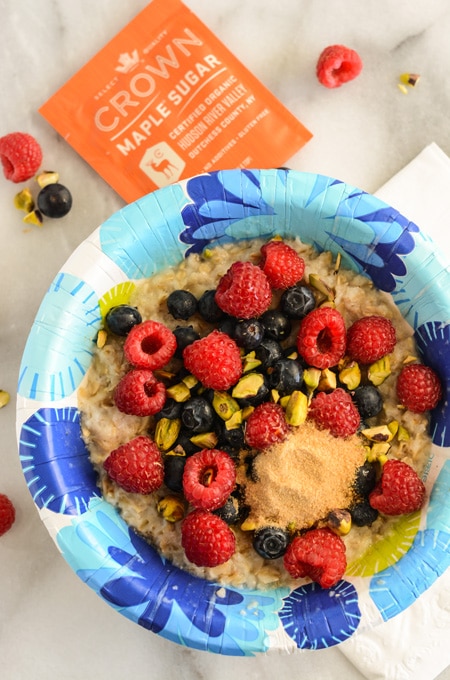 I regularly make this recipe for breakfast at work. It's super simple. And all you need is some rolled oats, water and your toppings of choice. My toppings of choice always includes fresh berries and nuts. As a sweetener, I typically use real maple syrup, but this month in my Degustabox I received a couple of samples of Crown Maple Sugar. Talk about the best of both worlds! And it's organic!!!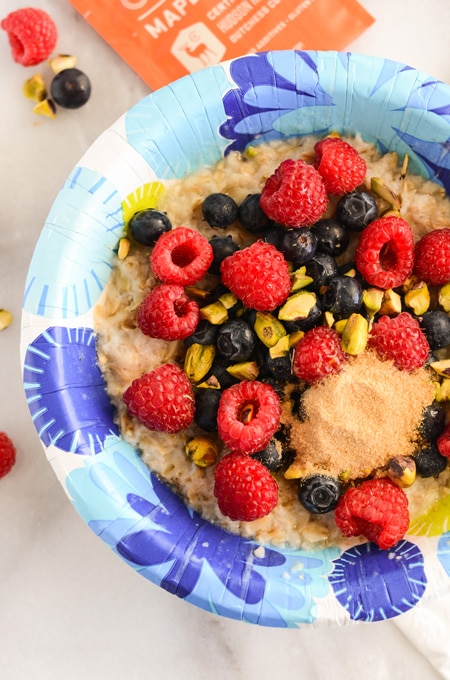 There are so many ways to dress up your oatmeal. On occasion I throw in some candied pecans or a few semi sweet chocolate chips. The possibilities are endless. I'd love to hear what toppings you like to have with your oatmeal in the comments below!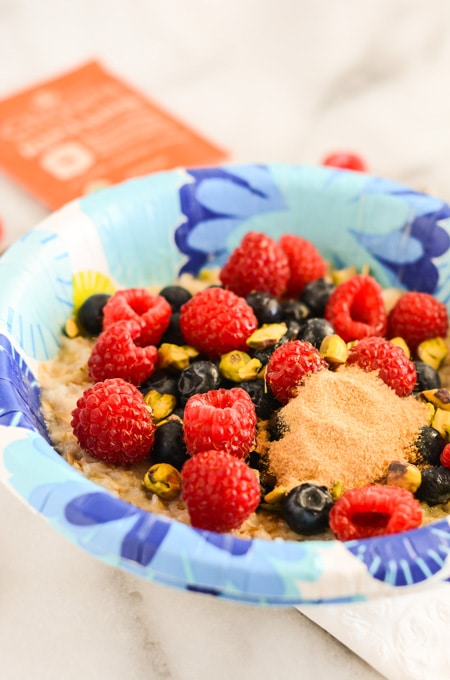 Don't forget to sign up for The Cake Chica's newsletter The Monthly Recap by signing up in the form below this post. And as a thank you for signing up, you'll also get my ebook The Cake Chica's Top 10 Recipes of 2015 with Step by Step Photos. Also, follow The Cake Chica on social media: Facebook, Instagram, Twitter, Pinterest and Yummly.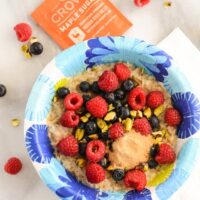 Real Microwave Oatmeal
Ingredients
½ cup organic rolled oats
1 cup water or organic milk (adjust amount to your liking)
Fresh organic berries
Shelled pistachios
Crown maple sugar or real maple syrup
Instructions
OATMEAL
Pour oats and water in a microwavable bowl. Heat on high for 2 minutes, stirring after 1 minute and watching carefully to be sure the oats don't boil over. If oats start to boil over, stop the microwave and wait for the oatmeal to settle back down in the bowl and continue to microwave for the remaining time.
TOPPINGS
Notes
Nutritional info. does not include toppings.
Nutrition Information:
Serving Size:

12
Amount Per Serving:
Calories:

210
Total Fat:

3g
Carbohydrates:

38g
Fiber:

4g
Sugar:

1g
Protein:

7g