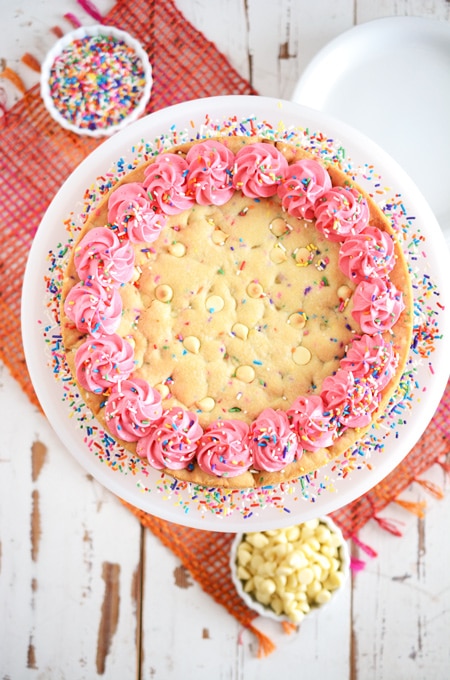 Disclosure: We are a participant in the Amazon Services LLC Associates Program, and affiliate advertising program designed to provide a means for us to earn fees by linking to Amazon.com and affiliated sites. Please note that some of the links in this post are affiliate links and I will earn a commission if you purchase through those links.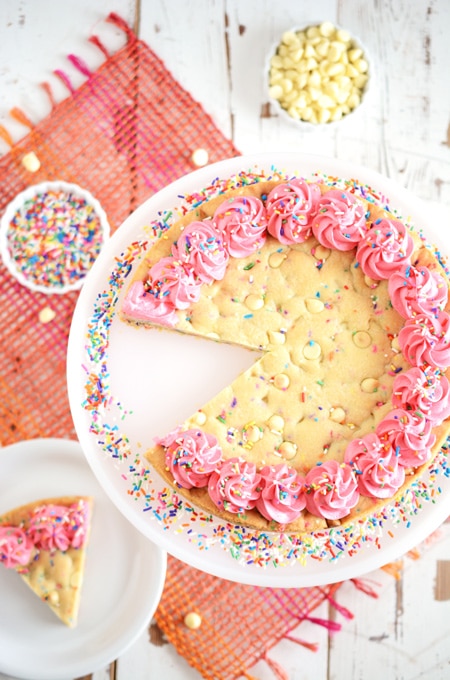 Why I love this Confetti Cookie Cake:
It's incredibly easy to make and tasty too.
With all the different types of sprinkles available now, it's super easy to match to your special event.
It's also two of my favorite childhood sweets together as one!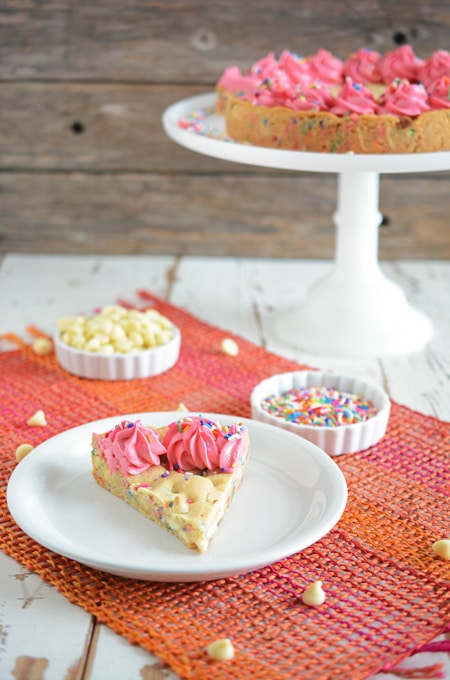 What a perfect pairing right? A cookie and a cake put together! When I was younger I always loved getting cookie cakes instead of the typical birthday cake. This Confetti Cookie Cake tastes like something you would have to order from a professional bakery. But lucky you, you now have an awesome recipe to impress your guests and when they ask "where did you get this from" you can say proudly "I made it!" And I'll leave it up to you if you want to tell them how simple it was to make 🙂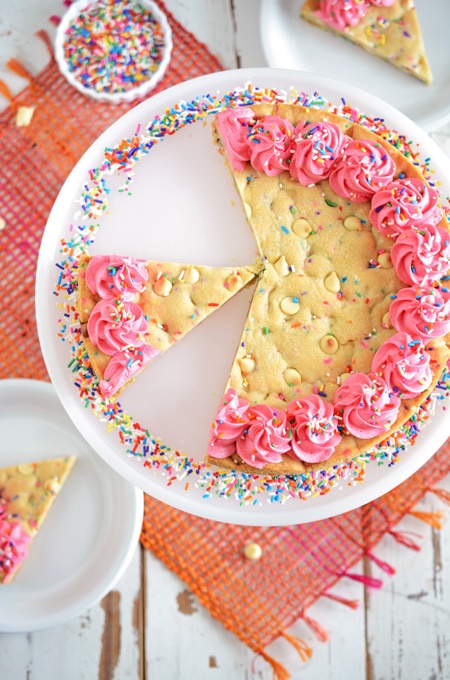 Tip: Be on the look out for real white chocolate chips! There is a time and place for the fake stuff but no room for it in this recipe. The fake stuff will say something along the lines of "baking chips". Legit white chocolate chips will have cocoa butter listed in the ingredients section.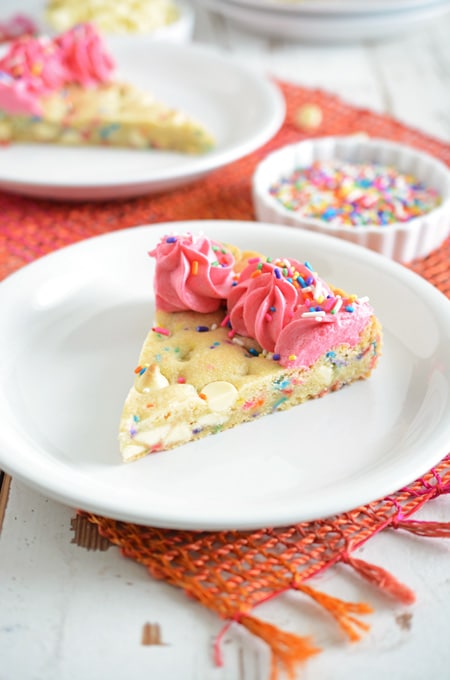 If you like this recipe you might also want to check out these: Easter Confetti Cake, Valentine's Day Red Velvet Cake, Best, Big, Fat, Chewy Chocolate Chip Cookie.
Follow me on social media: Facebook, Instagram, Twitter, Pinterest and Yummly. Want to see what's coming up next week? Then subscribe to The Weekly Recap in the sign up box below this post and receive The Cake Chica's Top 10 Recipes of 2015 with Step-by-Step Photos absolutely FREE!
Adapted from Simply Beautiful Homemade Cakes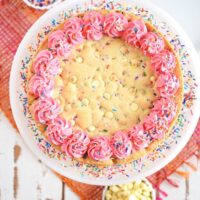 Confetti Cookie Cake
Ingredients
Piping Bags
Piping Tip Wilton 1M , 2D Ateco 844
9-Inch Round Cake Pan 
Electric Pink
1 ¾ cup all-purpose flour
½ teaspoon baking soda
½ teaspoon cornstarch
¼ teaspoon table salt
8 tablespoons unsalted butter, at room temperature
1 cup granulated sugar
1 large egg, at room temperature
1 teaspoon vanilla extract
1 cup white chocolate chips
¼ cup sprinkles
4 tablespoons unsalted butter, at room temperature
4 tablespoons vegetable shortening
2 cups powdered sugar, sifted, divided
½ teaspoon vanilla extract
1-2 tablespoons water
Electric Pink gel food color
Extra sprinkles to decorate
Instructions
CAKE
Adjust an oven rack to the middle position and heat your oven to 350 degrees. Prepare  a 9-inch round cake pan with parchment paper on the bottom and spray the sides of the cake pan with baking spray. Set aside.
In a medium-sized bowl, combine the flour, baking soda, cornstarch and salt. Set aside.
In the bowl of an electric stand mixer, cream the butter and sugar together until light and fluffy, about 3 to 4 minutes. Scrape down the sides of the bowl.  Add the egg and vanilla extract and mix until well combined. Add the flour mixture to the butter mixture and beat until well combined. The dough will be crumbly at first. Use a silicone spatula to bring it together. Stir in the white chocolate chips and sprinkles. The dough will be thick.
Spread the cookie dough evenly into the cake pan, then press a few more white chocolate chips into the top of the cookie. Bake for 20 to 25 minutes. The center may not be set but will firm up as it cools.
Remove the cookie cake from the oven and allow to cool in the pan for 2 to 3 hours. Loosen the cookie cake from the sides of the pan with a small cake spatula or knife. Remove the cookie cake from the pan by placing a plate or cake circle over the top of the cake pan and flip over. Next, choose the serving platter you wish to serve on and place that on top of the cookie cake and carefully flip over.
BUTTERCREAM
In a large bowl beat together the butter and shortening until smooth. Add 1 cup of powdered sugar and mix until smooth. Add the vanilla extract and 1 to 2 tablespoons water and mix until smooth.  Add the remaining 1 cup powdered sugar and mix until smooth.
Color the frosting with gel food coloring. I used Electric Pink by Americolor. Fit a piping bag with a piping tip and fill bag with buttercream. Pipe frosting on the edges of the cookie cake with rosettes or design of your choice.
Notes
Tip: You can refrigerate the dough prior to baking for 2 to 3 days. No need to let the dough come to room temperature when you are ready to bake. Just press the dough in the cake pan and bake per instructions.
 Store: Cake can be store on the counter at room temperature for up to 3 days.