You'll want to make this Pumpkin Spice Layer Cake with Caramel Cream Cheese Frosting all year long!
This cake uses a homemade pumpkin spice blend that will have your home smelling like fall. Then, it's filled and frosted with an easy to make caramel cream cheese frosting that is simply to-die-for!
Luckily canned pumpkin is available all year long so you totally can make this cake whenever you want!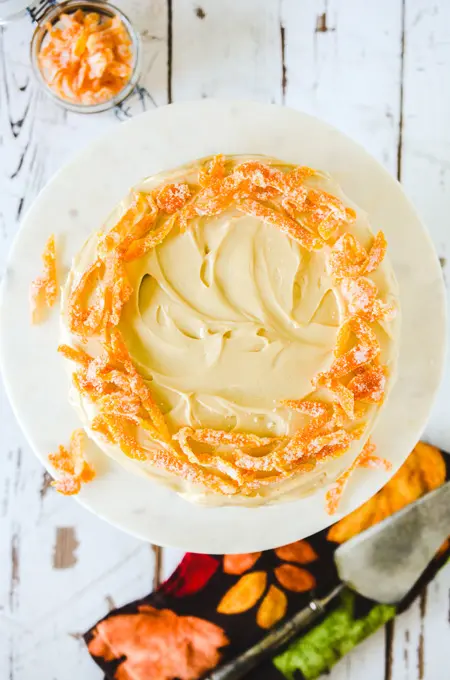 Candied Orange Peel
Since the candied orange peel can be made up to 5 days in advance, I choose to make that element of this cake first.
Once holiday baking starts it's important to be organized and have a schedule ready! Keep scrolling to check out the "Plan It Out" section I have on all my cake recipes to help you stay on track.
Be careful not to get any of the pith on the orange peel. If you do, use a knife to remove it.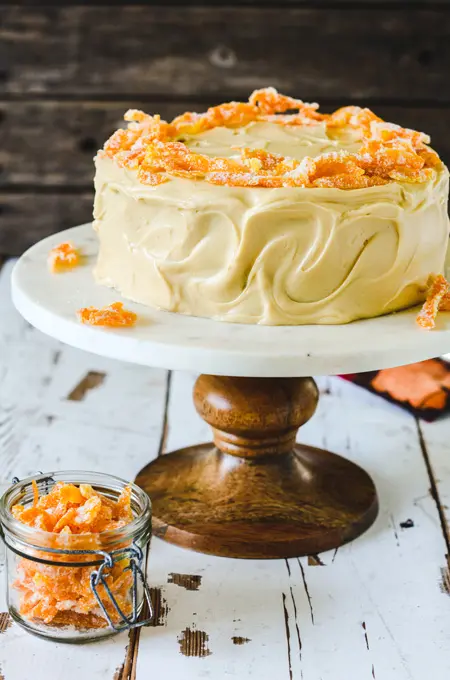 Pumpkin Spice Cake
You're going to love the aroma when baking this cake! Check you're spice cabinet before starting you'll need the following spices:
ground cinnamon
ground ginger
ground cloves
freshly grated nutmeg
allspice
ground cardamom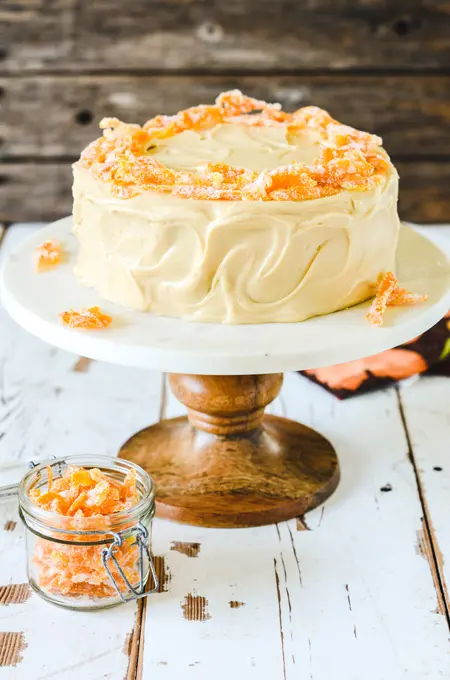 Caramel Cream Cheese Frosting
Making the caramel for this frosting is a lot easier than you think. You'll just need to keep a close eye on the powdered sugar while it melts in the pan and a few hours to let the frosting firm up enough to frost the cake, about 2 hours. So be sure to plan ahead before making this decadent Caramel Cream Cheese Frosting.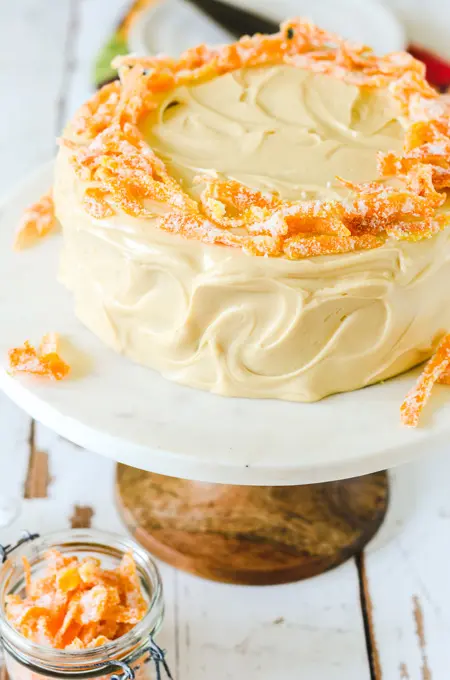 Plan It Out
When your holiday baking season starts be sure to have a plan! Here is what my schedule looked like while preparing Pumpkin Spice Layer Cake with Caramel Cream Cheese Frosting!
Day 1: Make the candied orange zest.
Day 2: Bake the cake layers.
Day 3: Prepare the frosting and decorate cake. Serve.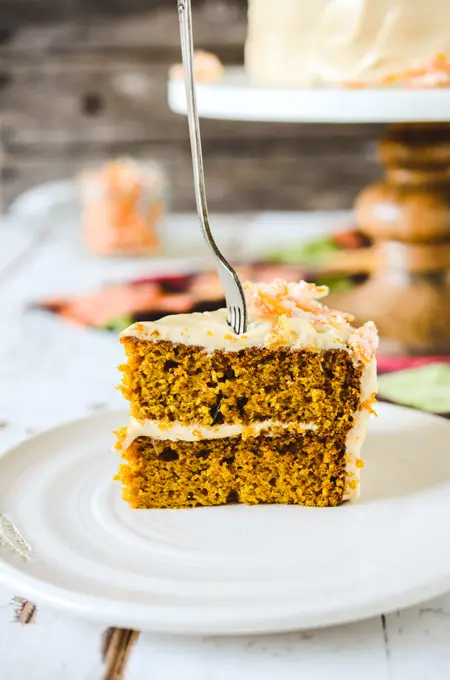 Lets Connect
The Cake Chica is on Facebook sharing sneak peeks of recipes to come, Instagram for your food porn desires and Pinterest for your board pinning needs.

Adapted from Bon Appetit Desserts and The Cake Book
Pumpkin Spice Layer Cake with Caramel Cream Cheese Frosting
Additional Time:
2 hours
30 minutes
Homemade Pumpkin Spice Cake made with a homemade blend of fall spices, filled and frosted with caramel cream cheese frosting and garnished with candied orange peel.
Ingredients
SPECIAL TOOLS
Medium sized saucepan
Stand mixer or hand mixer
12-inch nonstick skillet
2 8-inch round cake pans
CANDIED ORANGE ZEST
3 oranges, scrubbed
1 cup (7 ounces) granulated sugar
3/4 cup water
1/4 teaspoon cream of tartar
1/2 cup (3.5 ounces) granulated sugar
CAKE
3 cups(15 ounces) all-purpose flour
2 teaspoons baking soda
2 teaspoons baking powder
1 teaspoon ground cinnamon
1/2 teaspoon ground ginger
1/4 teaspoon ground cloves
1/4 teaspoon freshly grated nutmeg
1/4 teaspoon allspice
1/4 teaspoon ground cardamom
½ teaspoon salt
1 15-ounce canned pumpkin
1 1/2 cups (10.5 ounces) granulated sugar
1 1/4 cups vegetable oil
4 large eggs
2 teaspoons finely grated orange peel
FROSTING
4 cups (16 ounces) powdered sugar, divided
1/2 cup plus 1 tablespoon heavy whipping cream
1 teaspoon vanilla extract
1/4 teaspoon salt
1 8-ounce package cream cheese, room temperature
1/4 cup (4 tablespoons) unsalted butter, room temperature
Instructions
CANDIED ORANGE ZEST
Fill a medium saucepan about halfway full with water and bring to a boil. Use a
vegetable peeler or sharp knife to remove the peel of each orange in vertical strips, being careful not to include the bitter pith. Next, cut each piece into julienne strips.
Add the zest strips to the boiling water and reduce the heat to a simmer and continue to cook for about 15 minutes.
Drain the zest in a mesh sieve and rinse. Using the same saucepan, combine 1 cup sugar, ¾ cup water and cream of tartar and bring to a boil, stirring until the sugar has dissolved. Add zest and cover the saucepan and reduce the heat to low. Let simmer for 15 minutes. Drain zest through a mesh strainer and add to a medium bowl with ½ cup sugar mixing with a spoon to combine. Spread candied orange zest on a baking sheet lined with paper towels to dry at least 2 hours before using.

CAKE
Spray 2 8-inch round cake pans with nonstick baking spray and set aside. Adjust an oven rack to the center position and heat oven to 350 degrees. In a large bowl whisk flour, baking soda, baking powder, cinnamon, ginger, cloves, nutmeg, allspice, cardamom and salt to combine.
In the bowl of a stand mixer, combine the pumpkin, sugar and oil on medium-low speed for 2 minutes.
Add eggs in one at a time, on low speed beating until just combined. Stir in orange peel.
Add the dry ingredients into the wet ingredients and beat on low speed until just combined. Give the batter a final stir by hand with a rubber spatula. Divide cake batter between prepared cake pans and bake for 30 to 35 minutes or until a wooden skewer inserted in the center comes out with a few moist crumbs attached. Let cakes cool in their pan for 10 minutes and then invert on to cooling racks to cool completely.


FROSTING
Sprinkle ½ cup powdered sugar over a 12-inch nonstick skillet. Cook over medium heat without stirring until the sugar melts, swirling the pan occasionally. (Be sure not to stir the sugar or it can crystallize and seize.) Keep a careful watch on the caramel, shaking and tilting the pan as needed, allowing the sugar to melt evenly. Once the sugar has melted, continue to cook until the sugar turns an amber color, stirring occasionally, about 2 minutes. Add ½ cup heavy cream, vanilla extract and salt. Stir until the caramel bits dissolve, and then stir in remaining 1 tablespoon heavy cream. Stain through a fine mesh sieve into a bowl and let come to room temperature, about 30 minutes.
Sift remaining 1 ½ cup powdered sugar into a sheet of wax or parchment paper. In the bowl of a stand mixer, fitted with the paddle attachment, beat the cream cheese and butter until combined. Gradually add the powdered sugar in. Beat in cooled caramel. Cover and chill in the refrigerator, about 2 hours or until firm enough to spread.

ASSEMBLE
Trim any cake domes that may have formed during baking to create 2 even layers of cake. Place 1 cake layer on a cake platter and spread about 2/3 cup frosting on top. Place the second layer of cake, (cut side down) on top of the first layer. Spread remaining frosting on top and sides of the cake in a swirl pattern. Sprinkle with candied orange peel.
Notes
Candied Orange Zest can be made up to 5 days in advance stored in an air tight container at room temperature.

Cake layers can be prepared up to 3 days in advance wrapped in plastic wrap and stored in an air tight container at room temperature.

Assembled cake can be stored at room temperature for up to 1 day or stored in the refrigerator for 3 days in an air tight container. Bring to room temperature before serving.
Nutrition Information:
Yield:

12
Serving Size:

1
Amount Per Serving:
Calories:

496
Total Fat:

34g
Saturated Fat:

7g
Trans Fat:

1g
Unsaturated Fat:

25g
Cholesterol:

92mg
Sodium:

542mg
Carbohydrates:

42g
Fiber:

3g
Sugar:

12g
Protein:

8g
*Nutrition information is an estimate and will vary.*