How else would the Cake Chica celebrate the start of fall? With a cake of course! This heartwarming Pumpkin Spice Layer Cake with Caramel Cream Cheese Frosting has everything you would expect from an Autumn treat, cinnamon, ginger, cloves, nutmeg, allspice, cardamom, orange zest and of course the star….pumpkin. But this isn't just any regular pumpkin cake with cream cheese frosting. The orange zest in this cake really takes the flavor to the next level. And the addition of caramel to the frosting just tops it all off making this pumpkin cake extra special.
This cake does take a little time to prepare so plan accordingly. I like to make cakes like this over a span of 2 days. For me, this means coming home from work on a Friday and planning on making just the cake layers. By that point I am totally exhausted and will make the frosting and any garnishes on Saturday, after I have had a good nights sleep. Saturday is the fun part (also the messiest)! Frosting and decorating!!! Read the recipe ahead of time. The frosting and candied orange zest need time to dry and chill. Sure this takes some time but it's well worth it in the end.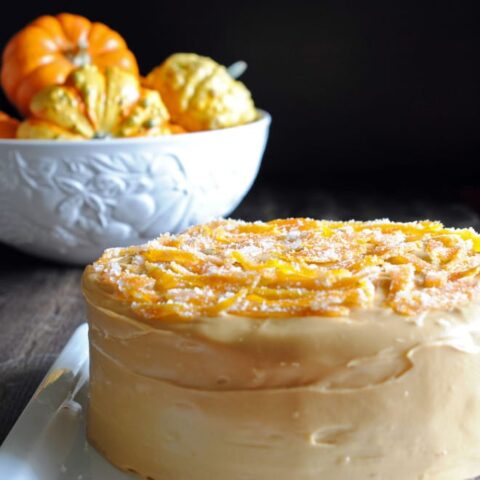 Pumpkin Spice Layer Cake with Caramel Cream Cheese Frosting
Ingredients
CAKE
3 cups all-purpose flour
2 teaspoons baking soda
2 teaspoons baking powder
1 teaspoon ground cinnamon
1/2 teaspoon ground ginger
1/4 teaspoon ground cloves
1/4 teaspoon freshly grated nutmeg
1/4 teaspoon allspice
1/4 teaspoon ground cardamom
1 15-ounce canned pumpkin
1 1/2 cups granulated sugar
1 1/4 cups vegetable oil
4 large eggs
2 teaspoons finely grated orange peel
CANDIED ORANGE ZEST
3 oranges, scrubbed
1 cup granulated sugar
3/4 cup water
1/4 teaspoon cream of tartar
1/2 cup granulated sugar
FROSTING
4 cups powdered sugar, divided 1/2 cup plus 1 tablespoon heavy whipping cream
1 teaspoon vanilla extract
1/4 teaspoon salt
1 8-ounce package cream cheese, room temperature
1/4 cup unsalted butter, room temperature
Instructions
CAKE
Heat your oven to 350 degrees. Spray 2 8-inch round cake pans with baking spray or line with parchment paper. Whisk flour, baking soda, baking powder, cinnamon, ginger, cloves, nutmeg, allspice and cardamom in a large bowl until combined. In the bowl of a stand mixer beat together pumpkin, sugar and oil. Beat in eggs 1 at a time on low speed and then stir in the orange peel.
Add the flour mixture and beat on low speed until just combined. Divide batter between prepared cake pans.
Bake cakes until skewer inserted into center comes out clean, about 35 minutes. Cool cakes in their pans on racks for 10 minutes. Loosen the edges of the cake with a knife or cake spatula and invert onto wire racks to cool completely.
CANDIED ORANGE ZEST
Using a vegetable peeler (I like this one) or sharp paring knife, remove the peel of each orange in vertical strips, being careful not to include any of the bitter white pith. If you do get a little pith on the peel, place the strips on a cutting board and using a paring knife with the blade parallel to the board, carefully slice it off. Cut the zest into julienne strips.
Half fill a medium saucepan with water and bring to a boil. Add the zest strips and reduce the heat to a simmer and simmer for 15 minutes. Drain and rinse the zest.
In the same saucepan, combine sugar, water and cream of tartar and bring to a boil, stirring constantly to dissolve the sugar. Add the zest, cover the saucepan and reduce the heat to low. Let the zest simmer for another 15 minutes. Remove the pan from the heat and drain zest. Toss zest with sugar, breaking up any lumps of sugar with your hands. Spread the zest onto a baking sheet to let dry at room temperature for about 2 hours before using.
FROSTING
Sprinkle 1/2 cup sugar over the bottom of a non-stick skillet. Cook without stirring over medium high heat until the sugar melts, swirling the pan occasionally. (Be sure not to stir or the sugar will crystalize and seize.) Keep a careful watch on the caramel, shaking and tilting the pan if necessary to allow the sugar to melt evenly. Once the sugar has melted, continue cooking the sugar until it turns a deep amber color, stirring occasionally about 2 minutes. Add 1/2 cup cream, vanilla, and salt. Stir until caramel bits dissolve and stir in the remaining 1 tablespoons cream. Strain into a bowl and let come to room temperature.
Sift remaining sugar into a large bowl. In the bowl of a stand mixer, beat cream cheese and butter until combined. Gradually beat in sugar. Beat in cooled caramel. Cover and chill until firm enough to spread, about 2 hours.
ASSEMBLE
Using a long serrated knife, trim domes off cakes. Place 1 cake layer, cut side up on a cake platter. Spread 3/4 cup frosting on top and spread to cake edges. Place the second cake layer cut side down on top of frosting. Spread remaining frosting over cake and garnish with candied orange peel.
Notes
STORAGE TIP: Cake can be stored in an air tight cake keeper in the refrigerator for up to 3 days. Bring back to room temperature before serving.
 
Adapted from Bon Appetit Desserts and The Cake Book