Santa just might leave more Christmas presents under the tree this year if you leave these Hot Cocoa Cupcakes out for him!
I think you'll agree these truly will be the The Best Hot Cocoa Cupcakes you've ever had! It's devil's food chocolate cupcakes filled with homemade marshmallow filling and topped with cocoa whipped cream!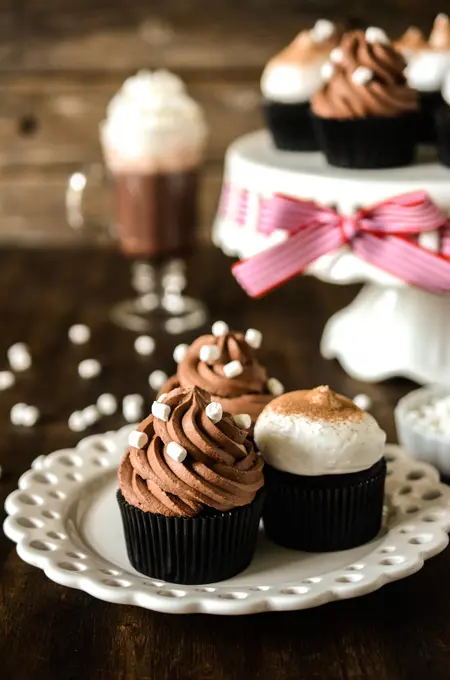 Devil's Food Cupcakes
The cupcakes are rich, dark and full of chocolate flavor. Dutch processed cocoa powder, chocolate, espresso powder and brown sugar help the chocolate flavor stand out.
Tip: Do not substitute the Dutch processed cocoa powder for regular natural unsweetened cocoa powder.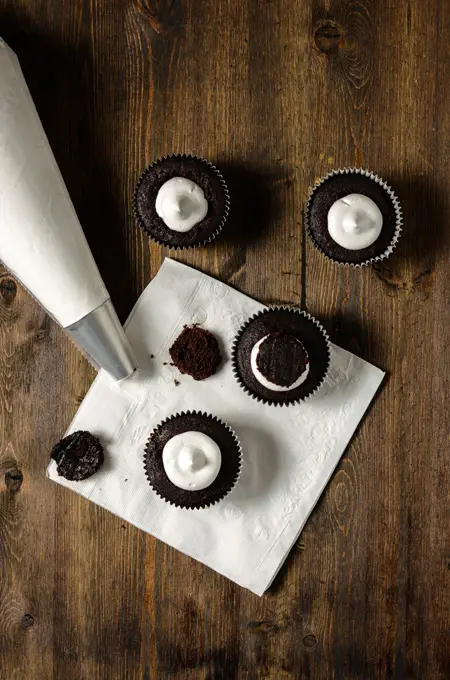 Marshmallow Filling
Just a couple of tips when making this marshmallow filling.
You will need a candy thermometer
And timing is everything here
Other than that, this recipe comes together in a snap!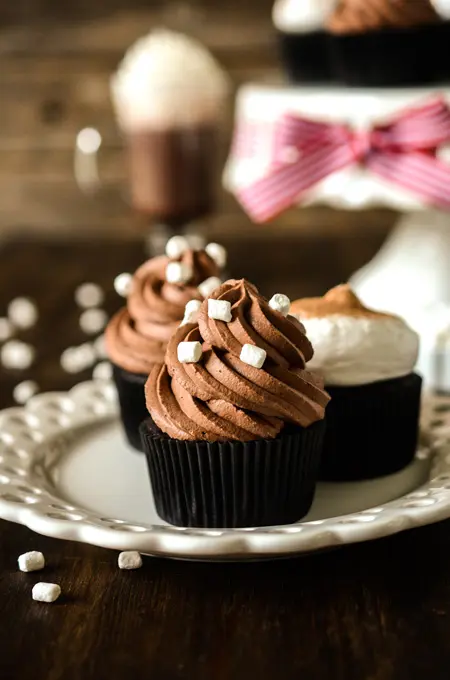 Cocoa Whipped Cream
This Cocoa Whipped Cream comes together easily and quickly. And around the holidays that's a big bonus! This is a low maintenance recipe and can sit for about 8 to 10 hours. The additional sugar helps stabilize the whipped cream a little longer than typical whipped cream.
Tip: Don't replace the Dutch processed cocoa powder for natural cocoa powder.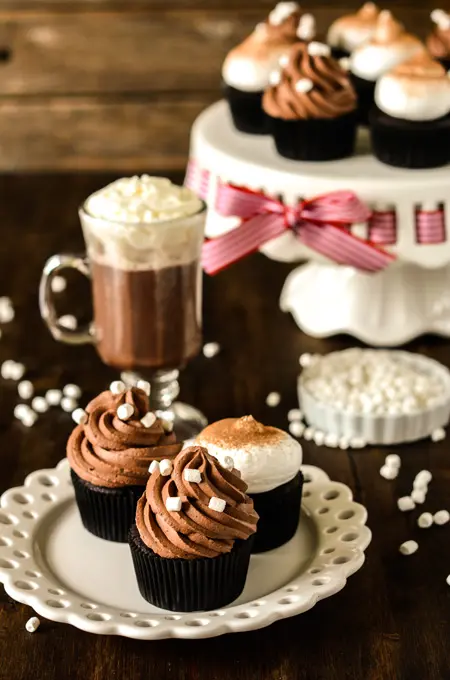 Cupcake Assembly
Cut a cone of cake out of each cupcake.
Remove cone portion of cake leaving just the round top of the cupcake.
Fill the cupcake with marshmallow filling and put the cupcake round on top.
Pipe the top of the cupcake with cocoa whipped cream.
Garnish with dehydrated marshmallows on top.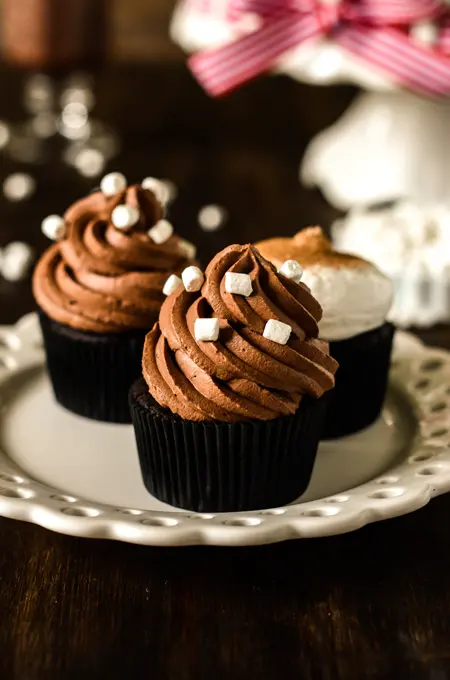 Plan It Out
Day 1:

Bake cupcakes

Day 2:

Make marshmallow filling, cocoa whipped cream, assemble and serve.
Lets Connect
The Cake Chica is on Facebook sharing sneak peeks of recipes to come, Instagram for your food porn desires and Pinterest for your board pinning needs.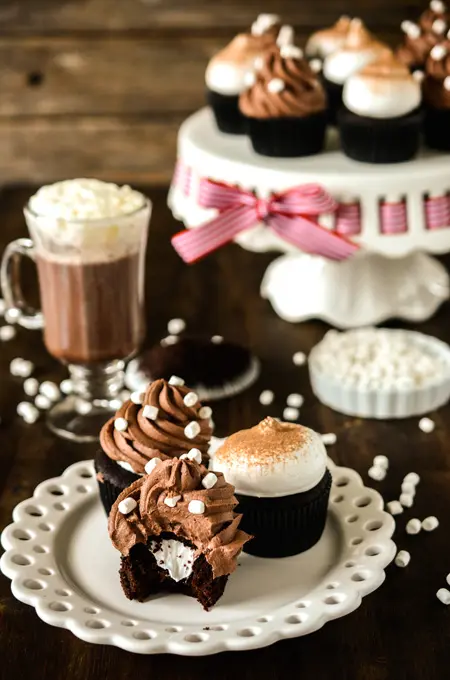 You May Also Like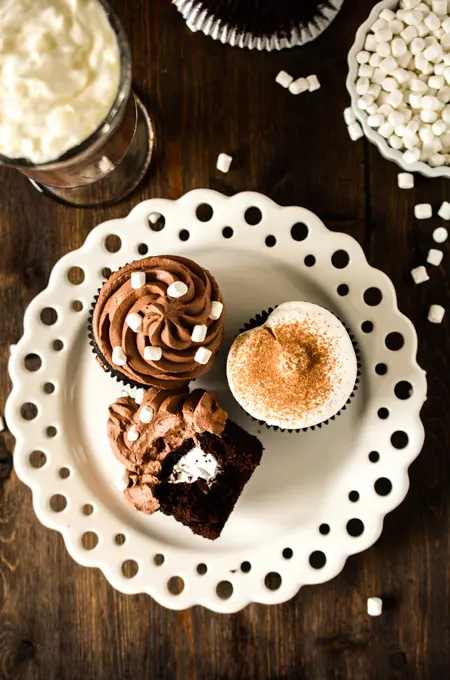 ---
Adapted from The Perfect Cake by America's Test Kitchen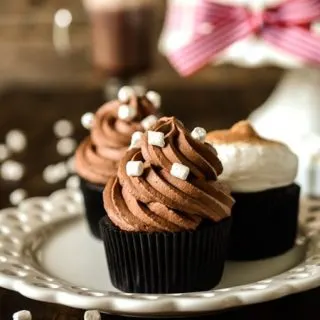 The Best Hot Cocoa Cupcakes
Total Time:
1 hour
25 minutes
Chocolaty devil's food cupcakes filled with marshmallow filling and topped with cocoa whipped cream with dehydrated marshmallows.
Ingredients
SPECIAL TOOLS
Piping tips Ateco #808, #827
CUPCAKES
1 ½ cups (7.5 ounces) all-purpose flour
1 teaspoon baking soda
½ teaspoon baking powder
¼ teaspoon salt
1 ¼ cups boiling water
4 ounces unsweetened chocolate, chopped
½ cup (1.5 ounces) Dutch processed cocoa powder
1 teaspoon instant espresso powder or instant coffee
10 tablespoons unsalted butter, softened
1 ½ cups (10.5 ounces) packed light brown sugar
3 large eggs, at room temperature
½ cup sour cream, at room temperature
1 teaspoon vanilla extract
MARSHMALLOW FILLING
1 cup (7 ounces) granulated sugar
1/4 teaspoon cream of tartar
1/2 cup water
4 egg whites
Pinch fine sea salt
2 teaspoons vanilla extract
COCOA WHIPPED CREAM
1 cup (7 ounces) granulated sugar
2/3 cup (2.4 ounces) Dutch processed cocoa powder, sifted
1/8 teaspoon salt
3 cups heavy whipping cream
4 teaspoons vanilla extract
Instructions
CUPCAKES
Adjust your oven racks to the center position and heat the oven to 350 degrees. Line cupcake pans with cupcake liners, and set aside.
In a large bowl, add the flour, baking soda, baking powder and salt; whisk to combine. In a medium bowl add the boiling water, chocolate, ½ cup cocoa and instant espresso powder, whisk until smooth.
Attach the paddle attachment to a stand mixer and beat the butter and sugar together on medium speed until light and fluffy, about 5 to 6 minutes. Add eggs one at a time beating after each addition until combined. Beat in sour cream and vanilla until incorporated.
With the mixer speed on low, add the flour mixture in 3 additions, alternating with the chocolate mixture in 2 additions. Mix until just combined. Do not over mix. Give the batter a few final stirs by hand with a rubber spatula.
Using a 3 tablespoon sized ice cream scoop, divide the batter evenly among the prepared cupcake pans. Gently tap the cake pans on the counter to release air bubbles. Bake for 15 minutes, or until a toothpick inserted into the center of the cupcakes comes out with a few moist crumbs attached. Rotate cake pans through baking.
Let cupcakes cool in their pans on wire racks for 5 minutes. Invert cupcakes on to wire racks to cool completely, about 2 hours.

MARSHMALLOW FILLING
Combine the sugar, cream of tartar and water in a small saucepan with a tight fitting lid. Heat saucepan over medium-high heat uncovered. Once the mixture comes to a boil, cover the saucepan and cook for 2 minutes. Uncover the saucepan and continue to boil until the sugar syrup reaches 242 degrees on a candy thermometer.
While the syrup is heating up, combine the egg whites and salt in a clean bowl of a stand mixer fitted with the whisk attachment. Starting on low speed, beat egg whites, and gradually increase the speed to medium-high in the process. Beat until soft peaks form.
If your sugar syrup is close to reaching 242 degrees, continue to whip the egg whites to firm peaks. If your sugar syrup is not close to reaching 242 degrees, let the egg whites wait at the soft peak stage before whipping them into firm peaks as the sugar syrup comes to temperature.
Once the sugar syrup has come to 242 degrees and the egg whites are whipped to firm peaks, run the mixer on high speed and slowly pour the sugar syrup down the inside of the bowl and into the whipped egg whites. Continue whipping until the filling becomes thick and holds stiff peaks, about 5 minute. Add vanilla extract and whip to combine.

COCOA WHIPPED CREAM
In the bowl of a stand mixer fitted with the whisk attachment, combine the sugar, cocoa powder, salt, cream and vanilla extract on medium-low speed until the sugar has dissolved, about 1 minute. Increase the mixer speed to medium-high and whip until the cream is thick and holds stiff peaks, about 3 minutes.
ASSEMBLE
Insert tip of paring knife at 45-degree angle and about 1/4 inch from edge of each cupcake to create a cone of cake and cut off cone portion, leaving a circular disk of cake. Fill cupcakes with about 1 tablespoon marshmallow filling. (To keep things neat, you can fill a piping bag with marshmallow filling fitted with Ateco piping tip #808 and pipe filling in to the cupcakes.) Replace tops. (You'll have extra filling leftover to use for cupcake decoration if desired.)
Fit a piping bag with Ateco piping tip #827.Fill bag with chocolate whipped cream and pipe swirls on top of each cupcake. Sprinkle the tops with dehydrated marshmallows or remaining marshmallow filling if desired.
Notes
Make ahead: Cupcakes can be made up to 3 days in advance, stored in an airtight container at room temperature.
Assembled cupcakes can be stored in an airtight container on the counter for up to 8 hours or stored in the refrigerator for 1 day. Assembled cupcakes are best served the day they are assembled.
Nutrition Information:
Yield:

24
Serving Size:

1
Amount Per Serving:
Calories:

1127
Total Fat:

66g
Saturated Fat:

26g
Trans Fat:

3g
Unsaturated Fat:

34g
Cholesterol:

123mg
Sodium:

932mg
Carbohydrates:

131g
Fiber:

6g
Sugar:

94g
Protein:

12g
*Nutrition information is an estimate and will vary.*