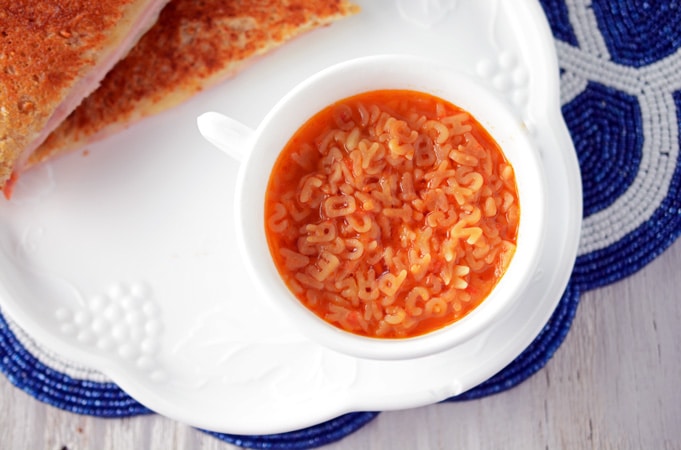 Disclosure: We are a participant in the Amazon Services LLC Associates Program, and affiliate advertising program designed to provide a means for us to earn fees by linking to Amazon.com and affiliated sites. Please note that some of the links in this post are affiliate links and I will earn a commission if you purchase through those links.
There are so many things I love about this soup.
It's simple to prepare.
Very few ingredients are required.
Perfect meal for when you're in bed with a cold.
It reminds me of my grandma Mary. Okay so it probably won't remind you of my grandma Mary, but it sure is comforting.
So what makes this Mexican Alphabet Soup Mexican? Well, it's all in the way you prepare the pasta. You fry the pasta. Much like I do for my Fideo. Frying the pasta gives it a toasty flavor. Being a Mexican-American (also a Texan), this is the comfort food I grew up on.
You can use any small shaped pasta available. My grandma would use the tiny star pasta sometimes when making Mexican pasta. Look for small shaped pasta in the international foods isle of your local grocery store if you can't find small pasta in the pasta isle. You can also use broken up spaghetti.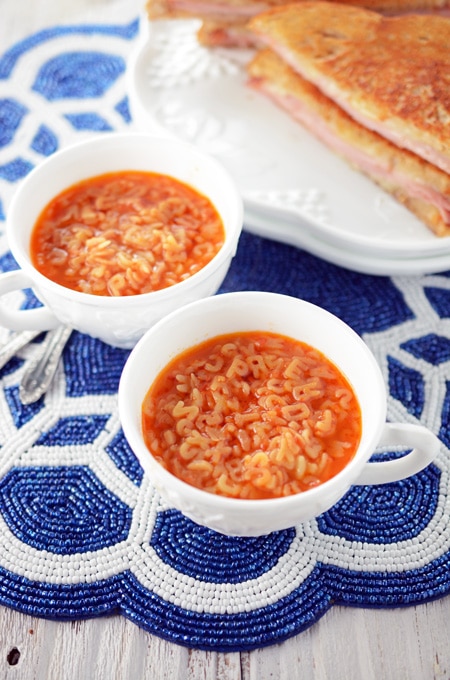 I hope you will enjoy this simple and easy Mexican Alphabet Soup. Don't forget to follow me on Facebook, Instagram, Twitter, Pinterest and Yummly. Come back next week, where I will have a bit of a cleaned up rocky road rice crispy treat!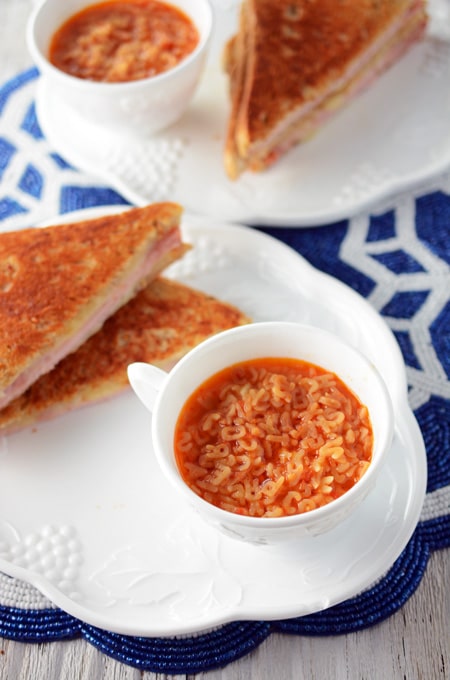 Print
Mexican Alphabet Soup
Yield 6
Ingredients
1 ½ pounds ripe organic tomatoes, quartered, or one-28-ounce can tomato puree or crushed tomatoes
1 medium organic onion, coarsely chopped
1 organic garlic clove
3 tablespoons vegetable oil
2 cups (12 ounces) alphabet pasta or other small pasta
1 teaspoon kosher salt
8 cups organic low-sodium chicken broth
Instructions
Place the tomatoes, onion and garlic in a food processor or blender and puree until smooth.
Heat oil in a large pot over medium-high heat until hot but not smoking. Add pasta and fry, stirring constantly, for 2 to 3 minutes. The pasta will change color from white to a lightly toasted golden brown. You should smell a toasty fragrance. Be careful not to burn.
Pour the tomato puree into the pot over the pasta and sprinkle with salt. Stir to combine. With the pot partially covered, cook the puree for about 6 minutes, stirring often, until the sauce thickens and becomes deep red in color. Keep stirring so the pasta does not get stuck on the bottom of the pot.
Stir in the broth and bring to a boil, then reduce the heat to medium and simmer for 10 minutes. Season with more salt if necessary and serve.
Courses Main
Cuisine Mexican
Nutrition Facts
Serving Size 1 bowl
Amount Per Serving

Calories 332

% Daily Value

Total Fat 8 g

12%

Saturated Fat 1 g

5%

Sodium 420 mg

18%

Total Carbohydrates 53 g

18%

Dietary Fiber 3 g

12%

Sugars 3 g

Protein 10 g

20%
* Percent Daily Values are based on a 2,000 calorie diet. Your daily values may be higher or lower depending on your calorie needs.

Adapted from Pati's Mexican Table: The Secrets of Real Mexican Home Cooking