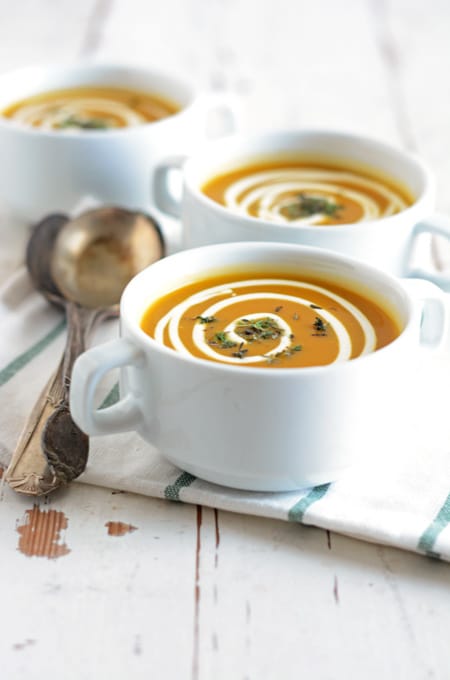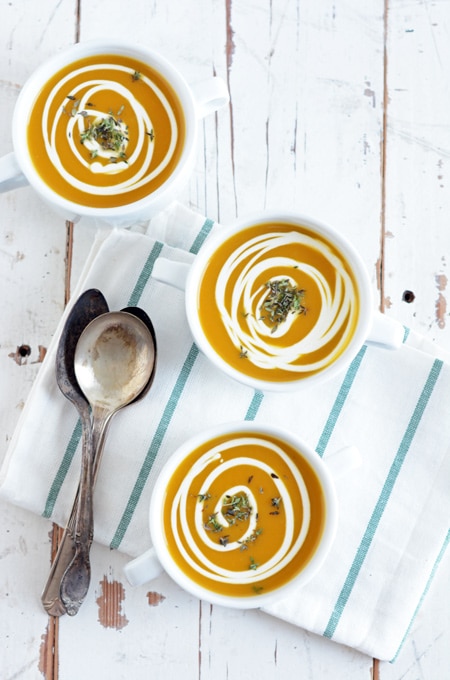 We are just now getting a taste of some real fall weather here in Houston, Texas. I thought it would be the perfect time to share this Butternut Squash Soup recipe to celebrate the amazing weather here! Time to break out the boots and take advantage of all the wonderful fall veggies.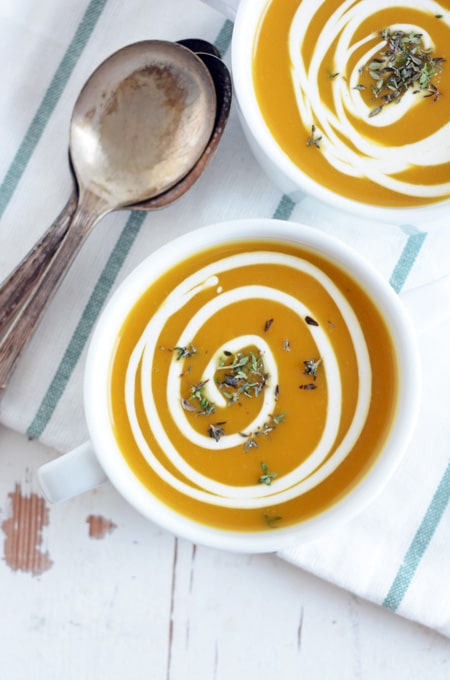 I'll start out by saying, this soup is pretty simple to make. You'll need either a blender or an immersion blender to process and you're ready to go. With just a few simple and easy to find ingredients you can whip up the Butternut Squash Soup in no time! But it will taste like you spent hours in the kitchen. What I love about this soup is that the butternut squash isn't overpowered by the typical potatoes, rice, cornstarch or heavy cream as thickeners. Yup, there is no cream in this recipe! Just the fresh flavor of butternut squash.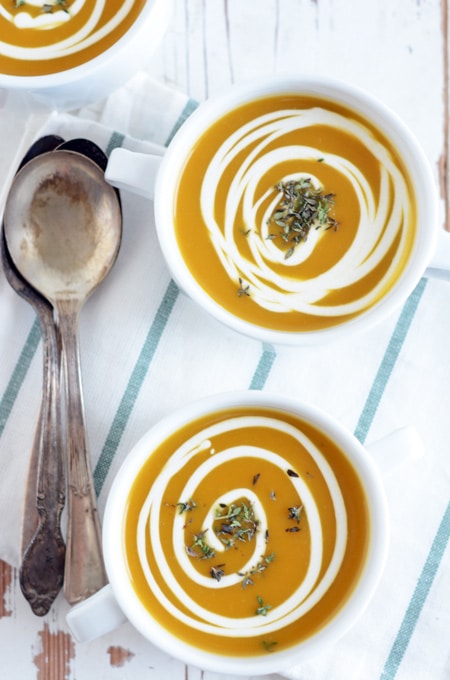 Tips for making this recipe:
Don't use prepeeled, precut squash for this recipe. It will dry out quickly and become mushy.

Par-cooking the squash in the microwave for 15 minutes helps draw out some of the moisture which helps the fond develop while cooking, and gives it that roasted flavor without having to turn on the oven.

When processing the soup in a blender be sure to only fill it up two-thirds full; and process in batches. Alternatively, you can use an immersion blender and puree the soup right in the pot.

To create the sour cream swirl as in the photos, use a couple of teaspoons of water to thin out the sour cream. Then, place sour cream in a zip top bag and cut one of the corners off and drizzle on top of the soup.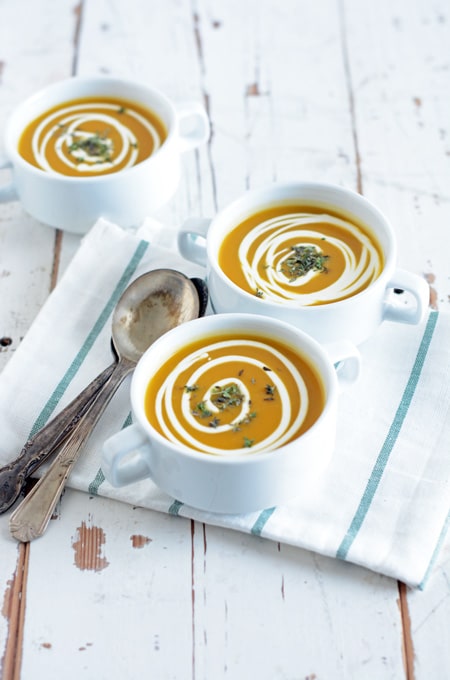 For more from The Cake Chica, be sure to follow on Facebook, Instagram, Twitter, Pinterest and Yummly!
Adapted by Mary from Cook's Illustrated
If you like this week's recipe you may also like these: Mexican Alphabet Soup, Cheese Tortellini in Light Broth and New England Clam Chowder!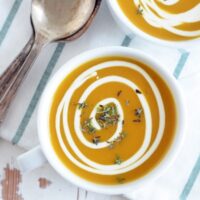 Butternut Squash Soup
Ingredients
Blender or Immersion Blender
2 ½ pounds organic butternut squash, peeled, seeded and cut into 2-inch chunks (about 7 cups)
2 tablespoons organic unsalted butter
1 leek, white and light green parts only, quartered lengthwise, sliced thin and washed thoroughly
Salt and pepper to taste
4 cups organic vegetable broth
1-2 cups water
2 sprigs fresh thyme
1 bay leaf
Pinch of cayenne pepper
Sour cream for garnish (optional)
Instructions
Place squash in a large microwavable bowl, cover with plastic wrap and microwave until a knife easily glides through the squash, about 14 to 18 minutes, stirring halfway through. Carefully transfer squash to a large colander set in a large bowl and drain for 5 minutes, reserving the liquid.
Melt butter in a Dutch oven over medium-high heat. Add squash, leek and 1 teaspoon salt. Cook stirring occasionally until the squash pieces begin to break down and squash starts to brown the bottom of the Dutch oven, about 10 to 13 minutes.
Add 2 cups of the vegetable broth and scrape the bottom of the pot to loosen the browned bits and dissolve the browned fond. Add remaining 2 cups of vegetable broth, reserved squash liquid, 1 cup water, thyme sprigs, bay leaf and cayenne pepper. Stir to combine. Increase the heat to high and bring to a simmer. Reduce the heat to medium and cook until leeks are fully tender, about 6 to 7 minutes.
Remove thyme sprigs and bay leaf. Working in batches, process soup in a blender under smooth for 1 to 2 minutes. Return soup to a cleaned Dutch oven and bring to a simmer. Thin the soup to your liking with up to 1 cup water. Season with salt and pepper to your taste and serve with sour cream.
Notes
Soup can be refrigerated for up to 2 days.
Nutrition information are estimates and will vary.
Nutrition Information:
Serving Size:

1
Amount Per Serving:
Calories:

118
Total Fat:

4g
Saturated Fat:

2g
Cholesterol:

10mg
Sodium:

51mg
Carbohydrates:

21g
Fiber:

3g
Sugar:

4g
Protein:

2g