I have to be upfront with you about this one. This recipe takes some time and work, and should probably be made on a weekend or when you have some time to devote to it, about 2 1/2-3 hours. But trust me it will all be worth it in the end. I don't mind a challenge in the kitchen but even I said to myself "this better be worth it". Well when I went to take my first bite I said out loud "Oh Yeah!!!" I instantly tasted the time, effort and love that went into this soup. And that's exactly how homemade chicken noodle soup should taste.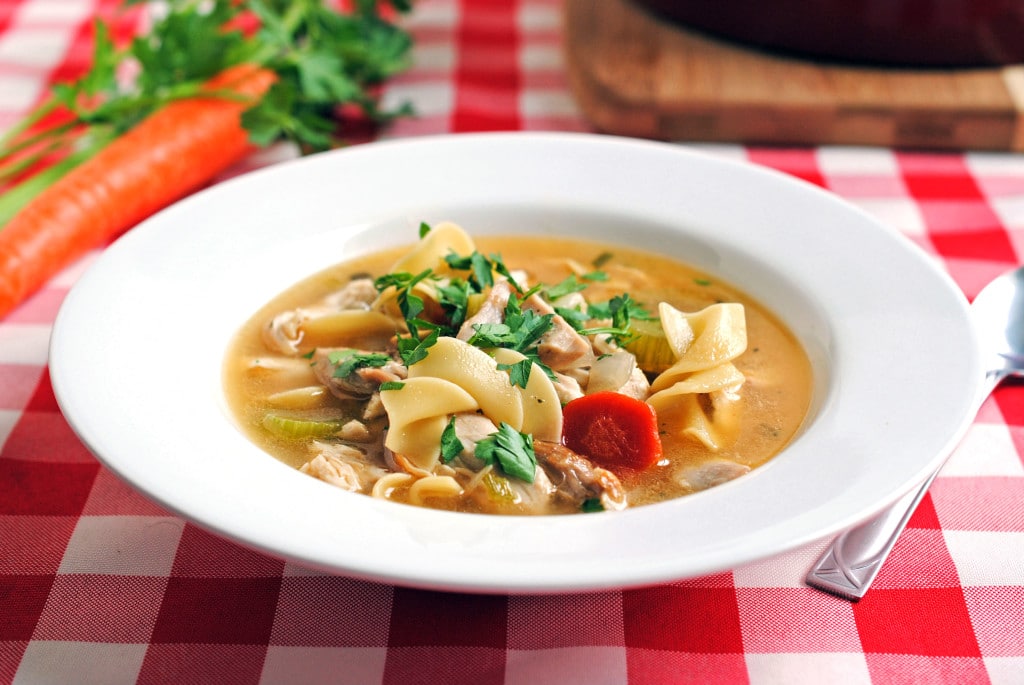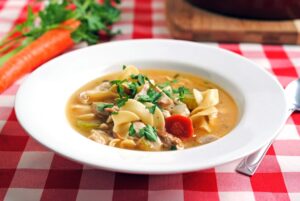 Print
Old-Fashioned Chicken Noodle Soup
Yield 8 servings
Ingredients
STOCK
1 3 1/2 to 4 pound whole chicken
1 tablespoon vegetable oil
1 onion, chopped
8 cups water
2 teaspoons table salt
2 bay leaves
SOUP
1 tablespoon vegetable oil
1 onion, minced
2 carrots, peeled and sliced 1/4 inch thick
1 celery rib, sliced 1/4 inch thick
1 teaspoons minced fresh thyme, or ¼ teaspoon dried
2 cups wide egg noodles
2 tablespoons minced fresh parsley
Salt
Ground black pepper
Instructions
STOCK
Cut up chicken in 7 pieces (2 split breasts, 2 legs, 2 wings and a backbone). Set the breast aside and chop the remaining chicken pieces into 2-inch pieces with a cleaver.
Heat 1 tablespoon vegetable oil in a large Dutch oven over medium high heat until just smoking. Add the chicken breast and cook for 5 minutes until lightly browned. Transfer breast to a large bowl and set aside. Add half of the chicken pieces and cook for 5 minutes until lightly browned. Transfer to bowl with the chicken breast and repeat with the remaining chicken pieces.
Add chopped onion to fat left in the pot and cook until softened about 5 minutes. Return chicken pieces (not the breasts) along with any accumulated juice to the pot. Cover and reduce the heat to low. Cook, stirring occasionally until the chicken has released its juice, about 20 minutes.
Add reserved chicken breasts, 8 cups water, 2 teaspoons salt and 2 bay leaves and bring to a boil. Cover, and reduce heat to a gentle simmer and cook, skimming the fat as needed, until chicken breasts register 160 to 165 degrees on an instant-read thermometer, about 20 minutes.
Remove the chicken pieces from the stock and set aside to cool slightly.
Strain the stock through a fine mesh strainer over a large bowl. Let the stock settle for 5 to 10 minutes. Wash and dry the Dutch oven. Skim the stock of fat with a spoon.
SOUP
Heat 1 tablespoon vegetable oil in the Dutch oven over medium heat until shimmering. Add onion, carrot and celery and cook until softened about 10 minutes. Stir in thyme and cook until fragrant about 1 minute.
Stir in stock and bring to a boil. Reduce the heat to a simmer and cook until vegetables are just tender, about 10 minutes.
Stir in 2 cups egg noodles and simmer until tender, about 8-10 minutes.
Remove and discard skin and bones from chicken and shred into bite-sized pieces. Stir in the shredded chicken and let it heat through, about 2 minutes. Turn off the heat and stir in the parsley, salt and pepper and serve.
Courses Main
Cuisine American
Nutrition Facts
Serving Size 1
Amount Per Serving

Calories 486

% Daily Value

Total Fat 32 g

49%

Saturated Fat 9 g

45%

Cholesterol 188 mg

63%

Sodium 680 mg

28%

Total Carbohydrates 11 g

4%

Dietary Fiber 2 g

8%

Sugars 2 g

Protein 40 g

80%
* Percent Daily Values are based on a 2,000 calorie diet. Your daily values may be higher or lower depending on your calorie needs.
Adapted from americastestkitchen.com