This Eggnog Layer Cake would be a spectacular sweet treat sitting on your dessert table this Christmas! It's a light cake with the warmth of freshly grated nutmeg baked inside. Best of all it's pretty simple to make.
Plan It Out
Around the holidays the kitchen gets a little crazy, and make-ahead recipes are a blessing. So as usual, I never make a whole cake from start to finish on the same day. This one I made over the coarse of 2 days.
Day 1: Bake the eggnog cake layers. Let cool to room temperature and wrap tightly in plastic wrap and store in an air tight cake container on the counter. Cake can sit on the counter at room temperature for up to 3 days.
Day 2: Make the buttercream. *The night before you plan to make the buttercream, be sure to cut and cover the butter with plastic wrap so it will be the right temperature and texture for the buttercream for the next day.*
Buttercream Tips:
I like to leave my butter for Swiss Meringue buttercream out overnight. I've never had my Swiss Meringue buttercream go wrong this way. Your butter should be just slightly warmer than room temperature for the smoothest buttercream.
Your buttercream will be ruined if your butter is too cold or too warm when added to the meringue so step 1 above is very important.
Remember your mixer bowl should be super clean with no traces of grease.
Egg whites should be free of yolk or your meringue will not work. I crack each egg into a small bowl before I add it to my mixer bowl just to make sure I don't ruin the whole mixer bowl of egg whites by accidently getting some egg yolk in.
Be sure to whisk the egg whites and sugar by hand well so your egg whites don't start to cook on their own.
To be sure my buttercream is super smooth I like to mix it on low for the last minute to get out any air bubbles.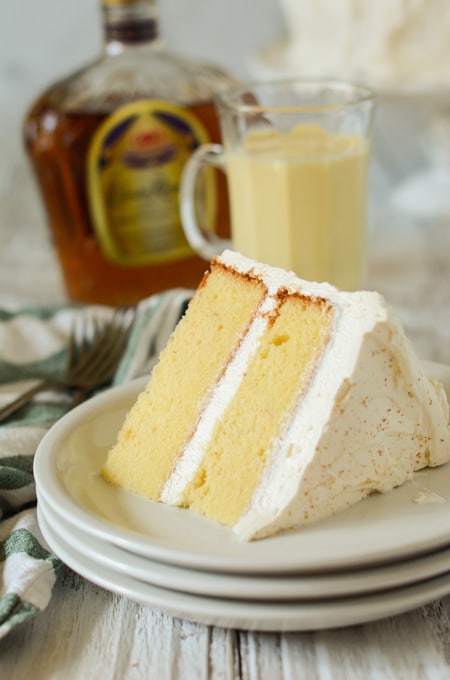 How To Enjoy Cake
To get the best flavor and texture out of both the cake layers and buttercream, it's best eaten at room temperature.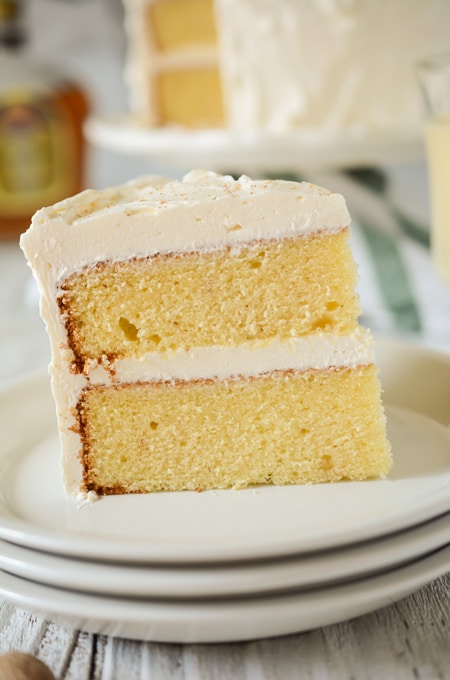 Cake Storage
The completed Eggnog Layer Cake can sit at room temperature in an air tight cake container for up to 1 day. To keep the cake fresh for longer, you can store in the refrigerator in an air tight cake container for up to 3 days. Bring to room temperature before serving for best results!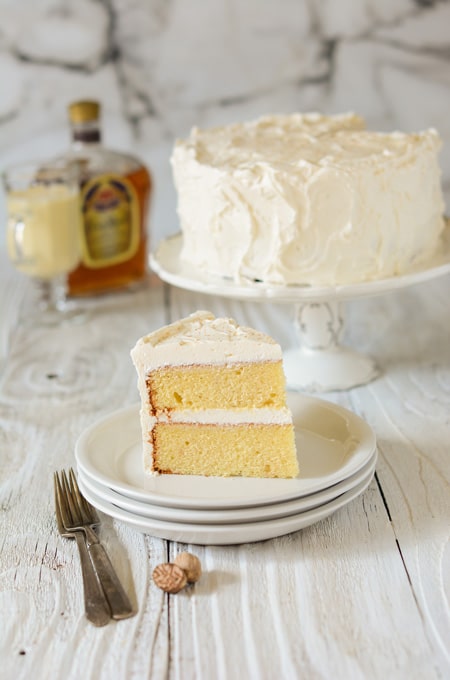 Let's Connect
I'd love to connect with you! Find The Cake Chica on Facebook, Instagram, and Pinterest.
You May Also Like:
Adapted from Cuisine Holiday Baking Magazine 2014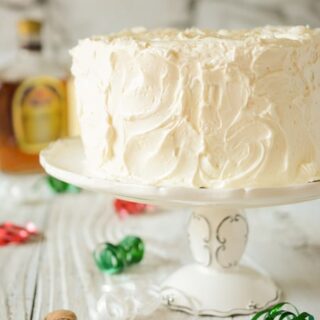 Eggnog Layer Cake
Total Time:
1 hour
10 minutes
Homemade Eggnog Layer Cake made with eggnog and freshly grated nutmeg, Filled and frosted with a whiskey infused Swiss meringue buttercream.
Ingredients
SPECIAL TOOLS
CAKE
2 ½ cups cake flour
1 ½ cups granulated sugar
1 tablespoon baking powder
1 teaspoon freshly grated nutmeg
½ teaspoon table salt
3 eggs, at room temperature
1 cup eggnog, divided, at room temperature
2 teaspoons vanilla extract
1 ¼ cup (2 ½ sticks) unsalted butter, at room temperature
BUTTERCREAM
½ cup plus 2 tablespoons egg whites
1 ¼ cups granulated sugar
2 cups (4 sticks) unsalted butter, cut into tablespoon sized pieces, at room temperature
3 tablespoons bourbon whiskey
1 teaspoon freshly grated nutmeg
Instructions
CAKE
Adjust an oven rack to the center position and heat oven to 350 degrees. Spray the inside of the cake pans with non-stick baking spray and set aside.
In the bowl of a stand mixer, whisk together the flour, sugar, baking powder, nutmeg and salt. In a glass liquid measuring cup, combine the 3 eggs, ½ cup eggnog and vanilla extract.
Add the butter and remaining eggnog to the flour mixture and with the paddle attachment attached, beat together on medium speed until the batter is light and airy, about 2 minutes.
Add the egg mixture to the batter in 3 additions, blending on low speed after each addition until combined. Divide batter between prepared cake pans.
Bake cakes until a toothpick inserted in the center comes out with a few moist crumbs attached, about 30 minutes, rotating about halfway through baking. Let cakes cool in their pans on wire racks for 10 minutes, then invert onto racks and cool completely.
BUTTERCREAM
Place egg whites and sugar in the bowl of a stand mixer and whisk them together by hand to combine. Fill a medium saucepan with 1 to 2 inches of water. Heat water over medium-high heat and when the water starts to bubble, place the bowl with the egg white mixture on top, creating a double boiler. Attach a candy thermometer to the bowl and cook until the temperature reaches 160 degrees. Once the egg white mixture reaches 160 degrees, carefully remove the thermometer and attach the bowl to the stand mixer, with the whisk attachment attached. Beat the egg white mixture on high speed for 10 minutes, until it holds medium-stiff peaks. The outside of the bowl should be room temperature at this point.
Replace the whisk attachment with the paddle attachment and on low speed, add the butter a tablespoon at a time, and then add the whiskey and nutmeg. Once combined, increase the mixer speed to medium-high and beat until the buttercream is silky and smooth, about 5 minutes.
Notes
Make Ahead:
Cake layers can be made up to 3 days in advance. Wrap cooled cakes in plastic wrap and store in an air tight cake container on the counter.
Assembled cake can be store in an air tight cake container at room temperature for up to 1 day, or stored in the refrigerator for up to 3 days.
Nutrition Information:
Yield:

8
Serving Size:

1
Amount Per Serving:
Calories:

650
Total Fat:

14g
Saturated Fat:

5g
Trans Fat:

0g
Unsaturated Fat:

7g
Cholesterol:

113mg
Sodium:

480mg
Carbohydrates:

122g
Fiber:

1g
Sugar:

79g
Protein:

9g
*Nutrition information is an estimate and will vary.*