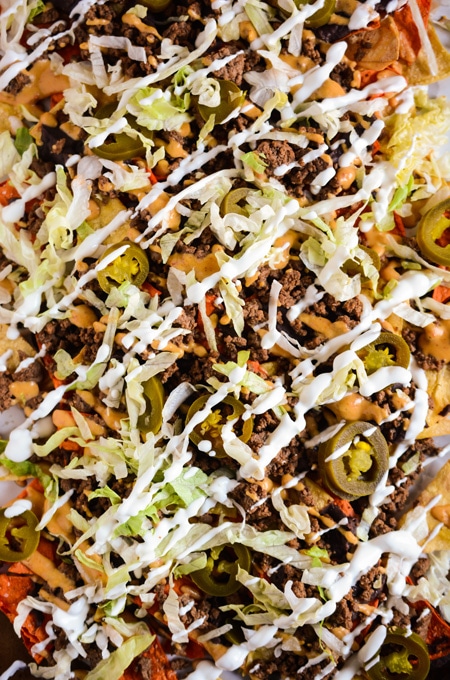 ***Disclosure: This post was written in partnership with Degustabox, all opinions and stories are 100% my own.***
Maybe you've noticed a theme this month…last week Chica's Queso, the week before that was Baked Tortilla Chips, and now we have what they all were leading up to! These more than amazing Bar Nachos! However, I don't know of any bar that serves them up quite like this!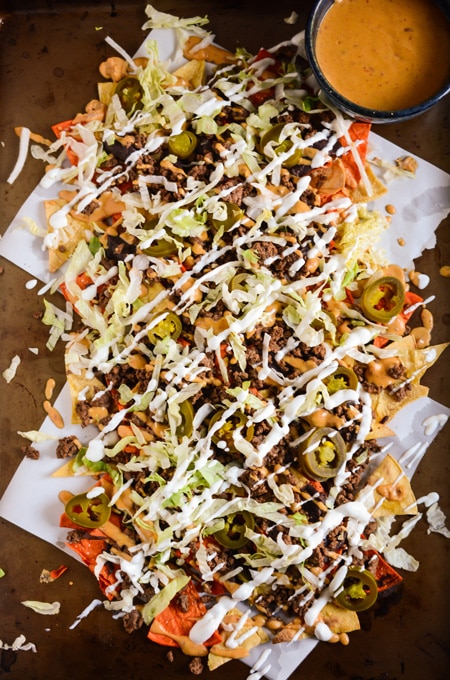 Baked Tortilla Chips are topped with refried black beans, organic ground beef, Chica's Queso, sour cream, jalapenos and shredded lettuce for good measure.
Bar Nacho Tips
If you are adding Chica's Queso or any queso or cheese dip for that matter, cheese has a tendency to separate as it sits. Be sure to time accordingly.

You can also put the queso in a small slow cooker while you prepare the Bar Nachos, just be sure to stir often and keep an eye on the cheese.

A fun way to serve these nachos is on a large baking sheet like I did in the photos above. The presentation is jaw dropping and it makes it easy for your guests to enjoy.

Want that fun sour cream drizzle? Just add a little water to thin out your sour cream and place sour cream in a zip top bag, snip a small piece off the corner of the bag to create a piping bag and drizzle to your heart's content.

You'll notice there is no salt in this recipe. That's because my taco seasoning had salt in it. Check your brand and if salt is listed on the ingredients list hold off. It's easy to add salt later but not so easy to take it out.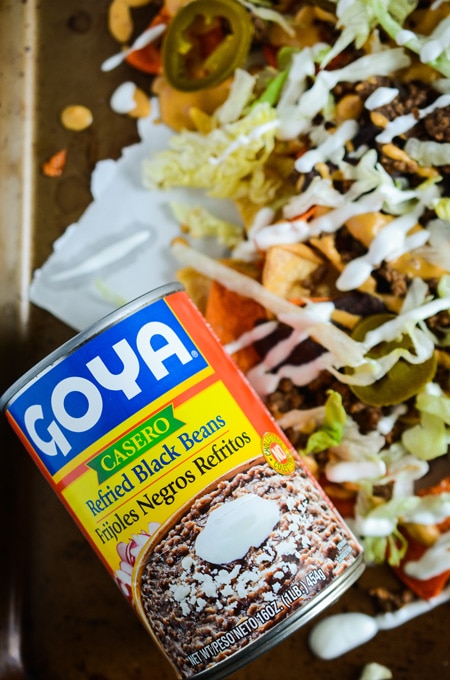 Thank you to Degustabox for all the fun goodies in February's box, like these Goya Refried Black Beans. They inspired this week's recipe for Bar Nachos. Click my affiliate banner below the recipe card to get your first box half off.
For more from The Cake Chica be sure to follow on social media: Facebook, Instagram, Twitter and Pinterest.
***Disclosure: This post was written in partnership with Degustabox, all opinions and stories are 100% my own.***
Adapted by Mary Hatton from Buenos Nachos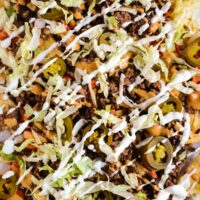 Bar Nachos
Instructions
 Heat oil in a large skillet over medium-high heat. Add the ground beef and cook, breaking it up with a potato masher, until browned all over, about 3 minutes. Drain off fat from pan and return to the heat. Stir in the taco seasoning and water.  Bring to a simmer and cook beef until all the liquid evaporates, about 3-5 minutes.
Scatter the chips on a serving platter. Spread refried beans on top , followed by ground beef. Drizzle Chica's  queso on top. Scatter jalapenos over the top and garnish with sour cream and lettuce. Serve immediately.
You may also like: