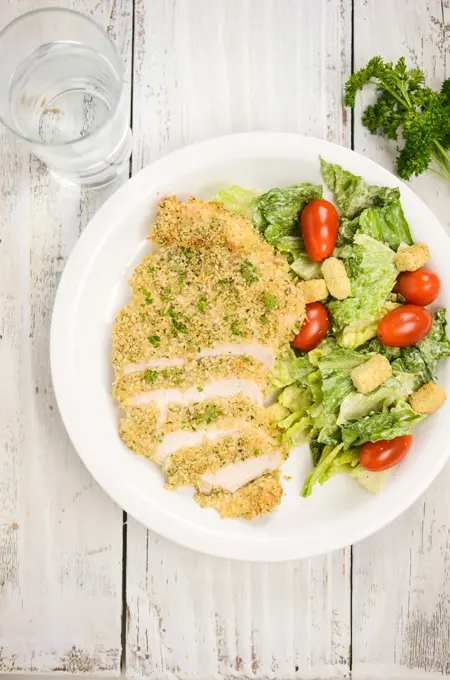 I've got something a little different this week a savory dinner recipe for Baked Ranch Chicken Breast. What I like about this recipe is that it's easy, pretty quick and extremely tasty. Paired with a salad or veggie it makes for a quick weeknight dinner!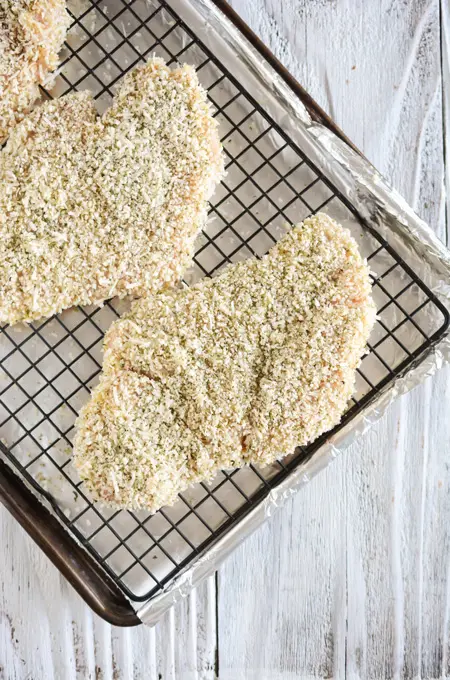 Since chicken breast have a little bit of a wet surface even if you pat them dry, if you skipped the flour dip and went straight ahead to the egg wash the egg wash would fall right off. You could use several types of flour, such as coconut flour, almond flour or even chickpea flour.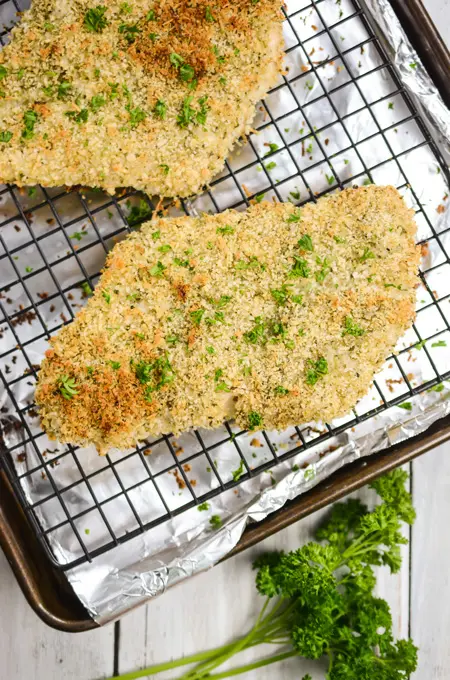 When you stick the floured chicken in the egg wash it creates a the perfect "glue" for the breadcrumbs that you'll dip the chicken breast into next. If you would like to skip the egg you can use mayo or Dijon mustard in its place. And if you have the time you can let the breaded chicken rest in the refrigerator for up to 30 minutes. This will give the coating a little extra time to adhere to the chicken and you won't have to worry about your breading falling off of your chicken while devouring it!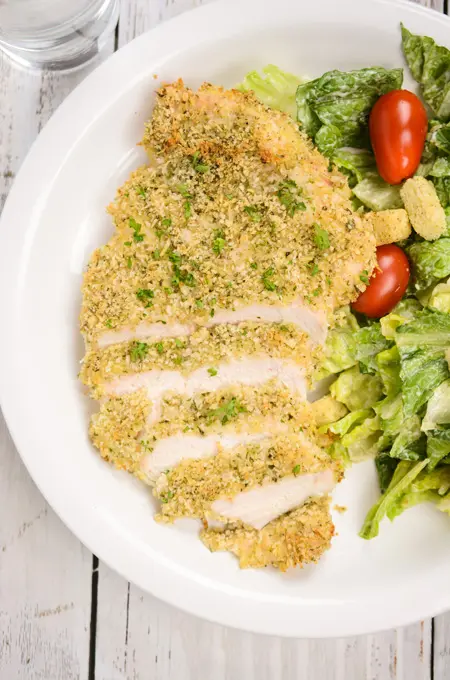 Follow The Cake Chica on social media: Facebook, Instagram and Pinterest.
You May Also Like: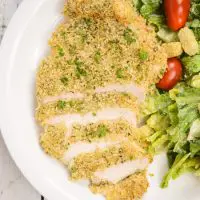 Baked Ranch Chicken Breast
Baked Ranch Chicken Breast, coated with panko bread crumbs and Parmesan cheese, creating a crispy bread coating.
Ingredients
SPECIAL TOOLS
Breading trays (optional), or pie plates
Rimmed baking sheet
Baking rack
RANCH CHICKEN BREAST
2 pounds organic boneless, skinless chicken breast, pounded to about ½ inch thickness
Salt and pepper to taste
1 organic egg
2 tablespoons water
1 cup Panko bread crumbs
½ cup Parmesan cheese, shredded
1.5 ounces organic ranch seasoning packet or 3 tablespoons homemade ranch spice mix
Instructions
Adjust an oven rack to the center position. Heat your oven to 375 degrees.
Salt and pepper chicken breast on both sides and set aside on paper towels.
Line a rimmed baking sheet with foil. Insert a wire rack on top and spray with olive oil spray and set aside.
Place flour in a shallow dish or pie plate. In another shallow dish or pie plate, place egg and water and whisk to combine. In a third shallow dish or pie plate, combine the bread crumbs, Parmesan cheese and ranch spice blend.
Dip chicken breast in the flour, covering both sides and shaking off the excess. Then dip in the egg mixture on both sides, shaking off the excess. Then place chicken in the breadcrumb mixture and cover on both sides, place chicken breast on the prepared baking sheet. Repeat with the remaining chicken breast.
Bake chicken breast in the oven for about 30 to 35 minutes or until the internal temperature reaches 165 degrees. Serve with a side salad.
Notes
*Nutrition information is an estimate and will vary.*
Nutrition Information:
Yield:

4
Serving Size:

8
Amount Per Serving:
Calories:

398
Total Fat:

14g
Cholesterol:

157mg
Sodium:

1642mg
Carbohydrates:

14g
Fiber:

1g
Sugar:

1g
Protein:

44g