Do you like your chicken crispy? If you do, then I have good news for you! This recipe for Crispy Deviled Chicken Breast will be your new favorite!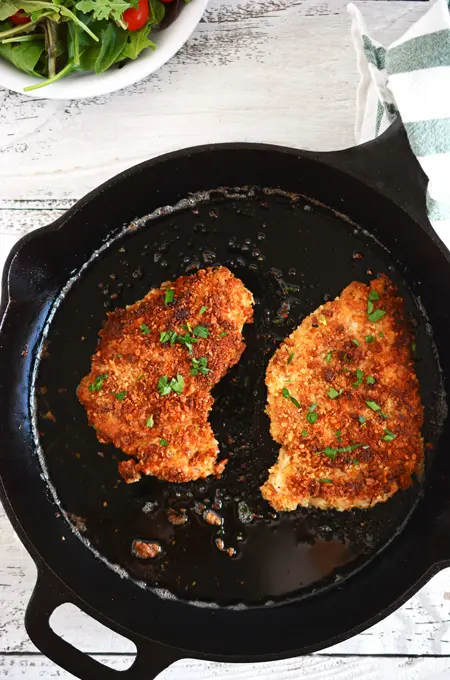 For classic recipes like this one I always like to refer back to Cook's Illustrated The Science of Good Cooking
Cookbook to be sure I follow their steps to create that perfect golden and crispy chicken breast.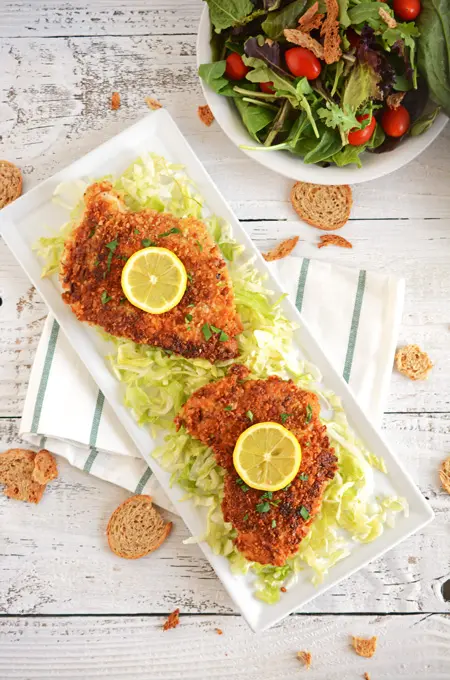 Once you learn the basics of cooking, you'll be able to take that and go off and do your own thing. I always like to know "the whys" and "the hows" of a recipe, and here are some for these Crispy Deviled Chicken Breast.
Tips for creating that perfectly crispy chicken breast
One thing I always do is pound out the chicken so that it cooks evenly. Usually 1/2-inch is a good thickness.

Moisture can cause your breading to fall off your chicken. Always blot your chicken with paper towels. No need to rinse your chicken. Dry that chicken up and soak up as much moisture as possible.

Now this one was a new one for me. Beaten eggs alone are too viscous and tend to form a heavy layer on the meat, making the bread coating too thick. Thinning the eggs with oil and/or water allows excess egg to slide off the chicken more easily, leaving a thinner and more delicate and tender coating. Thinning the eggs with oil helps the breading brown a bit more without adding more moisture. I love learning new things!

Once you've coated the chicken breast, let them rest for 5 minutes. I won't go too far into the science so lets just say it helps things adhere.

My last thing is to never crowd your pan. The breading tends to get greasy and will brown unevenly due to too much steam. Cooking 2 chicken breast at a time will give you a crisp-browned coating every time!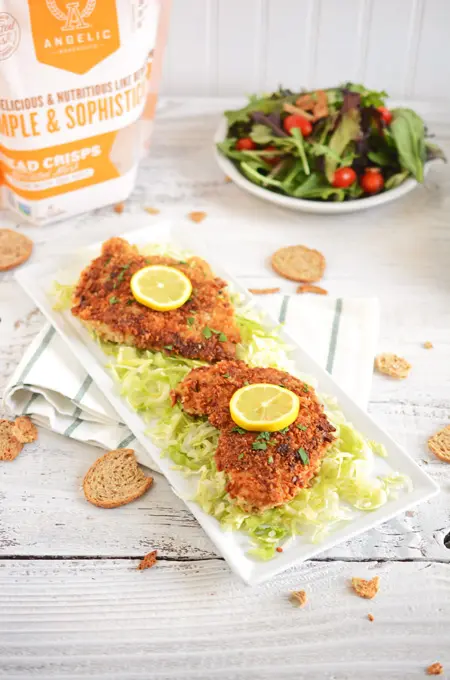 For the crispy coating I used a mix of Panko bread crumbs and Angelic Bakehouse Bread Crisps. Angelic Bakehouse Bread Crisps remind me of a yummy crouton just in chip form. If you can't find them you can substitute croutons. This recipe allows you to get creative with your flavorings with spices and flavor of croutons you choose. I'd love to hear what flavors you come up with. Let me know in the comments.
You May Also Like:
Adapted from Cook's Illustrated The Science of Good Cooking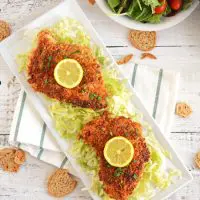 Crispy Deviled Chicken Breast
Crispy Deviled Chicken Breast coated in panko bread crumbs and bread crisps or croutons, pan fried and served with a splash of lemon juice.
Ingredients
4 boneless, skinless organic chicken breasts (6 to 8 ounces each)
Salt and pepper
1 ½ cups panko bread crumbs
1 ½ cups Angelic Bakehouse Bread Crisp (about 4 ounces) or croutons or regular bread crumbs
1 teaspoon cayenne pepper
¾ cup all-purpose flour
2 large organic eggs
3 tablespoons Dijon mustard
1 tablespoon Worcestershire sauce
2 teaspoons minced fresh thyme
13 tablespoons vegetable oil, divided
Lemon wedges
Instructions
Place 2 chicken breast into 2 large ziplock bags pressing as much air out as possible. Pound chicken breast to an even 1/2 –inch thickness with a meat mallet or heavy skillet. Pat chicken dry with paper towels and salt and pepper the chicken breast on each side. Rub cayenne pepper on each side of the chicken breast.
Adjust and oven rack to the center position and heat the oven to 200 degrees. Set a wire rack on a rimmed baking sheet. Place panko bread crumbs in a shallow dish or pie plate. Pulse Bread Crisp in a food processor to coarse crumbs, and add crumbs to the panko bread crumbs. Place flour in a second shallow dish or pie plate. Lightly beat eggs, mustard, Worcestershire sauce, thyme and oil together in a third dish.
Dredge once chicken breast in flour, shaking off access flour, then coat in the egg mixture and allow the excess to drip off. Coat all sides of the chicken breast with bread crumbs, pressing gently so the crumbs adhere and transfer to a wire rack and let sit for 5 minutes.
Heat 6 tablespoons of oil in a 12-inch nonstick skillet over medium-high heat until shimmering. Place 2 chicken breast in the skillet and cook until chicken had formed a deep golden brown color and is crisp on the first side, about 3 minutes. Flip the chicken breast over and reduce the heat to medium and continue to cook on the second side for about 3 minutes longer or when the meat feels firm when pressed gently.
Drain chicken breast briefly on a paper towel lined plate, then transfer to a clean wire rack set in a rimmed baking sheet and place in the heated oven to keep warm. Pour off the remaining oil in the skillet and whip down with paper towels. Add 6 tablespoon of oil and repeat this process with the remaining 2 chicken breasts. Serve chicken breast with lemon wedges.
Nutrition Information:
Yield:

4
Serving Size:

1
Amount Per Serving:
Calories:

954
Total Fat:

57g
Saturated Fat:

6g
Trans Fat:

1g
Unsaturated Fat:

47g
Cholesterol:

142mg
Sodium:

1111mg
Carbohydrates:

76g
Fiber:

5g
Sugar:

6g
Protein:

34g
*Nutrition information is an estimate and will vary.*