Apple Pie with Cheddar Cheese Crust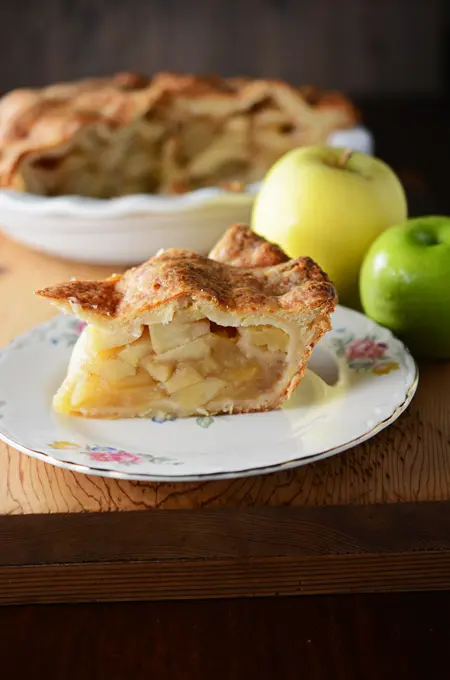 Recipe used with permission from Cook's Country
This Apple Pie with Cheddar Cheese Crust is simply beautiful! I admit, I've tried for years to make pies as gorgeous as some of my cakes, but for years I have not been able to succeed….until now!
Once I found their Foolproof Pie Dough things have been going well! You can check this pie dough out in action on this Blueberry Pie.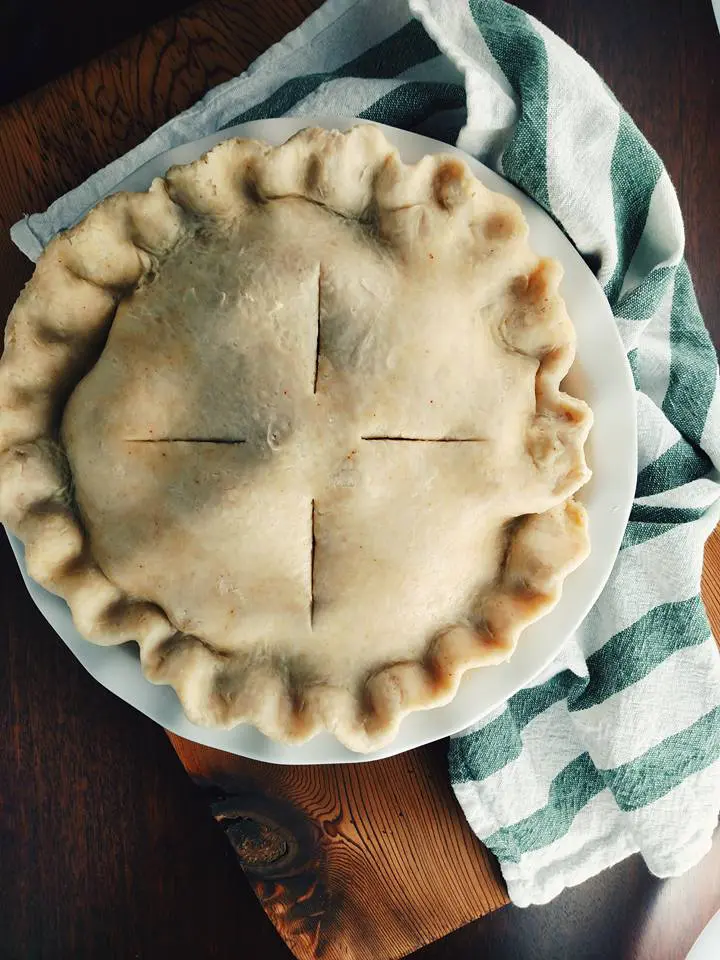 Pie Dough
After finding so much success with their Foolproof Pie Dough I was a little hesitant to use any other pie dough, however this cheddar cheese in the pie dough thing sounded pretty good, so I had to give it a try.
The results…AMAZING! The cheddar cheese in this pie dough makes a thick and rustic pie crust that brings out the flavors of the apples. Sorry A.T.K. I didn't mean to doubt you. What was I thinking?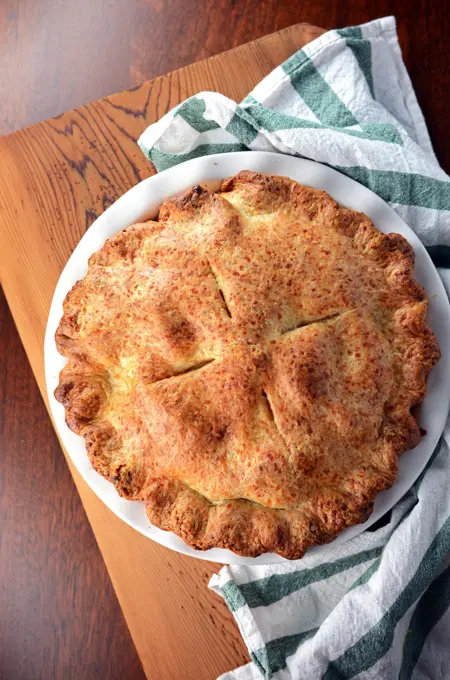 Apples
Now lets talk about the filling. I used Granny Smith and Golden Delicious apples. The Granny Smith apples are tart and hold their shape well, while Golden Delicious are sweeter and will break down more.
You may substitute Granny Smith apples with Empire or Cortland; and Golden Delicious with Jonagold or Braeburn apples.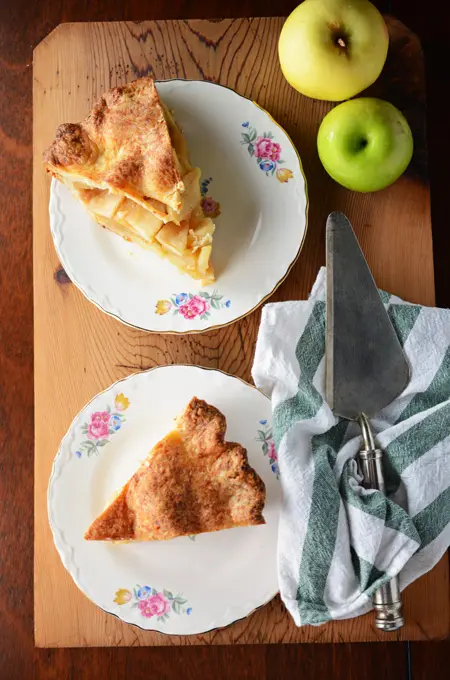 Why precook the apples?
Precooking the apples helps prevent the gap that happens when the pie crust sets. After precooking the apples we lay them out on a baking sheet to cool. This helps set the pectin so you won't over cook your apples in the oven.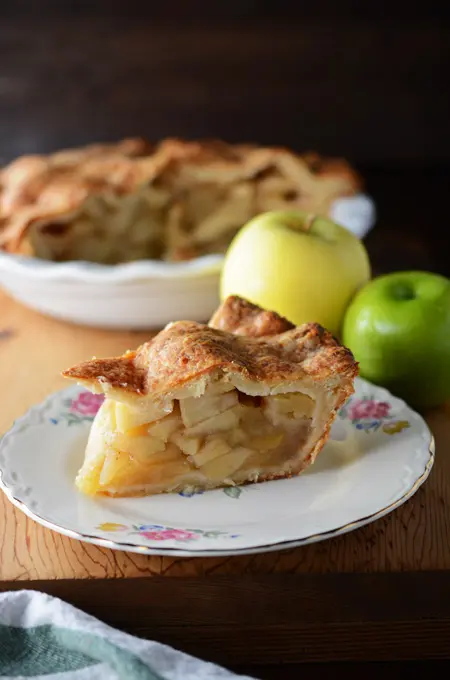 DO NOT leave the apples to cool in the Dutch oven, even with the heat off or the apples will over cook and become mushy.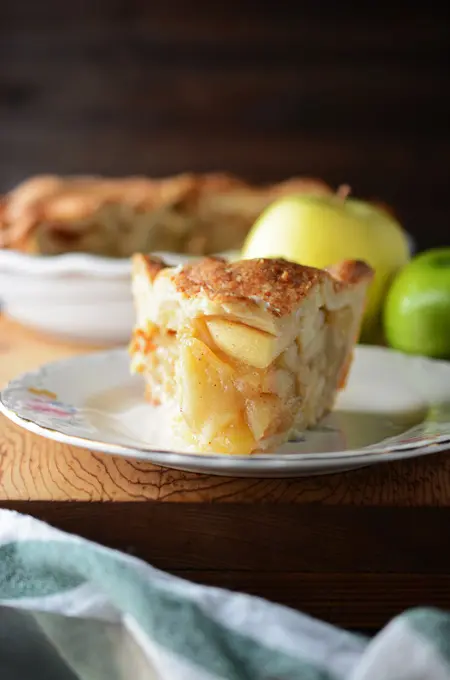 I hope you will enjoy this Apple Pie with Cheddar Cheese Crust as much as I did! You can also follow The Cake Chica on social media: Facebook, Instagram, and Pinterest.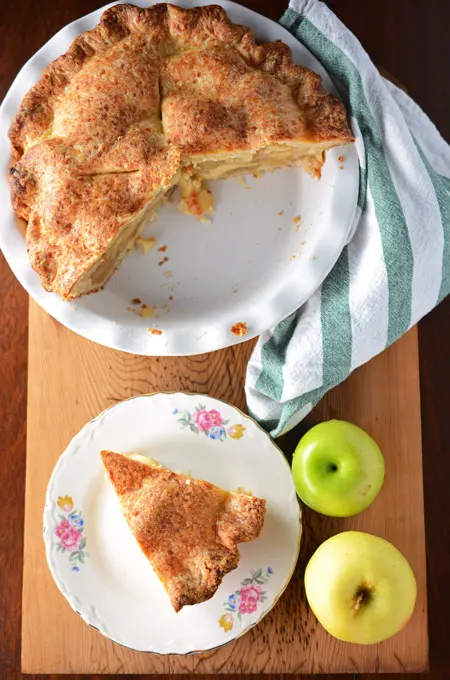 You May Also Like: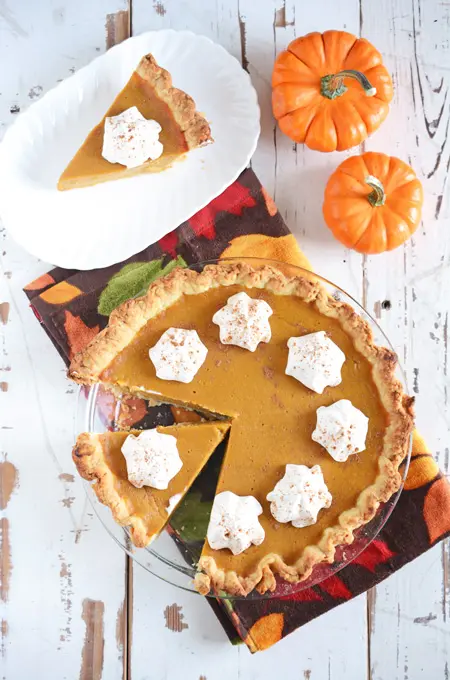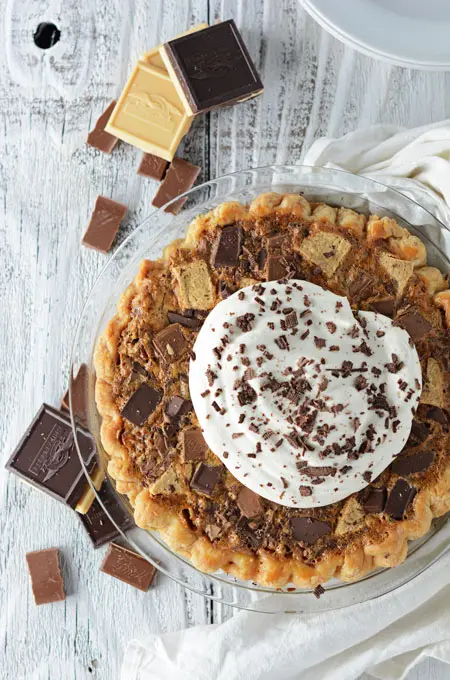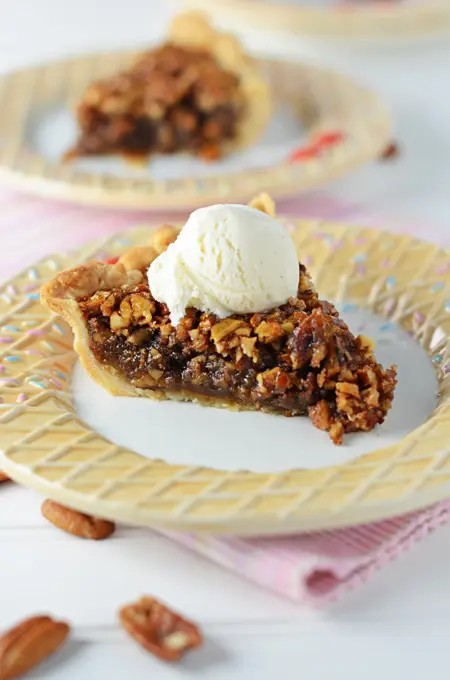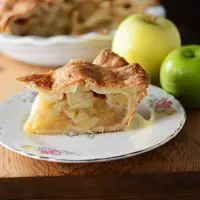 Apple Pie with Cheddar Cheese Crust
Cook Time:
1 hour
10 minutes
Additional Time:
1 hour
45 minutes
Total Time:
3 hours
20 minutes
An apple pie baked with a mix of apples and spices, enclosed in a cheddar cheese pie crust.
Ingredients
CRUST
2 1/2 cups (12 1/2 ounces) all-purpose flour
1 tablespoon granulated sugar
1 teaspoon salt
1 teaspoon dry mustard
1/8 teaspoon cayenne pepper
8 ounces extra-sharp cheddar cheese, shredded (2 cups)
8 tablespoons unsalted butter, cut into 1/4-inch pieces and frozen for 15 minutes
1/3 cup ice water, plus extra as needed
FILLING
2 pounds Granny Smith, Empire, or Cortland apples, peeled, cored, halved, and sliced 1/4 inch thick
2 pounds Golden Delicious, Jonagold, or Braeburn apples, peeled, cored, halved, and sliced 1/4 inch thick
6 tablespoons (2 2/3 ounces) granulated sugar
1/4 cup packed (1 3/4 ounces) light brown sugar
1/2 teaspoon grated lemon zest plus 1 tablespoon juice
1/4 teaspoon salt
1/8 teaspoon ground cinnamon
Instructions
FOR THE CRUST:
Process flour, sugar, salt, mustard, and cayenne in food processor until combined, about 5 seconds. Scatter cheddar and butter over top and pulse until butter is size of large peas, about 10 pulses.
Pour half of ice water over flour mixture and pulse until incorporated, about 3 pulses. Repeat with remaining ice water. Pinch dough with your fingers; if dough feels dry and does not hold together, sprinkle 1 to 2 tablespoons extra ice water over mixture and pulse until dough forms large clumps and no dry flour remains, 3 to 5 pulses.
Divide dough in half and form each half into 4‑inch disk. Wrap disks tightly in plastic wrap and refrigerate for 1 hour. Let chilled dough sit on counter to soften slightly, about 10 minutes, before rolling. (Wrapped dough can be refrigerated for up to 2 days or frozen for up to 1 month. If frozen, let dough thaw completely on counter before rolling.)
FOR THE FILLING:
Stir apples, granulated sugar, brown sugar, lemon zest, salt, and cinnamon together in Dutch oven. Cover and cook over medium heat, stirring frequently, until apples are just tender but still hold their shape, 10 to 15 minutes. Off heat, stir in lemon juice. Spread apple mixture on rimmed baking sheet and let cool completely, about 30 minutes. (Filling can be refrigerated for up to 24 hours.)
Roll 1 disk of dough into 12‑inch circle between 2 sheets of parchment paper or plastic. Loosely roll dough around rolling pin and gently unroll it onto 9‑inch pie plate, letting excess dough hang over edge. Ease dough into plate by gently lifting edge of dough with your hand while pressing into plate bottom with your other hand. Trim overhang to 1/2 inch beyond lip of pie plate. Wrap dough-lined pie plate loosely in plastic and refrigerate until dough is firm, about 15 minutes.
Adjust oven rack to lowest position and heat oven to 425 degrees. Fill pie shell with apple mixture including juices. Roll other disk of dough into 12‑inch circle between 2 sheets of parchment or plastic. Loosely roll dough around rolling pin and gently unroll it onto filling.
Trim overhang to 1/2 inch beyond lip of pie plate. Pinch edges of top and bottom crusts firmly together. Tuck overhang under itself; folded edge should be flush with edge of pie plate. Crimp dough around edge of pie plate using your fingers. Cut four 2-inch slits in top of dough.
Set pie on foil or parchment-lined baking sheet and bake for 20 minutes. Reduce oven temperature to 375 degrees and continue to bake until crust is deep golden brown and filling is bubbling, 35 to 45 minutes. Transfer pie to wire rack and let cool for at least 1 1/2 hours. Serve.
Nutrition Information:
Yield:

8
Serving Size:

1
Amount Per Serving:
Calories:

557
Total Fat:

22g
Saturated Fat:

13g
Trans Fat:

0g
Unsaturated Fat:

7g
Cholesterol:

59mg
Sodium:

522mg
Carbohydrates:

78g
Fiber:

8g
Sugar:

38g
Protein:

12g
*Nutrition information is an estimate and will vary.*
Did you make this recipe? I'd love to see it! Tag The Cake Chica on Instagram @thecakechica1 #thecakechica1