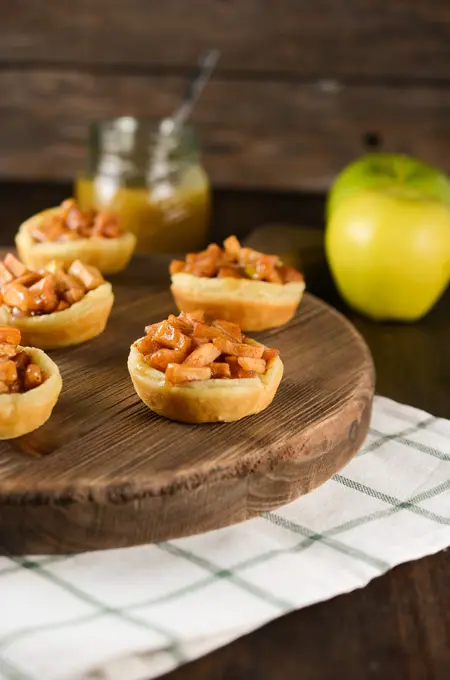 Compared to some of my cakes, this recipe for Apple Cups with Maple-Toffee Sauce is pretty easy to make. Which is always a plus during the holiday baking season.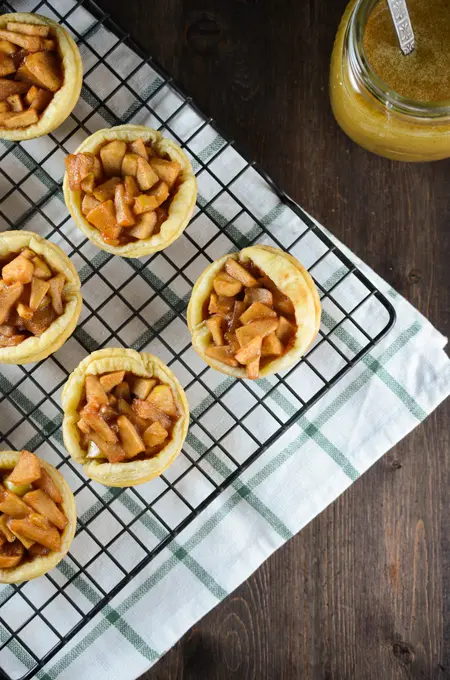 I chose a mix of Granny Smith and Golden Delicious apples. When baking, Granny Smith apples hold their shape well, while the Golden Delicious apples are sweeter and will break down more, which gives you the best of both worlds.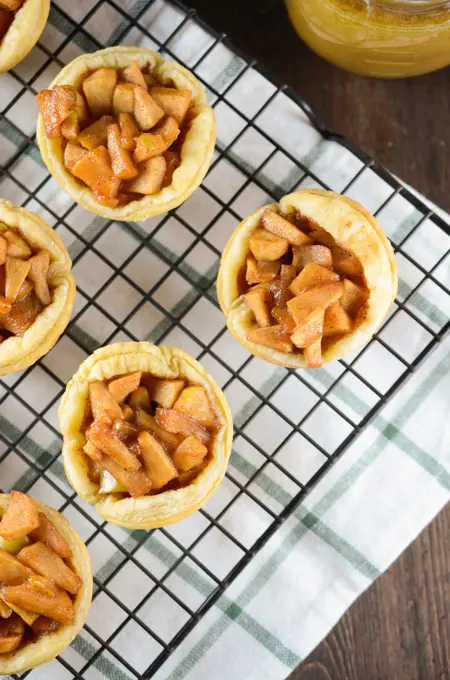 You might have left over filling. If you do you're in luck! I used my extra apple filling as an ice cream topper! I just heated up the filling and poured it over my vanilla ice cream! So good! Or you can use the extra apple filling to make more Apple Cups! The choice is yours, but either way you can't go wrong!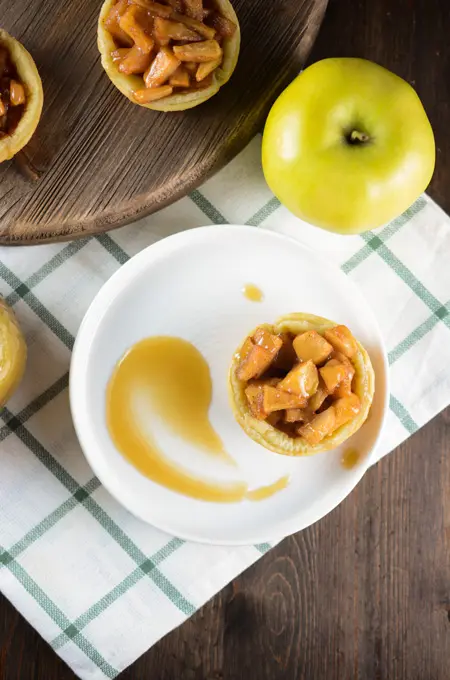 These Apple Cups are great all on their own, but if you want to take it up a notch, drizzle a little Maple-Toffee Sauce on top!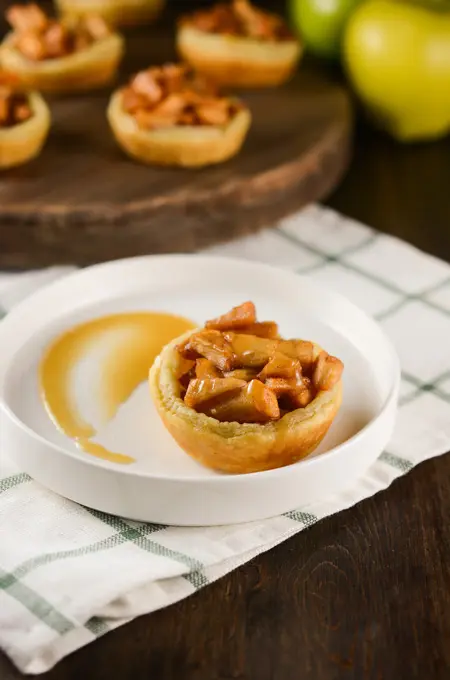 Connect with The Cake Chica on social media: Facebook, Instagram, and Pinterest.
You May Also Like:
Recipe adapted from Fall Baking Magazine 2018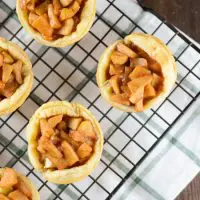 Apple Cups with Maple-Toffee Sauce
Additional Time:
20 minutes
Total Time:
1 hour
10 minutes
Puff pastry filled with an apple filling drizzled with Maple-Toffee Sauce.
Ingredients
SPECIAL TOOLS
12 cup cupcake pan
Rolling pin
3 1/2 inch biscuit cutter
APPLE CUPS
Nonstick baking spray
¼ cup unsalted butter
3 Granny Smith apples, peeled, cored and diced
3 Golden Delicious apples, peeled, cored and diced
½ cup granulated sugar
2 teaspoons ground cinnamon
½ teaspoon ground nutmeg
¼ teaspoon ground cloves
1 tablespoon all-purpose flour
1 17.3 ounce package frozen puff pastry, thawed
MAPLE-TOFFEE SAUCE
½ cup unsalted butter
½ cup firmly packed light brown sugar
¼ cup light corn syrup
¼ cup sweetened condensed milk
2 teaspoons water
½ teaspoon maple flavoring
Instructions
APPLE CUPS
Heat your oven to 350 degrees. Spray a 12 cup cupcake pan with baking spray and set aside.

In a large saucepan over medium heat, melt butter. Add apples, sugar, cinnamon, nutmeg and cloves and stir to combine. Cook stirring often until apples are tender, about 5 minutes. Sprinkle flour over the apples and stir until apple mixture has thickened. Remove from the heat and let cool for 15 minutes.

On a lightly floured surface, unroll 1 thawed sheet of puff pastry. Using a lightly floured rolling pin, roll out the seams of the puff pastry. With a 3 ½-inch round cutter, cut out 6 rounds per sheet. Repeat this process with the remaining puff pastry sheet. Press rounds into the bottoms and up the sides of the prepared cupcake pan.

Bake until the rounds are puffed and starting to brown, about 6 minutes. Remove from the oven and using a back of a spoon, press down the puffed bottoms. Spoon apple mixture into each cup.

Bake for 6 to 10 minutes or until cups turn golden-brown. Let cool in cups for 5 minutes before removing.
MAPLE-TOFFEE SAUCE
In a medium sized saucepan over medium heat, melt the butter. Add the brown sugar, corn syrup, condensed milk and 2 teaspoons water and stir to combine. Bring mixture to a simmer while stirring constantly. Remove from the heat and add the maple extract and stir to combine.

Drizzle sauce over apple cups and serve.
Notes
These are best eaten the same day they are made.
*Nutrition information is an estimate and will vary. (Nutritional info does not include Maple-Toffee Sauce.)*
Nutrition Information:
Yield:

12
Serving Size:

1 Apple Cup
Amount Per Serving:
Calories:

337
Total Fat:

20g
Saturated Fat:

5g
Cholesterol:

10mg
Sodium:

103mg
Carbohydrates:

39g
Fiber:

3g
Sugar:

18g
Protein:

3g