When I was a kid I used to love s'mores! But as I've grown older, s'mores have gotten a little too sweet for my taste. Thankfully I was able to take a pie reminiscent of the treat I used to love as a kid and make it into more of an adult version in this Chocolate S'mores Pie.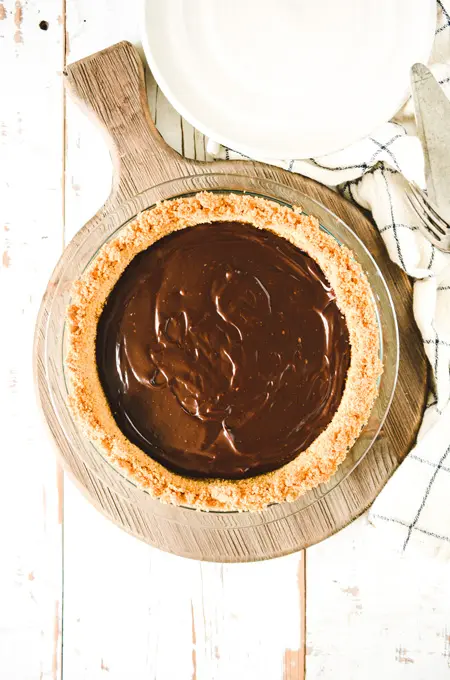 Crust
Cookie pie crust really couldn't get any easier. It's just cookie crumbs, sugar and butter combined in a food processor. And it's far superior that the store bought cookie crust in appearance and flavor. For this pie I naturally used graham crackers. Once all the ingredients are combined I pour the cookie mixture into a pie plate and press with the bottom of a measuring cup to form the crust. Next, bake in a 325 degree oven for about 18 minutes. Easy as that.
Tip: Try not to use store bought graham cracker crumbs as they tend to be a little stale.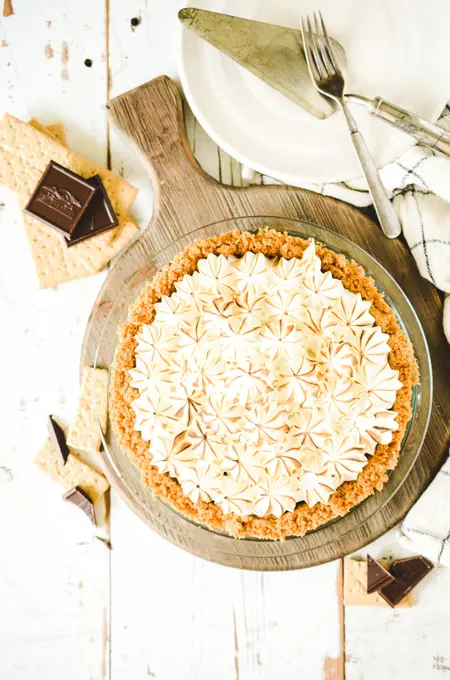 Filling
To reduce the sweetness I used semisweet chocolate instead of the typical milk chocolate. You can also use bittersweet as well. Best of all, this ganache filling is super easy to make. Chocolate, butter and simmered heavy cream, whisked together and voila!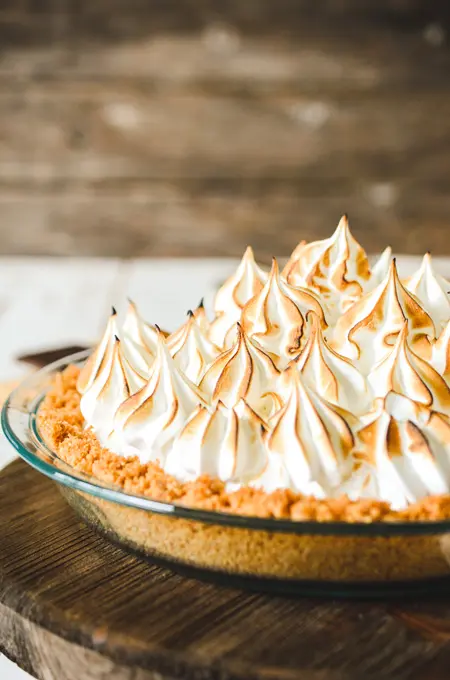 Marshmallow Meringue
After making your own marshmallow topping you'll never want to go back to using store bought marshmallows for your sweets. And another element to this Chocolate S'mores Pie that is easy to make. The only special equipment needed is a candy thermometer and a stand mixer is helpful.
Tip: Be sure to keep egg yolk out of the egg whites or they will not increase in volume and become fluffy.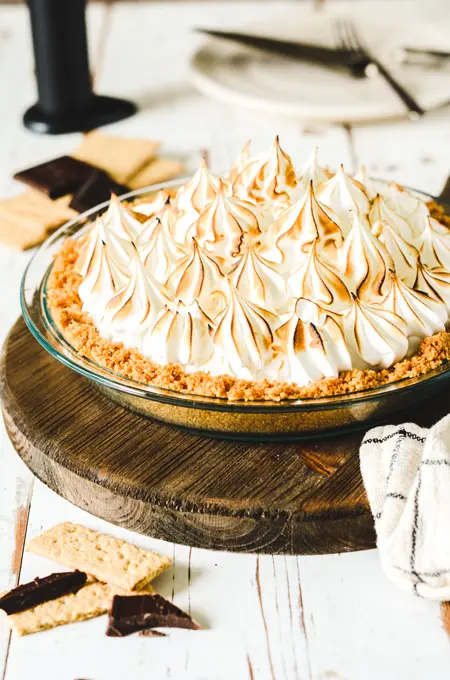 Plan It Out
Although every element of this pie is easy to make I still don't like to rush the process. Here is what my schedule looked like.
Day 1: Prepare the graham cracker crust.
Day 2: Prepare the chocolate ganache filling.
Day 3: Prepare the marshmallow meringue topping, decorate and serve.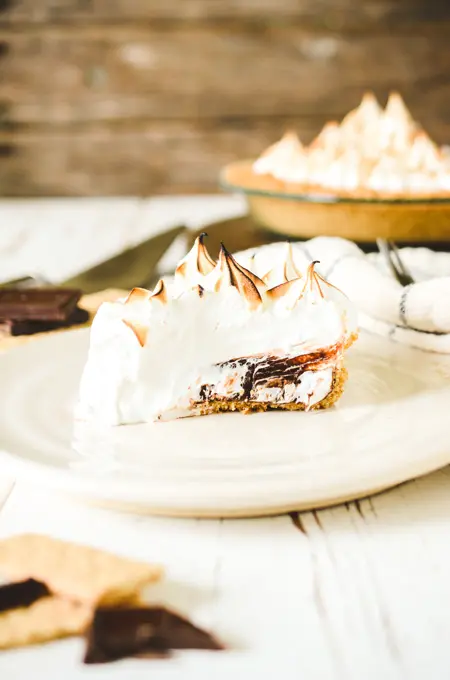 Lets Connect
The Cake Chica can be found on Facebook sharing peeks of recipes to come, on Instagram for your food porn desires and Pinterest for your board pinning needs!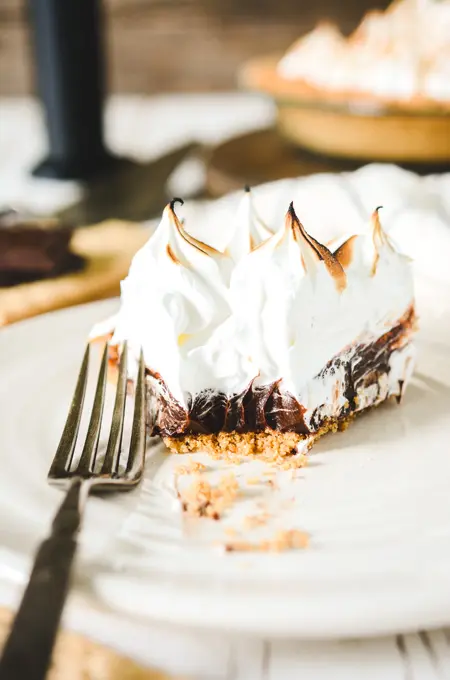 You May Also Like
---
Recipe inspired from Icing on the Cake by Tessa Huff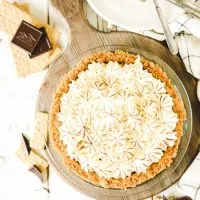 Chocolate S'mores Pie
Chocolate S'mores Pie made with a homemade graham cracker crust that is filled with a semisweet ganache filling and topped with a homemade marshmallow topping and toasted with a kitchen torch.
Ingredients
SPECIAL TOOLS
GRAHAM CRACKER CRUST
8 whole graham crackers, broken into 1-inch pieces
3 tablespoons granulated sugar
5 tablespoons unsalted butter, melted and cooled
GANACHE FILLING
9 ounces semisweet chocolate, chopped
2 tablespoons unsalted butter, diced
2/3 cup heavy cream
MARSHMALLOW MERINGUE
1 cup (8 ounces) egg whites, about 8 eggs
1 ¾ cups (12 ounces) granulated sugar
1/4 teaspoon table salt
¼ teaspoon cream of tartar
½ teaspoon vanilla extract
Instructions
GRAHAM CRACKER CRUST
Adjust an oven rack to the center position and heat oven to 325 degrees. Process crackers in a food processor until fine crumbs form, about 30 seconds. Add sugar and melted butter over top and pulse to incorporate until the crumbs come together, about 5 pulses.
Pour mixture into a pie plate and evenly press crumbs on the bottom and up the sides of the pie plate with the bottom of a measuring cup. Bake for 18 to 20 minutes or until browned and fragrant. Transfer crust to a wire rack to cool completely.
GANACHE FILLING
Place chocolate and butter in a heatproof bowl.
In a small saucepan, bring the cream to a simmer over medium-low heat. Pour the cream over chocolate and butter and let stand for 30 seconds. Whisk cream, chocolate and butter to combine until completely melted and smooth.
Pour the ganache into the cooled pie crust. Smooth the top out with an offset spatula and store in a cake container. Alternatively, loosely cover with plastic wrap, being sure the plastic does not touch the surface of the ganache. Let stand at room temperature for 4 hours or overnight.
MARSHMALLOW MERINGUE
In the bowl of a stand mixer, whisk together egg whites, sugar, salt, cream of tartar and vanilla extract by hand. Place mixer bowl on top of a saucepan with a few inches of simmering water, making sure the bottom of the mixer bowl does not touch the water. Attach a thermometer to the mixer bowl and cook until mixture reaches 160 degrees, whisking frequently, about 15 minutes.
Carefully transfer mixer bowl to the stand mixer with the whisk attachment attached. Whisk mixture on high speed until thick and glossy and egg whites have tripled in volume, about 8 minutes.
DECORATE
Pipe or dollop meringue on top of ganache in a decorative fashion. If using Ateco piping tip #827 pipe stars around the entire surface of the chocolate filling. Pipe a second layer of stars around the sides moving inward. As you move inward, pipe large stars going up to give a domed look when looking at the side of the pie.
With a kitchen torch, gently toast the topping. If you don't have a kitchen torch, adjust an oven rack to the center position and heat oven to 400 degrees. Bake until the topping had browned, about 6 minutes. You can also use the broiler but be careful as this can burn the meringue quickly.
Notes
Storage: Pie can be stored in an air tight container in the refrigerator for up to 3 days.
Nutrition Information:
Yield:

8
Serving Size:

1
Amount Per Serving:
Calories:

504
Total Fat:

35g
Saturated Fat:

19g
Trans Fat:

0g
Unsaturated Fat:

14g
Cholesterol:

235mg
Sodium:

243mg
Carbohydrates:

44g
Fiber:

3g
Sugar:

30g
Protein:

10g
*Nutrition information is an estimate and will vary.*