This cake had three layers of spicy gingerbread cake that's filled and frosted with a classic royal icing.
Not only does this Gingerbread House Layer Cake taste on point for the holidays. It's super moist and has lots of ginger flavor thanks to the fresh ginger. And it also makes a beautiful centerpiece for your dessert table. Who doesn't love a beautiful edible centerpiece?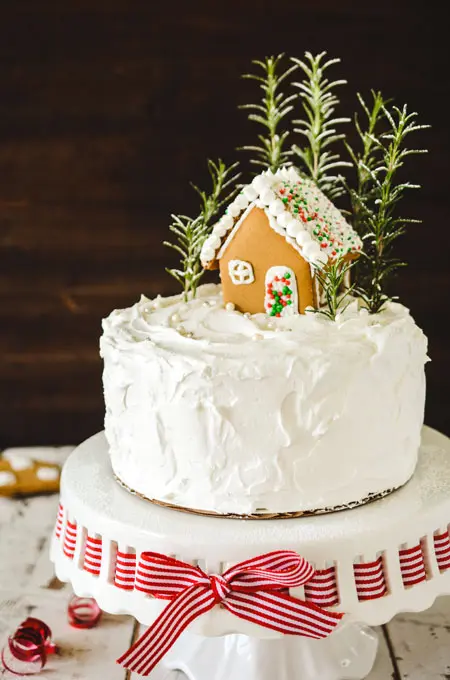 Gingerbread Spices
Ground ginger
Baking powder
Ground cinnamon
Salt
Ground white pepper
Cayenne pepper
Fresh ginger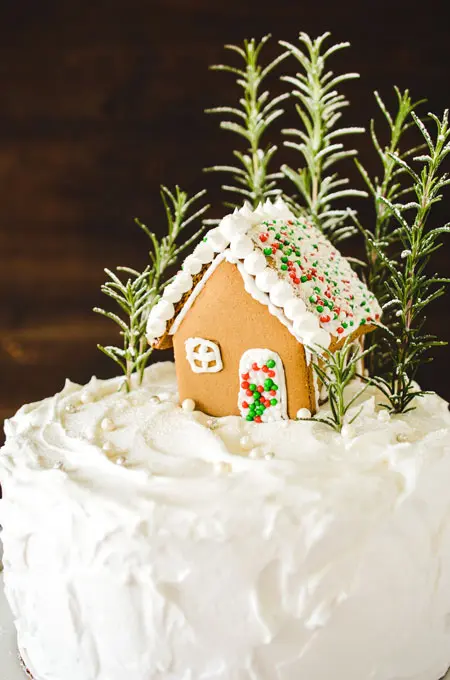 Gingerbread Cake
The batter for this cake is thin. I chose to create 3 layers of gingerbread cake for this one, but you could also bake the cakes in just 2 cake pans and slice them horizontally to create 4 thin layers of cake. If you choose that option, be sure to double the amount of royal icing so you'll have enough filling and frosting to play around with when decorating.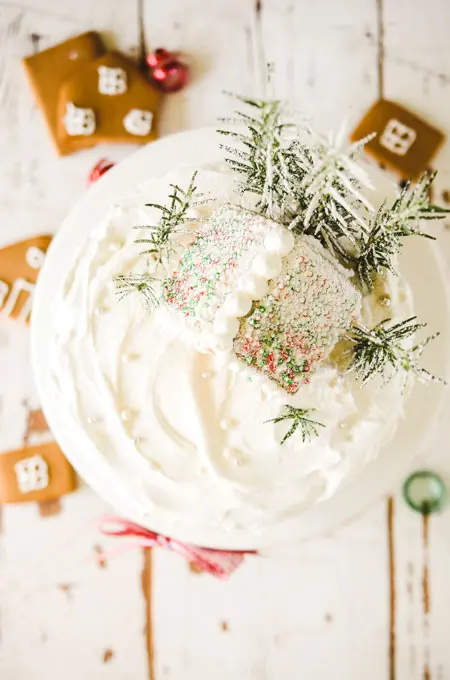 Gingerbread House Kit
Be sure to prepare your mini gingerbread house at least 24 hours before you plan on using it for the cake. Especially if you're using the royal icing in the kit.
You can use coffee mugs, toothpicks or pins to hold the walls together while they dry. Don't remove the mugs, toothpicks or pins until the house is dry and ready to use.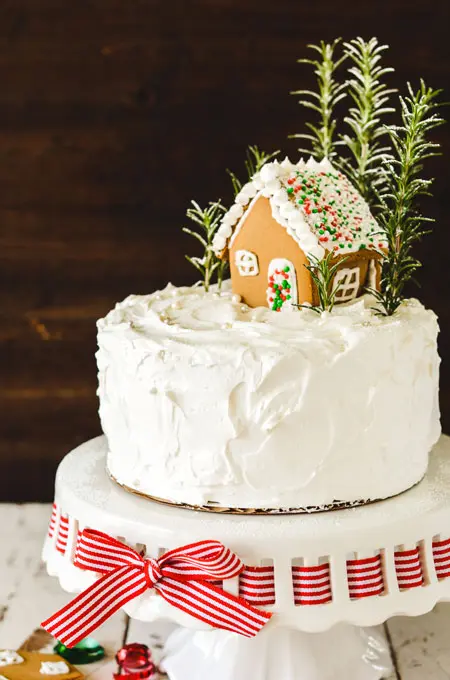 Royal Icing
Royal icing dries very quickly. Be sure to have everything ready to go before you make it. Luckily, royal icing comes together quickly and easily.
If you need to step away for a moment, you can store it in the refrigerator with a damp paper towel on the surface to keep it from drying out right away.
For the 4 layer cake option mentioned in the section above (Gingerbread Cake), double the royal icing but be sure to use at lease a 5 quart stand mixer.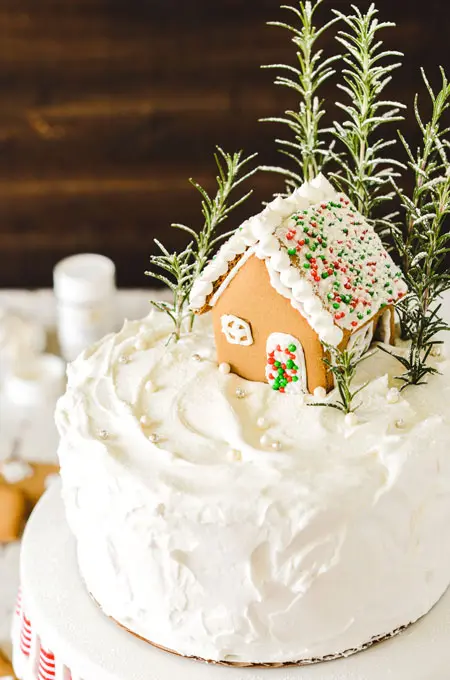 Plan It Out
This Gingerbread House Layer Cake is easy to make, and what makes it even easier is to plan it all out! Here is what my schedule looked like.
Day 1:

Assemble mini gingerbread house.

Day 2:

Bake the cake layers.

Day 3:

Prepare royal icing, assemble cake and serve.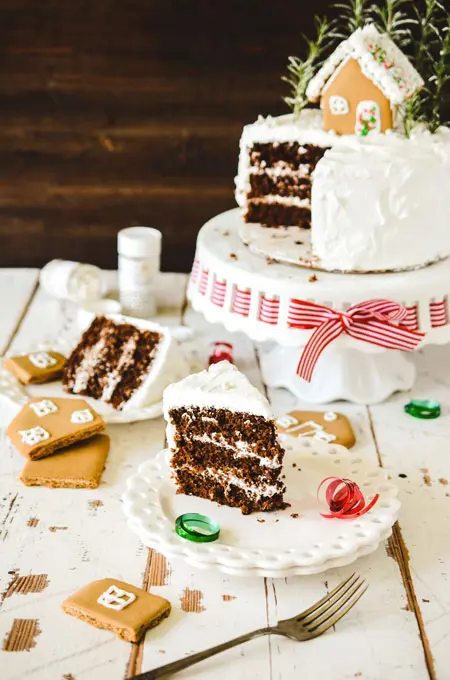 Lets Connect
The Cake Chica is on Facebook sharing sneak peeks of recipes to come, Instagram for all your food porn desires and Pinterest for your board pinning needs.
You May Also Like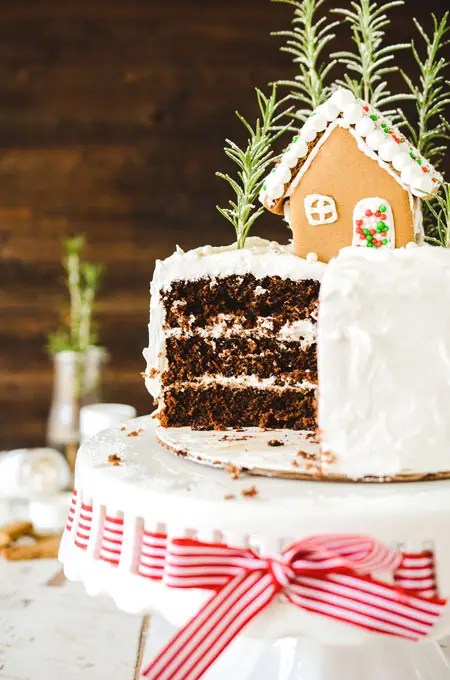 ---
Adapted from The Perfect Cake by America's Test Kitchen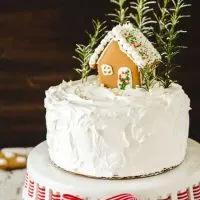 Gingerbread House Layer Cake
Total Time:
2 hours
55 minutes
Three layers of homemade gingerbread cake made with a homemade spice blend and fresh ginger, filled and frosted with royal icing and topped with a mini gingerbread house.
Ingredients
SPECIAL TOOLS
Non stick baking spray
Hand or stand mixer
A few sprigs of fresh rosemary, washed and dried
CAKE
1 ¾ cups (8 ¾ ounces) all-purpose flour
¼ cup (3/4 ounce) unsweetened cocoa powder
2 tablespoons ground ginger
1 ½ teaspoons baking powder
1 teaspoon ground cinnamon
¾ teaspoon salt
½ teaspoon ground white pepper
1/8 teaspoon cayenne pepper
1 cup brewed coffee
¾ cup molasses
½ teaspoon baking soda
1 ½ cups (10 ½ ounces) granulated sugar
¾ cup vegetable oil
3 large eggs, lightly beaten
2 tablespoons finely grated fresh ginger
ROYAL ICING
3 tablespoons meringue powder
½ cup warm water
16 ounces (4 ½ cups) powdered sugar
1 teaspoon vanilla extract
Instructions
GINGERBREAD HOUSE KIT
Assemble a mini gingerbread house from a kit. Allow to dry 24 hours before using to decorate the cake.

CAKE
Adjust an oven rack to the center position and heat oven to 350 degrees. Spray cake pans with nonstick baking spray and set aside.
In a large bowl, add the flour, cocoa, ground ginger, baking powder, cinnamon, salt, pepper, and cayenne pepper and whisk to combine. In another large bowl, add the coffee, molasses and baking soda and whisk to combine. Add the sugar, oil, eggs and fresh ginger to the coffee mixture and whisk until incorporated and mixture is smooth.
Whisk the coffee mixture into the flour mixture until smooth. Batter will be thin. Divide batter among the prepared cupcake pans and bake until a toothpick inserted in the centers comes out with a few moist crumbs attached, about 20 to 25 minutes, rotating pans halfway through baking. Let cakes cool in their pans on wire racks for 10 minutes, then invert on to wire racks to cool completely.

ROYAL ICING
In the bowl of a stand mixer, with the whisk attachment attached, whisk together the meringue powder and water on high speed until soft peaks form.
Add the powdered sugar and vanilla extract and beat until the icing is smooth, shiny and has increase in volume, about 8 minutes. If the consistency of the icing is too thick to spread, add about 1 to 2 tablespoons water and whisk to combine until spreadable. Use immediately, as this frosting hardens as it sits.

ASSEMBLE
Place one cake layer on a cake stand and spread about 2/3 cup royal icing on top. Creating an even layer of icing that reaches the edges of the cake. Place the second layer of cake on top and repeat with another 2/3 cup royal icing on top. Place the last cake layer on top and spread the remaining royal icing over the top and sides of the cake in a billowy fashion.
DECORATION
Once the mini gingerbread house is assembled and dry enough to handle, place on top of the cake. Next, place a few (washed and dried) fresh rosemary sprigs on the cake as trees. It's helpful to remove the leaves from the sprig where the sprig will sit inside the cake, so that the leaves will just be on the outside of the cake. Sprinkle some powdered sugar over top with some edible glitter if you'd like for the finishing touch.
Notes
Store cake in an airtight cake container in the refrigerator for up to 2 days, or at room temperature for 1 day. Bring cake to room temperature before serving.
Nutrition Information:
Yield:

12
Serving Size:

1
Amount Per Serving:
Calories:

382
Total Fat:

18g
Saturated Fat:

2g
Trans Fat:

0g
Unsaturated Fat:

15g
Cholesterol:

59mg
Sodium:

328mg
Carbohydrates:

51g
Fiber:

1g
Sugar:

32g
Protein:

4g
*Nutrition information is an estimate and will vary.*