You can't go wrong with this S'mores Layer Cake. It's the perfect something-sweet for summertime gatherings. With three layers of homemade cinnamon cake, filled with chocolate filling and frosted with a homemade marshmallow frosting, what's not to love? One thing is for sure, this cake is my favorite cake recipe I've made this year!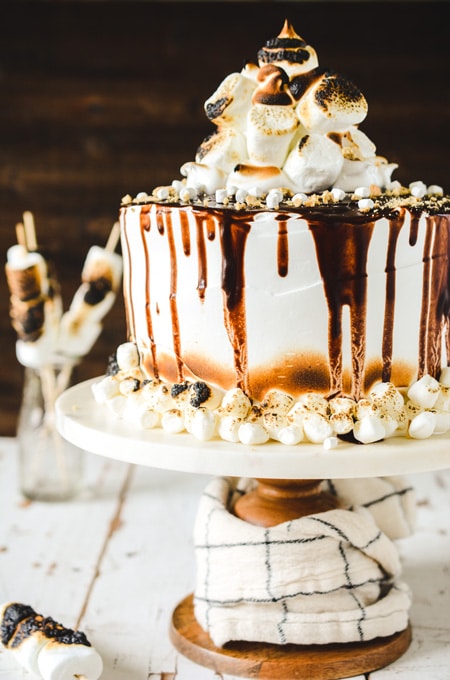 Cinnamon Cake Layers
The cinnamon cake layers represent the graham cracker part of this cake. Ground cinnamon and freshly grated nutmeg create a flavor much like cinnamon graham crackers.
Cake Cooling Tip:
Cool the cake layers in their pans for about 10 minutes. Don't let them sit in their pans for much longer than that as the residual heat can overbake them.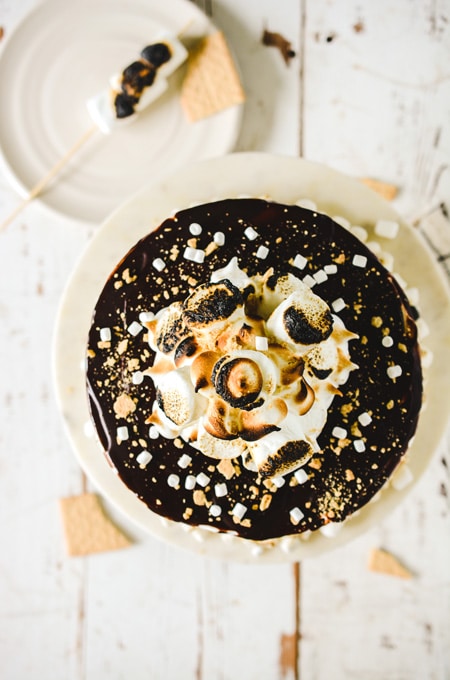 Chocolate Filling
You can use which ever type of chocolate you'd like for this filling. Milk chocolate, semisweet chocolate or dark chocolate. I choose semisweet for mine. Be sure your melted chocolate has cooled before you add it to the mixed ingredients. It should be cooled but still pourable, about 65 degrees or so.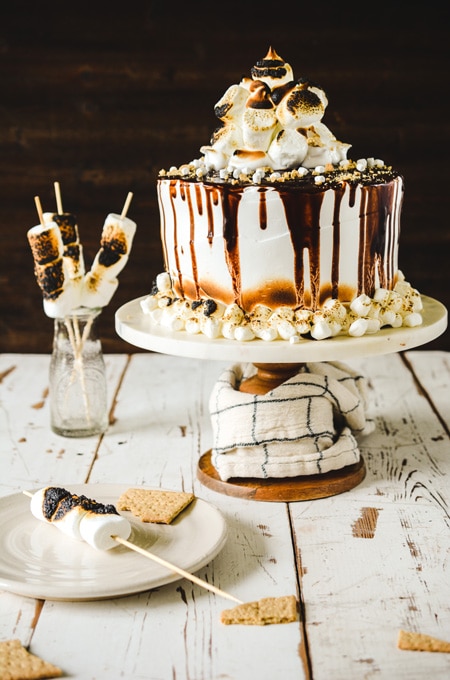 Marshmallow Frosting
If you could eat clouds I would imagine they would taste like marshmallow frosting! It's billowy, light and sweet and perfectly white like a billowy cloud! It's true, I'm in love with this frosting not only because it tastes like heaven but because it's pretty simple to put together. Just a few tools that are very helpful:
Candy thermometer
Stand mixer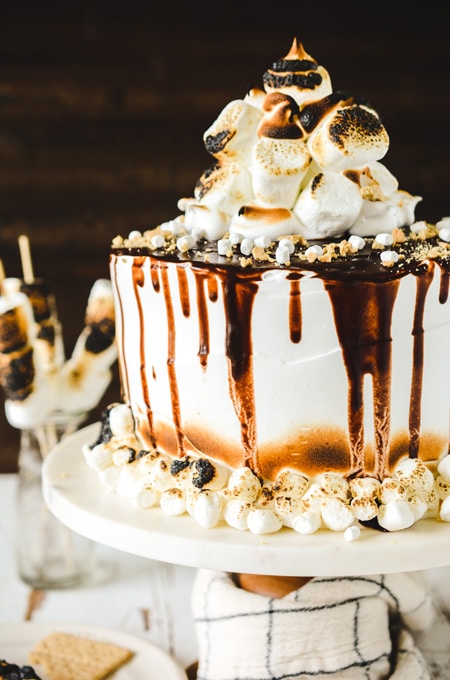 Chocolate Glaze
This chocolate glaze is so simple to prepare, just note it does need time to cool before applying to the cake. The longer it sits the thicker it gets! Me, I'm not always so patient and I would have liked my glaze a little thicker but it still tastes the same. I would say let the glaze cool for 30 to 45 minutes. The chocolate glaze should be thick but still pourable.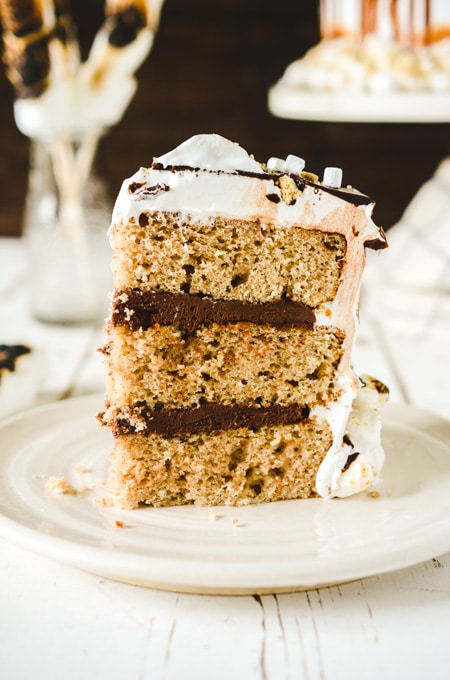 Cake Decorating
Now comes the fun part…the decorating!!! After you've filled, iced and glazed your cake, it's time to let your imagination run wild. For me, I used a mix of marshmallow sizes and leftover marshmallow frosting placed in a piping bag. Using a few toothpicks and wooden skewers I placed a mound of different sized marshmallows on top of the cake in the center. I filled in any gaps and holes with the remaining marshmallow frosting.
Next, I used my kitchen torch and lightly toasted the marshmallows and marshmallow frosting. I then piped some of the marshmallow frosting around the bottom edge of the cake and placed some medium sized marshmallows around the base.
Lastly, I toasted the marshmallows around the bottom edge of the cake very carefully, trying not to melt too much of the chocolate glaze drips.
Here is a list of the tools I used to decorate the cake:
Kitchen torch
Three sizes of marshmallows
Piping bag
Toothpicks and/or wooden skewers
Graham cracker crumbs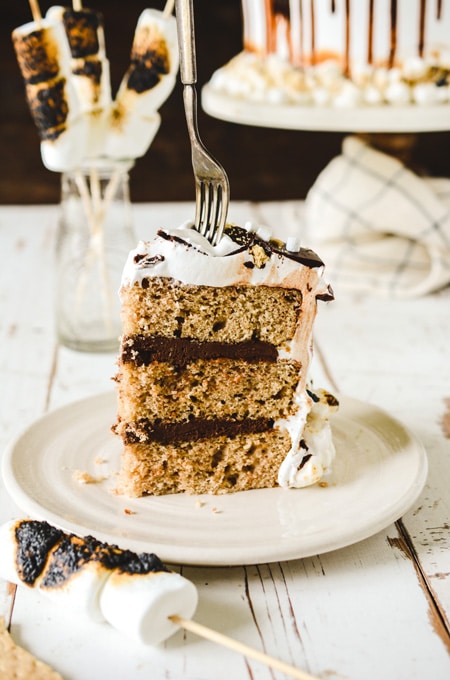 Plan It Out
Day 1: Bake the cake layers.
Day 2: Make the filling, marshmallow frosting and glaze. Assemble and decorate cake.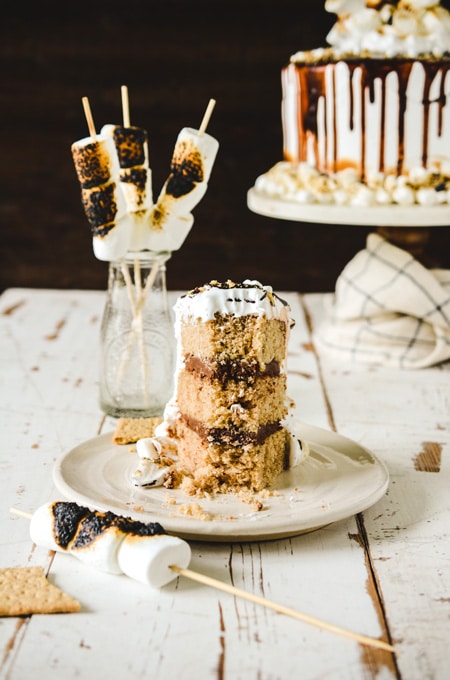 Lets Connect
The Cake Chica is on Facebook sharing peeks of recipes to come, Instagram for your food porn desires and Pinterest for your pinning needs!
You May Also Like
---
Adapted from Layered by Tessa Huff and Sweetapolita by Rosie Alyea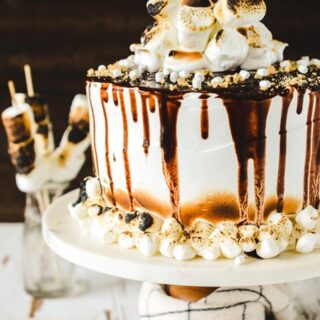 S'mores Layer Cake
Total Time:
2 hours
15 minutes
Three layers of homemade cinnamon cake, filled with chocolate filling and covered with homemade marshmallow frosting. Decorated with a marshmallow mix, chocolate glaze and graham cracker crumbs. Finally the marshmallows are toasted to perfection!
Ingredients
SPECIAL TOOLS
CINNAMON CAKE
3 cups (12 ounces/390 grams) cake flour
2 teaspoons baking powder
2 teaspoons ground cinnamon
½ teaspoon ground nutmeg
½ teaspoon baking soda
½ teaspoon salt
1 cup (2 sticks/16 tablespoons/8 ounces/225 grams) unsalted butter, at room temperature, about 65 degrees
1 ¼ cup (8.75 ounces/250 grams) granulated sugar
½ cup (3.5 ounces/110 grams) firmly packed light brown sugar
2 teaspoons vanilla extract
3 large eggs, at room temperature
2 large egg yolks, at room temperature
1 ¼ cup (10.6 ounces/300 ml) buttermilk
CHOCOLATE FUDGE FILLING
½ cup (1 stick/8 tablespoons/4 ounces/115 grams) unsalted butter, at room temperature, about 67 degrees
2 cups (8 ounces/250 grams) powdered sugar, sifted
3 tablespoons unsweetened cocoa powder
1/8 teaspoon salt
½ teaspoon vanilla extract
2 tablespoons heavy cream
6 ounces semi sweet chocolate, melted and cooled to about 85 degrees
MARSHMALLOW FROSTING
8 large egg whites
1 ½ cups (10.5 ounces/500 grams) granulated sugar
2 tablespoons light corn syrup
½ teaspoon cream of tartar
1/8 teaspoon table salt
2 teaspoon vanilla extract
CHOCOLATE GLAZE
5 ounces dark chocolate, chopped
¾ cup (12 tablespoons/340 grams) unsalted butter
1 tablespoon light corn syrup
Pinch of salt
GARNISHES
Marshmallows
Graham cracker crumbs
Instructions
CAKE
Adjust an oven rack to the center position and heat oven to 350 degrees. Spray 3 8-inch round cake pans with nonstick baking spray and set aside. In a bowl, whisk together the flour, baking powder, cinnamon, nutmeg, baking soda and salt and set aside.
In the bowl of a stand mixer fitted with the paddle attachment attached, beat the butter on medium speed until smooth. Add the granulated and brown sugar and mix on medium high speed until light and fluffy, about 5 minutes.
On medium-low speed add the vanilla extract and mix until combined. Add the eggs and egg yolks one at a time, mixing well after each addition.
With the mixer on low speed, add the flour mixture in 3 batches, alternating with the buttermilk in 2 batches, starting and ending with the flour mixture. Mix on low speed for about 30 seconds, then finishing mixing by hand to blend any remaining bits of flour.
Divide the batter between prepared cake pans and bake for 23 to 25 minutes, or until a cake tester inserted in the center comes out with a few moist crumbs attached. Let cakes cool in their pans for 10 minutes, then invert on to cooling racks to cool completely.

CHOCOLATE FUDGE FILLING
In the bowl of a stand mixer with the paddle attachment attached, beat the butter on medium speed until smooth. Reduce the mixer speed to low, slowly add the powdered sugar, cocoa, salt and vanilla extract and mix until combined. Pour in the cream and mix to incorporate. Increase the mixer speed to medium and mix until the filling is light and fluffy. Scrape down the sides of the bowl and add the cooled melted chocolate and mix until smooth and combined.
MARSHMALLOW FROSTING
Attach the whisk attachment to the mixer stand. Add the egg whites, sugar, corn syrup, cream of tartar, and salt in the stainless steel bowl of a stand mixer and whisk together well by hand. Place the mixer bowl on top of a saucepan with about 2 inches of water, making sure the bottom of the mixer bowl does not touch the water when placed on top. Bring water to a simmer and place the mixer bowl on top. Whisk mixture frequently until a thermometer reaches 130 degrees, about 9 minutes.
Carefully transfer the mixer bowl to the mixer stand and beat on low speed for 2 minutes. Increase the speed to medium and beat for another 2 minutes. Increase the speed to high and beat for another 5 minutes until thick and glossy. Add in the vanilla extract and mix until combined. (Keep the saucepan of water to make the chocolate glaze.)

ASSEMBLE
Place once cake layer on a cake board or cake pedestal. Spread half of the chocolate filling on top in an even layer. Place a second layer of cake on top and spread remaining chocolate filling in an even layer on top. Place remaining cake layer on top. Frost the top and sides with marshmallow frosting. Refrigerate the cake for about 15 minutes. While the cake is chilling, prepare the chocolate glaze.

CHOCOLATE GLAZE
Bring the saucepan of water back to a simmer and place chopped chocolate, butter, corn syrup and salt in a heatproof bowl. Stir occasionally until the chocolate is melted and ingredients are combined. Set aside to cool slightly. (You want the chocolate just cool enough to not melt the frosting but warm enough for it to pour freely.)
Bring the chilled cake out of the refrigerator and pour just enough chocolate glaze to cover the top of the cake. Using a small offset cake spatula, gently push the glaze over the edge of the cake and chill the cake in the refrigerator for 10 minutes. Pour chocolate glaze on top for a second time, pushing chocolate glaze of the edge as desired. Chill the cake in the refrigerator for another 10 minutes.
Arrange marshmallows on top of the cake in a decorative fashion, securing marshmallows with toothpicks or wooden skewers as needed. Using a kitchen torch, lightly toast the marshmallows to your liking.
Crush a few graham crackers in a zip top bag with a rolling pin and sprinkle graham cracker crumbs on top of the cake just before serving.
Notes
The glaze will keep in an air tight container in the refrigerator for up to 1 week. When ready to use, warm glaze in the microwave or over a pan of simmering water.
Cake can be stores in an airtight cake container for up to 3 days in the refrigerator. Bring to room temperature before serving.
Hold the kitchen torch about 4 to 6 inches away from the surface to toast the marshmallows.
Nutrition Information:
Yield:

15
Serving Size:

1
Amount Per Serving:
Calories:

363
Total Fat:

14g
Saturated Fat:

6g
Trans Fat:

0g
Unsaturated Fat:

6g
Cholesterol:

92mg
Sodium:

342mg
Carbohydrates:

52g
Fiber:

3g
Sugar:

26g
Protein:

9g
*Nutrition information is an estimate and will vary.*