As an Amazon Associate, I earn from qualifying purchases.
This is the same recipe as my Strawberry Cake From Scratch with one small change…SPRINKLES! Don't sprinkles make everything better? You don't have to answer that, because I already know the answer ☺️. I'll give you a quick run down of this Strawberry Confetti Cake just incase you haven't had the pleasure of having the original version.
It's three layers of homemade strawberry cake, baked with sprinkles inside. Plus, it's then filled with homemade strawberry filling and frosted with cream cheese frosting with sprinkles mixed in. This cake is the definition of fun!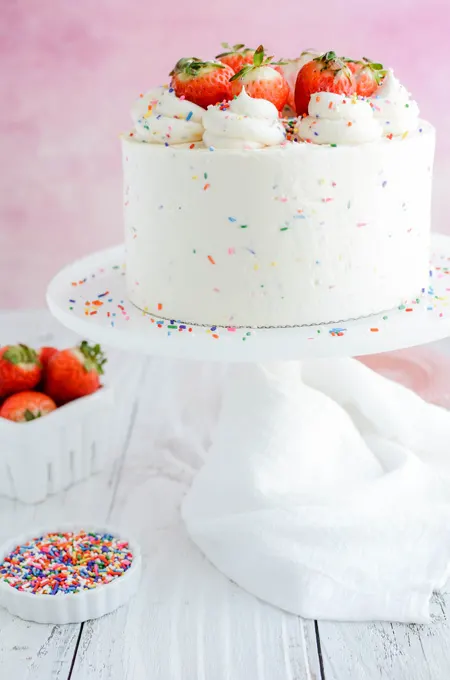 Why Process The Sprinkles
Whole sprinkles created large pockets of color that were a bit too large for this delicate cake. Processing the sprinkles to just the right size helps the sprinkles spread out evenly throughout the batter.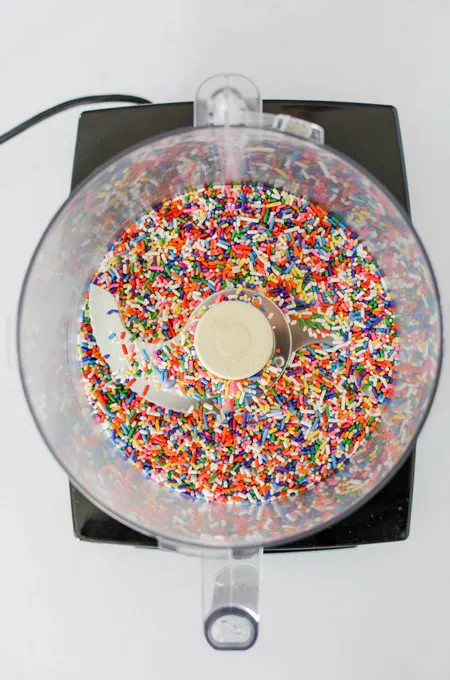 Strawberry Confetti Cake Ingredients
Sprinkles: I love to use multi-colored jimmies for my sprinkles.
Frozen strawberries: This recipe only uses the juice from the strawberries. Adding the strawberry solids to this cake batter would be too much for this delicate cake. Save the strawberry solids for another use or toss.
Whole milk: The fat in whole milk helps to tenderize the cakes crumb. It also interacts with the flour to create just enough gluten to form the cakes structure.
Egg whites: helps create structure.
Vanilla extract: helps balance the flavors.
Cake flour: has a lower protein content than all-purpose flour which helps create a delicate crumb.
Granulated sugar: Sugar not only sweetens the cake but it also helps tenderize, leavens and browns.
Baking powder: is a leavener that contains baking soda and cornstarch. Baking soda reacts twice. The first is when it comes into contact with liquid and then when it is heated. Baking soda can't be used as a substitute for baking powder.
Salt: helps bring out the sweetness in the cake.
Unsalted butter: tenderizes, moistens, leavens, browns, and flavors.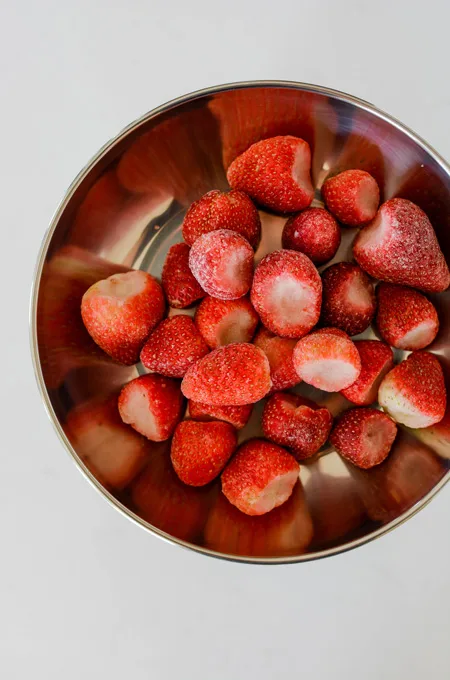 Strawberry Filling
This is my favorite fruit filling and I have been using it for years! It's in my White Cake with Strawberry Filling and Champagne Cake with Strawberry Filling. It's easy to make and can easily be customized simply by switching out the frozen fruit.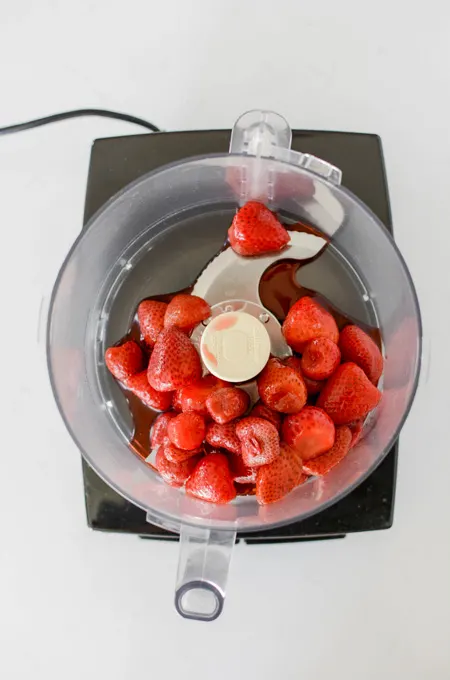 Fluffy Cream Cheese Frosting Tips:
Make sure your butter and cream cheese are very soft! I leave my butter and cream cheese out overnight and it's all ready to go for me the next morning.
The cream cheese is added in last. Be sure all the other ingredients are well mixed before adding the cream cheese in for a super smooth frosting.
Don't over mix the frosting once the cream cheese has been added or it will turn soupy.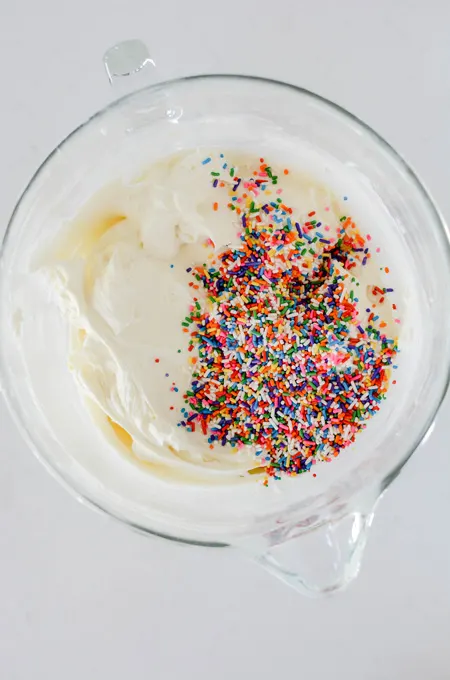 Filling The Cake
Pipe frosting around the edge of the cake.
Spread half of the filling in the center in an even layer until it reaches the frosting dam.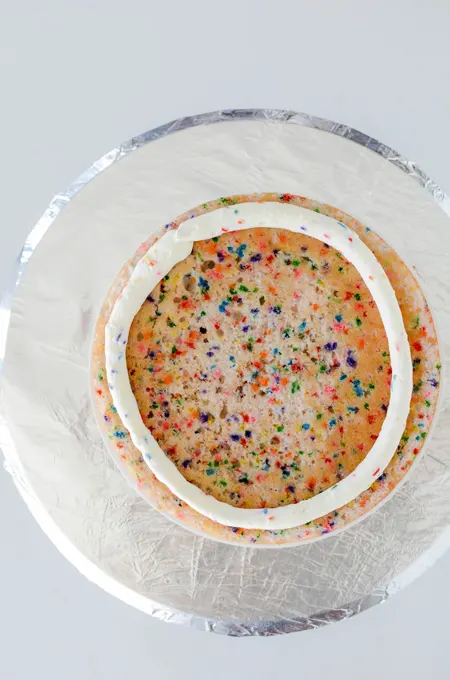 What Is A Crumb Coat And Why You Should Do It
A crumb coat is a thin layer of frosting.
A crumb coat helps hold in the cake crumbs and helps prevent the crumbs from getting into the final layer of frosting.
After crumb coating you should chill the cake in the refrigerator for at least 30 minutes.
A chilled cake is easier to frost and decorate than a room temperature cake.
Cake Decorating Tools For Strawberry Confetti Cake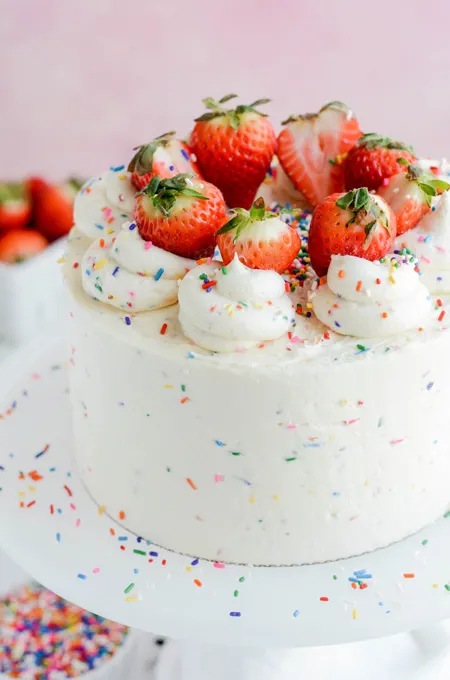 Strawberry Confetti Cake Baking Schedule
Day 1: Prepare strawberry filling and bake cake layers.
Day 2: Prepare cream cheese frosting, assemble and serve cake.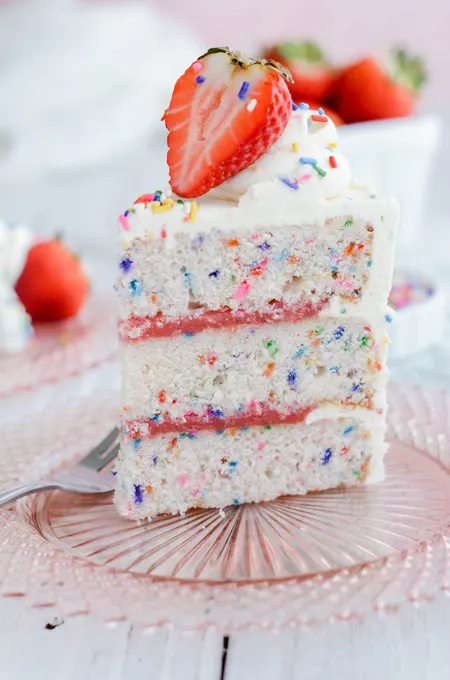 Lets Connect
The Cake Chica is on the following social media platforms below. Click subscribe, like and follow! We would love to have you over!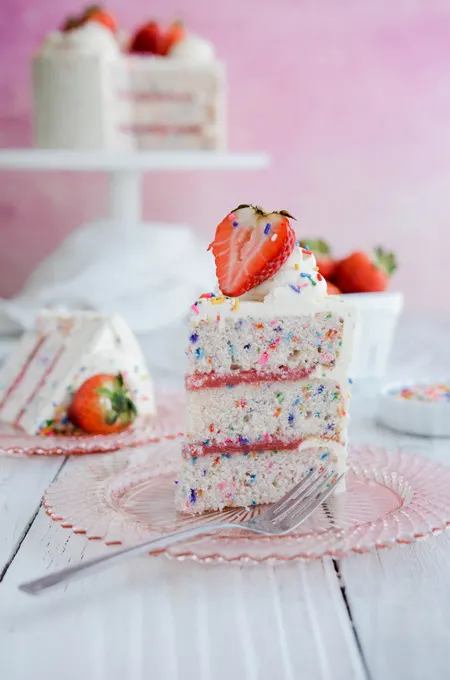 You May Also Like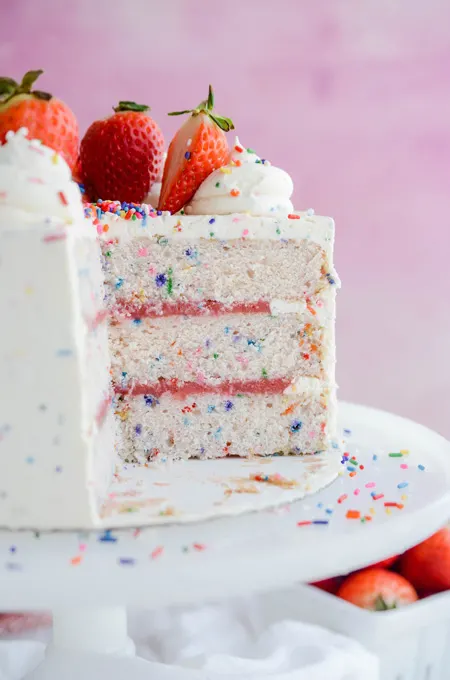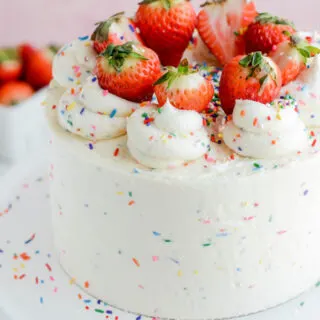 Strawberry Confetti Cake
Additional Time:
1 hour
15 minutes
Total Time:
3 hours
45 minutes
Three layers of homemade strawberry cake baked with sprinkles inside. Filled with strawberry filling and frosted with cream cheese frosting.
Ingredients
SPECIAL TOOLS
3 8-inch round cake pans
Nonstick baking spray
Fine mesh sieve
Stand mixer
Food processor
Cake turntable
8-inch cardboard cake round
Piping bags
Round piping tip
Ateco piping tip #808
Small offset cake spatula
Cake scraper
8-inch round acrylic disc or another 8-inch round cardboard cake round
STRAWBERRY CONFETTI CAKE
1/2 cup rainbow sprinkles
10 ounces frozen whole strawberries (2 cups)
¾ cup whole milk
6 large egg whites
2 teaspoons vanilla extract
2 ¼ cups (9 ounces) cake flour
1 ¾ cups (12 ¼ ounces) granulated sugar
4 teaspoons baking powder
1 teaspoon table salt
12 tablespoons unsalted butter, cut into 12 pieces and at room temperature
STRAWBERRY FILLING
12 ounces frozen strawberries, thawed
¼ (1.76 ounces) granulated sugar
3 tablespoons cornstarch, mixed with 3 tablespoons cold water
Fresh lemon juice, to taste
3 tablespoons Chambord, optional
CONFETTI CREAM CHEESE FROSTING
1 cup unsalted butter, at room temperature
3 cups (13.2 ounces) powdered sugar, sifted
2 teaspoons vanilla extract
½ teaspoons fresh lemon juice
Pinch of salt
16 ounces cream cheese, cut into cubes and softened
1/2 cup rainbow sprinkles
GARNISH
Fresh strawberries
Rainbow sprinkles
Instructions
STRAWBERRY CONFETTI CAKE
Adjust an oven rack to the middle position and heat oven to 350 degrees. Spray 3 8-inch round cake pans with nonstick baking spray and set aside. Pulse rainbow sprinkles in a food processor until coarsely ground, about 8 to 10 pulses and set aside.
Microwave strawberries in a microwavable bowl, covered, until strawberries have softened and are juicy, about 5 minutes. Place strawberries in a fine mesh sieve set over a small saucepan and press with a rubber spatula to extract as much juice from the strawberries as possible. Discard strawberry solids. Over medium-high heat, bring the strained strawberry juice to a boil, stirring occasionally until the juice turns into a syrup and measures about ¼ cup, about 6 to 8 minutes. Remove from the heat and stir in the milk. Transfer milk mixture to a clean bowl and whisk in the egg whites and vanilla extract until combined.
In the bowl of a stand mixer with the paddle attachment attached, mix the flour, sugar, baking powder and salt on low speed until combined. Add butter one piece at a time and mix until pea-sized pieces remain, about 1 minute. Add half of the milk mixture and increase the speed to medium-high and beat until light and fluffy, about 1 minute. Reduce the mixer speed to low and add in the remaining milk mixture and beat until combined, about 30 seconds. Give the batter a final stir by hand. Stir in the processed rainbow sprinkles into the cake batter.
Divide the batter between the prepared cake pans and smooth the tops out with a rubber spatula. Give the pans a few light taps on the counter to settle the batter and bake until a toothpick inserted in the center comes out with a few moist crumbs attached, about 30 to 35 minutes, rotating pans halfway through baking.
Let cakes cool in their pans for 10 minutes on wire racks, and then invert on to racks to cool completely, about 2 hours.

STRAWBERRY FILLING
Place thawed strawberries in a blender or food processor and puree until smooth. Over a bowl pour strawberry puree over a sieve to remove the solids. The puree will be thick. Use a spoon to stir and press the puree through the strainer.
Place strawberry puree in a small saucepan over medium-low heat. Add sugar and cornstarch mixture and bring to a simmer, stirring constantly to keep lumps from forming. Once the puree thickens, remove from the heat. Cool for 5 minutes and then add fresh lemon juice and Chambord. Chill for about 2-3 hours in the refrigerator until ready to use.

CONFETTI CREAM CHEESE FROSTING
In the bowl of a stand mixer fitted with the paddle attachment, beat the butter on medium speed for 5 minutes. Add the powdered sugar, vanilla extract, lemon juice and salt. Reduce the speed to low and beat for 1 minute.
Increase the speed to medium and beat until fluffy, about 4 minutes. Reduce the speed to medium-low and add the cream cheese and beat until smooth, about 1 minute. Do not over beat or the frosting will become soupy. Stir in the rainbow sprinkles.
ASSEMBLE

Place one cake layer on an 8-inch cake board and place on a cake turntable. Fit a piping bag with a round piping tip or coupler and fill with about 1 1/2 cups frosting. Pipe a frosting dam around the edge of the cake. Add half of the strawberry filling in the center and spread out the filling in an even layer until it reaches the frosting dam.
Place the second cake layer on top of the first one and gently press to adhere. Pipe another frosting dam around the edge of the cake and add the remaining strawberry filling in the center and in an even layer spread the filling until it reaches the frosting dam.
Top the cake with the last cake layer (bottom side up). Spread a thin layer of frosting over the top and sides of the cake to catch any loose cake crumbs. Be sure to not mix any of this frosting with your clean frosting. Place the cake in the refrigerator for at least 30 minutes to set.
Line an 8-inch acrylic disc with parchment paper by attaching it with a small amount of frosting. Apply a generous amount of frosting on the top of the cake and gently press the parchment paper lined disc on top, making sure it's even and level. Place one hand on the top of the disc and apply frosting to the sides of the cake using a small offset cake spatula. Once the sides are frosted, gently press a cake scraper slightly against the acrylic disc and bottom cake board and using the cake turntable smooth out the frosting with each rotation, removing extra frosting and adding more frosting where needed. Once the frosting is smooth, refrigerate the cake for 30 minutes before removing the acrylic disc or cake board.
Once the cake has chilled and set, remove the acrylic disc by gently placing a small offset cake spatula or knife between the top of the cake and under the disc and rotate the cake turntable until the disc releases. Remove the parchment paper. Apply more frosting on the top fixing any holes where needed and smooth out the frosting by pulling the frosting towards the center, cleaning your cake spatula with each sweep.
Place remaining frosting in a piping bag fitted with Ateco piping tip #808. Pipe 8 swirls along the top edges of the cake. Chill the cake for 15 minutes before topping with fresh strawberries and sprinkles. Sprinkle cake with a few more rainbow sprinkles and place a strawberry on top of each swirl and serve.

Notes
Cake layers can be stores wrapped in plastic wrap in an airtight container for up to 3 days. Assembled cake can be stored in the refrigerator for up to 3 days. Bring to room temperature before serving.
Nutrition Information:
Yield:

12
Serving Size:

1
Amount Per Serving:
Calories:

933
Total Fat:

60g
Saturated Fat:

27g
Trans Fat:

0g
Unsaturated Fat:

28g
Cholesterol:

174mg
Sodium:

734mg
Carbohydrates:

91g
Fiber:

2g
Sugar:

52g
Protein:

10g
*Nutrition information is an estimate and will vary.*