There's no need to pick up a pack of strawberry flavored gelatin for this recipe. This cake gets its flavor from real frozen strawberries! Plus, this Strawberry Cake From Scratch is tender and fluffy, thanks to the use of cake flour and the reverse creaming method.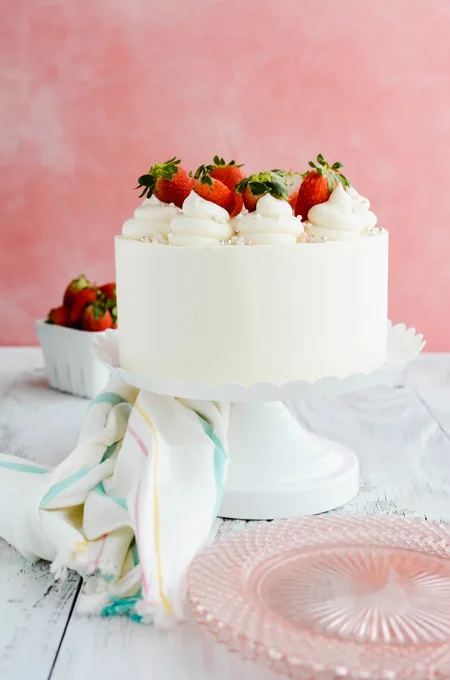 What Is The Reverse Creaming Method?
The Reverse Creaming Method is perfect for when you want a tender but sturdy cake with an ultrafine crumb. Using this method we mix the dry ingredients with the softened butter and add the liquid ingredients after.
The butter coats the dry ingredients minimizing the gluten development, therefore creating a tender and fine crumbed cake.
This also results in a more flat surfaced cake because less air is incorporated, which results in less rise and a sturdier cake.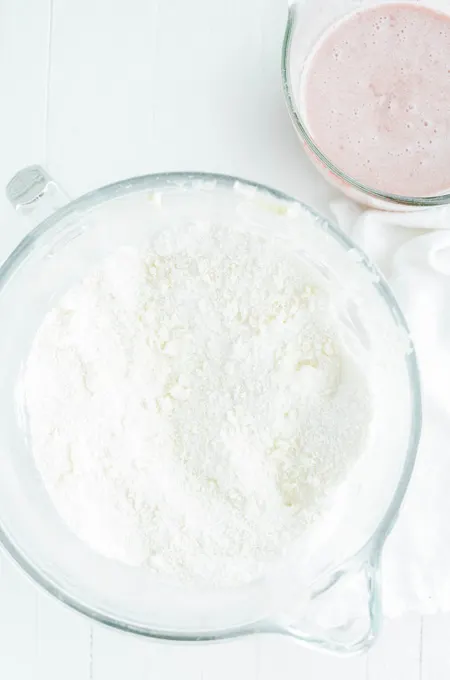 Strawberry Cake From Scratch Ingredients
Frozen strawberries: This recipes only uses the juice from the strawberries. Adding the strawberry solids to this cake batter would be too much for this delicate cake. Save the strawberry solids for another use or toss.
Whole milk: The fat in whole milk helps to tenderize the cakes crumb. It also interacts with the flour to create just enough gluten to form the cakes structure.
Egg whites: helps create structure.
Vanilla extract: helps balance the flavors.
Cake flour: has a lower protein content than all-purpose flour which helps create a delicate crumb.
Granulated sugar: Sugar not only sweetens the cake but it also helps tenderize, leavens and browns.
Baking powder: is a leavener that contains baking soda and cornstarch. Baking soda reacts twice. The first is when it comes into contact with liquid and then when it is heated. Baking soda can't be used as a substitute for baking powder.
Salt: helps bring out the sweetness in the cake.
Unsalted butter: tenderizes, moistens, leavens, browns, and flavors.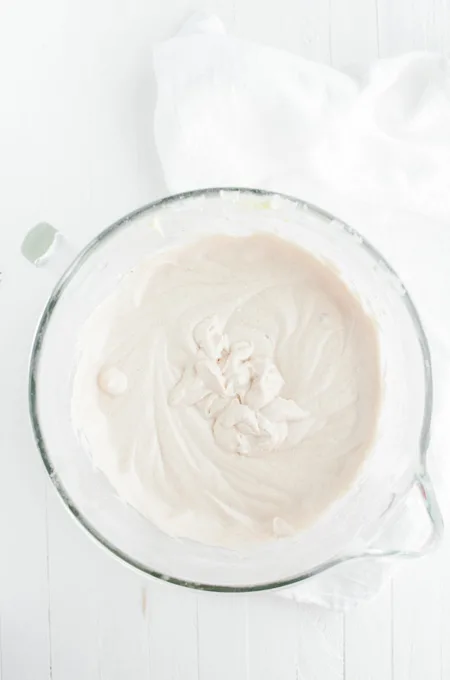 Strawberry Filling
This is my favorite fruit filling and I have been using it for years! It's in my White Cake with Strawberry Filling and Champagne Cake with Strawberry Filling. It's easy to make and can easily be customized simply by switching out the frozen fruit.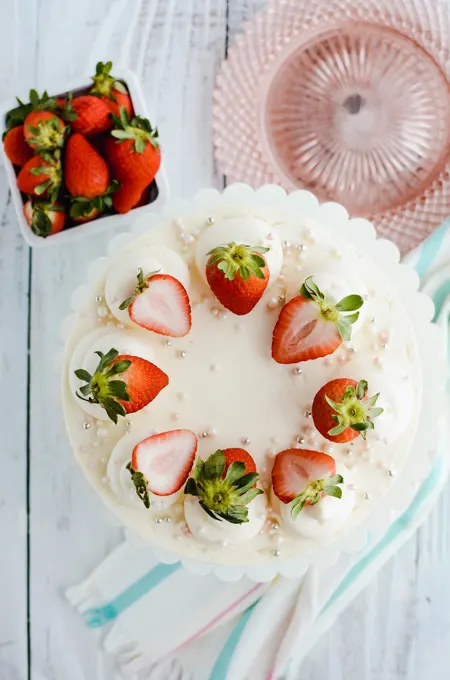 Fluffy Cream Cheese Frosting Tips:
Make sure your butter and cream cheese are very soft.
The cream cheese is added in last. Be sure all the other ingredients are well mixed before adding the cream cheese in for a super smooth frosting.
Don't over mix the frosting once the cream cheese has been added or it will turn soupy.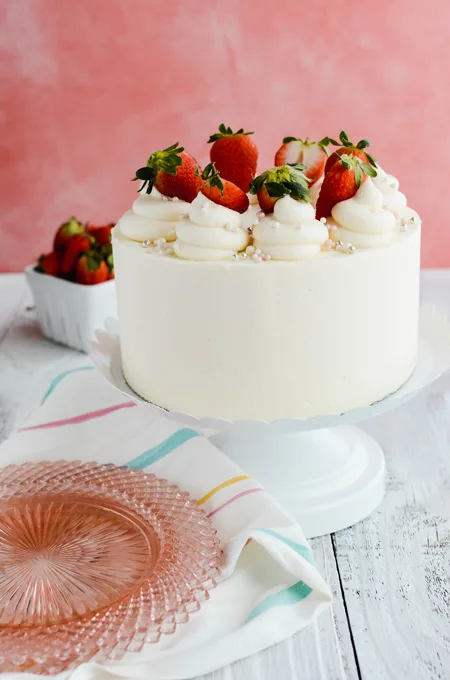 What Is A Crumb Coat And Why You Should Do It
A crumb coat is a thin layer of frosting.
A crumb coat helps hold in the cake crumbs and helps prevent the crumbs from getting into the final layer of frosting.
After crumb coating you should chill the cake in the refrigerator for at least 30 minutes.
A chilled cake is easier to frost and decorate than a room temperature cake.

Cake Decorating Tools For Strawberry Cake From Scratch
Assorted sprinkles and dragees
Fresh strawberries
Baking Schedule for Strawberry Cake From Scratch
Day 1: Make the Strawberry Filling and store in the refrigerator. This filling can be made 5 days in advance.
Day 2: Bake the Strawberry Cake Layers. Once the cake layers have cooled, wrap in plastic wrap stored in an airtight cake container on the counter for up to 2 days.
Day 3: Make the Cream Cheese Frosting and assemble cake and decorate.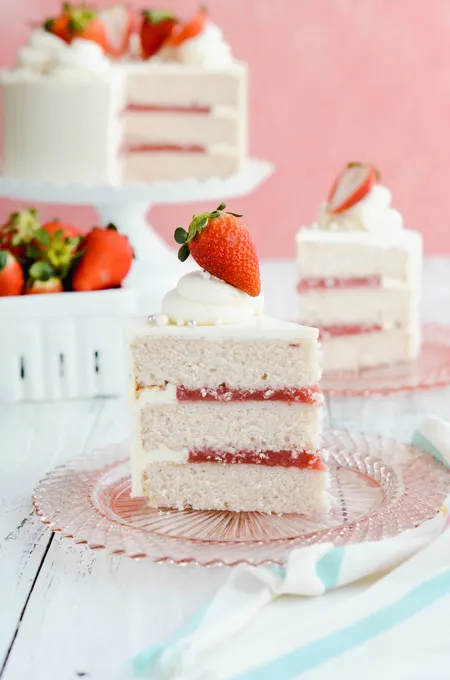 Lets Connect
The Cake Chica is on Facebook sharing sneak peek pics of recipes coming up. Or on Instagram to take a quick look at recipes by photos! And on Pinterest for your recipe board pinning needs!

You May Also Like: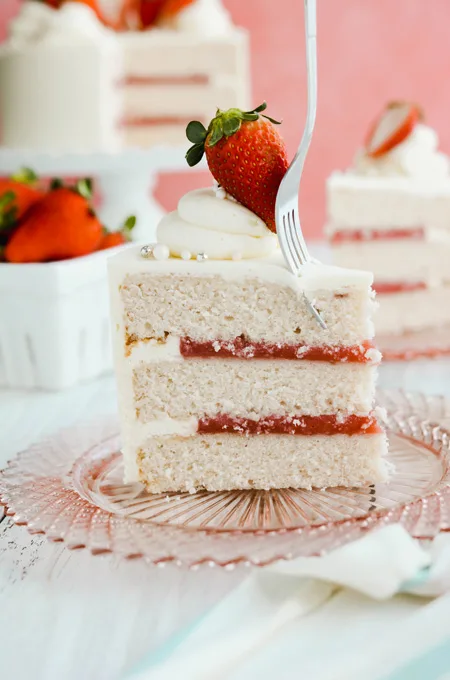 Adapted from The Perfect Cake by America's Test Kitchen, The Sweetapolita Bakebook by Rosie Alyea, and Melysa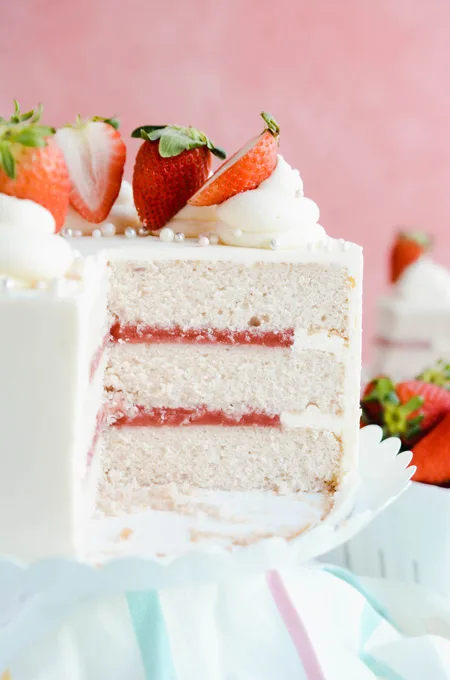 ---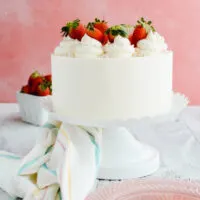 Strawberry Cake From Scratch
Prep Time:
1 hour
30 minutes
Total Time:
1 hour
50 minutes
Homemade Strawberry Cake made with strawberry juice and filled with strawberry filling and frosted with cream cheese frosting.
Ingredients
SPECIAL TOOLS
Nonstick baking spray
3 8-inch round cake pans
Stand mixer
Food processor or blender
Piping bags
Coupler or round piping tip
Ateco piping tip # 808
Cake turntable
8-inch round cake board
Offset cake spatula
8-inch round acrylic disc
Parchment paper
Cake scraper
STRAWBERRY CAKE
10 ounces frozen whole strawberries (2 cups)
¾ cup whole milk
6 large egg whites
2 teaspoons vanilla extract
1 teaspoon strawberry extract or strawberry emulsion
2 ¼ cups (9 ounces) cake flour
1 ¾ cups (12 ¼ ounces) granulated sugar
4 teaspoons baking powder
1 teaspoon table salt
12 tablespoons unsalted butter, cut into 12 pieces and at room temperature
STRAWBERRY FILLING
12 ounces frozen strawberries, thawed
¼ cup (1.76 ounces) granulated sugar
3 tablespoons cornstarch, mixed with 3 tablespoons cold water
Fresh lemon juice, to taste
3 tablespoons Chambord, optional
CREAM CHEESE FROSTING
1 cup unsalted butter, at room temperature
3 cups (13.2 ounces) powdered sugar, sifted
2 teaspoons vanilla extract
½ teaspoons fresh lemon juice
Pinch of salt
16 ounces cream cheese, cut into cubes and softened
GARNISH
Instructions
STRAWBERRY CAKE
Adjust an oven rack to the middle position and heat oven to 350 degrees. Spray 3 8-inch round cake pans with nonstick baking spray and set aside.
Microwave strawberries in a microwavable bowl, covered, until strawberries have softened and are juicy, about 5 minutes. Place strawberries in a fine mesh strainer set over a small saucepan and press with a rubber spatula to extract as much juice from the strawberries as possible. Discard strawberry solids or save for another use. Over medium-high heat, bring the strained strawberry juice to a boil, stirring occasionally until the juice turns into a syrup and measures about ¼ cup, about 6 to 8 minutes. Remove from the heat and stir in the milk. Transfer milk mixture to a clean bowl and whisk in the egg whites vanilla extract and strawberry extract until combined.
In the bowl of a stand mixer with the paddle attachment attached, mix the flour, sugar, baking powder and salt on low speed until combined. Add butter one piece at a time and mix until pea-sized pieces remain, about 1 minute. Add half of the milk mixture and increase the speed to medium-high and beat until light and fluffy, about 1 minute. Reduce the mixer speed to low and add in the remaining milk mixture and beat until combined, about 30 seconds.
Divide the batter between the prepared cake pans and smooth the tops out with a rubber spatula. Give the pans a few light taps on the counter to settle the batter and bake until a toothpick inserted in the center comes out with a few moist crumbs attached, about 20 to 25 minutes, rotating pans halfway through baking.
Let cakes cool in their pans for 10 minutes on wire racks, and then invert on to racks to cool completely, about 2 hours.
STRAWBERRY FILLING

Place thawed strawberries in a blender or food processor and puree until smooth. Over a bowl pour strawberry puree over a sieve to remove the solids. The puree will be thick. Use a spoon to stir and press the puree through the strainer.
Place strawberry puree in a small saucepan over medium-low heat. Add sugar and cornstarch mixture and bring to a simmer, stirring constantly to keep lumps from forming. Once the puree thickens, remove from the heat. Cool for 5 minutes and then add fresh lemon juice and Chambord. Chill for about 2-3 hours in the refrigerator until ready to use.
CREAM CHEESE FROSTING

In the bowl of a stand mixer fitted with the paddle attachment, beat the butter on medium speed for 5 minutes. Add the powdered sugar, vanilla extract, lemon juice and salt. Reduce the speed to low and beat for 1 minute.
Increase the speed to medium and beat until fluffy, about 4 minutes. Reduce the speed to medium-low and add the cream cheese and beat until smooth, about 1 minute. Do not over beat or the frosting will become soupy.

ASSEMBLE
Center the first cake layer on a cake board and place on a cake turntable. Fit a piping bag with a coupler or a plain round piping tip. Fill the piping bag with about 1 cup frosting.
Pipe a frosting dam around the top edge of the cake layer. Spread half of the strawberry filling on top in an even layer all the way out until it meets the frosting dam. Place the second cake layer on top and pipe a frosting dam around the edge. Spread the remaining filling in the center and spread out in an even layer.
Place the third cake layer on top (bottom side up) and spread about 1 1/2 cups of frosting over the top and sides of the cake, creating a crumb coat. Be sure to keep a separate bowl on hand to wipe off your cake spatula so you don't get any crumbs in your bowl of clean frosting. Chill the cake in the refrigerator for at least 30 minutes.
Cut out an 8-inch round piece of parchment paper to line your acrylic disc with. (This will help keep the disc from sticking to your frosting when you remove the disc.) Spread a small amount of frosting on your acrylic disc and attach the parchment paper to it.
Place a generous amount of frosting on the top of your cake and spread it out to the edges of the cake. You should have extra frosting hanging over the edges. Gently press your disc on top (parchment side down) of the cake making sure it's even with the cake board on the bottom. Once it is centered, apply a generous amount of frosting to the sides of the cake.
Once you have the sides frosted, take a cake scraper and gently press it against the cake board and the acrylic disc. Rotate the cake turntable until your frosting is smooth, applying additional frosting to areas that need it. Chill in the refrigerator for another 30 minutes.
Gently remove the cake disc with your cake spatula by gently turning the cake turntable until it loosens the acrylic disc. Remove the parchment paper and fill in any gaps or holes if needed with more frosting.
DECORATING

Place remaining frosting in a piping bag fitted with Ateco piping tip #808. Pipe 8 dollops of frosting around the top edge of the cake and place a fresh strawberry on top of each dollop. Add sprinkles and dragees if desired. Carefully remove the cake from the turntable and place on a cake pedestal and serve.

Notes
Cake layers can be made up to 3 days in advance.
Filling can be made up to 5 days in advance.
Assembled cake can be stored in an airtight cake container in the refrigerator for up to 1 day. Bring to room temperature before serving.
Nutrition Information:
Yield:

12
Serving Size:

1
Amount Per Serving:
Calories:

673
Total Fat:

43g
Saturated Fat:

25g
Trans Fat:

0g
Unsaturated Fat:

15g
Cholesterol:

119mg
Sodium:

539mg
Carbohydrates:

66g
Fiber:

2g
Sugar:

40g
Protein:

8g
*Nutrition information is an estimate and will vary.*