S'mores just makes me think of summer. I've already made a S'mores Layer Cake so why not S'mores Chocolate Chip Cookies! I took my favorite classic…the chocolate chip cookie, and added browned butter, graham cracker crumbs, chocolate chips and of course mini marshmallows! I'm making this cookie the official cookie of summer!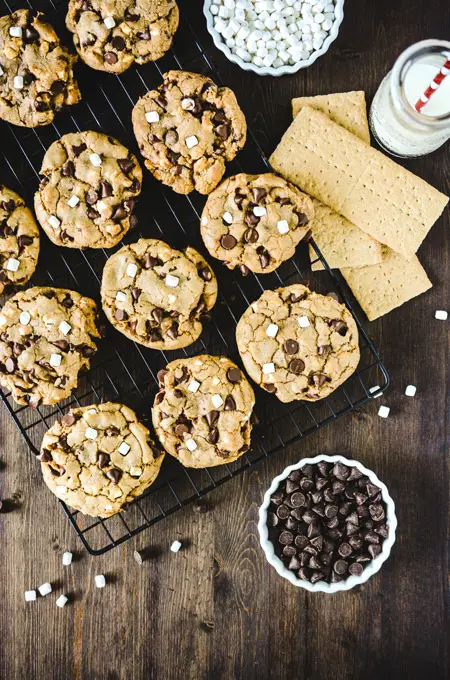 Why Browned Butter
Okay so you don't have to use browned butter but I choose to because I wanted a deep toasty flavor that browned butter gives to the cookies. I took a play from America's Test Kitchen's Perfect Chocolate Chip Cookies and incorporated the browned butter method into my S'mores Chocolate Chip Cookies.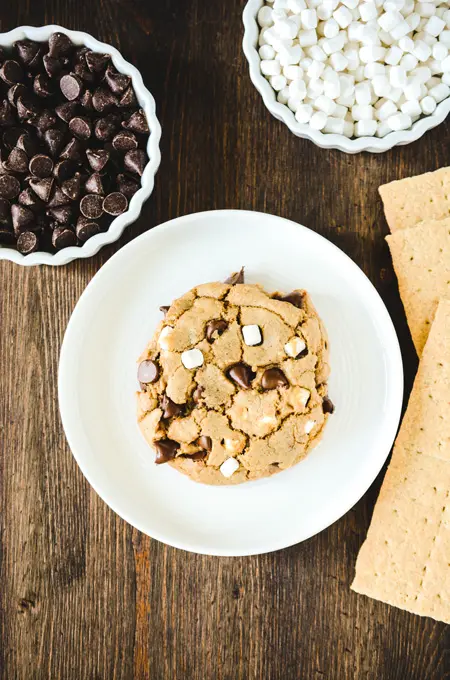 Cookie Size
If you're looking for a cookie with a chewy middle with crisp edges then 3 tablespoons of cookie dough is the perfect size. Bigger cookies provide more contrast, giving you more chewy centers with crisp edges. Smaller cookies will be more uniform in texture.
To get the perfect 3 tablespoon sized cookie dough balls, I use a 3 tablespoon sized ice cream scoop. It's not necessary but is a great way to create uniform cookie sizes. And a 3 tablespoons sized ice cream scoop is perfect for filling cupcake pans!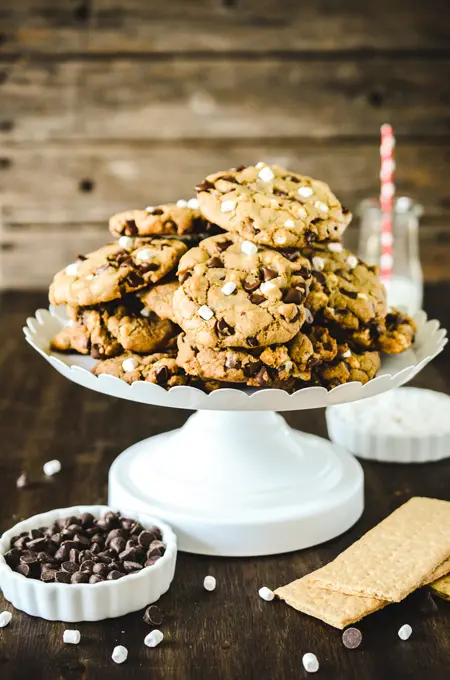 Graham Cracker Crumbs
Stores sell prepackaged graham cracker crumbs and yes it would be a lot easier than grinding them yourself, however sometimes those crumbs are not the freshest and I want only the best for my cookies. I prefer to use my food processor to grind up the whole graham cracker myself. If you don't have a food processor, you can place the graham crackers in a zip top bag and use a rolling pin to grind the crackers up. Eight graham cracker cookies should yield about 1 cup cookie crumbs for this recipe.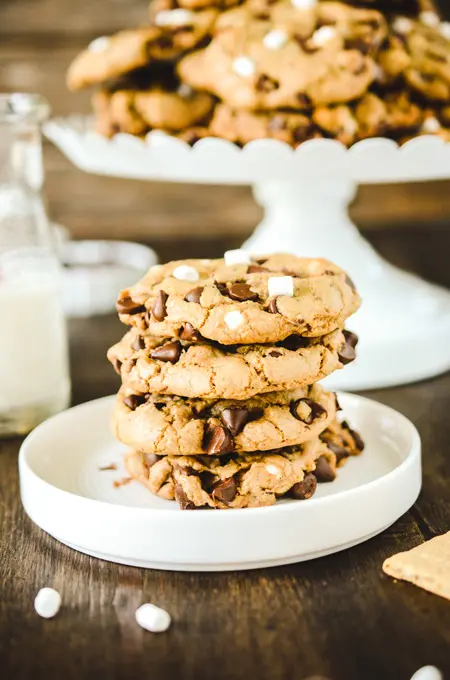 Chocolate Chips
Full transparency…I added way too many chocolate chips to the cookie dough so I've reduced them to just 1 12-ounce pack. But you can keep a few extra chocolate chips on hand to press into each cookie dough ball for looks. Chocolate chunks would also work great as a substitute for chocolate chips if you're feeling wild.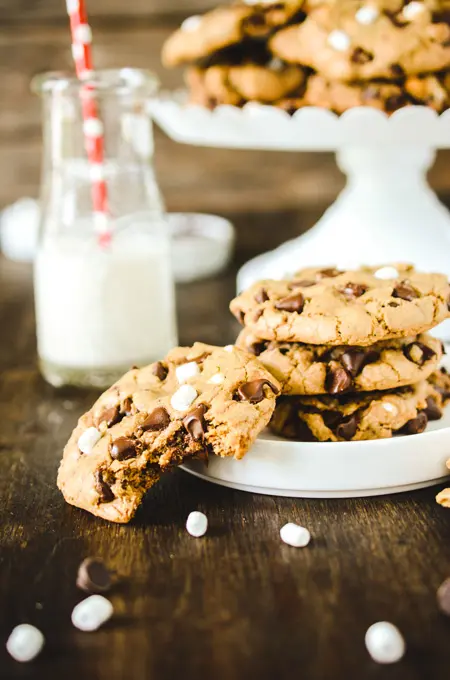 Marshmallows
I had lots of left over dehydrated marshmallows from my S'mores Layer Cake so I thought they would be perfect for my S'mores Chocolate Chip Cookies. If you can't find dehydrated marshmallows at your grocery store you can buy them online, like I did.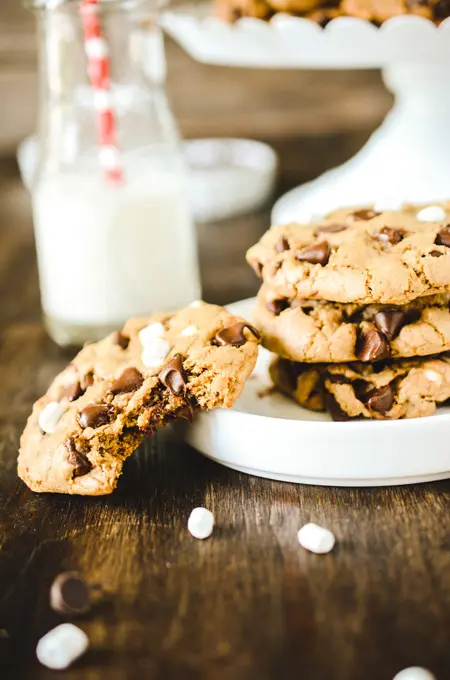 Lets Connect
The Cake Chica is on Facebook sharing sneak peeks of recipes to come, Instagram for you food porn desires and Pinterest for your recipe board pinning needs!
You May Also Like
---
Adapted from Bake From Scratch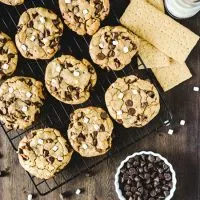 S'mores Chocolate Chip Cookies
Sweet and buttery chocolate chip cookies made with graham crackers, chocolate chips and dehydrated marshmallows, with a touch of cinnamon.
Ingredients
¾ cup unsalted butter
1 cup (7 ounces) firmly packed dark brown sugar
1/3 cup (4 ounces) granulated sugar
2 teaspoons vanilla extract
1 teaspoon kosher salt
2 large eggs
2 cups (10 ounces) all-purpose flour
1 cup graham cracker crumbs, about 8 graham crackers
1 teaspoon baking soda
1 teaspoon ground cinnamon
1 12-ounce packs semi sweet chocolate chips
Instructions
Adjust an oven rack in the center of the oven and heat oven to 350 degrees. Line a baking sheet with parchment paper or silicone mat and set aside.
Melt butter in a stainless steel skillet over medium heat. Cook swirling the melted butter constantly until the butter has turned golden brown and has a nutty aroma, about 3 minutes. Transfer melted butter to a large bowl and whisk in the brown sugar, granulated sugar, vanilla, and salt until combined. Add in the eggs and whisk until smooth. Let the mixture sit for 3 minutes, and then whisk for 30 seconds. Repeat this process of resting and whisking 2 more times until the mixture is thick, smooth and shiny.
In a medium bowl, whisk together the flour, graham cracker crumbs, baking soda and cinnamon.
Gradually add the flour mixture to the butter mixture, stirring with a rubber spatula to combine. Stir in chocolate chips and marshmallows and mix to combine. Using an ice cream scoop 3 tablespoons in size, scoop out cookie dough and place on the prepared baking sheet 2 inches apart.
Bake for 10-12 minutes, and then let cool on the baking sheet of 5 minutes. Remove cookies from the baking sheet to a wire rack to cool completely.
Notes
Storage: Cookies can be kept in an airtight container at room temperature for up to 3 days.
Nutrition Information:
Yield:

24
Serving Size:

1
Amount Per Serving:
Calories:

225
Total Fat:

11g
Saturated Fat:

6g
Trans Fat:

0g
Unsaturated Fat:

4g
Cholesterol:

31mg
Sodium:

191mg
Carbohydrates:

30g
Fiber:

1g
Sugar:

16g
Protein:

3g
*Nutrition information is an estimate and will vary.*