Get the best of both worlds in these Peanut Butter Chocolate Chip Cookies. With a cookie base that is full of peanut butter flavor from the freshly chopped peanuts and peanut butter, plus, the addition of sweet chocolate chips added, there'll be no need to decide on which cookie recipe to make when you can make two in one!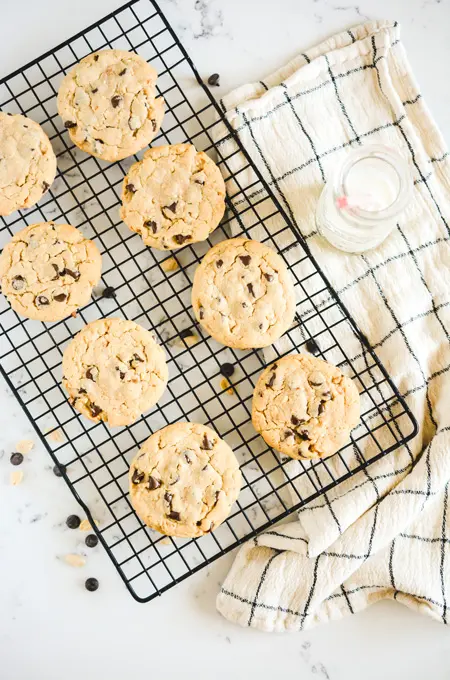 Softened Butter
It's important to start your cookie dough with softened butter. This effects the texture and finish of the cookie. I make sure my softened butter is around 65-67 degrees when using. Taking your butter out of the refrigerator anywhere from 30 minutes to 1 hour before you start the dough should achieve this depending on the temperature of your room. Your stick of butter should bend easily without breaking.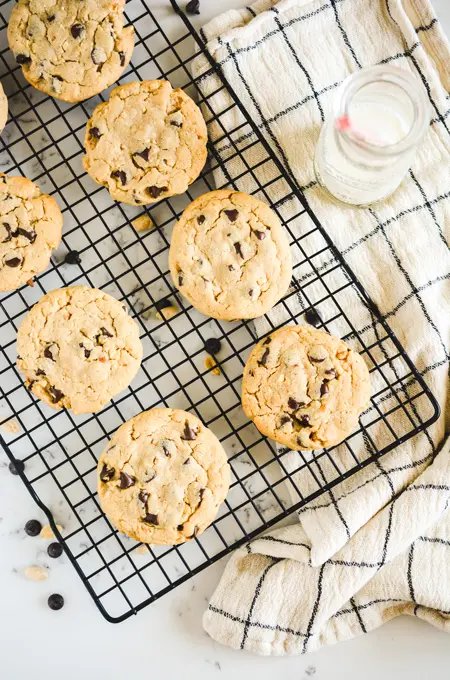 Sugars
This recipe uses a mix of white sugar and brown sugar. Granulated sugar helps give the cookies crisp edges, while the brown sugar helps give the cookies added flavor and chew.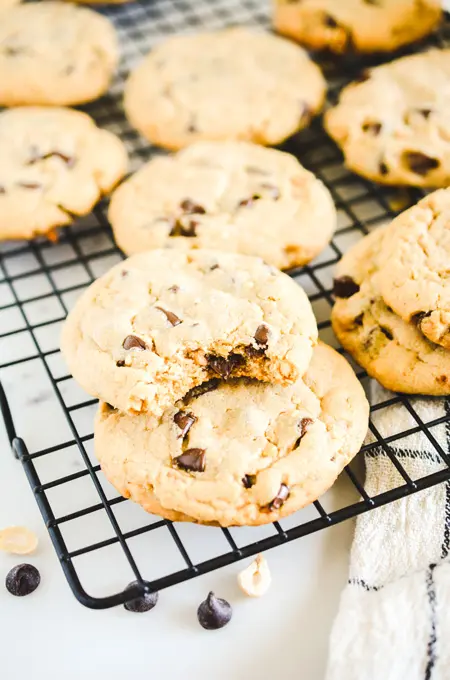 Chocolate Chips
Chocolate chips have stabilizers that help it keep its shape while baking, making them the perfect addition for cookies.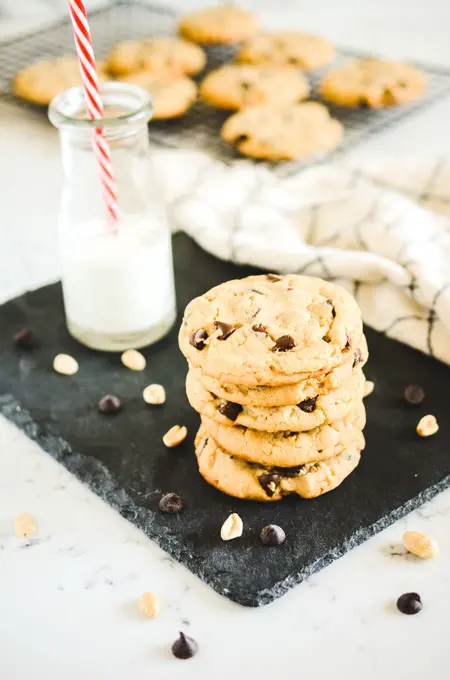 Lets Connect
The Cake Chica is on Facebook sharing sneak peeks of recipes coming up, on Instagram for your food porn desires and Pinterest for your recipe pinning needs!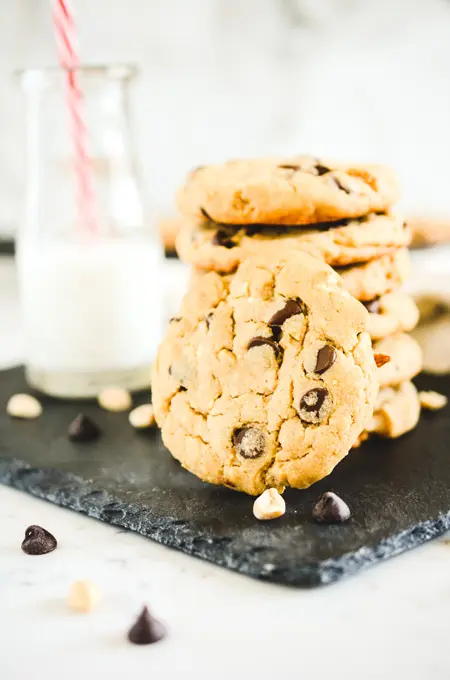 You May Also Like
---
Recipe inspired by From Crook to Cook by Snoop Dogg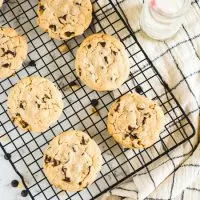 Peanut Butter Chocolate Chip Cookies
Additional Time:
8 minutes
These cookies are full of chopped peanuts and sweet chocolate chips, giving you the best of both worlds!
Ingredients
SPECIAL TOOLS
COOKIES
1 cups salted dry roasted peanuts
2 1/2 cups (12.5 ounces) all-purpose flour
1 teaspoon salt
1/2 teaspoon baking powder
1/2 teaspoon baking soda
16 tablespoons (2 sticks) unsalted butter, softened, about 65 to 67 degrees
1 cup (7 ounces) packed light brown sugar
1 cup (7 ounces) granulated sugar
1 cup extra crunchy peanut butter, such as Skippy
2 teaspoon vanilla extract
2 large eggs
2 cups chocolate chips
Instructions
COOKIES
Adjust an oven rack to the center position and heat oven to 350 degrees. Line baking sheet with parchment paper or silicone mat and set aside. In a food processor, pulse peanuts to fine crumbs, about 14 pulses. In a large bowl, whisk together the flour, salt, baking powder and baking soda until combined and set aside.
In a stand mixer with the paddle attachment attached, beat the butter, brown sugar, and granulated sugar together on medium speed until fluffy and pale in color, about 3 minutes. Add peanut butter and beat until combined, about 30 seconds. Add vanilla and the eggs one at a time and beat until combined, about 30 seconds scraping down the bowl as needed. Reduce the speed to low and add the flour mixture a little at a time and beat until combined, about 30 seconds. Add in the ground peanuts and mix until combined. Add chocolate chips and give the dough a final stir by hand to ensure all the ingredients are blended, and no flour remains. Chill dough in the refrigerator for about 15 minutes.
Grab 3 tablespoons of dough and roll into a ball. Place balls 2 inches apart on the prepared cookie sheet. Press each dough ball gently with the palm of your hand. Bake cookies until the edges are golden and the centers are puffy, about 10 to 12 minutes, rotating pan halfway through baking. Let cookies cool on the baking sheet for 8 minutes before removing to cool on wire racks completely.
Notes
Storage: Cookies can be stored in an air tight container for plastic zip top bag at room temperature for up to 7 days.
Frozen: Raw cookies can be frozen for up to one month. Bake frozen cookie dough balls in a 300 degree oven for 20 minutes.
Nutrition Information:
Yield:

32
Serving Size:

1
Amount Per Serving:
Calories:

198
Total Fat:

14g
Saturated Fat:

6g
Trans Fat:

0g
Unsaturated Fat:

6g
Cholesterol:

27mg
Sodium:

189mg
Carbohydrates:

17g
Fiber:

2g
Sugar:

7g
Protein:

4g
*Nutrition information is an estimate and will vary.*