Please note that some of the links in this post are affiliate links and I will earn a commission if you purchase through those links.
Used with permission from Cook's Illustrated
When some people hear "turkey chili" they might roll their eyes a little, similar to what my husband does. I get it. You might miss the flavor and heartiness of beef in a traditional chili, but this Simple Turkey Chili with Kidney Beans is anything but typical. This is an easy recipe but does take some time, but most of it is just simmering time. Keep reading to find out what makes this turkey chili different from some of the others you may have had.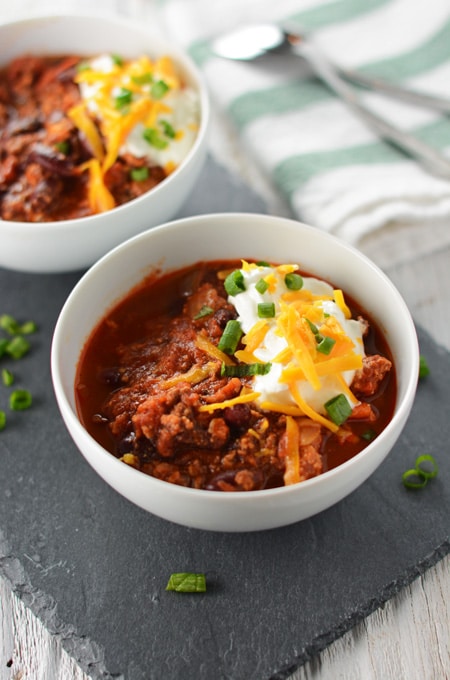 Because adding the turkey in the beginning of the cooking process breaks down into tiny pieces, it is best to reserve some of the meat and add it to the chili later. This will also give the chili an appealing chunky, crumbled texture, similar to ground beef.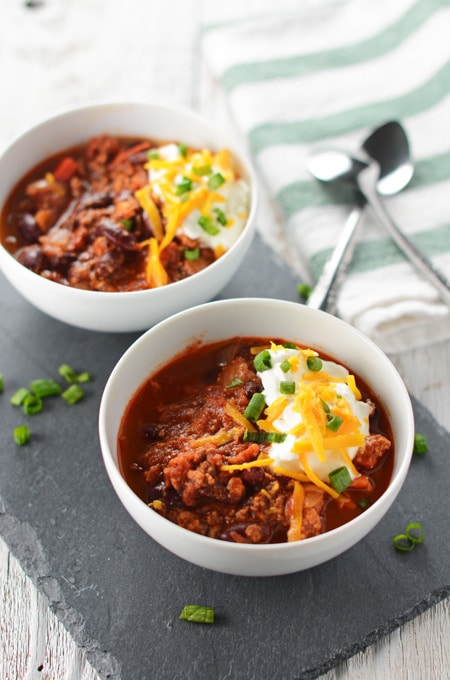 Here are some of the tweaks Americas Test Kitchen did to create this amazing Simple Turkey Chili with Kidney Beans. Adding the spices with the veggies boosted the potency of the aromatics. Then, the beans were added with the tomatoes so that they cooked enough to absorb the flavor, but not so much that they fell apart.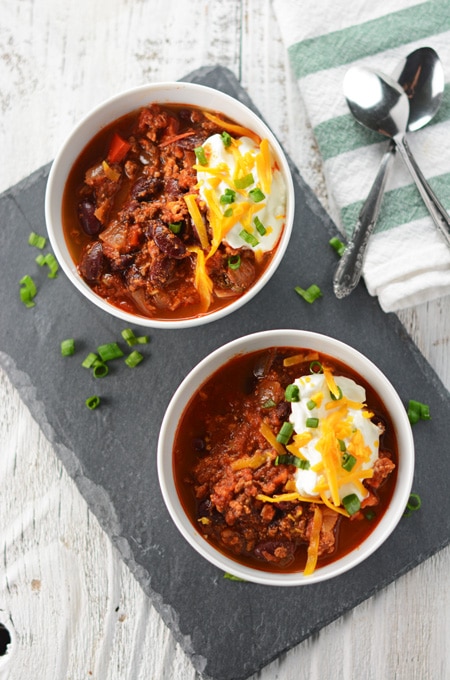 Top it all off with some of your favorite chili toppings such as, diced tomatoes, diced avocado, sliced scallions, chopped red onion, cilantro leaves, sour cream and shredded cheese.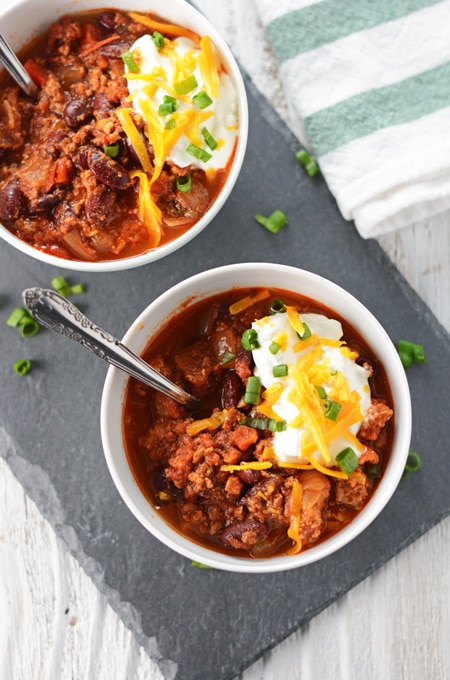 Don't miss a recipe. Subscribe to today and receive recipes straight to your inbox. Also follow me on social media Facebook, Instagram, Twitter, Pinterest and don't forget to Yum some recipes!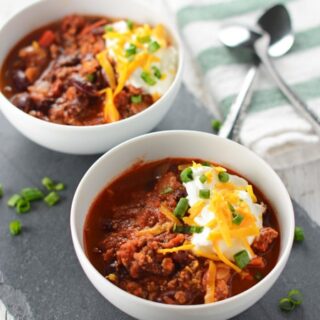 Simple Turkey Chili with Kidney Beans
Total Time:
2 hours
10 minutes
This may be the best turkey chili you'll ever have! Made with ground turkey, turkey meatballs, bell pepper, onion and a chili spice blend.
Ingredients
2 tablespoons vegetable oil
2 medium organic onions, chopped, about 2 cups
1 organic red bell pepper, cut into 1/2-inch cubes
6 organic garlic cloves, minced
2 pounds 93% lean organic ground turkey
2 15.5-ounce organic red kidney beans, rinsed and drained
Garnishes
Instructions
Heat oil in large heavy-bottomed nonreactive Dutch oven over medium heat until shimmering but not smoking, 3 to 4 minutes. Add onions, bell pepper, garlic, chili powder, cumin, coriander, pepper flakes, oregano, and cayenne; cook, stirring occasionally, until vegetables are softened and beginning to brown, about 10 minutes. Increase heat to medium-high and add half the turkey; cook, breaking up pieces with wooden spoon, until no longer pink and just beginning to brown, 3 to 4 minutes.
Add beans, diced tomatoes, crushed tomatoes, chicken broth, and 1 teaspoon salt; bring to boil, then reduce heat to low and simmer, uncovered, stirring occasionally, for 1 hour. Pat remaining 1 pound turkey together into ball, then pinch off teaspoon-sized pieces of meat and stir into chili. Continue to simmer about 40 minutes longer, stirring occasionally (if chili begins to stick to bottom of pot, stir in 1/2 cup water and continue to simmer), until turkey is tender and chili is dark and slightly thickened. Adjust seasoning with additional salt. Serve with lime wedges and condiments if desired.
Notes
*Nutrition information is an estimate and will vary.*
Nutrition Information:
Yield:

8
Serving Size:

1
Amount Per Serving:
Calories:

375
Total Fat:

12g
Saturated Fat:

2g
Cholesterol:

95mg
Sodium:

667mg
Carbohydrates:

32g
Fiber:

11g
Sugar:

10g
Protein:

35g
*Nutrition information is an estimate and will vary.*
You May Also Like: