This is your favorite campfire snack in cupcake form! And in my opinion these are far better than the traditional S'more. I usually find S'mores to be a little on the sweet side. But these cupcakes are light and airy. And made with a Cinnamon Cake that's filled with a sweet Chocolate Fudge Filling and frosted with Marshmallow Frosting. For garnish I used my kitchen torch for roasting the decorative ridges on the Marshmallow Frosting and topped each cupcake off with graham cracker crumbs. Needless to say, you're in for a real treat with these Roasted S'mores Cupcakes!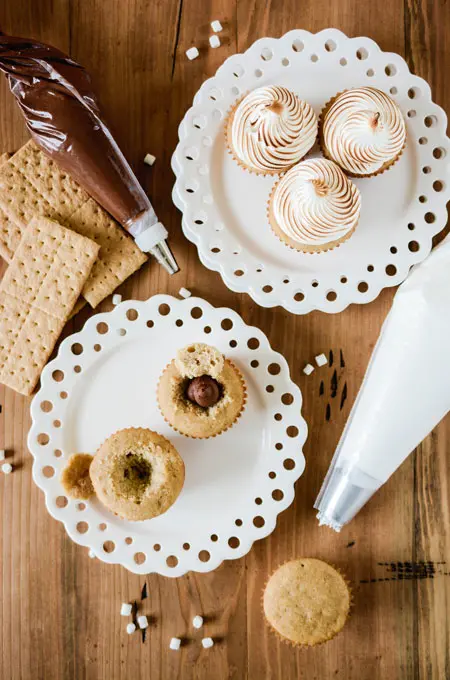 What Makes These Cinnamon Cupcakes So Light And Airy?
These cupcakes are light and airy thanks to the cake flour that's used in this recipe. Cake flour has less protein in it than all-purpose flour. More protein means more gluten development, which translates into more structured cakes, which is perfect for chocolate cakes.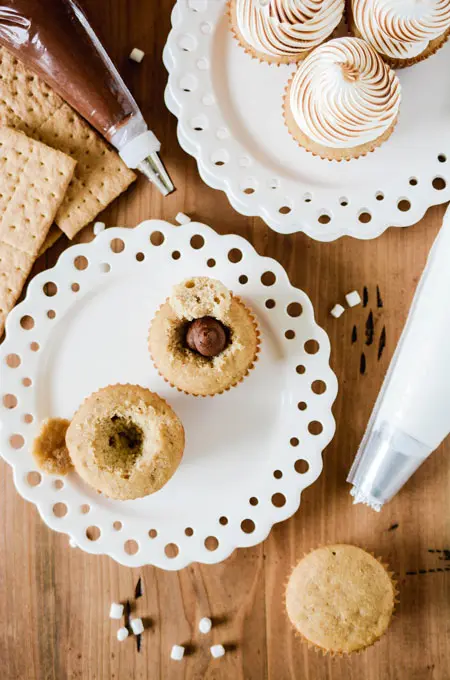 Chocolate Fudge Filling
Talk about the perfect filling for these Roasted S'mores Cupcakes. It's easy to make and in my opinion lends the perfect amount of sweetness to this light cupcake. If you want to add a little more sweetness to the filling, you can use milk chocolate in place of the semi sweet chocolate called for in this recipe.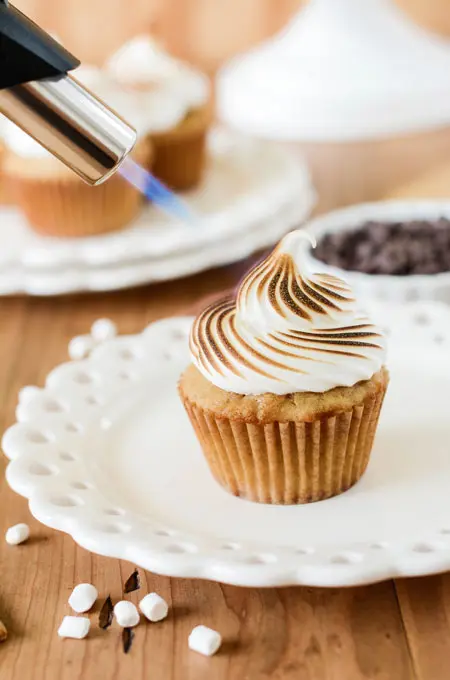 Marshmallow Frosting
You're going to fall in love with this frosting, I promise. It's incredibly billowy and light. And the flavor is…..well…it's homemade marshmallow. What's not to love?
Marshmallow Frosting Tips
Make sure your stainless steel mixer bowl is clean. Any trace of grease could keep your eggs from whipping up properly.
Keep you egg whites free of egg yolk. Any bit of yolk will also keep your egg whites from whipping up.
I always use a separate bowl to crack my egg whites in before I add them to my mixer bowl. This keeps me from ruining all the egg whites if I accidentally get egg yolk in one.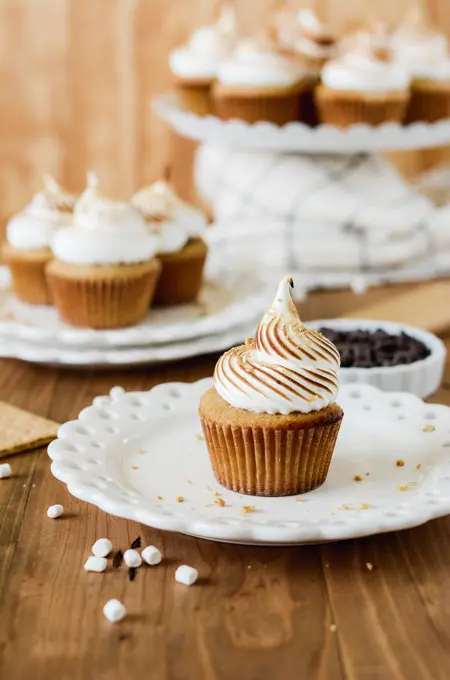 Plan It Out
Since these Roasted S'mores Cupcakes have multiple parts I like to plan recipes like this out. Here's what my schedule looked like:
Day 1:

Bake the cupcakes.

Day 2:

Prepare the Chocolate Fudge Filling and Marshmallow Frosting. And assemble cupcakes and serve.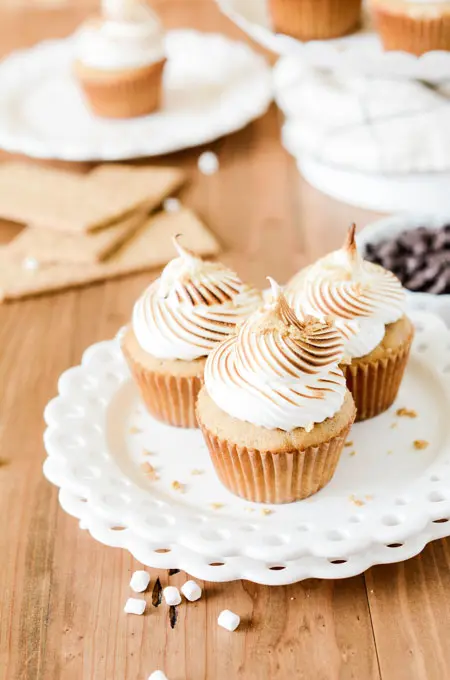 Cupcake Assembly Tips
Use a spring loaded ice cream scoop that measures 3 tablespoons. This is the perfect size for cupcakes and helps keep the cupcakes all the same size so they bake at the same time.
The Chocolate Fudge Filling is pretty thick so I found the easiest (and cleanest) way to fill the cupcakes is by attaching a Wilton #12 piping tip to a piping bag and fill the piping bag with the filling. Then pipe the filling into the cupcakes.
I love using the large pastry tips to ice cupcakes. They are the perfect size. I used Ateco #869 for these cupcakes. They help give the cupcakes a professional look.
Be sure you roast the marshmallow frosting before adding your graham cracker crumbs to the top of the cupcakes.
Let's Connect
The Cake Chica is on Facebook sharing sneak peeks of recipes to come, Instagram for your food porn desires and Pinterest for your board pinning needs.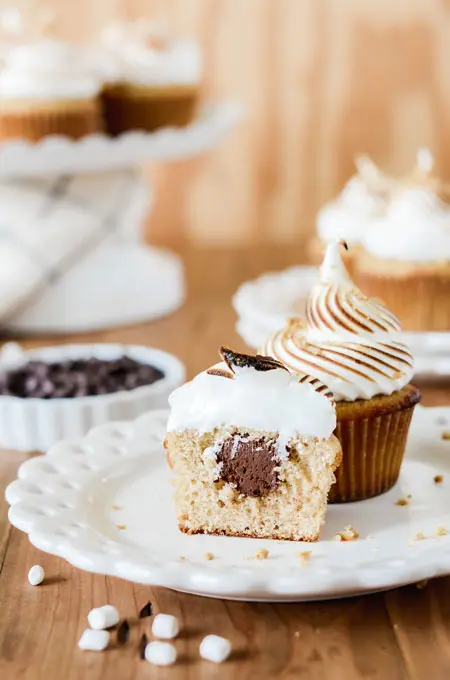 Cupcake Storage
Cupcakes can be stored in an airtight container at room temperature for up to 1 day or in the refrigerator for up to 2 days. Bring to room temperature before serving.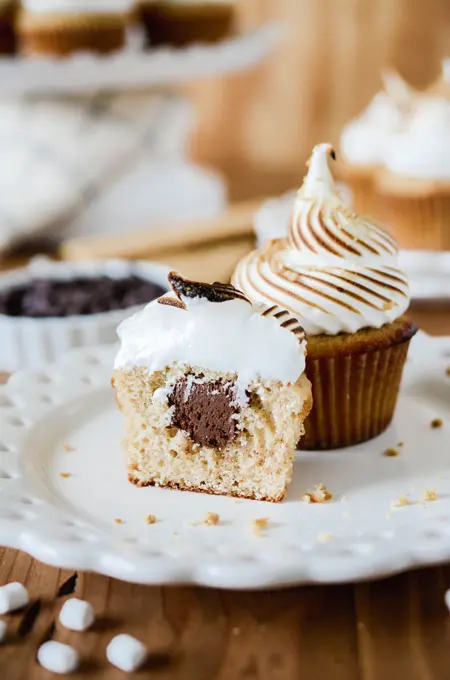 You May Also Like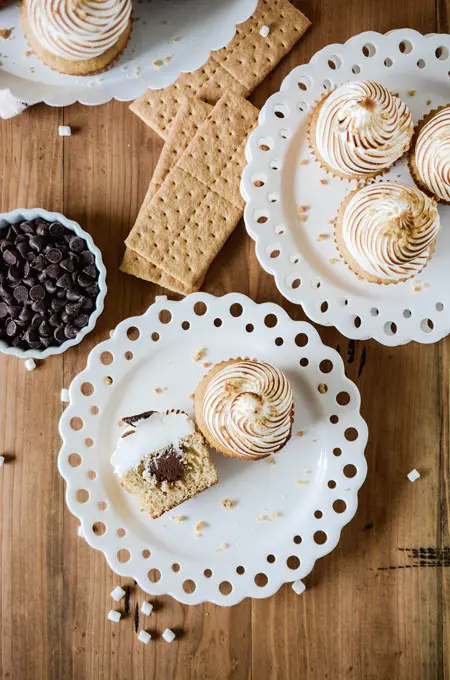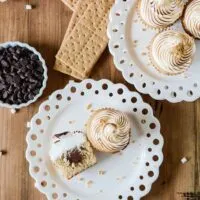 Roasted S'mores Cupcakes
Light and airy cinnamon cake, filled with chocolate fudge filling, topped with roasted marshmallow frosting and garnished with graham cracker cookie crumbs.
Ingredients
SPECIAL TOOLS
CINNAMON CUPCAKES
3 cups (12 ounces/390 grams) cake flour
2 teaspoons baking powder
2 teaspoons ground cinnamon
½ teaspoon ground nutmeg
½ teaspoon baking soda
½ teaspoon salt
1 cup (2 sticks/16 tablespoons/8 ounces/225 grams) unsalted butter, at room temperature, about 65 degrees
1 ¼ cup (8.75 ounces/250 grams) granulated sugar
½ cup (3.5 ounces/110 grams) firmly packed light brown sugar
2 teaspoons vanilla extract
3 large eggs, at room temperature
2 large egg yolks, at room temperature
1 ¼ cup (10.6 ounces/300 ml) buttermilk
CHOCOLATE FUDGE FILLING
½ cup (1 stick/8 tablespoons/4 ounces/115 grams) unsalted butter, at room temperature, about 67 degrees
2 cups (8 ounces/250 grams) powdered sugar, sifted
3 tablespoons unsweetened cocoa powder
1/8 teaspoon salt
½ teaspoon vanilla extract
2 tablespoons heavy cream
6 ounces semi sweet chocolate, melted and cooled to about 85 degrees
MARSHMALLOW FROSTING
8 large egg whites
1 ½ cups (10.5 ounces/500 grams) granulated sugar
2 tablespoons light corn syrup
½ teaspoon cream of tartar
1/8 teaspoon table salt
2 teaspoon vanilla extract
Instructions
CINNAMON CUPCAKES
Adjust an oven rack to the center position and heat oven to 350 degrees. Line cupcake pans with cupcake liners and set aside. In a bowl, whisk together the flour, baking powder, cinnamon, nutmeg, baking soda and salt and set aside.
In the bowl of a stand mixer fitted with the paddle attachment attached, beat the butter on medium speed until smooth. Add the granulated and brown sugar and mix on medium high speed until light and fluffy, about 5 minutes.
On medium-low speed add the vanilla extract and mix until combined. Add the eggs and egg yolks one at a time, mixing well after each addition.
With the mixer on low speed, add the flour mixture in 3 batches, alternating with the buttermilk in 2 batches, starting and ending with the flour mixture. Mix on low speed for about 30 seconds, then finishing mixing by hand to blend any remaining bits of flour.
Divide the batter between prepared cupcake pans and bake for 15 to 20 minutes, or until a cake tester inserted in the center comes out with a few moist crumbs attached. Let cupcakes cool in their pans for 5 minutes, then invert on to cooling racks to cool completely.
CHOCOLATE FUDGE FILLING


In the bowl of a stand mixer with the paddle attachment attached, beat the butter on medium speed until smooth. Reduce the mixer speed to low, slowly add the powdered sugar, cocoa, salt and vanilla extract and mix until combined. Pour in the cream and mix to incorporate. Increase the mixer speed to medium and mix until the filling is light and fluffy. Scrape down the sides of the bowl and add the cooled melted chocolate and mix until smooth and combined.

MARSHMALLOW FROSTING
Attach the whisk attachment to the mixer stand. Add the egg whites, sugar, corn syrup, cream of tartar, and salt in the stainless steel bowl of a stand mixer and whisk together well by hand. Place the mixer bowl on top of a saucepan with about 2 inches of water, making sure the bottom of the mixer bowl does not touch the water when placed on top. Bring water to a simmer. Whisk mixture frequently until a thermometer reaches 130 degrees, about 9 minutes.
Carefully transfer the mixer bowl to the mixer stand and beat on low speed for 2 minutes. Increase the speed to medium and beat for another 2 minutes. Increase the speed to high and beat for another 5 minutes until thick and glossy. Add in the vanilla extract and mix until combined.

ASSEMBLE
With a small knife, cut out the cupcake centers leaving you with a cone of cake. Remove the "cone" portion and keep the flat circular piece of cake to place back on top of each cupcake after the cupcakes have been filled with the chocolate filling.
Fit a piping bag with a Wilton #12 piping tip and fill piping bag with Chocolate Fudge Filling. Pipe filling in the center of each cupcake and place the disk back on top of the cupcake.
Fit a piping bag with Ateco piping tip #869 and fill bag with Marshmallow Frosting. Pipe each cupcake with swirls. With a kitchen torch, carefully roast the frosting. Top each cupcake with a S'mores cookie and graham cracker crumbs.
Notes
STORAGE: Cupcakes can be stores at room temperature in an air tight cake container for up to 1 day, or in the refrigerator for up to 2 days. Bring to room temperature before serving.

Nutrition Information:
Yield:

24
Serving Size:

1
Amount Per Serving:
Calories:

1049
Total Fat:

51g
Saturated Fat:

16g
Trans Fat:

3g
Unsaturated Fat:

30g
Cholesterol:

100mg
Sodium:

981mg
Carbohydrates:

145g
Fiber:

6g
Sugar:

101g
Protein:

13g
*Nutrition information is an estimate and will vary.*