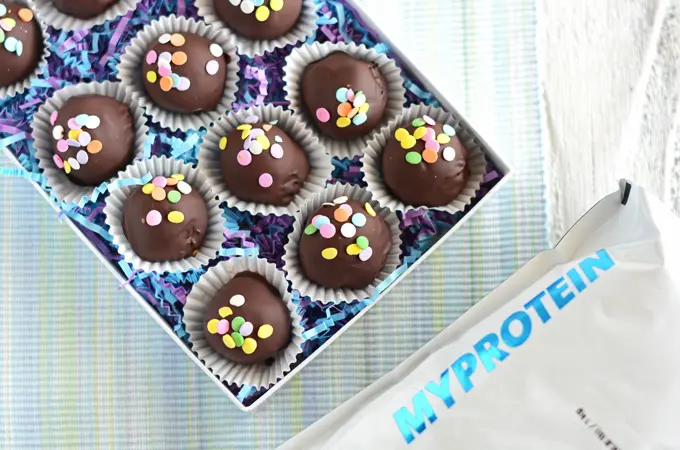 DISCLOSURE: This post was written in partnership with Myprotein, all opinions and stories are 100% my own.
I remember as a kid I would eat spoonfuls of peanut butter. And if I was lucky there was some chocolate chips in the pantry and I would sprinkle some of those on top. It was the perfect way to please my sweet tooth. Ah the simple times. Nowadays it takes a little more to satisfy my sweet tooth. But I've found a simple way to liven up the old peanut butter and chocolate on a spoon recipe I made as a kid. Plus with a little something extra, like Myprotein vanilla protein powder. And you can't forget their 1 ingredient crunchy peanut butter, which works great in these Peanut Butter Protein Truffles. This way you have full control over the sweetness in your truffles. Which ever peanut butter brand you use, I recommend using a natural peanut butter for this recipe. Depending on the consistency of the peanut butter, may need to add 1-2 tablespoon water to the peanut butter filling.
You can store these in the refrigerator or freezer. I prefer mine in the freezer. They will stay good for a long while that way. These Peanut Butter Protein Truffles are a great way to feed your craving without wrecking your good eating habits, and get in a little extra protein too!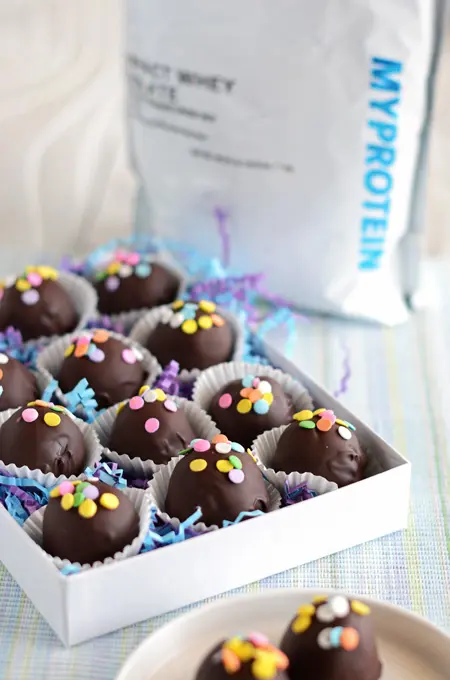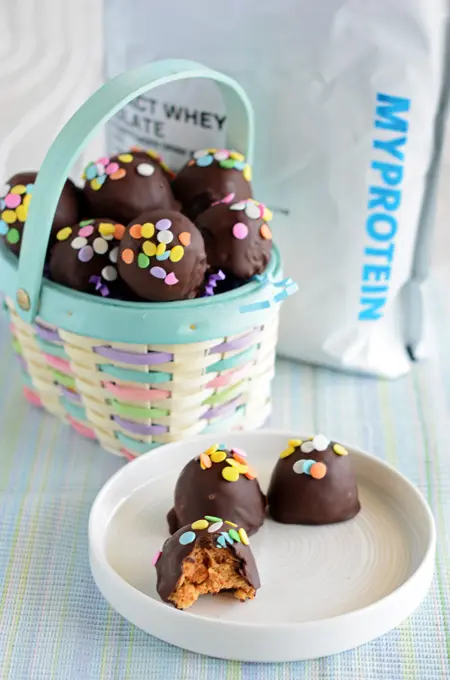 Peanut Butter Protein Truffles
Ingredients
2 cups Myprotein crunchy peanut butter
½ cup honey
2 scoops Myprotein vanilla protein powder
Pinch of sea salt
16 ounces dark chocolate, chopped
2 tablespoons coconut oil
Sprinkles (optional)
Instructions
Line a baking sheet with parchment paper.
In a mixing bowl, mix together the peanut butter and honey. You can heat the mixture up in a microwave to make mixing a little easier. Add protein powder and salt. Use a small ice cream scoop or 1 tablespoon to measure out the peanut butter mixture and shape into balls. Place balls on the prepared baking rack and refrigerate for 45 minutes.
Add chopped chocolate and coconut oil to a small bowl and microwave in 30 second intervals until fully melted, stirring after each interval.
Dip the balls into the melted chocolate, shake off excess chocolate and place on parchment lined baking sheet. Place the balls in the refrigerator for another 45 minutes.
Remove balls from refrigerator and dip each ball for a second chocolate coating in the remaining melted chocolate. Reheat the chocolate if necessary. Set back on parchment lined baking sheet and place decorative sprinkles on top while the chocolate is still wet. Refrigerate for 30 minutes. Enjoy.
Nutrition Information:
Serving Size:

1
Amount Per Serving:
Calories:

163
Total Fat:

12g
Saturated Fat:

4g
Cholesterol:

7mg
Sodium:

9mg
Carbohydrates:

13g
Fiber:

2g
Sugar:

8g
Protein:

6g