My sister gave me the Muy Bueno cookbook for Christmas this past year. My sister Irene loves Mexican food and has been cooking it a lot longer than I have. I remember her making Mexican rice pudding when I was younger and even some flautas when I was a teenager. At that point in my life I still hadn't discovered my love for cooking or baking but it was only a matter of time. Good cooking just seems to run in my family.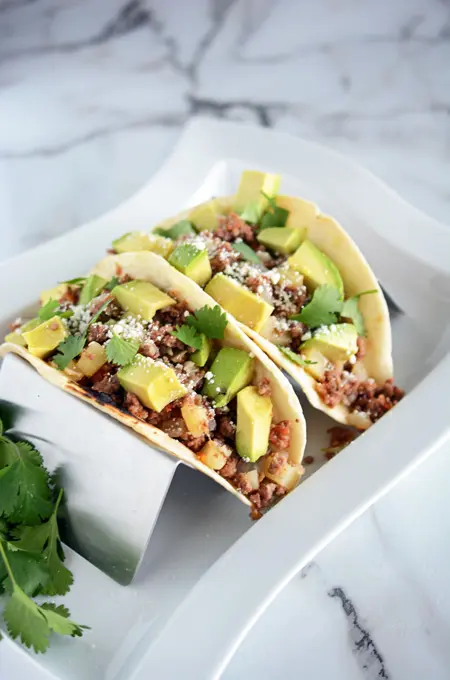 When my sister gave me this cookbook, she said it was the real deal. And after trying this recipe, I agree! As soon as I saw this Picadillo recipe I knew it would be the first one I was going to try. Here in Texas you can find tacos on nearly every street corner, but unfortunately they all don't offer Picadillo Tacos, at least not here in my little suburb of Houston. So for me that just means making them myself. And I am okay with that!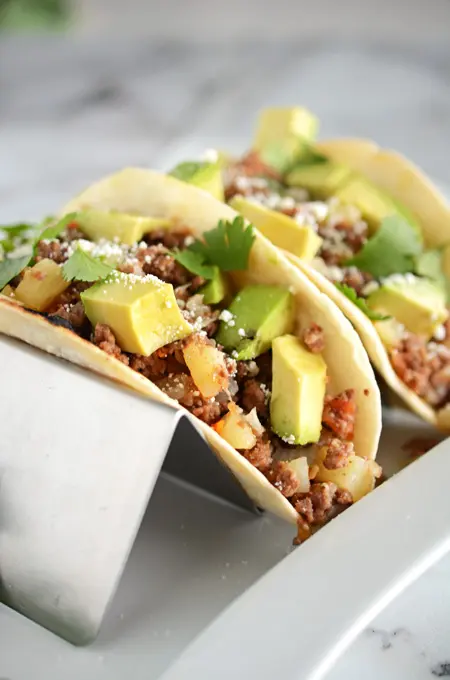 As soon as the beef hit the pan I smelled the aroma, and was immediately taken back to a time when I was a young girl. My grandma Geneva was in the kitchen making something out of nothing, as usual. This may have not been my grandma Geneva's recipe for Picadillo Tacos but man it sure tasted like something she had cooked for me before. This is an easy to prepare meal and an affordable one at that. So put this one on your regular rotation.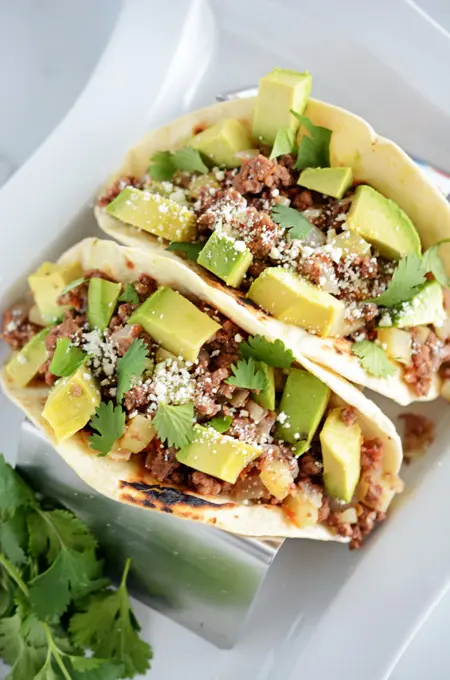 Looking for more Mexican inspired recipes? Try my grandma Mary's Fideo, and for dessert, this Tres Leches Cake. Or check out Muy Bueno's blog for more great recipes and stories.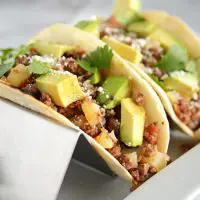 Picadillo Tacos
Yield:
4 servings (2 tacos each)
Ingredients
1 tablespoon olive oil
1 organic small white onion, chopped
1 pound organic ground beef
2 organic garlic cloves, minced
1 teaspoon kosher salt
3 organic Roma tomatoes, chopped
1 small organic russet potato, peeled and finely diced
Homemade tortillas or store bought
Avocado for garnish (optional)
Mexican cheese for garnish (optional)
Instructions
Heat oil in a large skillet over medium heat. Add onion and cook for about 4 to 5 minutes, or until translucent.
Add ground beef and brown. Using a potato masher, mash ground beef into small pieces so no large lumps remain. Drain off grease.
Add garlic, salt, tomatoes and potatoes and cook over medium heat for about 20 to 30 minutes, stirring occasionally until potatoes are done.
Meanwhile, over a gas stove heat up tortillas on the grate of a gas burner, flipping over so each side gets a nice char. If you do not have a gas stove top you can also heat the tortillas in a microwave for about 30 seconds.
Notes
Nutritional information does not include tortilla.
Nutrition Information:
Serving Size:

2
Amount Per Serving:
Calories:

323
Total Fat:

21g
Saturated Fat:

8g
Cholesterol:

70mg
Sodium:

554mg
Carbohydrates:

12g
Fiber:

2g
Sugar:

1g
Protein:

23g