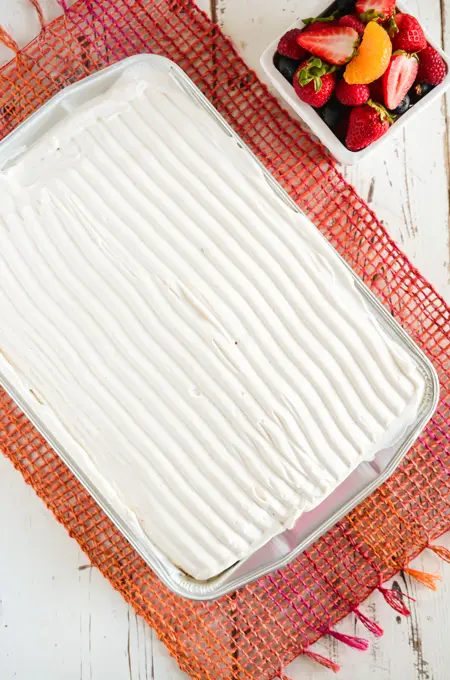 This Tres Leches Cake is tried and true! It's the only one of many that I could get to turn out just right!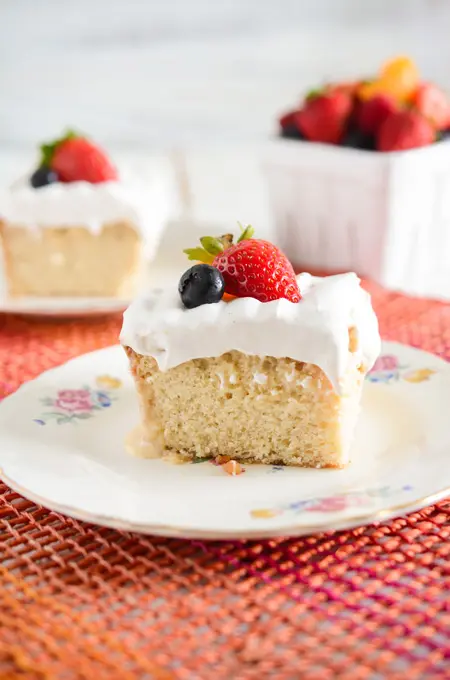 Of course I am not surprised, since this one came from my Cook's Country cookbook. I made some slight changes to the topping and added some fresh fruit to my version.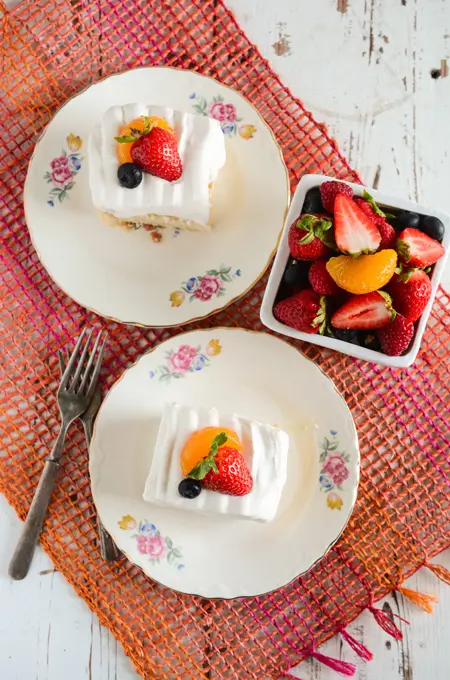 What I also love about this cake is not only is it mouthwatering delicious, is that it's easy to make for a pot luck gathering and travels well. I like to make this Tres Leches Cake the night before and let it soak in the milks overnight. Then right before serving I make the topping and garnish it with fruit when serving.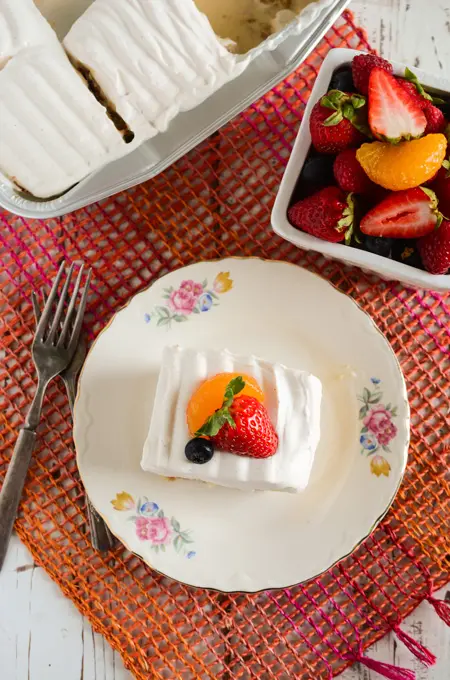 Moist but not mushy, sweet but not overly sweet, that makes this Tres Leches Cake one of the best I've had so far.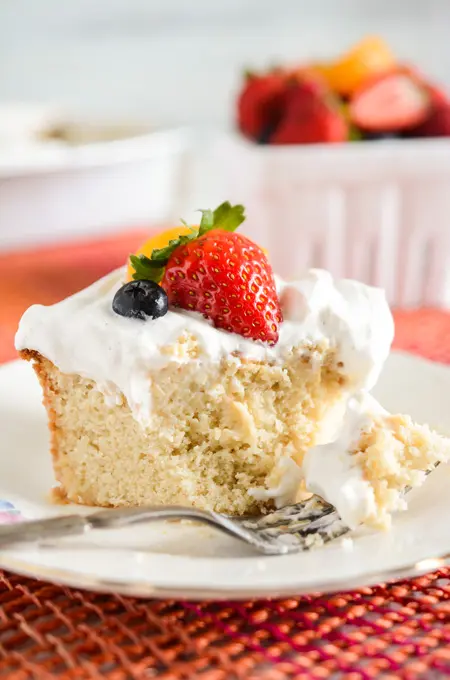 Stay connected to The Cake Chica on social media: Facebook, Twitter, Instagram and Pinterest.
Adapted from Cook's Country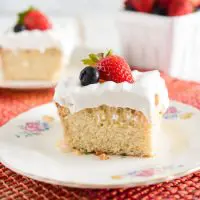 Tres Leches Cake
Total Time:
1 hour
20 minutes
Ingredients
MILK MIXTURE
1 14-ounce can sweetened condensed milk
1 12-ounce can evaporated milk
1 cup heavy cream
1 teaspoon vanilla extract
CAKE
2 cups (10 ounces) all-purpose flour
2 teaspoons baking powder
1 teaspoon salt
½ teaspoon ground cinnamon
8 tablespoons unsalted butter
1 cup whole milk
4 large eggs, room temperature
2 cups (14 ounces) granulated sugar
2 teaspoons vanilla extract
TOPPING
2 cups heavy cream
4 tablespoons corn syrup
2 teaspoons vanilla extract
½ teaspoon ground cinnamon
Fresh fruit for serving (optional)
Instructions
MILK MIXTURE
Pour condensed milk into a large microwavable bowl and cover with plastic wrap. With the microwave set to 50% power, microwave for 10 to 15 minutes, stirring every 3 to 5 minutes. Condensed milk should be slightly darkened and thickened. Remove from the microwave and carefully remove the plastic wrap. Slowly whisk in evaporated milk, cream and vanilla extract. Set aside and let cool to room temperature.
CAKE
Adjust an oven rack to the middle position and heat oven to 325 degrees. Spray a 13x9-inch baking dish with baking spray or grease and flour. Whisk together the flour, baking powder, salt and cinnamon in a large bowl. In a small saucepan, heat butter and milk over low heat until the butter is melted. Remove from the heat and set aside.
In the bowl of a stand mixer fitted with the whisk attachment, whip eggs on medium speed until light and foamy, about 30 seconds. Slowly add the sugar and continue to whip until combined, about 5 to 10 seconds. With your mixer on medium-high speed, whip until the mixture is thick and glossy, about 5 to 7 minutes. Reduce the mixer to low speed and add the milk-butter mixture and vanilla and mix until combined, about 15 seconds. Add the flour mixture in 3 additions, mixing on medium speed after each and scraping down the sides of the bowl as needed, until all the flour is incorporated, about 30 seconds. Pour batter into the prepared baking dish and bake until a toothpick inserted in the center comes out clean or with a few moist crumbs attached, about 30 to 35 minutes. Let cake cool on a wire rack to cool for 10 minutes.
Using a skewer, poke holes about 1/2 –inch apart from each other on the top of the cake. Slowly pour the milk mixture over the cake until completely absorbed. This works best if you pour a little over the cake at a time, and let it absorb into the cake. Then continue with this method until all the milk mixture is used and has absorbed into the cake. Let the cake sit at room temperature for 15 minutes, then refrigerate uncovered for 3 hours or up to 24 hours.
TOPPING
Remove the cake from the refrigerator 30 minutes before serving. In the bowl of a stand mixer fitted with the whisk attachment, whip heavy cream, corn syrup, vanilla extract and cinnamon on medium low speed until foamy, about 1 minute. Increase the speed to high and whip until soft peaks form, about 1 to 3 minutes. Spread over cake and garnish with fresh fruit if desired.
You May Also Like: