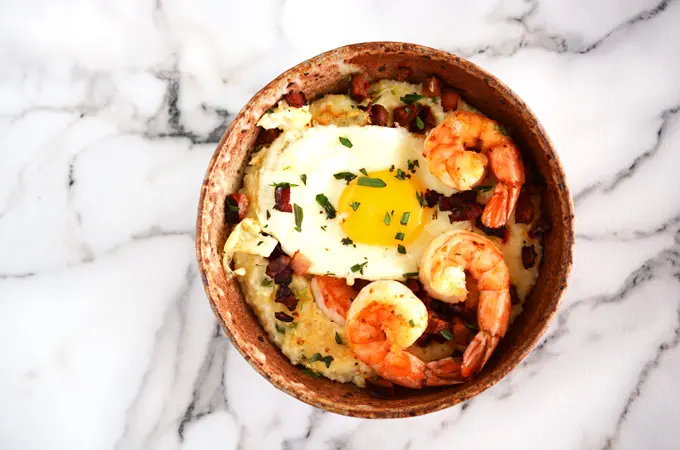 So I am finally starting to taste my food again after being sick for almost 2 weeks. I am still on antibiotics but I am feeling a lot better than I did this time last week. I was planning on making this last weekend but with my taste not being 100% I opted to wait. But now that things are on the up-and-up, I was able to make this Southern comfort food classic, Shrimp and Grits.
This version of Shrimp and Grits has a little extra flare. As if Shrimp and Grits weren't already perfect, they had to go top it off with a fried egg. Making this the best Shrimp and Grits I've had thus far. Shrimp and Grits is a popular brunch item in the South, but since this recipe takes a little time to prepare, plan this one for a late lunch or dinner. One thing is for sure, no matter what time of day you devour this, you won't be disappointed.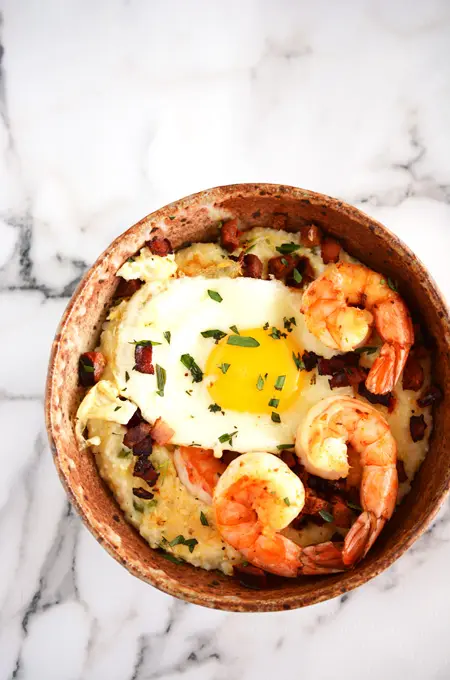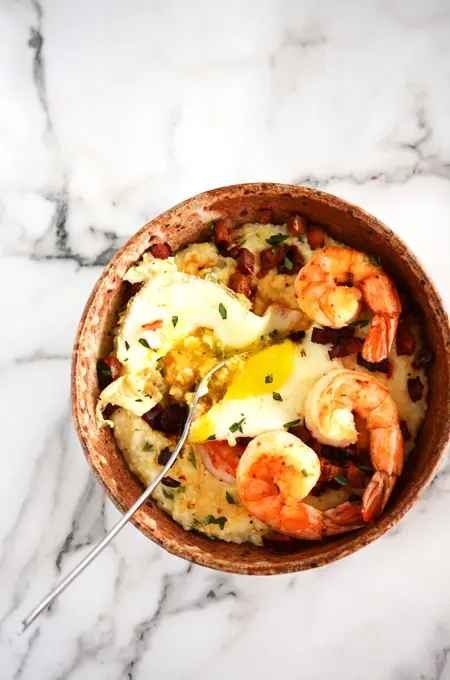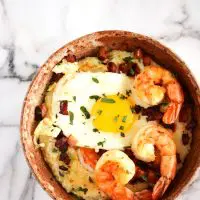 Shrimp and Grits
Ingredients
GRITS
3 cups water, plus more
1 cup corn grits
1 cup grated sharp white cheddar cheese
1 tablespoon unsalted butter
1 jalapeno, seeded and diced
¼ cup heavy cream
Kosher salt and ground black pepper
SHRIMP
4 slices organic bacon, chopped
1 tablespoon reserved bacon grease
1 tablespoons unsalted butter
½ pound turkey andouille sausage, diced
3 garlic cloves, sliced
1 pound large shrimp, peeled and deveined
¼ cup beer such as Budweiser
¼ cup low-salt chicken stock
4 large eggs
1 tablespoon fresh tarragon
Instructions
GRITS
In a large saucepan, bring 3 cups of water to a simmer on medium heat. Gradually whisk in grits. Reduce the heat to low and gently simmer until the grits begin to thicken. Continue cooking, stirring frequently and adding water by ¼ cup if the grits get too thick. Cook for about 1 hour. Stir in cheese, butter and jalapeno; followed by the cream. Season with salt and pepper and keep warm.
SHRIMP
Meanwhile, heat non-stick pan on medium heat and fry the bacon. Remove bacon from the pan and set on a paper towel-lined plate to drain grease. Pour off all but 1 tablespoon bacon grease from the pan and set aside.
Heat 1 tablespoon of butter in a large heavy skillet over medium heat and add the andouille sausage and cook, about 5 minutes. Add garlic and stir until combined. Add shrimp. When garlic begins to brown, add the beer and chicken stock. Simmer until shrimp is cooked through, about 2-3 minutes and remove the skillet from the heat and set aside.
In the pan the bacon was cooked in, heat over medium heat. Crack the eggs into the heated pan and cook until the whites are set but the yolk is still runny, about 3 minutes.
Divide grits among bowls creating a well in the middle. Spoon shrimp mixture into the center of the grits and top with a fried egg, bacon and tarragon.
Notes
All nutritional information is approximate and will vary according to ingredient brands.
Nutrition Information:
Serving Size:

1
Amount Per Serving:
Calories:

731
Total Fat:

43g
Saturated Fat:

22g
Cholesterol:

494mg
Sodium:

1317mg
Carbohydrates:

32g
Fiber:

2g
Sugar:

2g
Protein:

49g