This is one of the first recipes I made when I was just starting out baking in 2005. It's still as good as I remembered it.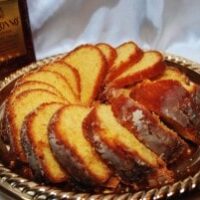 Amaretto Bundt Cake
Ingredients
1 16.5 oz. boxed yellow cake mix
4 large eggs, at room temperature
1 3.4 oz. package vanilla instant pudding
6 tablespoons amaretto, plus 1/2 cup amaretto, divided
1/2 cup water
1/2 cup vegetable oil
1/4 teaspoons almond extract
2 cups powdered sugar
Instructions
Preheat oven to 350*F (175*C). Grease and flour a 10-inch bundt pan.
Combine cake mix, eggs, instant vanilla pudding, amaretto, water, vegetable oil and almond extract; blend together well. Pour batter into
the prepared pan.
Bake for 40 to 45 minutes. Remove cake from oven and while it is still
hot poke holes in the bottom and pour the amaretto icing over the bottom of
the cake. Let the cake cool for at least 2 hours before removing from the
pan.
To make Amaretto Icing: Sift the powdered sugar and combine it with the
remaining 1/2 cup amaretto. Blend until smooth.