Bundt cakes are great because they're easy to make and feed a crowd. And this Amaretto Bundt Cake with Sliced Almonds is no different.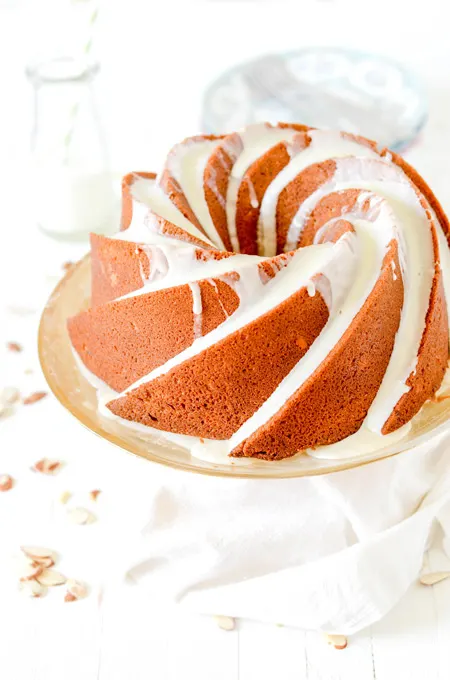 Amaretto Bundt Cake
Originally I had this recipe posted as a doctored up cake mix recipe. But that's really not needed when the homemade version is so easy to make. You won't miss the first version of this cake that was posted here I promise! The amaretto give this cake it's sweet flavor accompanied by the sliced almonds that brings out the flavor of the amaretto liqueur.
What's the Difference Between Liqueur and Liquor
Liqueur are spirits that are flavored with different fruits, nuts, seeds, flowers and spices and are sweet. Liquors are not sweet. Think rum, brandy or whiskey. Although these can be flavored, they are generally not as sweet as liqueur.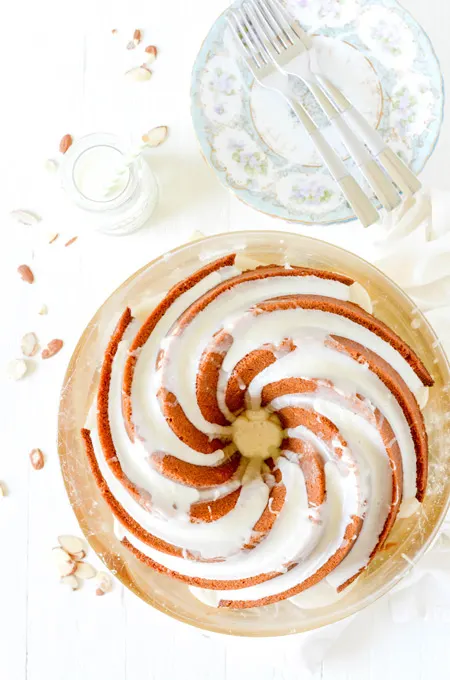 Amaretto Glaze
This glaze is super simple to make. It's just powdered sugar, amaretto liqueur, and milk. Whisk the ingredients together until combined, adding more liquid as needed. The glaze should be thick but still pourable. If the glaze is too thin you won't get the thick glaze on top like in the picture. So be careful not to add too much liquid.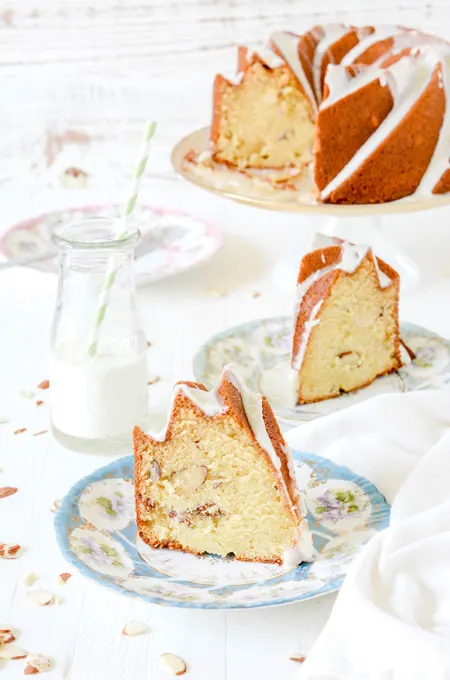 Plan It Out
As I mentioned before, this Amaretto Bundt cake is easy to make but I still 'Plan It Out' because there's a lot of sitting time. Check out what my schedule looked like below:
Morning: Bake bundt cake.
Mid morning: Prepare the glaze and pour the first round of glaze on the cake and let sit for 1 hour.
Afternoon: Pour the last round of glaze on top of the cake and let the cake sit for 2 hours.
Late afternoon: Serve the cake!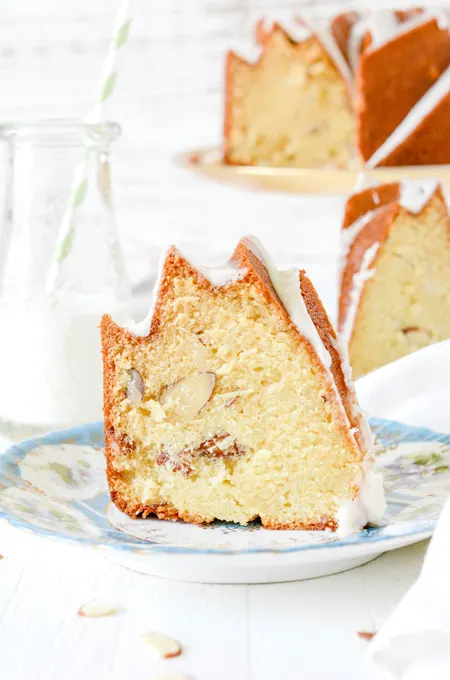 Cake Storage
Another great thing about Bundt cakes is they are easy to store. I store mine in an airtight cake container on the counter for up to 3 days.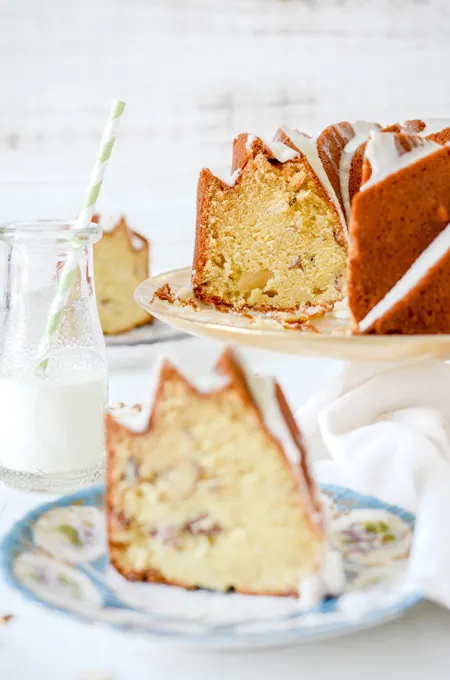 Let's Connect
The Cake Chica is on Facebook sharing sneak peeks of recipes to come, Instagram for your food porn desires and Pinterest for your board pinning needs.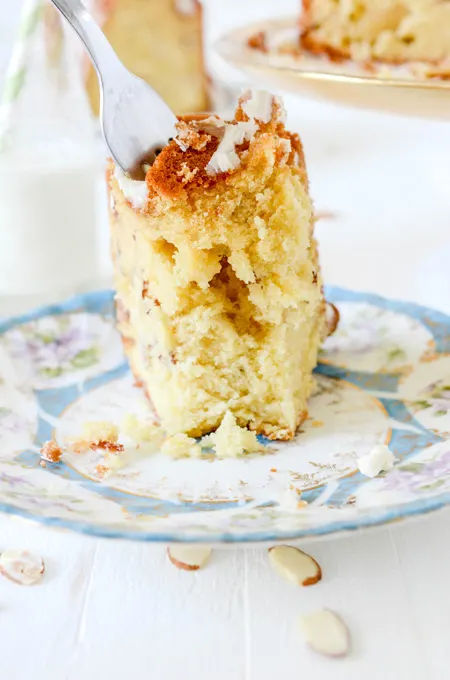 You May Also Like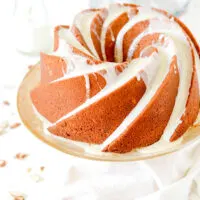 Amaretto Bundt Cake
Total Time:
4 hours
15 minutes
Bundt cake made with amaretto liqueur and sliced almonds, topped with a thick amaretto glaze.
Ingredients
SPECIAL TOOLS
9 or 10-inch Bundt pan
Nonstick baking spray
Stand mixer
AMARETTO CAKE
1 cup (2 sticks/16 tablespoons) unsalted butter, at room temperature
2 cups (14 ounces) granulated sugar
4 large eggs, at room temperature
3 cups (15 ounces) all-purpose flour
1 teaspoon baking powder
1/2 teaspoon baking soda
1/8 teaspoon salt
1 cup (8 ounces) whole milk
1 teaspoon vanilla extract
3/4 cup amaretto liqueur
1/2 cup sliced almonds
AMARETTO GLAZE
2 cups (8 ounces) powdered sugar
2-3 tablespoons amaretto liqueur
2 tablespoons whole milk
Instructions
AMARETTO CAKE
Adjust an oven rack to the center position and heat oven to 350 degrees. Spray Bundt pan liberally with nonstick baking spray and set aside.
In the bowl of a stand mixer, combine the butter and sugar on medium speed until light and fluffy, about 5 minutes.

Add eggs one at a time, mixing just until blended after each addition.

In a large bowl, whisk to combine the flour, baking powder, baking soda, and salt. In a large liquid measuring cup, combine the milk, vanilla extract, and amaretto liqueur.

On medium-low speed, add the flour mixture in 3 additions, alternating with the milk mixture in 2 additions, starting and ending with the flour mixture. Stir in the slivered almonds and give the batter a final stir by hand.
Pour the batter in the prepared cake pan and bake on the center rack for 1 hour or until a skewer inserted in the cake comes out with a few moist crumbs attached. Let cake cool in the pan for 10 minutes. While the cake cools in the pan, prepare the glaze.

AMARETTO GLAZE

Whisk together the powdered sugar, amaretto and milk in a bowl until smooth. Add more amaretto by teaspoon if needed. Glaze should be thick but still pourable.

ASSEMBLE
Invert cake onto a cake pedestal or cake board and carefully remove the pan. Pour half of the glaze over the warm cake and let cool for 1 hour. Drizzle the remaining glaze evenly over the cake and let cool completely, about 2 hours. Serve.

Notes
CAKE STORAGE: Store cake in an airtight container at room temperature for up to 3 days.