Lately I have been posting a lot of classic-type recipes. Mac and cheese, cornbread, pancakes and now, apple pie! Well, it's because I have been working on a little project. A few months ago I thought it would be a good idea to self-publish a little cookbook with some of my favorite recipes. With all the recipes in my cookbook collection and foodie magazines it would also be nice to just have a place where all my favorites are at in one book. I also know some people just like to have a cookbook and not a computer to find their recipes, so right away I went on shutterfly.com to start laying it all out. But first I had to decide on a theme, and what better theme to have then some classic recipes in my first cookbook! I've been having lots of fun testing new recipes for it and I am so happy to have found some great ones in the process and they have really become my recipe staples. I don't know why I didn't think of this sooner? Last year I made this apple pie for Thanksgiving and Christmas and it has quickly become my favorite. Maybe it will become yours too!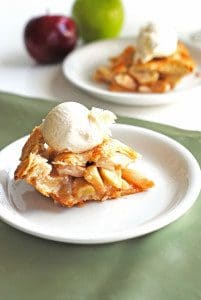 Print
Classic Apple Pie
Yield 12
Ingredients
DOUBLE CRUST PIE DOUGH
2 1/2 cups all-purpose flour, plus more for rolling
2 tablespoons sugar
1 teaspoon table salt
12 tablespoons unsalted butter, cut into 1/4-inch pieces and chilled
8 tablespoons vegetable shortening, cut into 4 pieces and chilled
1/4 cup vodka, chilled
1/4 cup ice water
APPLE PIE
3/4 cup, plus 1 tablespoon sugar
2 tablespoons all-purpose flour
1 teaspoon grated lemon zest, plus 1 tablespoon lemon juice
1/4 teaspoon table salt
1/4 teaspoon ground nutmeg
1/4 teaspoon ground cinnamon
1/8 teaspoon ground allspice
2 pounds McIntosh apples, peeled, cored and sliced 1/4-inch thick
1 1/2 pounds Granny Smith, Empire or Cortland apples, peeled, cored, and sliced 1/4-inch thick
1 large egg white, lightly beaten
Instructions
PIE DOUGH
With your dough attachment, process 1 1/2 cups flour, sugar, and salt together in a food processor until combined, about 5 seconds. Scatter butter and shortening over the top and continue to process until incorporated and mixture begins to form uneven clumps and no bits of flour remain, about 20 seconds.
Scrape down the sides of the bowl and redistribute the dough evenly around the processor bowl. Sprinkle remaining 1 cup flour over dough and pulse until the mixture has broken up into pieces and is evenly distributed around the bowl, about 4 to 6 pulses.
Transfer the mixture to a large bowl and sprinkle with vodka and ice water. Stir and press together with a stiff rubber spatula until dough sticks together.
Divide the dough into 2 equal pieces. Turn each piece of dough onto a sheet of plastic wrap and flatten out to about a 4-inch disk. Wrap each piece tightly with the plastic wrap and refrigerate for 1 hour. Before using, let the dough sit on the counter to soften slightly, about 10 minutes. (Dough can be stored in the refrigerator for up to 2 days or frozen or up to 1 month. If frozen let dough thaw completely on the counter before using.)
APPLE PIE
Roll 1 disk of dough into a 12-inch circle on a lightly floured counter. Loosely roll the dough around a rolling in and gently unroll it onto a 9-inch pie plate, letting excess dough hang over the edge. Ease the dough into the pie plate by gently lifting the edge of the dough with one hand, while pressing into the pie plate bottom with the other hand. Leave any excess dough that hangs over pie plate in place. Wrap the dough-lined pie plate loosely with plastic wrap and refrigerate until the dough is firm, about 30 minutes. Roll out the other disk of dough into a 12-inch circle on a lightly floured counter, then transfer to a parchment paper-lined baking sheet and cover with plastic wrap, and refrigerate for 30 minutes.
Adjust your oven rack to the lowest position and place a rimmed baking sheet on the rack. Preheat your oven to 500 degrees.
Mix 3/4 cup sugar, flour, lemon zest, salt, nutmeg, cinnamon and allspice together in a large bowl. Add the lemon juice and apples and toss to combine. Spread apples with their juices into the dough-lined pie plate, mounding them slightly in the middle. Loosely roll the remaining dough round around a rolling pin and gently unroll it onto the top of the pie. Trim the overhang of dough to 1/2-inch beyond the edge of the pie plate. Pinch the edges of the top and bottom firmly together. Tuck the overhang under itself and crimp dough evenly around the edge of the pie plate. Cut four 2-inch slits in top of the dough. Brush the surface with the beaten egg white and sprinkle evenly with the remaining 1 tablespoon of sugar
Place the pie on the heated baking sheet and reduce the oven temperature to 425 degrees, and bake until the crust is light golden brown about 25 minutes. Reduce the oven temperature to 375 degrees and rotate the baking sheet and continue to bake until the juices are bubbling and the crust is a deep golden brown, about 30 to 35 minutes. Let the pie cool on a rack to room temperature about 4 hours.
Courses Dessert
Cuisine American
Adapted from Cooks Illustrated