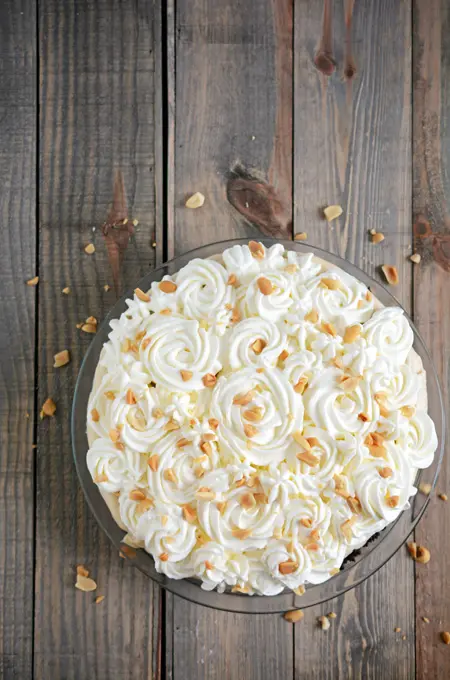 Chocolate and peanut butter! Who can deny this match made in heaven? Not me that's for sure. Take this Chocolate-Peanut Butter Cream Pie for example, made on top of an Oreo cookie crust, then topped with a chocolate-peanut butter filling.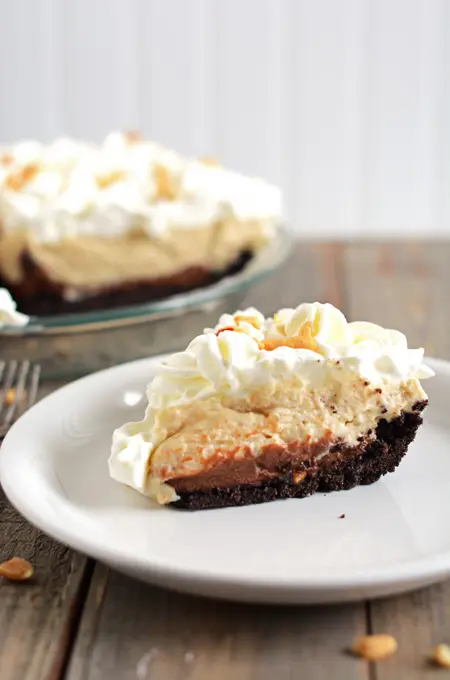 But we're not finished, next comes the peanut butter-whipped cream layer and then whipped cream layer on top.
Sprinkle with a few chopped peanuts and voila! Time to enjoy this little piece of chocolate-peanut butter heaven.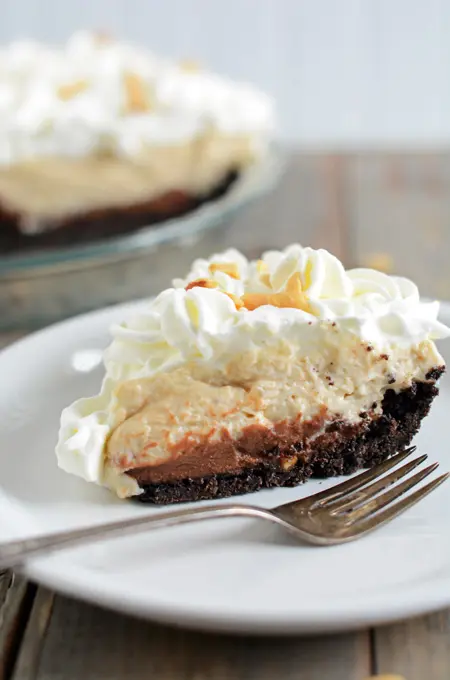 This Chocolate-Peanut Butter Cream Pie is perfect for the up coming summer months. You do have to bake the crust in the oven, however it's only for a short amount of time and totally worth turning on your oven for about 10 to 15 minutes.
I mean come on the crust is made with Oreos! And not just the cookie part, the cream part is included in the recipe too! I could probably do a post on this cookie crust alone, it's a favorite of mine! My advice, skip the pre-made Oreo crust in the store. You'll love this homemade version.
I used chunky peanut butter in this recipe but you could also use creamy if that fits your taste, I like a little texture in mine though. For the whipped cream design I used a star tip and made simple circular swirl designs in different sizes and piped some stars to fill in the blank spaces. You don't have to be perfect with this. I kinda like that rustic look for this pie anyway.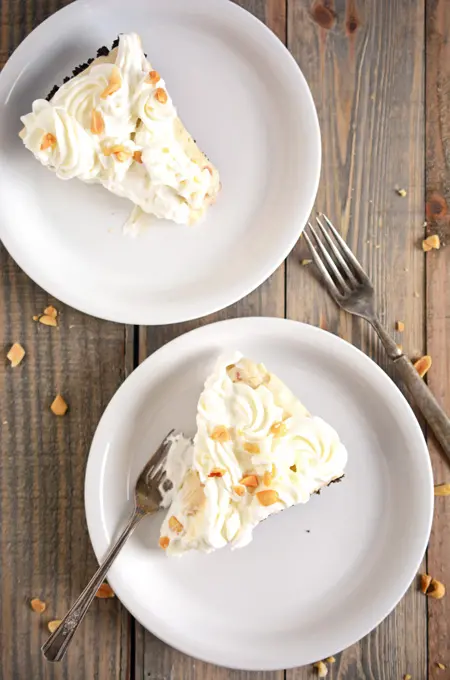 Don't forget to catch me on social media: Facebook, Instagram, Pinterest.
You May Also Like:
Adapted from Diner Desserts
by Tish Boyle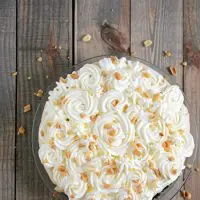 Chocolate-Peanut Butter Cream Pie
Additional Time:
2 hours
45 minutes
Total Time:
3 hours
25 minutes
This pie has multiple layers of goodness. Starting with an Oreo cookie crust, then the fillings: chocolate-peanut butter and peanut butter. Topped with whipped cream.
Ingredients
CRUST
16 Oreo cookies, broken into rough pieces
4 tablespoons unsalted butter, melted and cooled
FILLING
¾ cup granulated sugar
3 tablespoons cornstarch
2 ½ cups whole milk
3 large egg yolks
¾ cup crunchy peanut butter
2 ounces semisweet chocolate, chopped
1 ½ cups heavy cream
WHIPPED CREAM
1 cup heavy cream
3 tablespoons granulated sugar
¼ cup chopped unsalted roasted peanuts
Instructions
CRUST
Adjust an oven rack to the middle position and preheat oven to 350 degrees. Pulse cookies in a food processor until coarsely ground, about 15 pulses. Continue to process to fine even crumbs and sprinkle melted butter over cookie crumbs and pulse to incorporate, about 5 pulses.
Sprinkle mixture into a 9 inch pie plate. Using the bottom of a measuring cup, press crumbs into an even layer on the bottom and sides of the pie plate. Bake until crust is fragrant and is set, about 10 to 15 minutes. Transfer pie plate to a wire rack to let crust cool completely. You can also place the crust in the refrigerator to help speed up the cooling time.
FILLING
In a medium saucepan, stir together the sugar and the cornstarch until well combined. Gradually whisk in the milk and egg yolks until smooth. Over medium heat, bring to a gentle boil, whisking constantly, about 15 minutes. Continue to whisk for 1 minute or until the mixture is thick. Remove from the heat and whisk in the peanut butter.
In a small bowl, combine 1 cup of the hot peanut butter mixture with the chopped chocolate and stir until it has melted. Scrape the mixture into the baked crust. Cover the filling with plastic wrap, pressing the plastic directly on top of the filling. Chill for 1 hour or until set. Transfer the remaining peanut butter to a medium bowl, cover with plastic wrap directly on the surface and chill for 45 minutes or until cool but not set.
In a medium bowl, using a handheld electric mixer beat the cream until soft peaks form. Remove the plastic wrap from chilled peanut butter mixture. Using a rubber spatula, gently fold the cream into the mixture. Remove the plastic wrap from the chilled chocolate filling. Scrape the peanut butter mixture onto the chocolate filling. Using a small offset metal cake spatula smooth into an even layer. Chill for 1 hour or until set.
TOPPING
In the bowl of an electric mixer, using the whisk attachment, beat the cream on medium-low speed for 30 seconds. Increase the speed to medium-high and add the sugar. Continue to beat until soft peaks form. Using a rubber spatula, pile the whipped cream evenly over the pie filling. Alternatively, you can use a piping bag fitted with a piping tip for a decorative finish. Sprinkle the peanuts over the whipped cream. Chill pie before serving.
Nutrition Information:
Yield:

8
Serving Size:

1
Amount Per Serving:
Calories:

801
Total Fat:

58g
Saturated Fat:

28g
Trans Fat:

1g
Unsaturated Fat:

26g
Cholesterol:

200mg
Sodium:

294mg
Carbohydrates:

60g
Fiber:

3g
Sugar:

45g
Protein:

16g
*Nutrition information is an estimate and will vary.*