Lemon Meringue Pie
This Lemon Meringue Pie's custard is full of real lemon flavor and topped with a meringue that is fluffy, shiny, smooth and doesn't weep!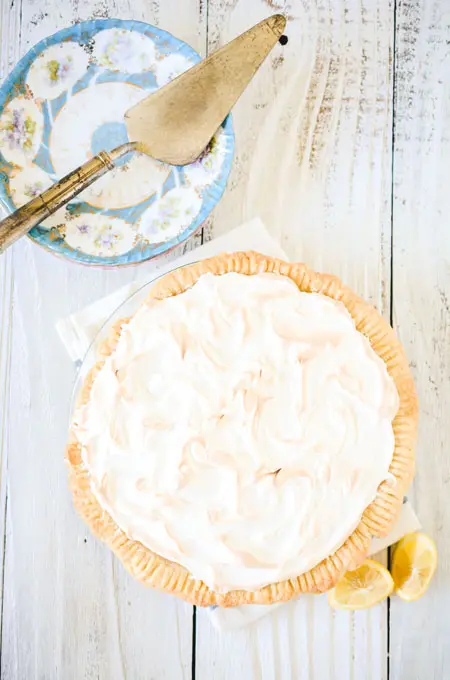 The Crust
Let's start with the first step… the pie crust. There was once a time I couldn't make pie dough to save my life, until I found a pie dough recipe that uses vodka! It totally piqued my interest. I tried it once and I've been using that recipe from Cook's Illustrated ever since! Just a heads up, it does require a food processor. But you can also use a premade pie crust or dough, or your tried and true recipe!
TIP: Make sure your pie crust is cool before pouring the hot lemon filling in.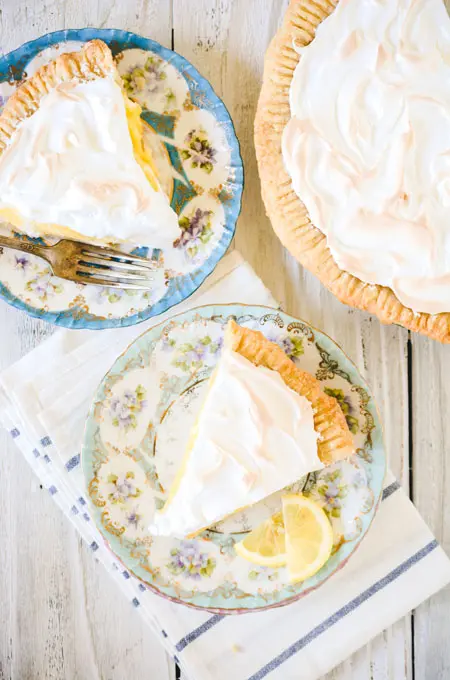 How To Separate Egg Yolks and Whites
You'll see many baking recipes call for eggs at room temperature. But separating egg yolks and whites can be tricky when they're at room temperature since the egg yolk can easily leak into the egg white, which would not be good if you're looking for fluffy egg whites. So, if a recipe you plan to make calls for separating egg yolks and whites, be sure to do that while the eggs are still cold. And then cover the egg yolks/egg whites with plastic wrap and let come to room temperature that way.
The Filling
The lemon filling for this pie gets some help from cornstarch. Cornstarch helps stabilize the filling and the filling is also soft but firm enough that you can cut neat and clean slices.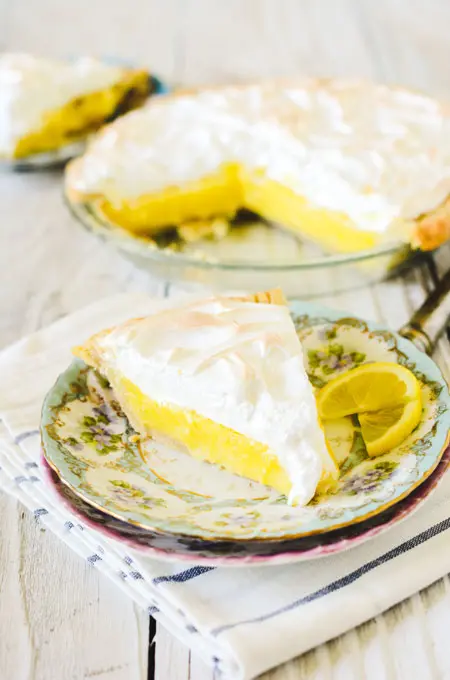 Meringue Tips
Err the meringue! So many things can go wrong right? Here are a few things I've learned from making Lemon Meringue Pie a few times.
Hot sugar syrup helps to cook the egg whites and creates a soft and smooth meringue that is stable enough to resist weeping.
When topping the lemon filling with the meringue, be sure to start from the edges of the pie, making sure the meringue touches the edges of the pie crust. This will help reduce the meringue shrinking when the pie starts to cool.
The short time the meringue spends in the oven also helps reduce the chance of weeping on the meringue.

Plan It Out
Lemon Meringue Pie is best served the day it is prepared but there are some steps you can take to prepare ahead of time.
Day 1: Prepare the pie dough.
Day 2: Prepare the lemon filling and meringue and serve.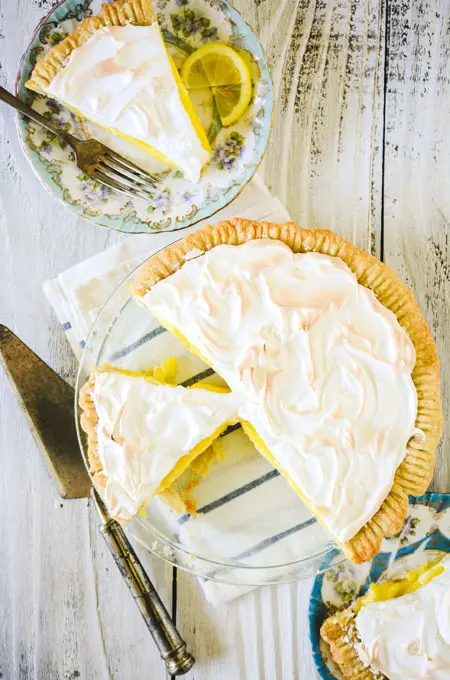 Lets Connect
The Cake Chica is on Facebook sharing peeks of recipes coming up. Instagram for your food porn desires and Pinterest for your recipe pinning needs.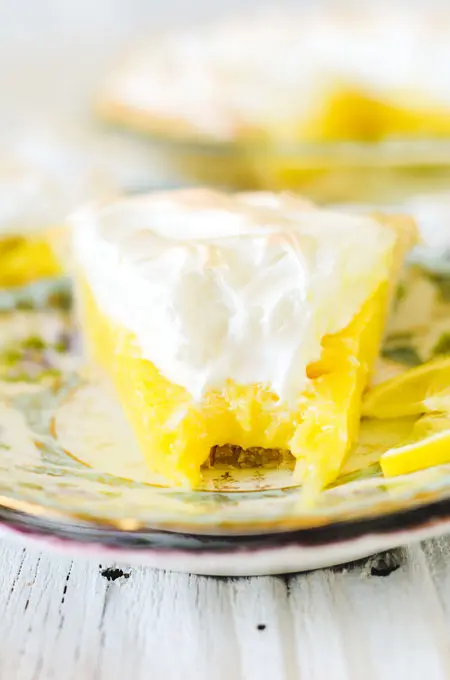 You May Also Like
---
Adapted from Cook's Illustrated The Science of Good Cooking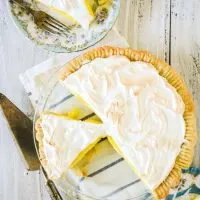 Lemon Meringue Pie
Cook Time:
1 hour
30 minutes
Additional Time:
4 hours
30 minutes
Total Time:
6 hours
30 minutes
Lemon Meringue Pie with a flaky crust, topped with a rich lemon filling and topped with a fluffy and smooth meringue that doesn't weep!
Ingredients
SPECIAL TOOLS
Pie weights or dry beans or rice
Rimmed baking sheet
PIE DOUGH
1 ¼ cups (6 ¼ ounces) all-purpose flour, divided
1 tablespoon granulated sugar
½ teaspoon table salt
6 tablespoons unsalted butter, cut into ¼-inch pieces and chilled
4 tablespoons vegetable shortening cut into 2 pieces, chilled
2 tablespoons vodka, chilled
2 tablespoons ice water
FILLING
1 1/2 (12 ounces) cups water
1 cup (7 ounces) granulated sugar
1/4 cup cornstarch
1/8 teaspoon table salt
6 large egg yolks
1 tablespoon grated lemon zest, plus ½ cup juice (about 3 lemons)
2 tablespoons unsalted butter, cut into 2 pieces
MERINGUE
¾ cup (5 ¼ ounces) granulated sugar
1/3 cup water
3 large egg whites
¼ teaspoon cream of tartar
Pinch table salt
¼ teaspoon vanilla extract
Instructions
PIE DOUGH
In the bowl of a food process, process ¾ cup flour, sugar, and salt until combined, about 5 seconds. Place chilled butter and shortening over the flour mixture and continue to process until combined, and the mixture forms clumps, about 10 seconds.
Scrap down the sides of the bowl and redistribute the dough, sprinkle the remaining ½ cup flour over the dough and pulse until the mixture broken up into pieces and is evenly distributed around the bowl, about 4 to 6 pulses.
Transfer the dough to a large bowl and sprinkle the vodka and ice water over the top. With a rubber spatula, stir and press the dough together until it starts to stick together.
Turn dough onto a sheet of plastic wrap and flatten to a 4-inch disk and wrap tightly with the plastic wrap. Refrigerate dough for at least 1 hour before using. And let sit on the counter for about 10 minutes before rolling out. Dough can also be frozen for up to 1 month. If the dough is frozen let thaw on the counter completely before rolling out.
PIE CRUST
Place a piece of parchment paper on a counter and place the dough on top. With a second piece of parchment paper, placed on top of the dough, roll dough out to a 12 inch circle. Alternately, you can roll dough out on a floured surface. Wrap dough gently around the rolling pin and gently place in the pie plate. Gently lift the dough and press into the bottom and sides of the plate. Make sure not to pull the dough.
Trim dough overhang to ½-inch beyond the edge of the pie plate, and tuck the overhand under itself. Crimp dough edges and wrap dough lined pie plate loosely with plastic wrap and refrigerate until firm, about 30 minutes. While the dough is chilling, adjust an oven rack to the middle position and heat oven to 350 degrees.
Line the chilled pie dough with a double layer of aluminum foil, making sure to cover the edges to prevent them from burning. Fill with pie weight. If you don't have pie weights you can use dry beans or dry rice. Bake on a foil lined rimmed baking sheet until the edges are set and start to turn gold in color, about 25 to 30 minutes, rotating the pan halfway through baking. Remove foil and pie weights and rotate pan and continue to bake until the pie crust is golden brown in color, about 10 to 15 minutes more. Transfer the pie crust to a wire rack to cool completely, about 45 minutes.

FILLING
In a large saucepan, bring the water, sugar cornstarch and salt to a simmer whisking constantly. When the mixture starts to turn translucent, whisk in the egg yolks, two at a time. Next, whisk in the lemon zest, juice and butter. Return the mixture to a brief simmer, and then remove from the heat. Pour lemon filling into the cooled pie crust and place a piece of plastic wrap on top and chill in the refrigerator for 2 hours.
MERINGUE
Adjust an oven rack to the middle position and heat oven to 400 degrees. In a small saucepan, bring the sugar and water to a boil over medium-high heat. Once the syrup has come to a boil, continue to boil for 4 minutes until the mixture becomes thick and syrupy. Remove from the heat.
With a stand mixer fitted with the whisk attachment, whip egg whites and cream of tartar on medium low speed until foamy, about 1 minute. Increase mixer speed to medium-high and whip for 2 more minutes until soft peaks form. With the mixer running, pour the hot syrup into the bowl but slowly pouring the syrup down the inside of the mixer bowl, being careful not to hit the whisk with the syrup. Add the vanilla extract and continue to beat until the meringue has cooled and thickened, about 6 minutes.
Using a rubber spatula, mound meringue over the chilled filling, making sure the meringue touches the edges of the crust. Use spatula to create peaks with the meringue. Bake until the peaks turn golden brown in color, about 6 minutes. Transfer to a wire rack and let sit until room temperature, about 2 hours and serve.
Nutrition Information:
Yield:

8
Serving Size:

1
Amount Per Serving:
Calories:

469
Total Fat:

26g
Saturated Fat:

12g
Trans Fat:

0g
Unsaturated Fat:

12g
Cholesterol:

197mg
Sodium:

440mg
Carbohydrates:

47g
Fiber:

3g
Sugar:

12g
Protein:

11g
*Nutrition information is an estimate and will vary.*