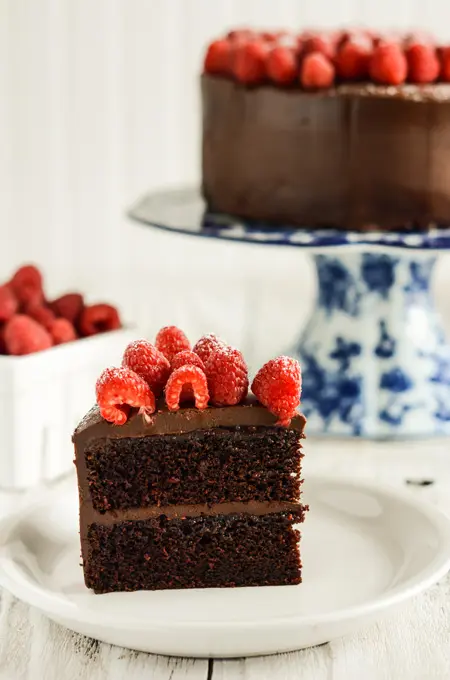 ***Please note that some of the links in this post are affiliate links and I will earn a commission if you purchase through those links.***
Today I am revising an old favorite. Chocolate and raspberry is probably my favorite cake combination. And for my birthday I chose to update this cake favorite of mine. Chocolate and raspberry is good all on its own, but add some luxurious chocolate ganache and raspberry filling and I am in cake heaven!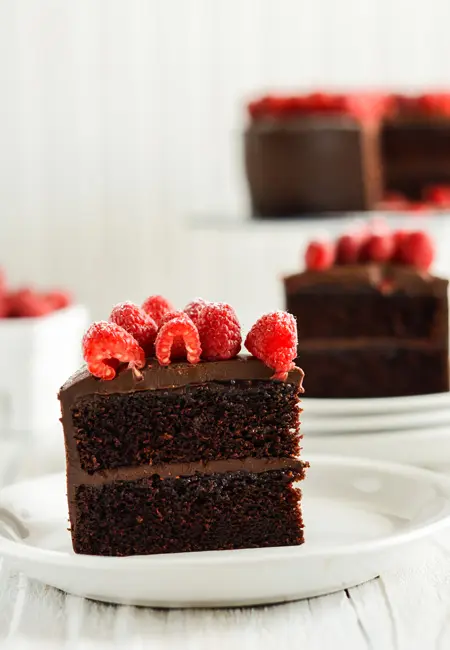 Cake Tips:
I've recently switched to using non-stick baking spray for prepping my cake pans. It's quick and easy and has never let me down. Prefer the old-fashioned way? Trace the bottom of your cake pan on parchment paper and cut out. Rub a light coating of shortening inside the cake pan. Place parchment circle on the bottom and press. Rub the bottom of the parchment paper with shortening. Lightly coat the cake pan with flour or cocoa powder. You're all set!

To get your cake layers as even as possible I've started weighing the cake pans after filling them with cake batter. No need to get the exact number (you could be there awhile) just as long as you get it fairly close. This will get your cake layers close to the same size and bake for the same time.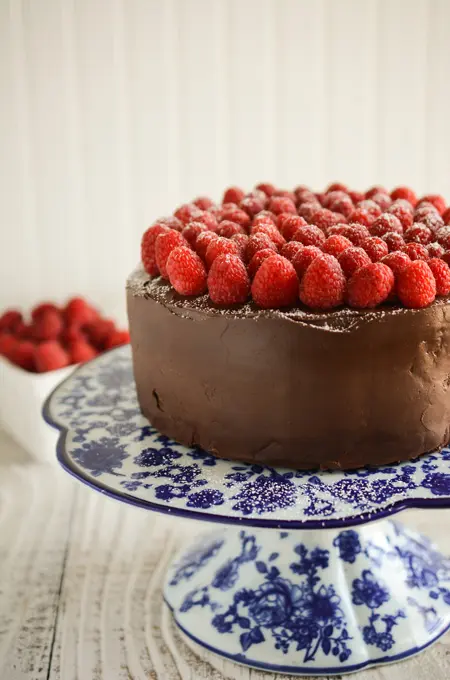 For more from The Cake Chica be sure to follow on these social media platforms: Facebook, Instagram, Twitter, and Pinterest. Sign up for The Cake Chica's Monthly Recap and get one email per month to your inbox with all the latest recipe links. And as a thank you for signing up you'll receive The Cake Chica's Top 10 recipes of 2015 with Step-By-Step Photos for FREE! Sign up in the form below!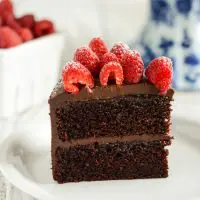 Chocolate-Raspberry Layer Cake
Ingredients
CAKE
2 cups organic unbleached all-purpose flour
1 3/4 cups granulated sugar
3/4 cup organic unsweetened cocoa powder
2 teaspoons baking soda
1/4 teaspoon table salt
1 cup water
3/4 cup buttermilk
3/4 cup vegetable oil
3 large organic eggs
1 teaspoon organic vanilla extract
GANACHE AND RASPBERRY TOPPING
18 ounces bittersweet chocolate, chopped
2 1/4 cups heavy whipping cream
1 tablespoon Chambord or other raspberry liqueur
6 tablespoons organic seedless raspberry jam, stirred to loosen, divided
2 6-ounces containers fresh organic raspberries
Powdered sugar
Instructions
CAKE
Position an oven rack in the center of oven and preheat to 350 degrees. Coat two 8-inch cake pans with non-stick baking spray and set aside.
In a large bowl, whisk together, flour, sugar, cocoa powder, baking soda and salt. Make a well in the center of the dry ingredients.
In a medium bowl whisk water, buttermilk, oil, eggs and vanilla. Pour wet ingredients into well in dry ingredients and whisk to blend. Divide cake batter between prepared cake pans. Bake until cake tester inserted into center comes out clean or with a few moist crumbs, about 30 minutes. Cool completely in pans on cooling racks.
CHOCOLATE GANACHE
Place chopped chocolate in a medium bowl. In a heavy medium saucepan, bring cream just to a boil. Pour over chocolate and let stand for 1 minute. Stir ganache until chocolate is melted and smooth. Stir in Chambord. Transfer 1 1/4 cups ganache to a small bowl. Cover and refrigerate until ganache is thick enough to spread, stirring occasionally, about 1 hour. Let remaining ganache sit at room temperature to cool until lukewarm.
Place rack inside rimmed baking sheet lined with foil for easy clean up. Carefully run knife around cake pan edges to release cakes. Place cakes on flat surface and level cakes by cutting off domes that may have formed. Invert 1 cake layer onto a 6-inch cardboard cake round. Peel off parchment paper and place cake layer on prepared baking rack. Spread 3 tablespoons jam over top. Spoon dollops of chilled ganache over and spread evenly. Place second cake layer on top of first cake layer and spread remaining jam on top of second cake layer. Spoon remaining chilled ganache on top and spread over jam. Pour half of lukewarm ganache over cake, spreading over top and sides to cover. Freeze until ganache sets, about 30 minutes. Pour remaining ganache of cake and spread ganache to cover cake. Freeze to set ganache, about 30 minutes. Let cake stand at room temperature for 2 hours before continuing.
RASPBERRY GARNISH
Arrange raspberries in concentric circles on top of cake. Sift powdered sugar on top just before serving.
Adapted from Bon Appetit June 2010
You may also like: