This Yellow Cake with Chocolate Frosting doesn't look too fancy but one bite and you'll see why it's a family favorite. The texture of this cake is soft and fluffy. Then it's covered with an incredibly rich and smooth chocolate frosting. Simple yet delicious!!!
Follow The Cake Chica on social media: Facebook, Instagram, Pinterest and Twitter.
Adapted from Cook's Illustrated Cookbook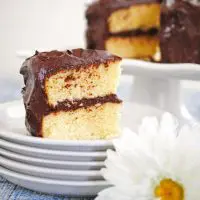 Yellow Cake with Chocolate Frosting
Ingredients
CAKE
2 1/2 cups cake flour
1 3/4 cup granulated sugar, divided
1 1/4 teaspoons baking powder
1/4 teaspoon baking soda
3/4 teaspoon table salt
1 cup buttermilk, at room temperature
10 tablespoons unsalted butter, melted and cooled
3 large eggs, separated, plus 3 large egg yolks
3 tablespoons vegetable oil
2 teaspoons vanilla extract
1/8 teaspoon cream of tartar
FROSTING
20 tablespoons unsalted butter, softened
1 cup powdered sugar
3/4 cup Dutch-processed cocoa powder
1/8 teaspoon table salt
3/4 cup light corn syrup
1 teaspoon vanilla extract
8 ounces bittersweet chocolate or chocolate of your choice, melted and cooled
Instructions
CAKE
Adjust an oven rack to the middle position and heat oven to 350 degrees. Grease two 8-inch round cake pans with 2-inch sides with non-stick baking spray. In a large bowl, add flour, 1 ½ cups sugar, baking powder, baking soda, salt and whisk to combine. In a medium bowl, whisk together buttermilk, melted butter, egg yolks (6 total), oil and vanilla.

Fit a stand mixer fitted with the whisk attachment and whip egg whites and cream of tartar together on medium-low speed until foamy, about 1 minute. Increase the speed to medium-high and continue to whip until whites are fluffy, about 1 to 2 minutes. Slowly add remaining 1/4 cup sugar and whip until glossy and stiff peaks form about 2 to 3 minutes. Transfer egg whites to a bowl and set aside.

In the now empty mixer bowl, add flour and mix on low speed, slowly pour buttermilk mixture into the flour mixture while the mixer is running. Whip batter for about 15 seconds. Scrape down bowl and continue to whip on medium-low speed until smooth and completely combined about 10 to 15 seconds.

Using a rubber spatula, fold one-third of egg whites into batter, then add remaining egg whites and gently fold together until no whites remain. Divide batter evenly between prepared cake pans and smooth tops with a rubber spatula and lightly tap pans on counter to release air bubbles.

Bake until toothpick inserted in the center of the cake comes out clean or with a few moist crumbs attached, about 20 to 25 minutes. Let cakes cool in pans their pans on wire racks for 10 minutes. Remove cakes from their pans and let cool at least 2 hours before frosting.
FROSTING
While cakes cool prepare frosting. In a food processor, process butter, sugar, cocoa, and salt until smooth, about 30 seconds, scraping sides of bowl as needed. Add corn syrup and vanilla and process until combined about 5 to 10 seconds. Scrape down the sides of the bowl if necessary and continue to process until smooth, about 10 to 15 seconds.
ASSEMBLE
Place 1 cake layer on the cake platter or pedestal and place about 1 cup of frosting in the center of cake, using a large cake spatula, spread in an even layer right to the edge of the cake. Place second layer of cake on top making sure the cake layers are lined up. Then add remaining frosting on top, and spread frosting to the edges and onto the sides of the cake. Create billows by pressing the back of a spoon into the frosting and twirl spoon as you lift away.
Notes
Cooled cakes can be wrapped tightly in plastic wrap and kept at room temperature for up to 1 day. Wrapped tightly in plastic, then aluminum foil, cakes can be frozen for up to 1 month. Thaw cakes at room temperature before unwrapping and frosting.
Frosting can be kept at room temperature for up to 3 hours before frosting cake or refrigerated for up to 3 days. If refrigerated, let stand at room temperature for 1 hour before using.
Assembled cake can be refrigerated for up to 1 day. Bring to room temperature before serving.